Hotel Chaco's Level 5 rooftop patio in Albuquerque is serving breakfast and beautiful views of the balloons on this final weekend of Balloon Fiesta. Photograph courtesy of Hotel Chaco.
Raise your eyes to the sky for the Balloon Fiesta.
The sight of hot-air balloons in the sky lifts our spirits, even if it's not the full Albuquerque International Balloon Fiesta experience. So we're cherishing the final two days of the 2020 Siesta Edition as a rainbow of balloons takes to the Duke City skies Saturday and Sunday morning (weather permitting).
No spectators are permitted at launch sites, but you can catch the balloons from your porch or stroll the Paseo del Bosque Trail near the Río Grande or the Sandía Foothills Open Space trails in the heights. Both of these spots give a good vantage point of the city, which looks prettier than ever bejeweled by bright balloons. Or, if you're looking for a special way to celebrate, Hotel Chaco's Level 5 rooftop patio is serving a special breakfast Saturday and Sunday, 6:30–11 a.m., with amazing views of the show.
Look for festival favorites like Hamlet the flying pig, as well as a new balloon from the Indian Pueblo Cultural Center. Named "Eyanne on the Horizon," which means blessings in Keres, it features a pattern inspired by Pueblo artwork and holds 12–14 passengers, making it the largest balloon in the state.
You can also watch the Balloon Fiesta Live online broadcast, hosted by Art Lloyd Jr. and Glen Moyer, from home to get your hot air fix.
Hear legendary tales at the Taos Storytelling Festival.
At the Taos Storytelling Festival, myths, fables, and fantasies reign supreme. For 21 years, the Society of the Muse of the Southwest, or SOMOS, has brought storytellers from around the country together for a weekend of tale-telling in the sweet mountain town. Happening virtually this year, the festival honors the oral tradition, especially in Indigenous cultures, with the theme "sacred land, water, and sky."
"We chose this theme as a recognition and honoring of the return of Blue Lake to the Taos Pueblo," says Jan Smith, executive director of the festival. (This year marks the 50th anniversary of when the sacred land was returned to the Pueblo by the U.S. government after it was unjustly taken in 1906.)
On Friday night, 10 story-slam hopefuls compete to win a spot in the main storytelling event on Saturday evening.
Storyteller Gayle Ross, whose ancestor John Ross was chief of the Cherokee Nation during the Trail of Tears, the violent removal from their homeland, hosts a Saturday workshop titled Seeing Red: An Exploration of Cultural Appropriation and Exploitation in Literature and Storytelling, from 12:30 to 3 p.m.
Saturday at 7 p.m., the livestreamed grand finale features stories from Ross and the story-slam winner, plus Pat McCabe (Diné) telling stories from the Navajo tradition, and Cisco Guevara, owner of Los Rios River Runners, sharing moments from life on the water.
"Even though it's online, storytelling creates another type of community," says Smith. "It narrows your focus to that present moment, which expands listening skills and our ability to really be present."
Register for Taos Storytelling Festival events online.
Shop the New Mexico Artisan Market pop-up.
Holiday shopping (yep!) is right around the pumpkin-spice corner. And with many small businesses continuing to struggle, it is important to #ShopLocal.
Cue the New Mexico Artisan Market, a gathering of the coolest makers and artists in the state that happens annually around Thanksgiving. Canceled this year due to COVID-19, the market team created a weekly pop-up (Fridays 11 a.m.–8 p.m., Saturdays 10 a.m.–8 p.m., and Sundays 10 a.m.–5 p.m.) at Sawmill Market, near Albuquerque's Old Town, now until December 27.
Shop ceramics by Acoma Pueblo potter LaDonna Victoriano, wooden jewelry by Danny Hart Design, stained-glass works from Sundancer Steel and Glass, textiles by Annie Osburn Design, and more. The roster of artisans changes each weekend to accommodate as many vendors as possible.
"Artisans have lost numerous opportunities to meet people and discuss their artistic process and products," says Belia Alvarez, a spokeswoman for Heritage Hotels, host of the event, which drew about 7,000 people each of the past two years. "They're remarkable artisans, because they share or tell our state's story through their art and products."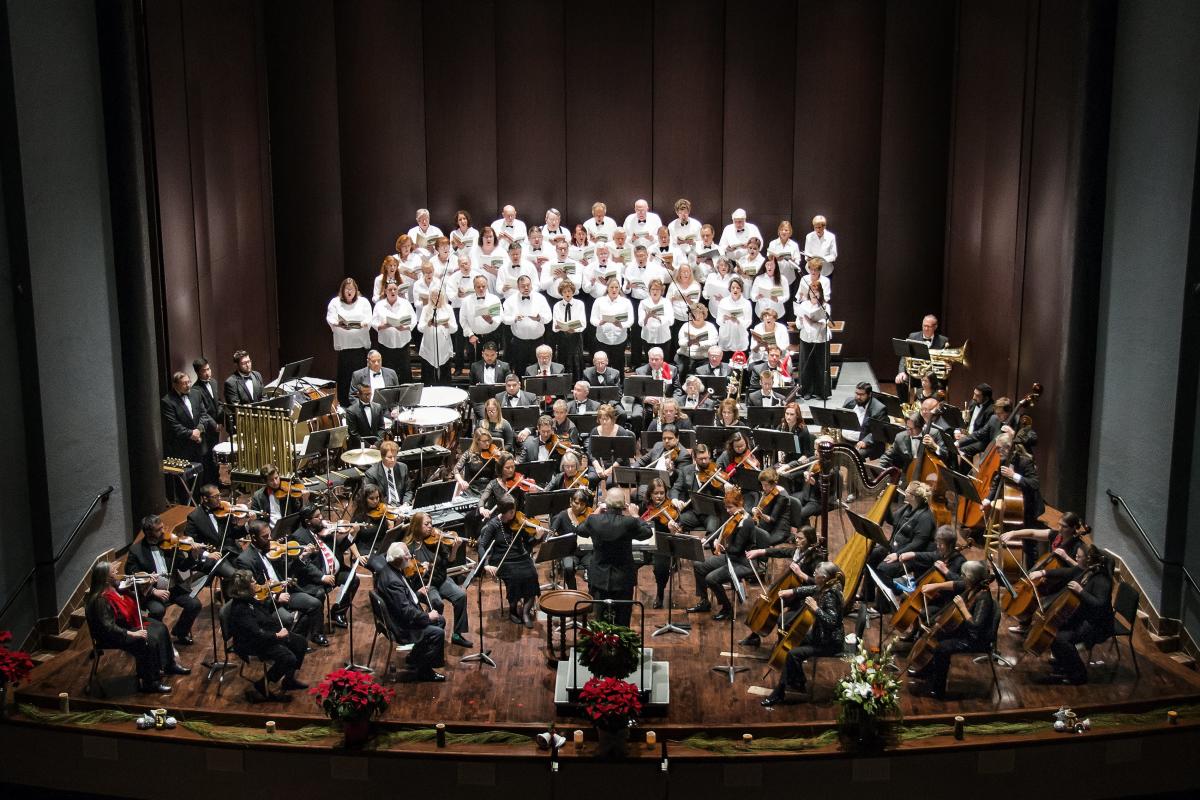 The Roswell Symphony Orchestra performs a livestreamed concert on Saturday. Photograph courtesy of the Roswell Symphony Orchestra.
Hear the Roswell Symphony Orchestra.
In 1959, a group of community members got together in a church basement for a jam session. That group grew into the Roswell Symphony Orchestra, which draws members from Las Cruces to Lubbock.
During the pandemic, the orchestra has produced educational enrichment videos and a Labor Day concert. This Saturday, it premieres Bach to Basics, a livestreamed concert including two compositions by Bach and one by Mozart performed by a six-member string ensemble.
"Any opportunity to make music together and connect with the community is relished right now," says Shari Perman, executive director of the orchestra.  "It's been tough for the performing community, and anytime we can share the power of music, it's special."
Tickets for Bach to Basics are available for $20 per household.
Find Silver City's Gila monsters … downtown.
Gila monsters, which are more like chubby lizards than frightful creatures, take center stage Friday and Saturday for the annual Red Dot Weekend. Hosted by the Silver City Art Association, the self-guided walking tours of Silver City's historic downtown galleries and other hot spots feature 22 Gila monster sculptures adorned by local artists.
Look for a beaded-and-sequined creation by Marcia Heifner at Dragonfly Studio; a black-and-white geometric design by Myron Weckwerth at Light Art Space; and a winged, pink mosaic by Suzanne Ens at Grant County Art Gallery.
Expect food, demonstrations, and one-on-ones with the artists, as well as mask and social distancing requirements. You can bid on the mini monsters in a silent auction Saturday starting at 8:30 a.m. The auction closes at the Makers Market in the Main Street Plaza at 3 p.m. Funds raised support the Silver City Arts Association, and 10 percent of proceeds will go to the Gila Conservation Coalition.
Get a map on the event's website and count how many Gila monsters you see before the auction.
** No matter what you do or where you venture on your staycation this weekend, keep an eye out for NM True Certified businesses to support. Find a complete list of them here or pick up a September/October issue of New Mexico Magazine at your nearest newsstand.