Above: Casa Flamenca begins live performances in Old Town this weekend. Photograph courtesy of Casa Flamenca.
See flamenco outdoors in Old Town. 
After six months of the pandemic prevented Casa Flamenca, a nonprofit arts organization in Albuquerque, from teaching classes and holding performances, their team got creative and turned their parking lot into an outdoor, socially distanced stage. 
"It's a completely different animal," says director Valeria Montes. "If we didn't do this, our organization, like many others, was going to have to close its doors."
Dancers began performing virtually on August 7. This weekend marks the first performances with a live audience. Tables will have 8–10 feet of space between them, with a maximum capacity of 15 guests. Everyone must wear a mask at all times, unless you're nibbling on tapas from the nearby David's Peruvian restaurant, which is collaborating with Casa Flamenca.
"Going back to our art, everything seems like a blessing, every class and every performance," Montes says. "And it's been bittersweet. We've had to put ourselves in debt to be able to do what we're doing. But I feel we got ahead of the game, and we are ready."
The hour of flamenco will feature Montes, who has danced professionally for over 20 years. Catch her at 8:30 p.m. on Friday, Saturday, or Sunday. Expect multimedia components like videos projected over the stage, professional sound handled by techs, and three live musicians.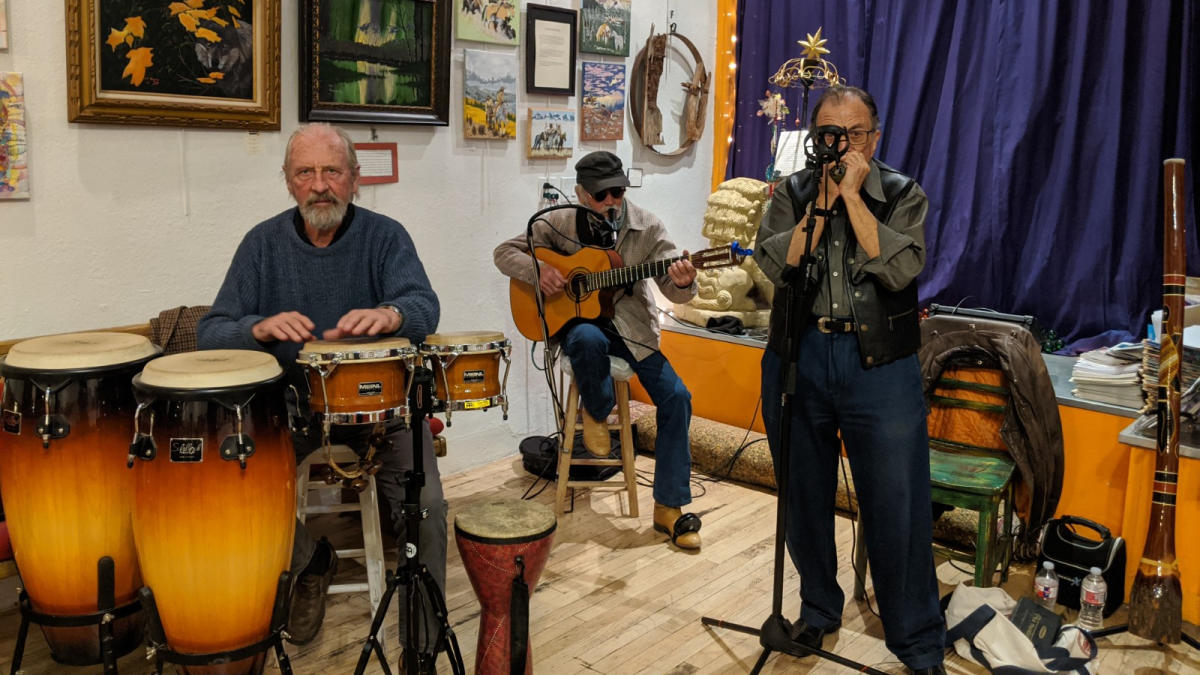 Above: Cat Alley will perform in front of Grape's Gallery during Truth or Consequences Second Saturday Art Hop. Photograph courtesy of MainStreet Truth or Consequences.
Get arty in Truth or Consequences. 
After our sudden cold snap, warmer weather returns this weekend. Take advantage with a drive to Truth or Consequences and the hot-springs hotbed's Second Saturday Art Hop. Happening in the downtown area for over 12 years, it keeps local businesses open late as galleries and breweries invite all-comers from 6–9 p.m.
Linda DiMarco, MainStreet Truth or Consequences' executive director, says that, while the event is smaller than it was pre-pandemic, it's still a chance to see (and buy!) great pieces at Rio Bravo Fine Art, Grape's Gallery, Joanne Long's Light of the Soul Gallery, and Angel Remnants. The Truth or Consequences Brewery pulls regional pints and showcases more art, and local band Cat Alley performs in front of Grape's.
T or C has so much to offer that you might as well make an overnight of it. "We have seven hot-springs hotels," DiMarco says, "and many of those have tubs actually in the rooms. We have some really good restaurants. So, within walking distance, you get the hot springs, good art, good beer, and a great place to stay."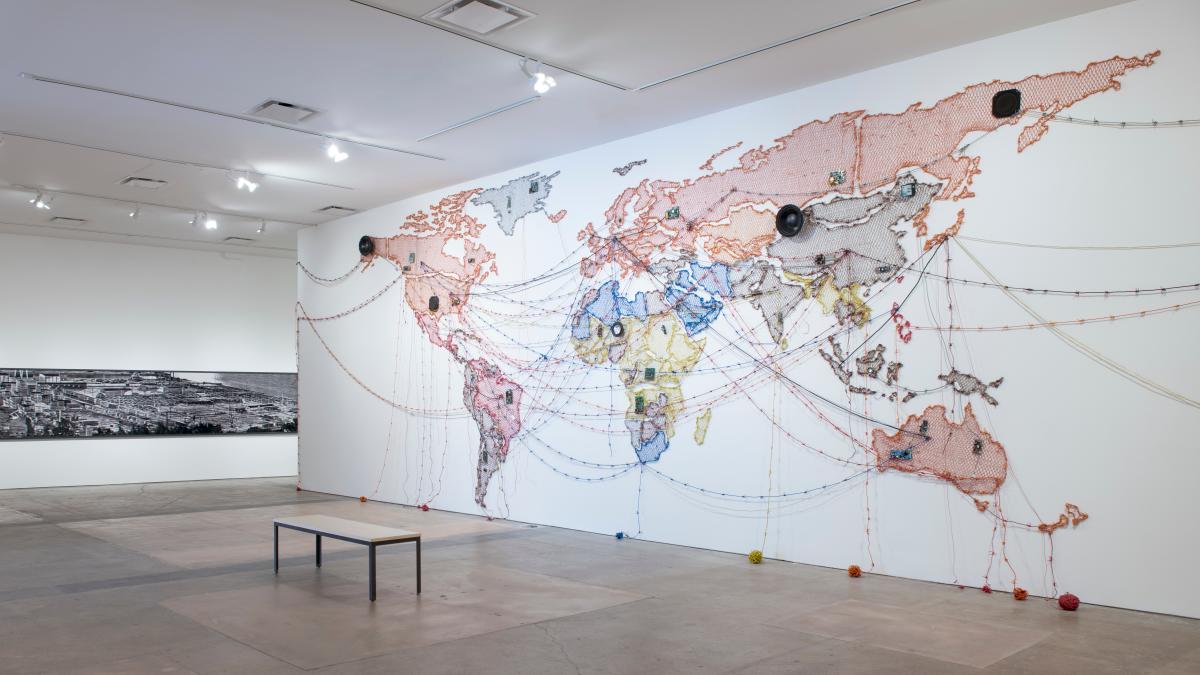 Above: SITE Santa Fe reopens with the exhibit Displaced: Contemporary Artists Confront the Global Refugee Crisis. Photograph courtesy of  Brandon Soder.  
Visit SITE Santa Fe.
SITE Santa Fe reopens to the public for the first time since closing its doors this spring. The exhibit Displaced: Contemporary Artists Confront the Global Refugee Crisis hasn't been seen yet. "We were installing it before we closed four days before the planned opening," says Irene Hofmann, director and chief curator. 
"In April, when we came to the realization this would be a long haul, we reached out to the artists and lenders and were able to extend the loans of everything in the show. When we open, Displaced will have a proper run through January." 
The exhibit includes installations by 11 artists from around the world, including local Indigenous multidisciplinary artist Cannupa Hanska Luger (Mandan, Hidatsa, Arikara, Lakota), Candice Breitz from South Africa, and Guadalupe Maravilla from El Salvador. 
Hanska Luger's piece originally had a virtual-reality component requiring viewers to wear goggles. That experience has been turned into a video, which visitors can access on their phones. Breitz's is tied to sound as six refugees tell their stories. Before the pandemic, you could listen to each story on a set of headphones. SITE bought special speakers to help listeners hear one story at a time. "It took a little while to figure out how to make those adjustments," Hoffman says. "We had to make a safe, no-touch experience." 
The museum also raised enough money to make admission free for everyone during Displaced and created bilingual labels for every work, something they plan to do for all exhibits moving forward. You must make reservations before your visit and wear a mask at all times during your tour. A one-way path winds through the exhibit to help visitors maintain a safe distance.
"This is a show about humanity," Hoffman says. "The refugee crisis comes and goes in our consciousness, in the news, and in our ability to even grasp it. The show not only puts a historical context on it, but it also puts a human face to it."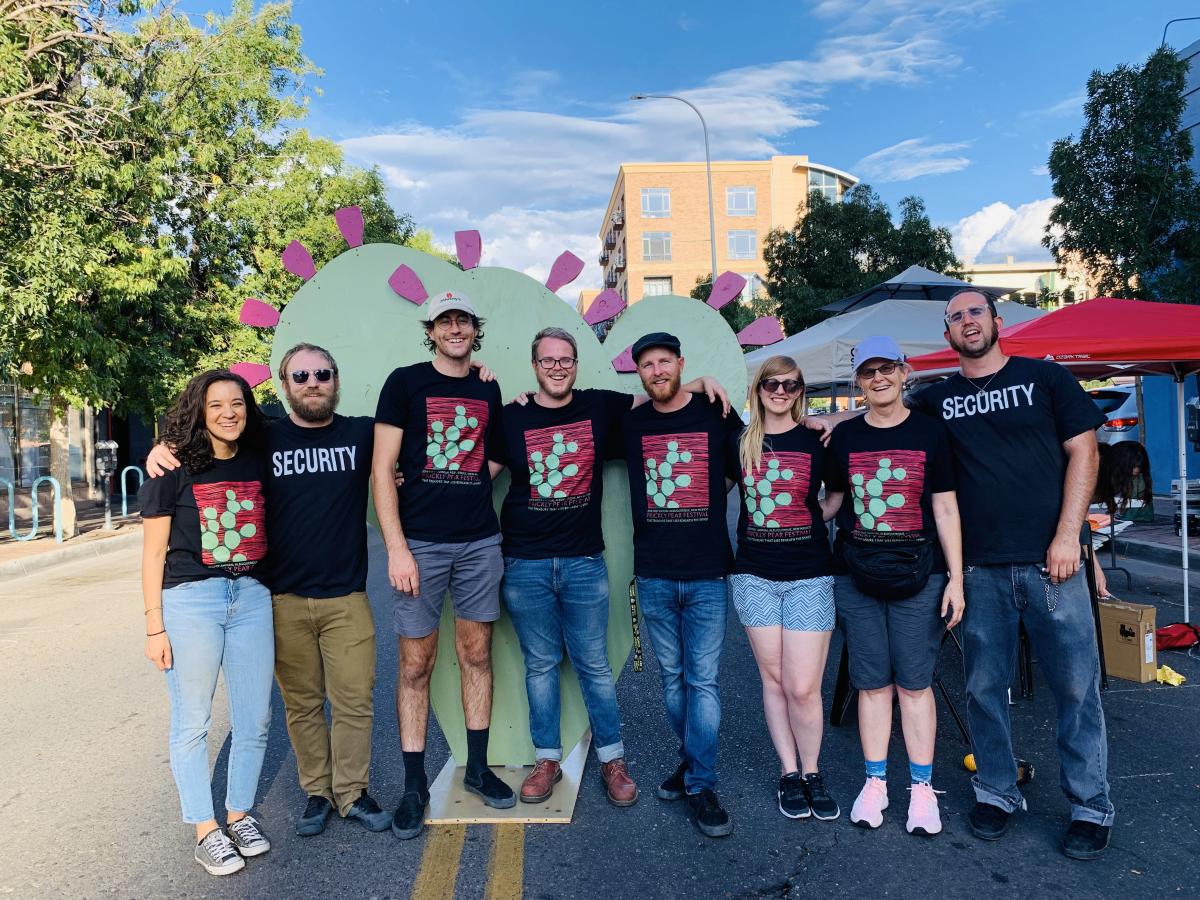 Above: Although the Prickly Pear Festival goes virtual this year (last year's event pictured), there will be a drive-thru market with vendors. Photography courtesy of the Prickly Pear Festival.
Enjoy the Prickly Pear Festival. 
The fruit of the prickly pear cactus, or opuntia, looks like it tastes—puckery and bright. Staples in diets from Mexico to the Middle East, they grow abundantly in New Mexico.  
This Saturday, the Prickly Pear Festival goes virtual. From 10 a.m. to 6 p.m., you can learn how to harvest them, their medicinal benefits, and recipes for food as well as yummy cocktails. Chefs Lois Ellen Frank and Walter Whitewater make salmon with a prickly pear glaze. Peggy Sue Sorensen of the Desert Kitchen reveals the plant's medicinal qualities. Jessica O'Brien, creative director of cocktails at Sister Bar, teaches prickly pear drinks. And local band Liz Howdy performs.  
Organizer Will Thompson and Aniza Bennett, executive director of Three Sisters Kitchen, came up with the idea as a way to share knowledge about harvesting and utilizing sustainable Indigenous foods. "I wanted to celebrate this great Native food and create more of a market for it," Thompson says.    
The festival includes a drive-thru market on Gold Avenue in Downtown Albuquerque where vendors will sell prickly pear jam, prickly pear glazed donuts, jewelry, prickly pear kombucha and lemonade, cookbooks, and pint boxes of fresh prickly pears. You do not need a ticket for the market portion, but you get discounts on select items if you have one. You can also preorder items via the festival's website.
For the virtual part of the festival, get a ticket (offered on a donation basis) at its Eventbrite page. All proceeds benefit Three Sisters Kitchen and COVID-19 relief for Indigenous communities.
Support wineries at Grape Aid 2020.
This year's wine festivals were cancelled, restaurants had less demand, and fewer tourists visited New Mexico's many wineries. New Mexico Wine, a nonprofit organization based in Albuquerque, created Grape Aid 2020 to bridge the shortfall.
Executive Director Chris Goblet has huge goals to for the Saturday event: save the state's 392-year-old wine industry by raising a million dollars in one day. "New Mexico winemakers would have made that at our Labor Day Festival," he says. "If we can raise it, we can save this industry, and we can move on."
The effort supports local grape growers and winemakers in two ways. First, you can buy wine online. New Mexico Wine has curated three-, six-, and 12-bottle bundles. "It gives the flavors of New Mexico, and a taste of what a wine festival here would be like," Goblet says. "Customers have a way to get wine, and wineries have a way to sell the current vintage."
Second, donate to watch a concert from 2–10 p.m. The series of pre-recorded and livestreamed sets by a variety of musicians culminates with an AMP Concerts performance from Hipico Santa Fe, where rock/pop/soul singer and songwriter Elle King takes the stage. King has performed hits like her 2015 "Ex's & Oh's" around the world. Expect tunes from her upcoming album, which she's creating in quarantine.
You can buy tickets to see King perform in person, drive-in style. The tickets are sold per vehicle, priced according to its size, with a limit of six people per car. Space allows for a 9-by-18-foot picnic or tailgating spot next to your car.
Or you can virtually watch the entire concert for free. A suggested donation of $20 goes toward helping farmers plant new vines. "Wine is part of our culture," Goblet says. "It's worth saving."
** No matter what you do or where you venture on your staycation this weekend, keep an eye out for NM True Certified businesses to support. Find a complete list of them here or pick up a September/October issue of New Mexico Magazine at your nearest newsstand.