Las Vegas sponsors a virtual small business shopping promotion during the holiday season. Photograph courtesy of MainStreet Las Vegas.
Head to Main Street … online. 
Black Friday has nothing on Small Business Saturday, an effort throughout New Mexico that pumps money into local economies while fulfilling holiday wishes. Organized by New Mexico MainStreet, this year's event includes a host of tax-free items and virtual parties that amp up the fun. MainStreet's Jessica Mraz serves as head wrangler and says she's especially looking forward to a handful of online "cash mobs," including one in Silver City.
"They do these on Facebook Live, usually from a particular shop, and it's sort of like an online auction," she says. Many of the cities will continue the weekend events throughout the holiday season.
Corrales MainStreet hosts an actual online auction through December 12, with art, beer, yoga classes, a cherry tree, and lots more on the block. From 10 a.m. to 3 p.m. Saturday, Roswell MainStreet livestreams a half-hour apiece from a variety of retailers, including the Ancients of Days rock shop, where (ahem!) "none of their prices are written in stone."
MainStreet Las Vegas sponsors a season-long virtual Cross the Bridge event that enters customers into a raffle for every $50 they spend at participating shops. Prizes range from $250 to $1,000.  
Tucumcari MainStreet hosts Very Merry Tucumcari Virtual Christmas Cash Mobs beginning November 30 throughout the holiday season with 6 p.m. stops at Blue Swallow Motel Gift Shop, Tucumcari Historic Museum, Blanco Creek Boutique, Arteformz Custom Artwork, and more.
Mraz says that study upon study proves local shops feed an economic churn that magnifies into jobs, downtown improvements, and more. She plans to do her part, too. "I'm a coffee fiend," she says. "Here in Santa Fe, I'm supporting local coffee shops and buying desserts from local restaurants."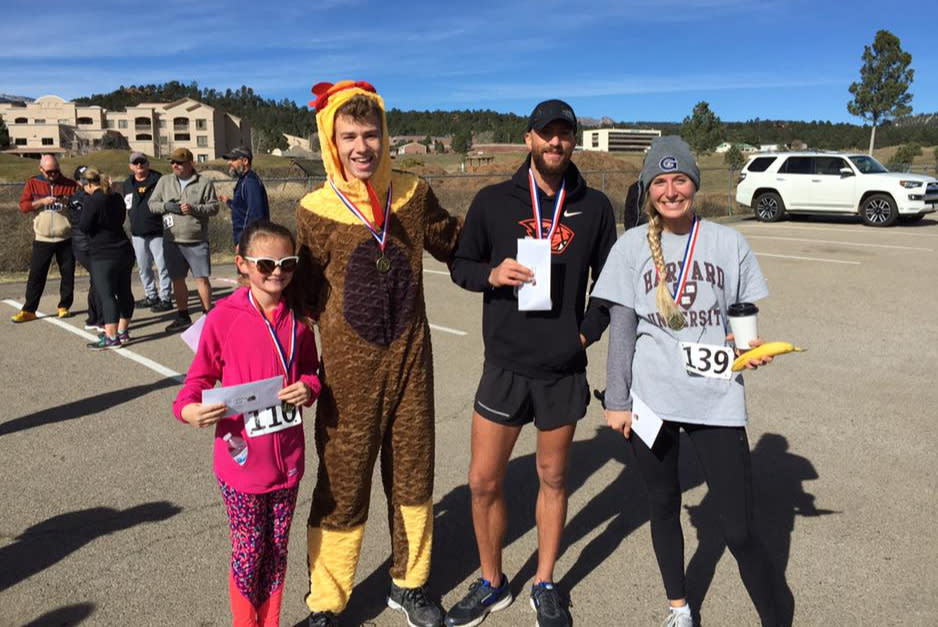 While the Ruidoso After Turkey Turkey Trot (picture from last year) moves to a virtual run, the sixth-annual event still supports the Lincoln County Food Bank. Photograph courtesy of Ruidoso Parks and Recreation.
Run, trot, walk—or just donate.
Ruidoso's sixth annual After Turkey Turkey Trot goes virtual this year, with Saturday marked as the day for working off some holiday carbs. In previous years, up to 60 participants gathered at the White Mountain Recreation Complex to put it in their 5Ks, while also filling bins with canned and dried goods for the Lincoln County Food Bank.
This year, runners are asked to register online, get their feet moving, snap a pic to submit, and drop off donations at 535 Resort Drive. Now, you could just say you're putting in the miles, says Jazmen Estrada, the event's supervisor, but the donations represent an important tool to combating hunger.
"The main goal really is the food donation," she says. "The Lincoln County Food Bank does accept online donations, so anyone can contribute."
Go shopping and win a prize.
Who wouldn't want a Robert Oppenheimer bobblehead? Or a glass ornament made by a local maker? How about some artisanal chocolates? Los Alamos has devised a way to satisfy all your holiday shopping needs this weekend—and earn a chance at up to $1,000. The Los Alamos Chamber of Commerce hosts a Blue Bucks Raffle through December 15, which entitles customers to a free raffle ticket for every $25 spent with certain retailers. But during Small Business Saturday this weekend? You earn two tickets per $25.
"There are cash prizes, and we've put together gift bags from the merchants," says Ryn Herrmann, the chamber's director. "Everybody loves it. It's fun, and it helps the businesses."
Participants include several restaurants and two breweries, plus White Rock Toys & Gaming, Rose Chocolatier, Mullein Leaf Massage, the Fuller Lodge Art Center, and the Los Alamos History Museum, where you can score that bobblehead of Oppie. Gift cards are available, too, Herrmann says, adding her own little hint-hint. "Take the list," she says, "and send it to your relatives who want to get things from New Mexico and say, 'Here are gift cards for these businesses.'"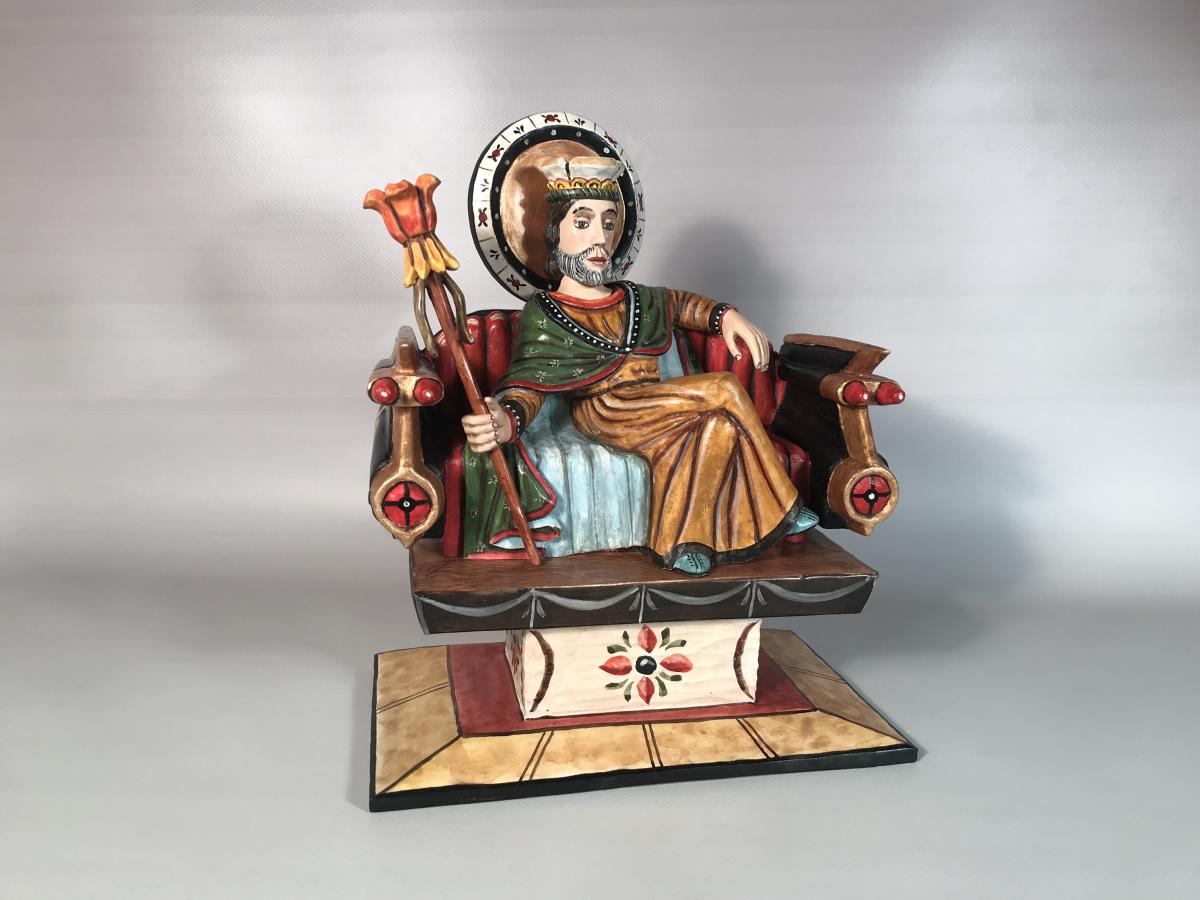 Enthroned San Jose bulto, by Gustavo Victor Goler, is among the items available at the online Southwest Artisan Market this weekend. Courtesy of Millicent Rogers Museum. 
Score some local art.   
Virtual pop-up shops are all the rage this year. Lucky us, the choices in New Mexico are filled with local makers and bakers. Get started with the Southwest Artisan Market Friday, Saturday, and Sunday, courtesy of the Millicent Rogers Museum, in Taos. The event presents works by 24 artists such as contemporary ceramicist Jody Naranjo (Santa Clara Pueblo), tinwork by Nicholas Madrid, and fashion by Patricia Michaels (Taos Pueblo). Board members and museum curators talk with the artists about their processes and inspirations. 
"Some of the artists are in the museum collection, some are featured in the store, and the others are very highly regarded artists from around the state," says co-chair Diane Ramsey. "There are items for people who may be looking for moderately priced earrings that would make a lovely Christmas gift, and there are items for collectors." 
Ramsey encourages shoppers to help artists who have missed other market opportunities during the pandemic. "Some of the artists we have are from Taos Pueblo, and they participated in another sale the museum did in October. That was the first time they were able to sell anything this year. We really want to help the artists as well." 
Then tap into the IAIA Virtual Holiday Market with home goods, jewelry, textiles, and artwork made by the Institute of American Indian Art alumni, students, faculty, and staff. 
"We have about 45 artists signed up for the market right now, and it grows as new artists are able to register at any given time," says alumni relations officer and MFA candidate Roanna Shebala (Diné/Zuni Pueblo). The market serves as a directory, which links you straight to these Indigenous artists' websites and social media accounts. 
"It includes different mediums," Shebala says. "We even have someone selling their poetry book, so there's literature—and photography, too."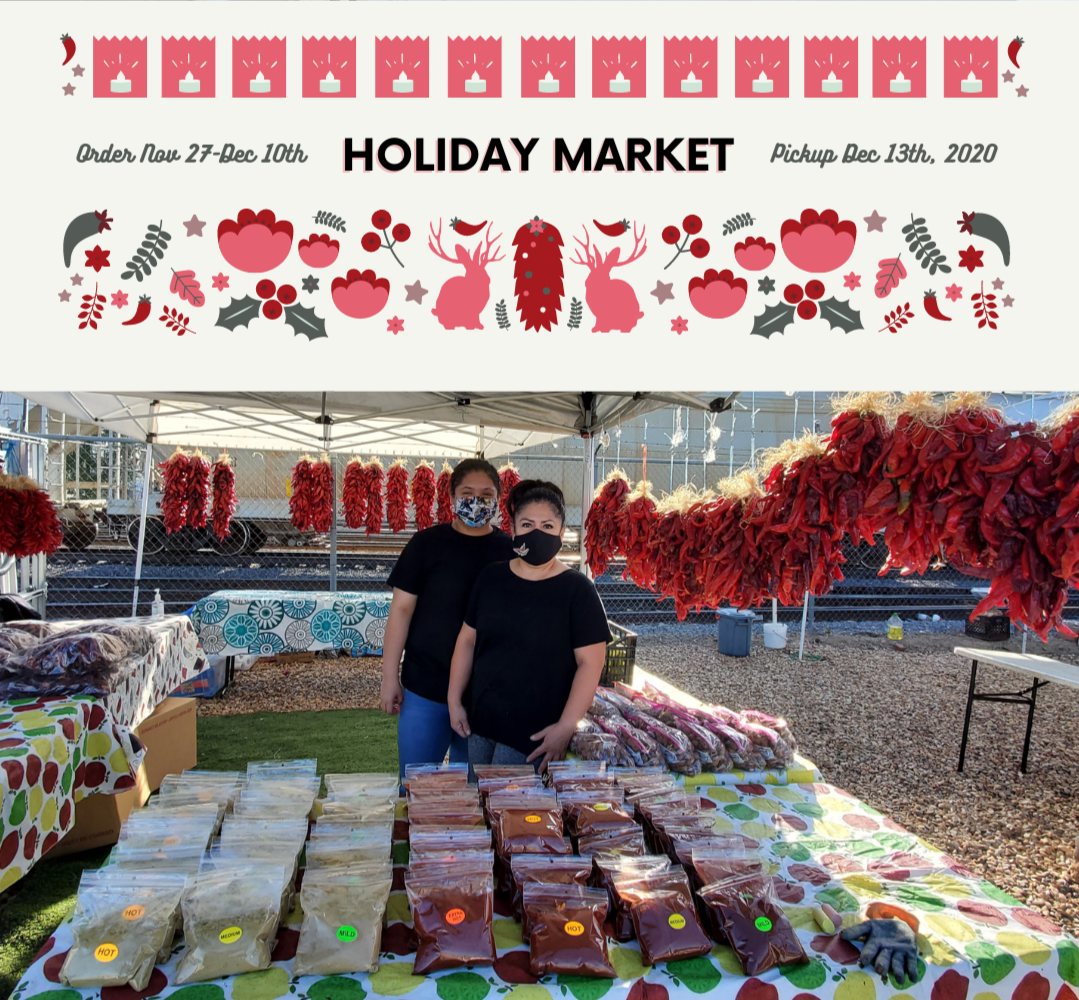 The Rail Yards Holiday Market is among several markets now offering drive-through pick-up. Courtesy of the Rail Yards Holiday Market.
Create a curbside caravan. 
Wanna mix a little drive into your online shopping? Here are a few ways to click "buy," then hop in the car for curbside pickup: 
Culture Club Gift Bundles: Self-care and coffee are two must-haves in the pandemic. Albuquerque's Culture Club Salon's gift bundles offer both, made entirely by locals and wrapped in sweet little packages. "The shops in this collection all love and support their community," says Jenny Gonzales. "This gift curation set is perfect for those who want to give back this season." Get hair products by Kevin Murphy, paired with small crocheted goods by Take Care Textiles, beans from Slow Burn Coffee, and body products from Dryland Wilds ranging in price from $75 to $100. Choose from curbside pickup or local delivery when you check out. 
ABQ Grab & Go Gift Market: Cookies, warm hats, art, jewelry, and more all made by New Mexico artisans are available to shop now through December 2 in the virtual ABQ Grab & Go Gift Market. Pick up your purchases on Saturday, December 5, from 11 a.m. to 3 p.m., when the market will deliver your goods straight to your car in the parking lot of the Albuquerque Museum. Find stocking stuffers with healing capacity like the salves and balms made by Wethington Holistic Arts. Add a little sparkle to your tree with rose gold and leather ornaments by Oropopo. Say "hey" to the friends and family you're missing with packs of greeting cards featuring photos of iconic New Mexico scenes by V. Isenhower Photography. Or treat yourself with hand-painted earrings featuring desert landscapes made by Half Full Designs. 
Rail Yards Holiday Market: Shop the online version of the annual Rail Yards Holiday Market beginning Friday through December 10, with drive-through pickup happening Sunday, December 13, in the Rail Yards parking lot. "We have over 100 businesses with over 2,000 items, including everything from raw produce to artisan goods and candles," says Rail Yards Market manager Alaska Piper. All of it is "100 percent local, and 100 percent New Mexican." Goods include puzzles, body-care products, holiday wreaths, prickly pear jam, and fresh mushrooms and greens. Some food vendors have pivoted to create food kits with everything you need to make special dishes at home, like bizcochitos and pie.