Above: David Eck gestures toward the arroyo where history was discovered. Photographs by Minesh Bacrania.
HUMANS HAVEN'T REALLY CHANGED much since the last ice age ended and nomadic hunters roamed the verdant heartland of North America. We still wander great distances and enjoy cooking and eating outdoors with friends, but thankfully we don't have to practice the same ancestral survival skills as a certain Paleo-Indian group once did on a northeastern New Mexico prairie.
My wife and I converge on Folsom, a village of 50 residents about 30 miles east of Ratón, along with a group of like-minded people who hail from four states. Not unlike the nomadic humans who frequented these rolling hills 10,000 years ago, we lounge in the shade of a tall cottonwood tree and chow down on meat (in our case, burgers) grilled over an open fire. Rick Williams, a historian from Oklahoma, cups a nodule of flint in his hand and strikes it expertly with an antler. A chip flakes off, and he begins knapping the edges into a razor-sharp spearpoint. To one side, a boy practices using an atlatl, a throwing tool that slings a spear. The extra leverage increases the striking force by two-thirds, enough to penetrate tough bison skin. We all wait in anticipation—not for the hunt, but for the tour.
Above: Visitors check out the Folsom Museum.
Twice a year, in May and August, the Folsom Museum, located in the town's renovated 1896 Doherty Mercantile and filled with period memorabilia, hosts visits to the world-renowned Folsom Site. The museum's collection of archaeological artifacts explains why the discovery of early human activity there was so shocking. It proved beyond a doubt the truth of a previously contested theory that humans had lived in North America 10,000 years ago and hunted bison, mastodons, and other Pleistocene-era megafauna that roamed the vast prairies.
As a city, Folsom sprang into being in the late 1800s, mainly to service the Colorado and Southern Railway between Denver and Fort Worth. It was named after the fetching fiancée of President Grover Cleveland, Frances Folsom, who strolled the shaded streets during a whistle stop. The village boomed to more than 1,000 residents until a flood in 1908 literally washed it away. Yet the townspeople refused to abandon it. Today, no fast food or convenience stores line the main street, just a row of mostly boarded-up stone and brick businesses with faded signs. But Folsom has clung to its rural lifestyle and iconic heritage with dogged resilience.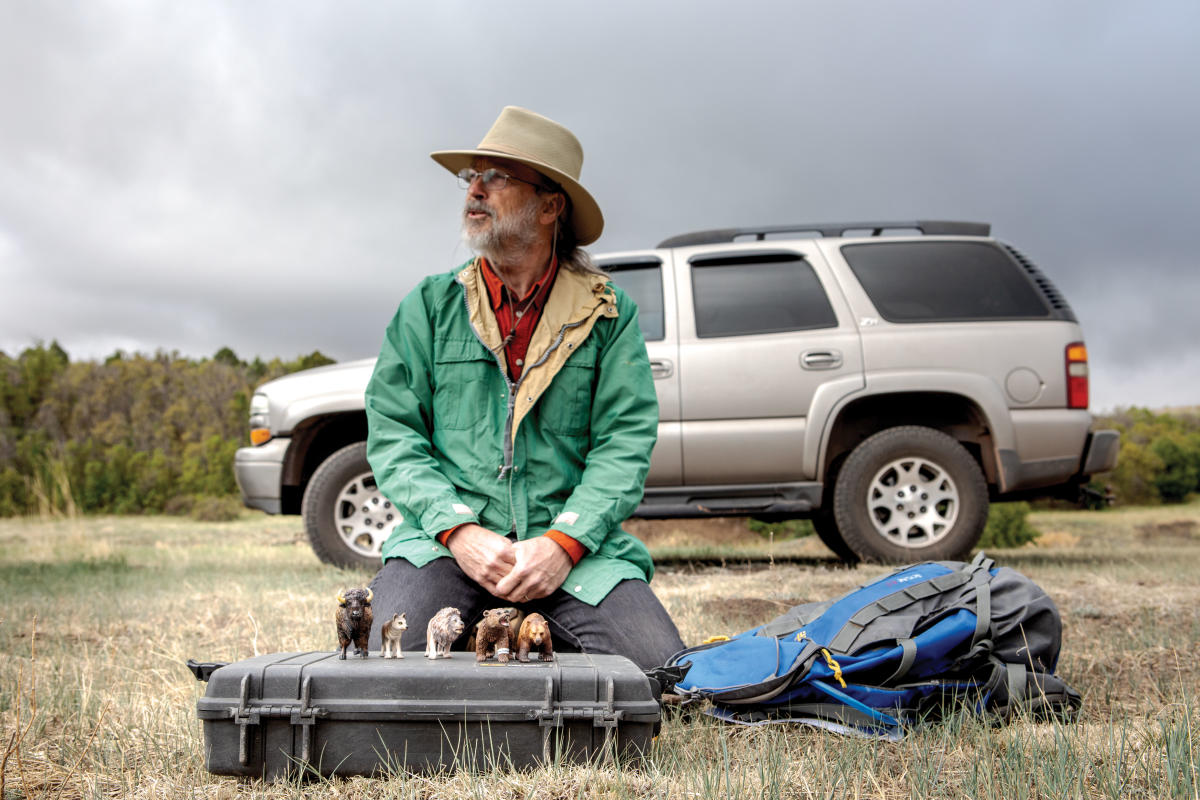 Above: David Eck.
After the 1908 flood, a cowboy and former slave from Texas, George McJunkin, discovered a bed of ancient bison bones by a quirk of fate. The flood that roared through the town had exposed the bones in a washed-out bank of Wild Horse Arroyo. The former buffalo hunter realized the bones were too large for modern bison or cattle, but despite his best efforts, nobody outside the town cared. A self-taught archaeologist and naturalist, McJunkin died in 1922, with the world still unaware of his important discovery.
Read more: Here in New Mexico, you might find an archaeological treasure in your backyard. Katherine Wells sure did.
Finally, in 1926, the Denver Museum of Nature and Science wanted to assemble a Bison antiquus skeleton, a species about 25 percent larger than modern bison, and sent a team to Folsom to collect some bones it had heard about. The eureka moment struck when excavations uncovered a stone spearpoint embedded in the earth between two rib bones that were roughly 10,000 years old. The man-made evidence proved that people had been there, seeking a hearty feast.
These days, the remote parcel, surrounded by private ranchland, is not accessible to the public, but, by another quirk of fate, the State Land Trust has owned it since statehood in 1912. In a partnership between the State Land Office and the Folsom Museum, David Eck, archaeologist, interpreter and master storyteller, leads our tour.
From the museum, we caravan to the ranch entrance, then drive a dusty two-track through two gates to the edge of the 15-foot-deep arroyo. Eck guides us across the grassy oak savanna to a bend in the creek with a steep bank. Little red flags identify where digs occurred. Instead of giant bison, four cows graze. We sit opposite the cut and Eck begins weaving a complex tapestry of Stone Age culture, technology, and lifestyle.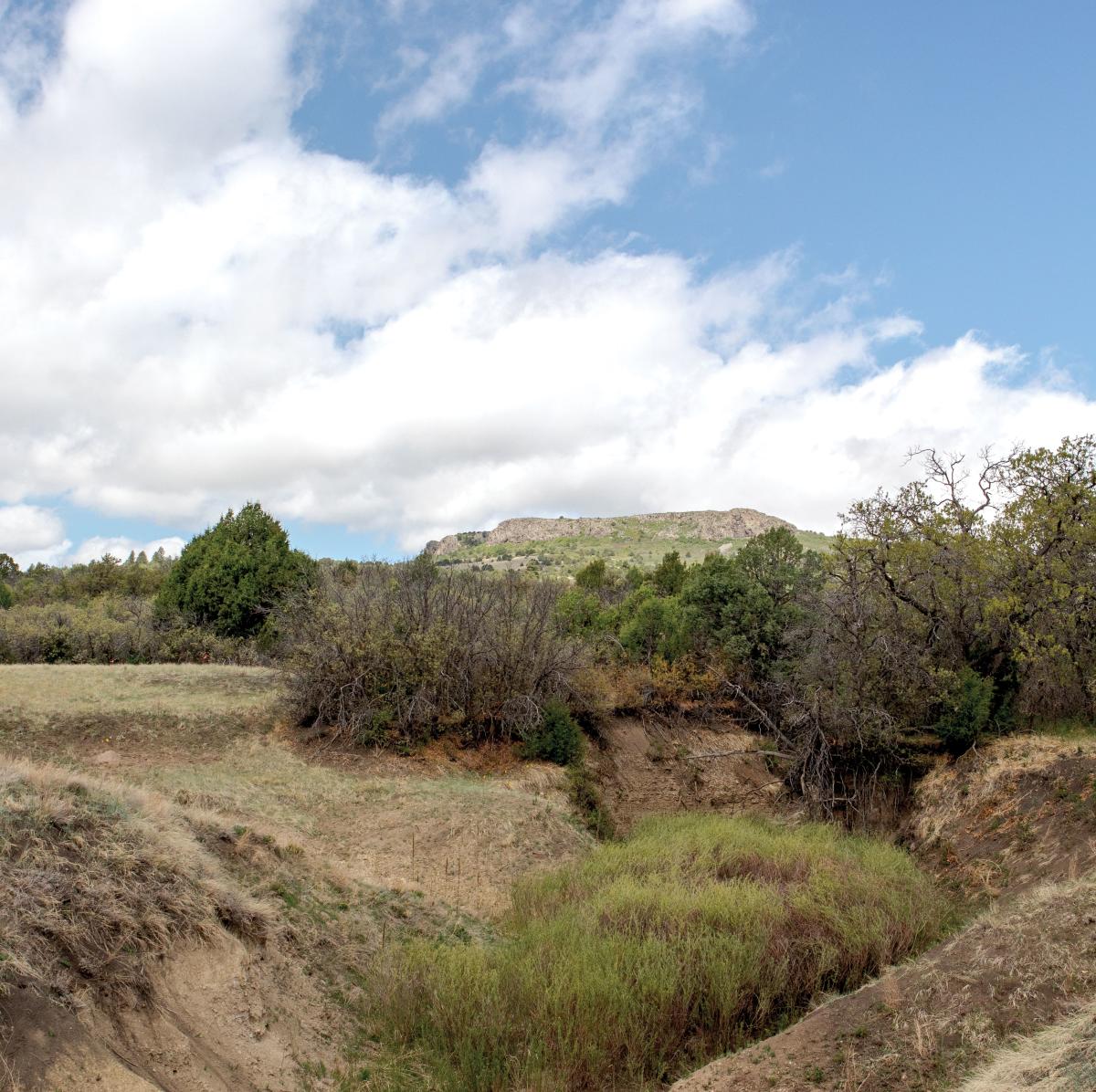 Above: Varied terrain defines the state's northeastern plains.
"Ten thousand years ago, the vegetation looked much the same as today, except the gully ended in a steep bluff," he says. "The nomadic hunters, probably a family group led by an experienced grandmother, discovered a small herd of bison. She sent the hunters to the gully to set an ambush."
Though the place is often referred to as Folsom Man Site, Eck theorizes that the tribe's grandmothers were the masterminds of the hunt, directing the men, women, and young people. (No evidence of their hunting camp has been found.)
To orchestrate the movements of a herd of 3,200-pound bison took expert knowledge of their behavior. If frightened, the animals would stampede, so the women and children lightly hazed them toward an ambush at the head of the bluff. Then the hunters hit them  with everything they had before the animals could panic and escape. They killed 32 bison in a matter of minutes, enough meat to feed the entire group through the winter.
Want to know what else is happening in New Mexico? Subscribe to New Mexico Magazine and get 12 issues for $25.95.
"Sixteen spearpoints were found with the bones," Eck says. "The way the Folsom point was fluted and shaped represented a major leap in Stone Age weapon technology. The discovery pushed back the known human occupation of North America 6,000 years."
The new timeline didn't last long. A few years later, a site near Clovis added another 2,500 years. Today, Eck says, evidence suggests that humans have lived in North America for up to 22,000 years.New Mexico is no stranger to groundbreaking fossil discoveries. Just as the Folsom Site rewrote our understanding of human history in North America, discoveries of new species of dinosaurs have repeatedly redrawn our understanding of their evolution. With a continuous geological record dating back 500 million years, and evidence of human occupation for 20,000 years, the next flash flood may reveal more hidden mysteries.  

SIDE TRIP
After our tour of the Folsom Site, we continued west on NM 72 toward Ratón and stopped at Sugarite Canyon State Park. Six miles northeast of Ratón, the park preserves the remains of Sugarite, a coal-mining town that blossomed from 1912 to 1941, along with 4,500 scenic acres on the New Mexico/Colorado state line. You can hike all the way to Colorado if you want, and we did. Known for birds, butterflies, and wildlife viewing, Sugarite has 12 hike/bike/horse trails that cover 15 miles, and two spring-fed lakes. Facilities include two campgrounds with 40 sites, water, and restrooms with showers.
After exploring the Coal Camp Trail, with its ruins of old buildings and interpretive signs describing life in the mining era, we parked by the dam at Lake Maloya, the largest of the park's lakes and a fishing favorite. "Watch out for the black bear," a fisherman cautioned as we set out on the trail around the lake and into Colorado. "It was feeding on the chokecherries."
Along the wooded path, we saw stands of blue larkspurs, masses of sunflowers and coneflowers, kayaks, and fishing boats, but no bears. I couldn't help thinking that 10,000 years ago we would have been looking for giant bison.
TAKE THE TOUR
The Folsom Museum and the State Land Office sponsor tours of the Folsom Site this year on May 18 and August 17. Two tours embark each day, at 7 a.m. and 1 p.m. Reservations are required (575-278-2122.)
The museum hosts the Dry Cimarrón River History Tour on May 4. The daylong driving adventure with regular stops also requires reservations. The museum is open daily from Memorial Day weekend through September, 10 a.m.–5 p.m.
Folsom sits north of Capulin Volcano National Monument, which has a museum, picnic sites, and a variety of hiking trails, including one that circles the rim of the volcano, offering a view that extends to Texas, Oklahoma, Kansas, and Colorado.
Set up your base camp in nearby Ratón, which sports motels, shops, a museum, the Colfax Ale Cellar brewery, and local cafés serving burgers, sandwiches, and Mexican food. Bruno's Pizza & Wings, La Cosina Cafe, and the Historic Ice House are local favorites. For more options, go to visitraton.org.
---