Alamogordo
The New Mexico Museum of Space History hosts a drive-in watch party for fireworks on Monday from 6 to 10 p.m. The lot is limited to 200 cars, so get there early if you want a space. The gates open at 6 p.m., and you must have at least one museum member in the car to get a spot. If you aren't already a member, you can sign up here. The fireworks show starts around 9:20 p.m., but the gates close at 8 p.m. Bring chairs to sit and enjoy the sparkling sky; tailgating is prohibited.
Albuquerque
Shenandoah, the country band headlining the Freedom Fourth celebration at Balloon Fiesta Park, has over 300 million streams and 8 million album sales, plus a Grammy. They're known for the upbeat melodies of their greatest hits like "Two Dozen Roses" and "Next to Me, Next to You." They take the stage at 7:45 p.m. before the fireworks show starts at 9:15 p.m. Other performers include Albuquerque native Nathaniel Krantz and reggae soul ensemble Mondo Vibrations. Beer, food, and fun will be present. 
Carlsbad
The Liberty & Legacy Fourth of July Celebration in Carlsbad happens on Sunday and Monday, bringing two days of live music, a boat parade, a traditional street parade, and fireworks to town. The Beach Bandshell party starts Sunday at 12:45 p.m. with a set from DJ G Money. Performances last until 9 p.m., with Sonny Throckmorton & the Orange Beach Band starting at 7:15 p.m. The boat parade along the Pecos River begins after dark. On Monday, festivities kick off with a street parade at 9 a.m. from Church Street to Canyon Street. A veterans' ceremony happens at 10 a.m. and more live music takes the Beach Bandshell stage starting at 11:30 a.m. with performers like the Proof, Grupo Maldad, and Last Child. The party culminates with fireworks on Monday after dark.
Grants
The Cibola County Chamber of Commerce puts on a party called the 4th of July Stars & Stripes in the Rugged West Celebration in Grants on Monday. It includes family fun at the Fire & Ice Park and a parade at 9 a.m. that goes east on Santa Fe Avenue, then north on First Street. A firework show shoots off from the Coyote del Malpais Golf Course, bringing color and drama to the night sky. Set up lawn chairs and blankets to enjoy the fun; no personal fireworks, alcohol, or barbecues are allowed.
Las Cruces
The Electric Light Parade is a red-white-and-blue event in Las Cruces—this year's theme is Patriotic Spirit and American Dreams. Illuminated floats leave from Apodaca Park at 9 p.m. Sunday, travel south on Solano Drive, then east on Hadley Avenue, and end up at the Maag Softball Complex. On Monday, the Chicago-based pop-rock group Plain White T's, best known for their hit "Hey There Delilah"—will headline a concert at the Pat and Lou Sisbarro Community Park, on the New Mexico State University campus. Gates open at 4 p.m. and the show starts at 6 p.m., followed by a fireworks display.
Santa Fe
The Santa Fe Place Mall hosts a free 4th of July Celebration starting Monday at 4:30 p.m. Expect food trucks, live music by performers including Nosotros, Dream Noise, and JJ & the Hooligans, and a huge display of fireworks put on by the Kiwanis Club after dark. The big reveal of the 2022 Zozobra artwork, a lowrider bike raffle featuring an awesome ride made by Muñoz Customs, a carnival, a beer garden, face painting, and magicians make this event a bonanza of family fun.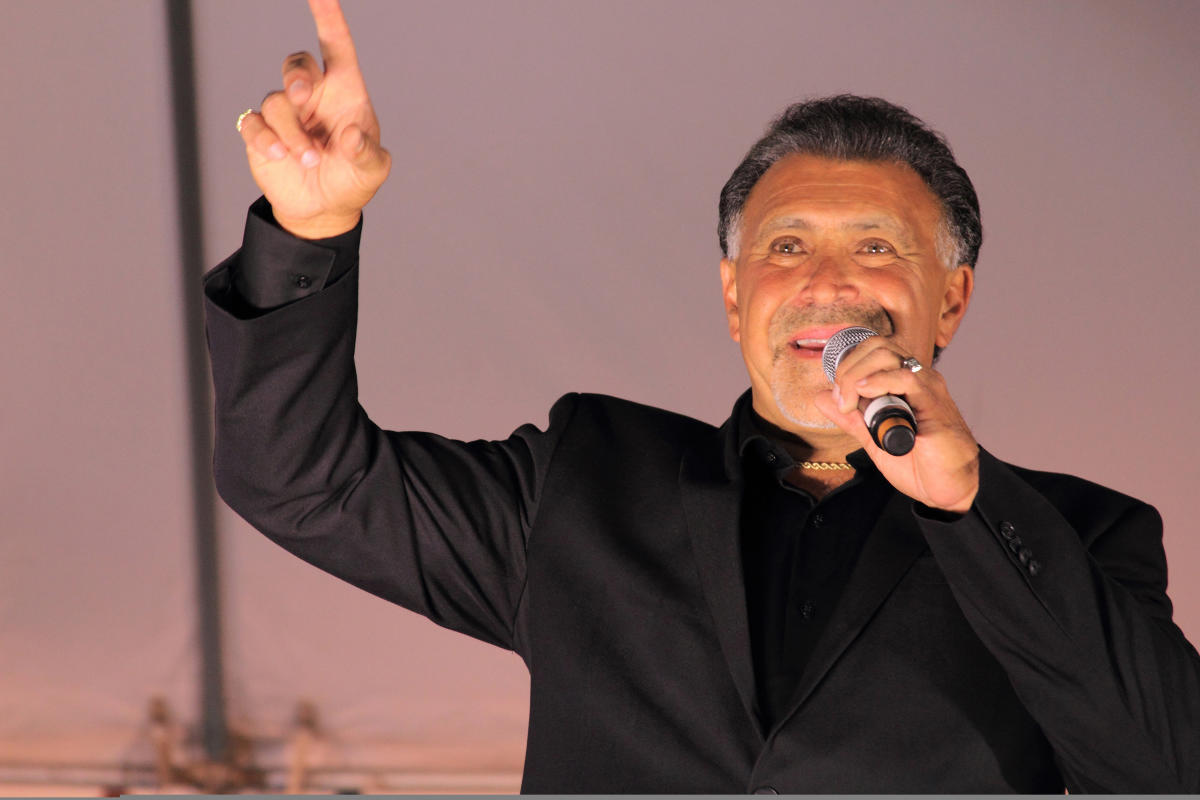 Al Hurricane Jr. is among the performers at Socorro's Fourth of July Celebration. Photograph courtesy of the City of Socorro.
Socorro
A free, all-day Fourth of July Celebration takes over the Socorro Rodeo and Sports Complex on Monday, as a decades-old tradition moves to a new space. Tons of live music is featured throughout the day, including Al Hurricane Jr., blues and classic rock ensemble Blue Monday, and six-piece band Suavecito. Kids can look forward to water slides and bouncy houses. Wise Fool, a Santa Fe–based circus group, performs aerial acrobatics, the Socorro Community Band plays, and New Mexico Tech's belly dance group, Aditi Natesa, takes the stage in the evening. The fireworks show is coordinated by New Mexico Tech's explosive research students, who will provide high-tech bursts of fun.