ART & ARCHITECTURE
---
Georgia O'Keeffe: A Life Well Lived
By Malcolm Varon (University of New Mexico Press) 
In her final decades, Georgia O'Keeffe trusted Malcolm Varon to photograph her artwork, which became the source of the many prints and posters that fed a global craze for her modernist masterpieces. Along the way, the pair developed a relationship that enabled Varon to capture her at home and with friends and family, along with her Abiquiú environs. More often seen in black-and-white images, O'Keeffe comes to life in these intimate color photographs. Essays by O'Keeffe scholars Cody Hartley and Barbara Buhler Lynes support it, but it's that deeply lined face readers will return to—especially the images in which she drops the dramatic pose, suppresses a smile, or breaks into a laugh. 
The Life and Art of Wilson Hurley: Celebrating the Richness of Reality
By Rosalyn Roembke Hurley (Fresco Books)  
From his home overlooking Albuquerque's Sandía Peak, the late Wilson Hurley received daily inspiration for his grand paintings of western landscapes. Known especially for spectacular wall-size canvases (two of his Sunset at La Cueva paintings hang at the Albuquerque International Sunport), he also excelled at portraits, seascapes, and even depictions of the lunar surface. This hefty retrospective by his artist wife, Rosalyn Roembke Hurley, traces his evolution from a child of Oklahoma and Virginia to Albuquerque lawyer to renowned artist. The author's essays appeal to general readers, while details on how Hurley plotted his compositions, angles of sunlight, and color schemes will delight fellow painters.
Common Ground: Albuquerque Museum Art Collection
By Josie Lopez, Lacey Chrisco, and Andrew Connors (Museum of New Mexico Press)  
The Albuquerque Museum's Common Ground exhibit immerses visitors in a broad overview of New Mexico's art history, from centuries-old roots to newly sprouted leaves. Nothing beats seeing the art in person, but this book delivers a new a-ha with every turn of a page—from Ancestral Puebloan pots to Spanish colonial santos through the Santa Fe and Taos art colonies and up to contemporary standouts like Luis Tapia, Teri Greeves, and Joe West. Each section asks but does not answer questions about romanticized imagery and cultural appropriation, giving readers space to ponder their own feelings. More than anything, the book underscores the creative fire that has long ignited artists in our state.
The Tinker of Tinkertown: The Life and Art of Ross Ward
By Carla Ward (Tinkertown Museum Press) 
Ross Ward liked to say that he crafted the zany folk art installations that make up the Tinkertown Museum, in Sandía Park, "while you were watching television." But here's the thing: Tinkertown isn't the only art he created while the rest of us were goofing off. This slim but exceedingly well-illustrated volume, by the late artist's wife, Carla Ward, bursts with his drawings, paintings, woodblock prints, murals, signage for carnivals and circuses, and his NSFW Abecedarium, an alphabet featuring an array of nude women. Some of his works were completed after his Alzheimer's diagnosis at age 57 and stand as testaments to the will of an artist who always found something more interesting than TV.
Architecture Santa Fe: A Guidebook
By Paul Weideman (Running Lizard Press) 
After years of writing about northern New Mexico architecture for publications such as The Santa Fe New Mexican, Paul Weideman collects his wisdom in this book, one part architectural analysis and one part guidebook to some of Santa Fe's most notable homes, museums, offices, and shops. Weideman pays homage to the significant roles played by Isaac Rapp and John Gaw Meem in solidifying the elements of "Santa Fe style," as well as their spearheading of efforts to preserve historic adobe buildings. Modern masters such as Antoine Predock and Bart Prince join the tour-guide section, which will inspire countless scouting trips throughout the city.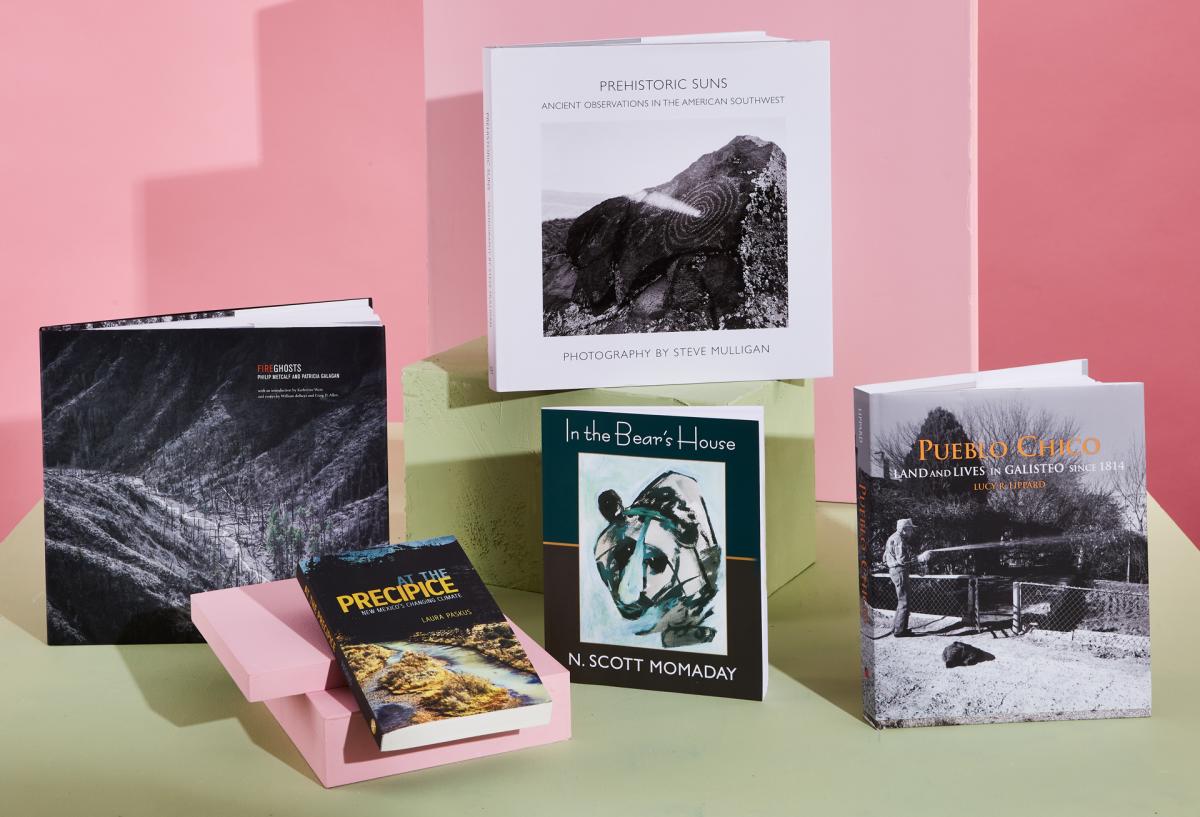 LAND & CULTURE
---
Pueblo Chico: Land and Lives in Galisteo Since 1814
By Lucy R. Lippard (Museum of New Mexico Press)  
Internationally renowned art writer Lucy R. Lippard has cast her most recent gaze beyond the doorway of her longtime home in the village of Galisteo, south of Santa Fe. A sequel to her 2010 Down Country: The Tano of the Galisteo Basin, 1250–1782, this volume picks up the story a few decades later, mining the region's rich Hispanic history, struggles for land and water, and contemporary concerns over oil exploration. Lippard's unerring eye for historic photos and maps enlivens each page. Her dedication to giving voice to the marginalized—women, laborers, churchgoers, and farmers—conjures a vivid realm of people you wish you knew. While it demands space on every historian's bookshelf, those of us who enjoy poking around New Mexico's small towns and open spaces will also devour it.    
Fire Ghosts
By Patricia Galagan and Philip Metcalf (Museum of New Mexico Press) 
On June 26, 2011, the Las Conchas Fire erupted in the Jemez Mountains. It whipped across 158,753 acres, scorching old-growth forests and damaging watersheds for years to come. Husband and wife Philip Metcalf and Patricia Galagan documented the devastation—and the slow recovery—over the next seven years, he in black-and-white, she in color. Through their eyes we see eerie sculptures of burnt snags, hillsides of blackened trunks, and the hardy return of plants to what contributing essayist Craig D. Allen calls "a shrubbier future." The final image of three ponderosa carcasses waiting to fall, backgrounded by a young aspen grove in glorious autumnal gold, blends the daunting reality with our shared hopes.  
Prehistoric Suns: Ancient Observations in the American Southwest
By Steve Mulligan (Fresco Books) 
Utah photographer Steve Mulligan carted his four-by-five camera across California, Nevada, Arizona, Colorado, Utah, and New Mexico, documenting ancient petroglyphs, monoliths, kivas, and sun daggers. His silver gelatin prints play with the contrasts of rock faces, slender streams, and monumental skies. While the New Mexico section feels slim, the residents of Chaco Canyon knew nothing of state lines, and their shared influences throughout the region reveal a human longing to divine how sun cycles and night skies affect our lives on earth. 
In the Bear's House
By N. Scott Momaday (University of New Mexico Press) 
This new-in-paperback edition of Pulitzer Prize–winning novelist N. Scott Momaday's 2010 book kindles his ruminations on the forest being for whom his Kiowa parents named him. Tsoai-talee ("Rock-Tree Boy") opens the book with a series of Camus-like dialogues between a bear and Yahweh, exploring matters of nature, longing, language, and hunger. Imagine them read to you in Momaday's deep rumble of a voice—or, better, read them aloud with family members alternating the parts. A selection of Momaday's poetry over the decades plunges readers into a mystical realm where boys become bears, and a bear is a man, and the man is Momaday. 
At the Precipice: New Mexico's Changing Climate
By Laura Paskus (University of New Mexico Press)
Accomplished environmental journalist Laura Paskus places global warming under a hyperlocal microscope, examining its causes and effects across her favorite landscapes. Carrying readers into conversations with experts in hydrology, forestry, and agriculture, she translates scientific concepts into easily understood realities. While the outlook is grim (one expert's "solution" is digging a canal to the Mississippi River), Paskus doesn't preach but instead persuades readers to consider the combined impacts of dry years, wildfires, oil fields, farming, and water laws so arcane that, hydrologically, Elephant Butte Lake is part of Texas. Throughout, she leavens the dire outlook with lyrical descriptions of the land she loves best.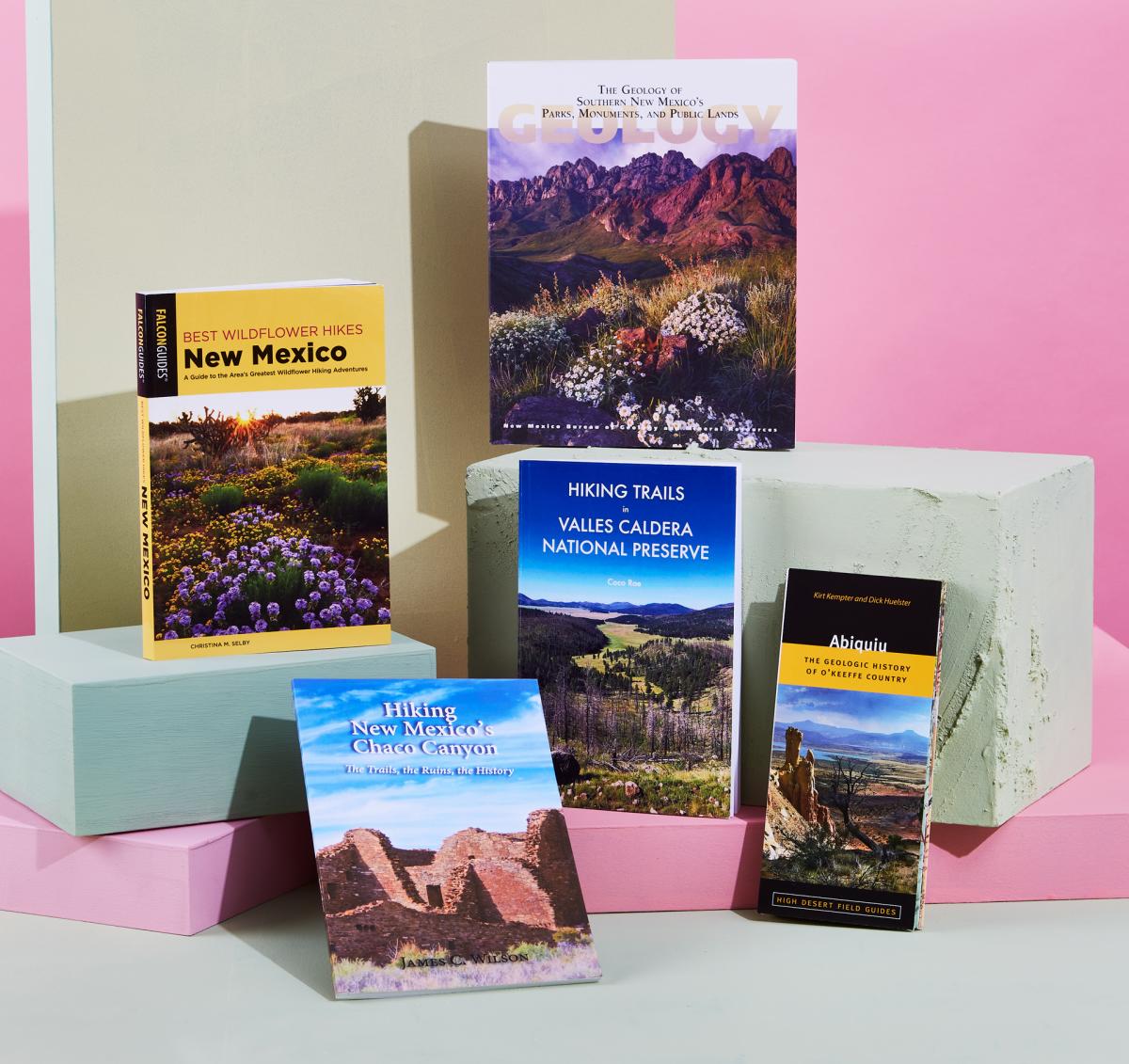 ROCKS & TRAILS 
---
Hiking New Mexico's Chaco Canyon: The Trails, the Ruins, the History  
By James C. Wilson (Sunstone Press) 
Just getting to Chaco Culture National Historical Park can be an adventure, with 12 miles of rough road calling for high clearance, 4WD, and a sturdy spine. James C. Wilson has logged some 40 years exploring the Ancestral Puebloan ruins in and around it. Once there, visitors often hit the main trails around Pueblo Bonito and miss other wonders, like Chacra Mesa. Wilson details the hikes but also clues you in on where to park, camp, and even find a spot of shade. He delves into other places, like Aztec Ruins National Monument and Salmon Ruins, and provides a concise history of the region, along with recommendations for further reading.
Hiking Trails in Valles Caldera National Preserve
By Coco Rae (Courtney Rae)
Los Alamos writer Coco Rae knows that most hikers are flummoxed by where to go in the Valles Caldera National Preserve. So she set out to change that with this book, running the gamut from short hikes to ambitious loops and also showing mountain bikers how to link them together into lengthy rides. Her step-by-step directions are easy to follow and detail how much effort you'll need to expend. This geological wonder, the crater left by a massive volcanic eruption, abounds with flowers, grasses, elk, bears, and opportunities for relative solitude.
Abiquiu: The Geologic History of O'Keeffe Country  
By Kirt Kempter and Dick Huelster (University of New Mexico Press)
In the confluence of the Colorado Plateau, the Río Grande Rift, and the Rocky Mountains, you'll find a 300-million-year legacy of dramatic change. Not a book but a large foldout map, this latest entry in the High Desert Field Guides series carries a book's worth of info by geologist Kirt Kempter and archaeologist Dick Huelster. With it, you'll learn about the Tusas Mountains, Questa Caldera, Cerrito de la Ventana dike, and a host of formations you can see from your car. But don't stop there. The map also shows where to find the trails in this complex landscape.
The Geology of Southern New Mexico's Parks, Monuments, and Public Lands  
Edited by Peter A. Scholle, Dana S. Ulmer-Scholle, Steven M. Cather, and Shari A. Kelley (New Mexico Bureau of Geology and Mineral Resources)  
A companion to the 2010 Geology of Northern New Mexico's Parks, Monuments, and Public Lands, this nearly 400-page volume is stuffed with info about rock types, fault lines, ancient lakes, extinct volcanoes, and the mighty Río Grande Rift. Conveniently organized by region, it helps readers focus on a specific site before they visit, to better appreciate it and maybe also to wow friends and family with all the deep facts they happen to know. The photographs entice such visits, with handy maps and a bounty of illustrations describing what lies beneath various surfaces and how the land changed over the course of 1.66 billion years. 
Best Wildflower Hikes New Mexico
By Christina M. Selby (Falcon Guides)
Rather than another wildflower-ID guide (there are plenty out there), Christina M. Selby suggests 40 trails where you're most likely to find them, from Las Cruces to Ratón and from Grants to Santa Rosa. She's been on all of them, so she gives essential tips like which boulder to look under and where to find the tender darkthroat shooting stars. A trained ecologist and conservation photographer who has produced several stories for New Mexico Magazine, Selby combines trail know-how with scientific precision to remind hikers why it pays to look down. 


HOT & SPICY 
---
Chile Peppers: A Global History
By Dave DeWitt (University of New Mexico Press) 
Known as the "pope of peppers," food historian Dave DeWitt carries serious chile cred. He organizes the annual National Fiery Foods & Barbecue Show in Albuquerque, founded the Scovie Awards for tongue-blazing products, and has authored or co-authored 43 books on chiles and spicy foods, including this latest one. In it, DeWitt gives chiles their global due, from their beginnings in South America to the hundreds of cultivated varieties grown throughout the world (and, soon, in space). He explores the types of chiles most popular by region and generously shares some recipes that include curries, tamales, and his own Steak à la Dave.  
The Chile Line: Historic Northern New Mexico Recipes
By Liddie Martinez (Pajarito Press)  
Growing up in the Española Valley, Liddie Martinez learned to cook from her grandmother—a fact that testifies to her skill at the stove. In this spiral-bound volume (the better to cook with), she accompanies her recipes of classic northern New Mexico fare with tales of farming and memories of familia. She lays out the basics of empanaditas, albóndigas, adovada, calabacitas, and natillas, a Christmas classic. In those rare years when the apricot trees survive a late frost to deliver bushels of fruit, her apricot jam will solve all your gift-giving needs. 
Texas Q: 100 Recipes for the Very Best Barbecue from the Lone Star State, All Smoke-Cooked to Perfection 
By Cheryl Alters Jamison (Harvard Common Press) 
Our favorite James Beard Award–winning cookbook author knows barbecue. From her patio near Santa Fe, Cheryl Alters Jamison has her choice of a grill, smoker, and wood oven, and if her social media posts don't convince you, then her latest cookbook will. Learn all about rubs, appetizers, meats, sauces, sides, and even desserts (hello, cornbread pudding with bourbon sauce). But if the word "Texas" offends your New Mexico pride, consider the still-in-print 2012 classic by Alters Jamison and her late husband, Bill Jamison, Tasting New Mexico: Recipes Celebrating One Hundred Years of Distinctive Home Cooking (Museum of New Mexico Press).