Above: The crowd from Music on the Mothership. Photograph Courtesy
Music on the Mothership.
LET THE SPIRITS SOAR
Shake up your inner mixologist during New Mexico Cocktail Week, May 25–June 2, when restaurants and bars around the state pour signature cocktails and vie for your vote in the Cocktail of the Year contest (you can vote online). The fun comes to a head May 31–June 3 with the New Mexico Cocktails & Culture Festival, in Santa Fe. Given the number of tasting parties, cocktail seminars, and fun competitions—such as Taco Wars and the Chef & Shaker Challenge—you're a winner no matter which chefs and bartenders take top honors (nmcocktailculture.com).
Raise a Riedel and toast your oenophile dad during the Art & Wine Festival at Brandenburg Park, in Red River, June 15–17. If Pop's not into pinot, take yourself to the festival and buy a Father's Day present from one of the vendors or a treasure from the silent and live auctions (575-754-2366, redriver.org).
At the High Rolls Cherry Festival, June 16–17, you can take a bite out of summer—but don't be surprised if it stains your shirt. This little mountain town near Cloudcroft is known for luscious summer fruit, U-pick orchards, and farm shops. Fill a bucket with cherries or just fill up on pie and lemonade (575-682-6044, hrmplions.com).
The stakes are high at the Smokin' On The Pecos BBQ Tournament, in Artesia, June 23–25. The Kansas City Barbecue Society judges the contest, and one overall Whole Hog grand champion automatically qualifies for the World Food Championships. Soothe your nerves in the beer garden, boogie off the tension on the dance floor, or buck the stress watching bull riding or mounted shooting demonstrations (575-513-4291, smokinonthepecos.com).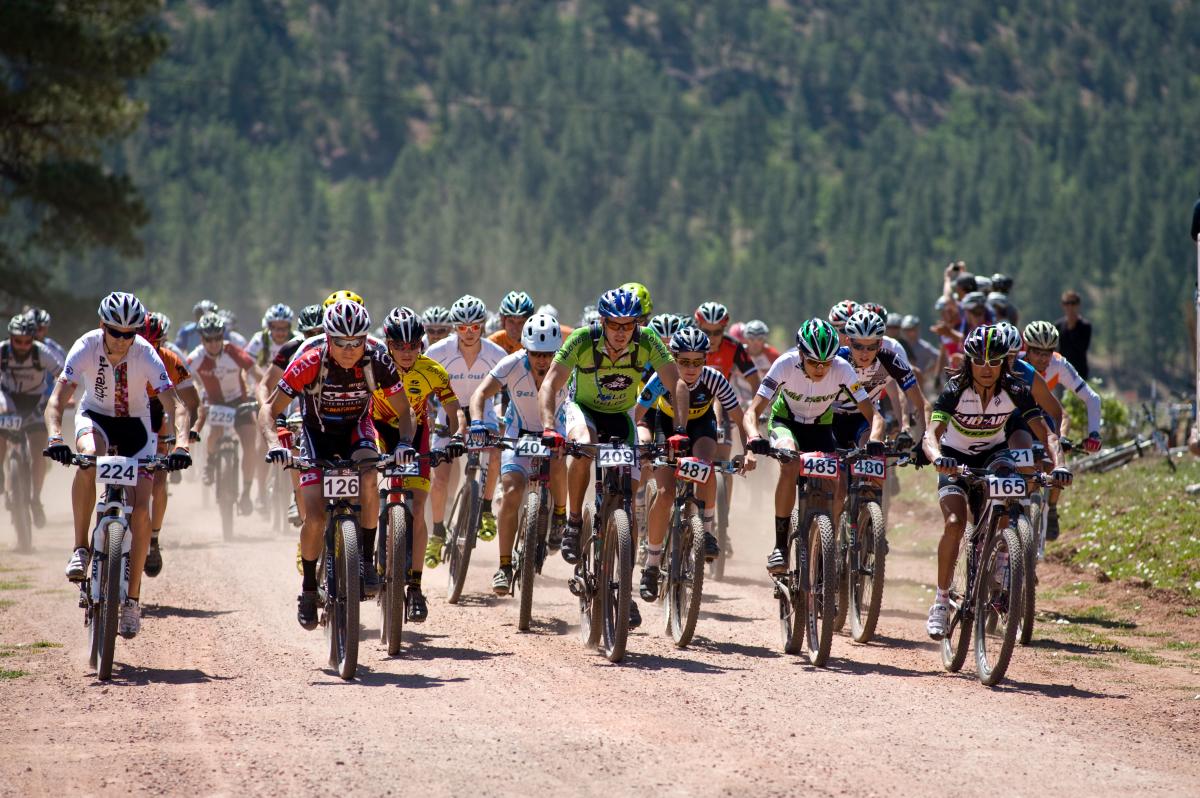 Above: The 24 Hours in the Enchanted Forest bike race. Photograph by Brian Leddy.
TRUE GRIT
Western spirit is alive and kicking in Clovis during Pioneer Days, a celebration of cowboy heritage centered on a Professional Rodeo Cowboys Association event June 7–9. Bronco bucking, barrel racing, team roping, and bull riding have drawn pro cowboys to Clovis for more than half a century. Don't miss the Pioneer Days Parade down Main Street on Saturday (clovispioneerdaysrodeo.com).
ENDURANCE TEST
In something of a modern-day rodeo, mountain bikers tackle a pretty rough ride during Gallup's 24 Hours in the Enchanted Forest, June 23–24. Whether you blast through the ponderosas or mosey down the Quaking Aspen Trail, the course climbs more than 1,000 feet through the gorgeous Zuni Mountains. Many competitors make camp together at the National Forest Service's McGaffey Campground, where the congenial atmosphere is half the fun (505-554-0059, ziarides.com).
ARE YOU EXPERIENCED?
Taos Mesa Brewing must have a tractor beam to attract such hot acts for Music on the Mothership, June 1–3. The lineup features 25 bands, most from out of state, ranging from bluegrass and rock to Afrobeat. Deadheads and jam-band fans will feel right at home, too (taosmesabrewing.com).
The Albuquerque Film & Music Experience brings more than 6,000 filmmakers, musicians, artists, and other creative types to the Duke City, June 4–10, for film screenings, panels, workshops, live music, art, and networking events. Past attendees include Eric Clapton, Robert Redford, Alicia Keys, Bryan Cranston, and T Bone Burnett (abqfilmx.com).
The Albuquerque Folk Festival showcases a diverse group of local and regional bands channeling traditional music with Irish, Finnish, and northern New Mexico accents, June 2 at the Anderson Abruzzo International Balloon Museum. Kids will find plenty to do between the giant puppets, storytelling tent, and musical petting zoo (abqfolkfest.org).
PRODIGAL SUN
Early birds catch the summer solstice action on June 21 at Aztec Ruins National Monument. Meet rangers in the picnic area around 5:30 a.m. and follow them on a short off-trail walk to a spectacular viewing area, then stick around for a brief program after sunrise (505-334-6174, nps.gov /azru). You can also watch the solstice sunrise at Chaco Culture National Historical Park, where the summer light passes a marker inside Casa Rinconada, a Chacoan great kiva (505-786-7014, nps.gov/chcu). Or go with the lesser-known Salmon Ruins Archaeological Center, between Bloomfield and Farmington, where the park hosts a ritual observance in a room believed to have marked ancient astronomical events (505-632-2013, salmonruins.com).

BUT THAT'S NOT ALL
For more events, go to nmmag.us/calendarnmm
---