Above: Innovative, successful, and philanthropic, the Meow Wolf team has quickly brought young energy to Santa Fe and beyond. Photograph by Gabriella Marks.
SINCE 1974, dozens of New Mexico's best artists, authors, musicians, and philanthropists have earned the honor of calling themselves Governor's Arts Awards winners. Their ranks include Georgia O'Keeffe, Maria Martinez, Tony Hillerman, Robert Redford, George R. R. Martin, and Robert Mirabal. Most recipients can already claim a roomful of trophies and plaques, but when they hear that the governor and members of the New Mexico Arts Commission are bestowing this lifetime achievement award upon them, emotions run deep.
"It never fails to move me how excited our artists and arts contributors are to hear they've won," says Loie Fecteau, director of New Mexico Arts, the state agency that oversees the awards. "These are amazingly talented people. I always think of [Pueblo potter] Nancy Youngblood, when she won in 2004. She's received awards from all over the world, but the one she said she always wanted was the Governor's Arts Award, because she remembered being a little girl and seeing her grandmother win one."
Governor Bruce King and his wife, Alice, established the Governor's Awards for Excellence in the Arts to underscore the important role the arts have played throughout the state's history. Painters, weavers, sculptors, dancers, musicians, storytellers, poets, actors, playwrights, potters—and this magazine, for its nine-decade legacy—have taken home the honor. Meet the eight people and one remarkable art collective stepping into the spotlight this month.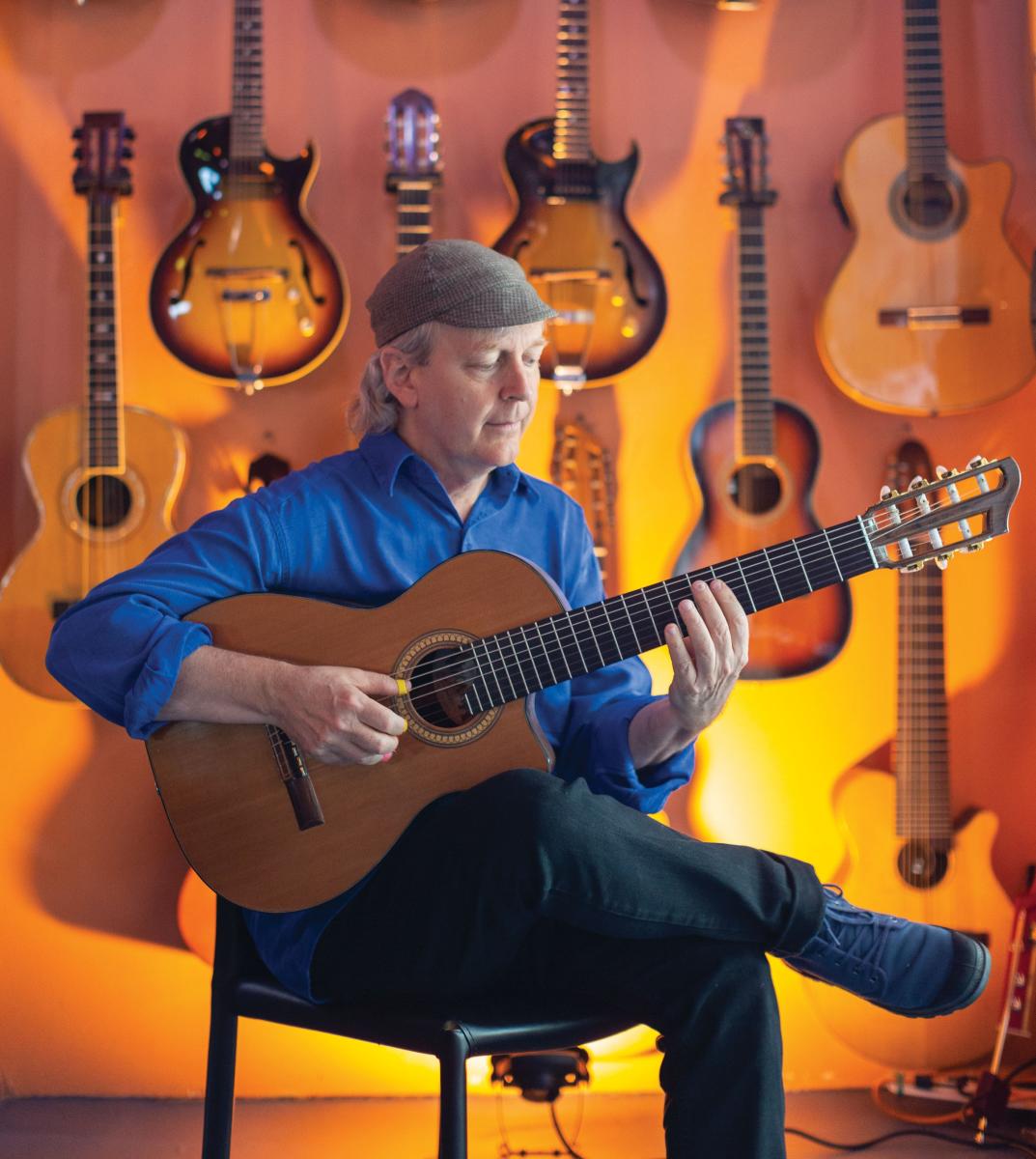 Above: Bruce Dunlap. Photograph by Gabriella Marks.
BRUCE DUNLAP
Jazz Guitarist, Santa Fe
At age 25, Bruce Dunlap left the jazz scene in New York City and spent the next 34 years in Santa Fe, honing his already prodigious guitar skills, teaching children, creating a jazz festival, and opening a nonprofit performing arts space. Those guitar skills are beyond special: Besides recording with the likes of Bob James, Grover Washington, and Herbie Mann, he writes compositions so beyond the capacity of regular instruments that he hires a luthier to build ones with extra strings. His full-bodied sound can feel like rhythmic ocean waves or a hot set in a big-city jazz bar. (You can hear a sample on his website, brucedunlap.com.) "Bruce is one of the finest musicians I have ever encountered in my entire life," says actor and Santa Fe resident Alan Arkin, who has taken some of Dunlap's workshops. "I can personally attest to his unique brilliance as a musician, teacher, and passionate supporter of artists and the arts." Dunlap founded the Santa Fe Jazz and International Music Festival, now part of the star-studded New Mexico Jazz Festival. And he created GiG, a Santa Fe performance space designed not to make money but to build artists' skills and audiences' appreciation of them. "His feeling is that music is in the air, and you can take as much or as little of it as you wish," says Stuart Ashman, executive director of the Center for Contemporary Arts, in Santa Fe. "He recognizes that everyone has some measure of musical talent that can and should be expressed."
What's Next: "Music and musicians wilt without a respectful context to shine in, and communities thrive with art at the center. We will be expanding both our musical and educational programming in the coming months. And we are keeping an eye out for a slightly larger venue to move to."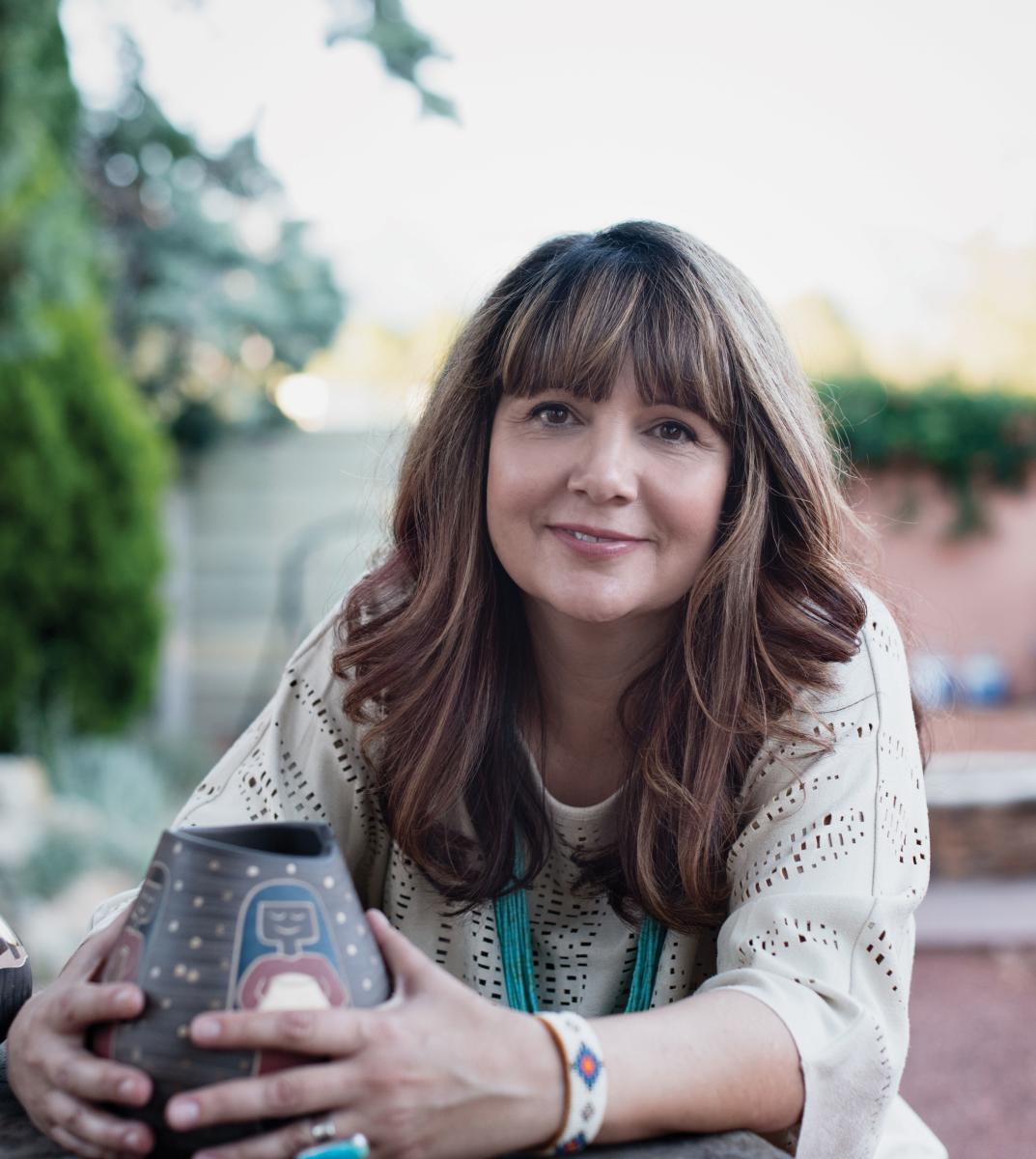 Above: Jody Naranjo. Photograph by Sergio Salvador.
JODY NARANJO
Potter and Sculptor, Santa Clara Pueblo and Albuquerque
Here's a good rule of thumb for living in New Mexico: If you meet a woman—any woman—from Santa Clara Pueblo whose last name is Naranjo, take heed. Chances are she's a painter, potter, writer, builder, historian, or all of the above. Jody Naranjo carries that family lineage with exuberant style. After beginning a pottery career at 15 by selling her works under the portal at the Palace of the Governors, she grew into a nationally recognized innovator. She still hand-coils her pots, fires them in pits, and even uses traditional cow dung as fuel to get the black surface just right. But from there, she spins out into modern and whimsical designs etched onto surfaces of vessels that only sometimes mimic historical shapes. The rims go wavy or stair-stepped above images of smiling girls, dogs, a cartoon moose, and motifs that carry echoes of Cherokee, Eskimo, and Celtic cultures.
"A lot of us are discovering ourselves in our art," she says.
Naranjo, who now lives in Albuquerque, has added glass and bronze pots to her clay creations. Altogether, they're so popular that her Santa Fe Indian Market booth usually sells out within hours of opening. Last year, the Museum of Indian Arts and Culture, in Santa Fe, named her a Living Treasure. She donates pieces to the Institute of American Indian Arts, in Santa Fe, and regularly mentors students there. Oh, and she designs Pendleton blankets and jewelry for the QVC network, too.
What's Next: "I am working on a large collection of glass pots—bold colors, new designs, and very large pieces. They will be done in November for a showing at Blue Rain Gallery, in Santa Fe, and the SOFA show in Chicago. I find that pushing myself to be outside of my comfort zone is both challenging and exciting! New ideas and mediums keep the creative juices flowing. I'll never get bored from making the same thing twice."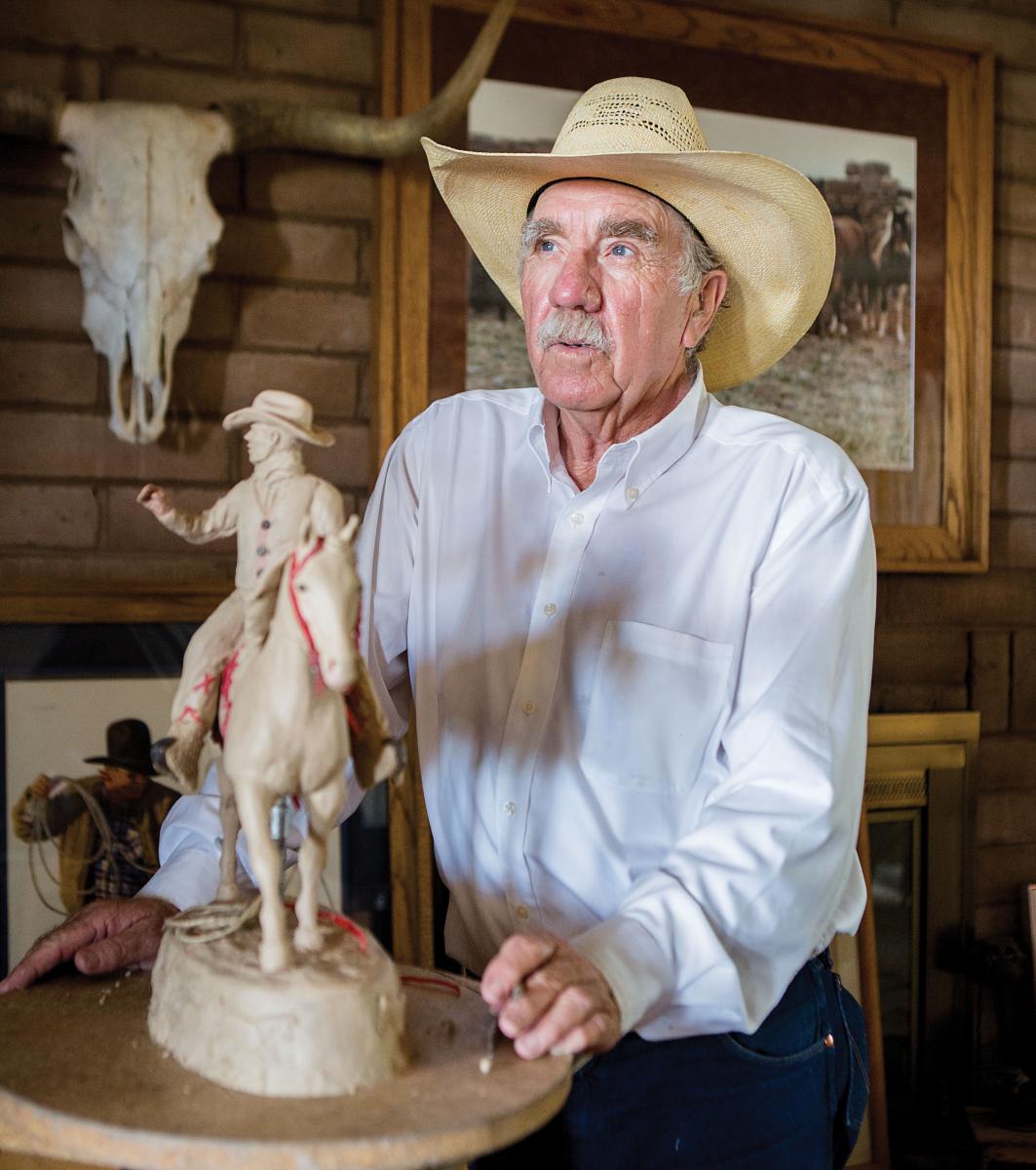 Above: Curtis Fort. Photograph by Jennifer Coats.
CURTIS FORT
Sculptor, Tatum
It's one thing to be a cowboy artist. It's quite another to be a cowboy artist who occasionally puts down his tools to participate in a cattle roundup. Curtis Fort earned his spurs on legendary New Mexico spreads like the Bell Ranch and the Vermejo. He still lives on his family's ranch in Tatum, down in the state's southeastern corner. And despite possessing ranch skills that other cowboys envied, he turned to sculpting in 1980, soon earning accolades, sales, a story in Smithsonian magazine, and collectors as far away as Germany.
"Those of us that live the cowboy way recognize his ability to get even the very smallest detail exactly right," says State Senator Pat Woods, Fort's longtime friend. His bronzes combine cowboys, Native Americans, wildlife, and landscapes to tell a true story of Western life and its required amounts of grit.
Like any good cowboy, Fort has also mastered the campfire tale, and he is compiling essays he wrote for the New Mexico Stockman into what promises to be a rollicking book. He also faithfully abides by one of the codes of the West: Help your neighbor. When someone's in trouble, he regularly whips up an artwork for auctioning off and has crafted Western-themed awards for numerous groups, including New Mexico State University, where he earned a degree not in art but in range science—and made the dean's list doing it.
What's Next: "I just installed a big piece in Hobbs' Center of Recreational Excellence—life-size quail on rocks, a wagon wheel, and other things, with water flowing through. It's a peaceful thing. I'm fixing to do a four-foot piece of a flamenco dancer for a Las Cruces collector. It's people like that, the ones who've been supportive, buying your pieces. They put you in the position to get the hang of your art. I was just gonna punch cows for life otherwise!"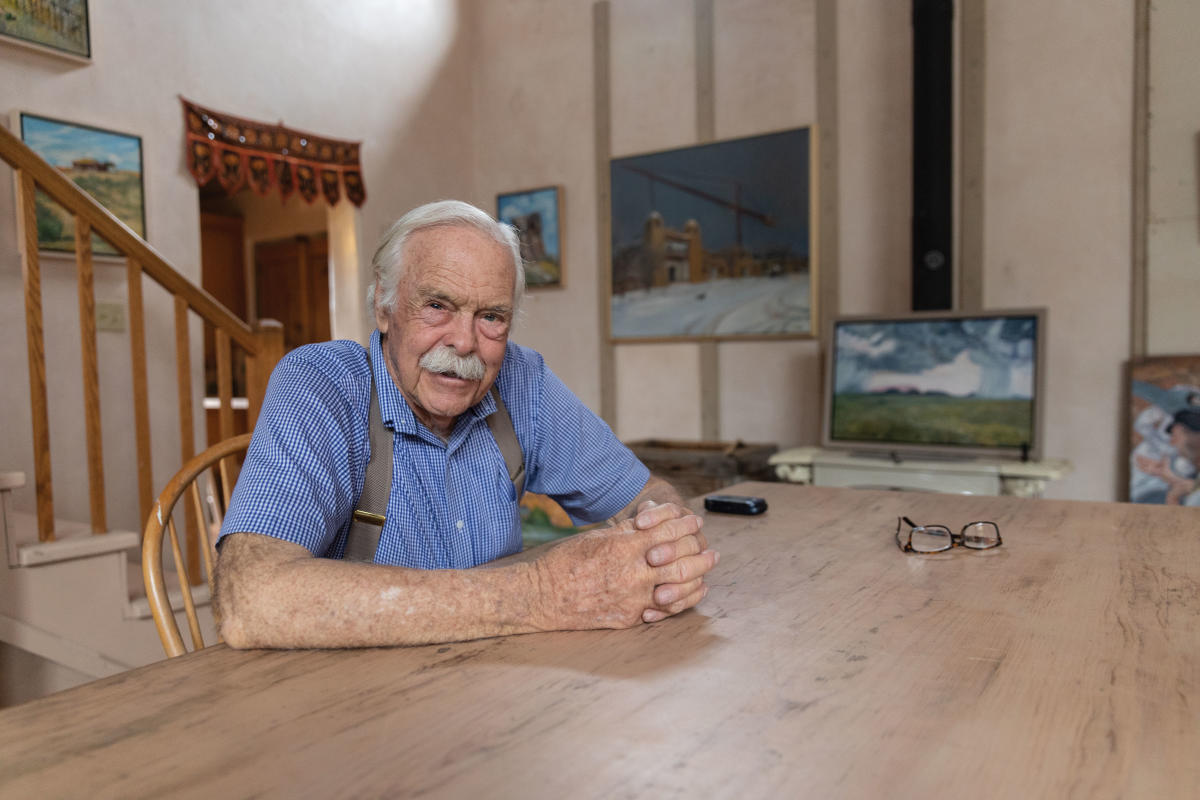 Above: Jerry West. Photograph by Gabriella Marks.
JERRY WEST
Painter, Cerrillos
Examine artist Jerry West's DNA and you'll find a history of New Mexico, from the Depression forward. Son of WPA artist Hal West, he spent his youth on a remote ranch, near Santa Fe's Japanese internment camp, and at Santa Clara Pueblo's Puye Cliffs. He carries with him the state's frontier spirit, its tangle of ethnicities, and its futuristic reach. In his paintings, he crafts his dreams in a surreal style that mimics no other artist while blending Roswell, Cerrillos, and Las Vegas, New Mexico—a few of the places he's called home (see "Maverick Dreams," November 2017, nmmag.us/jwestart). "In his paintings," says author William deBuys, "I can hear the croak of the raven and smell the desert after a rain. I can taste the dust on the wind in the midst of drought. When I look at his work, I feel envy. I want to write with as much heart and conviction as he can paint."
Besides designing and building houses into his eighties, West donates his time and paintings to fund-raising efforts. Stephen Fleming, director of the Roswell Artist-in-Residence Program, remembers West as a social butterfly during his yearlong stay there in 2012. "Jerry wasn't satisfied with just sitting in his studio painting. He dove into the Roswell community, meeting and befriending a very wide range of individuals from every walk of life. At one point, he painted a mural in a tiny Mexican restaurant downtown. At its unveiling, mariachi musicians played and children scampered about."
What's Next: "At the right time I will say a loving thank-you to all who have supported me through these many years. I'll take my plaque and place it on a dusty shelf and I'll continue my life in my prairie home and studio, helping my family, building some, traveling some, and continuing my memory/dream paintings of the world and the people I love."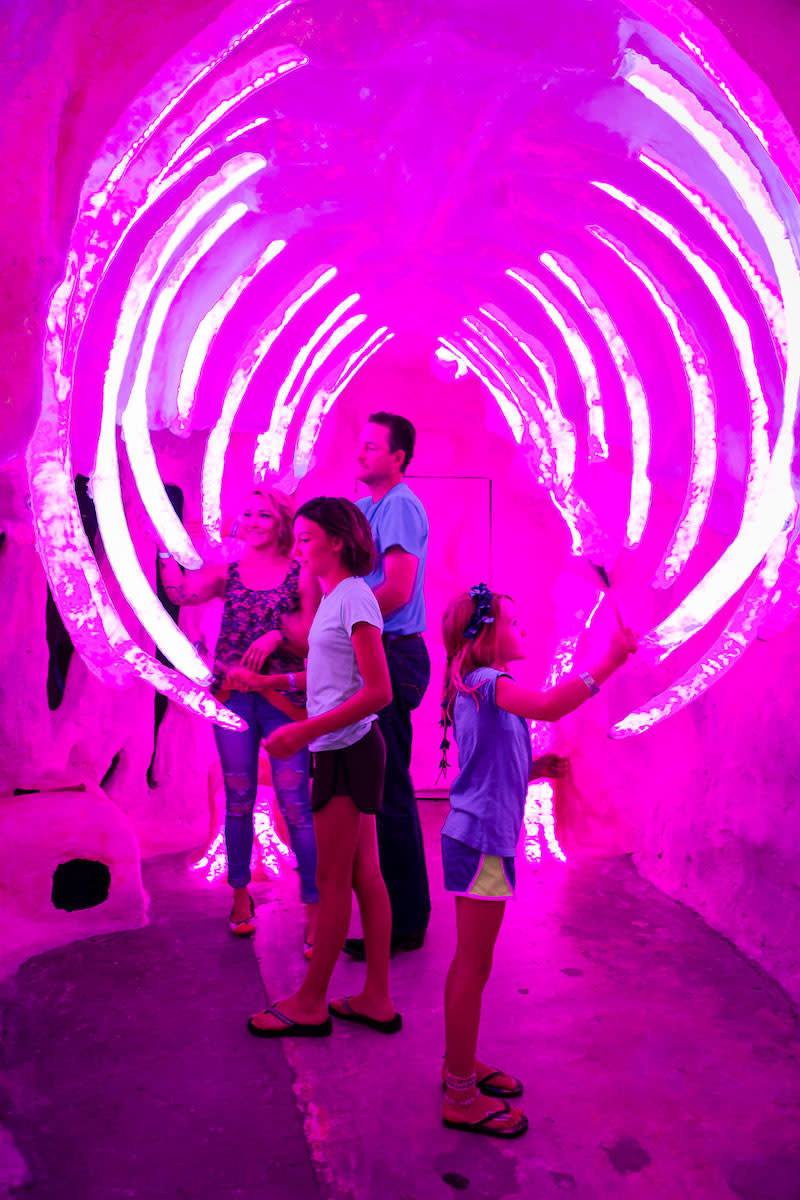 Above: The House of Eternal Return at Meow Wolf. Photograph by Gabriella Marks.
MEOW WOLF ARTS
Arts Enterprise, Santa Fe
Ten years ago, a bunch of young artists in Santa Fe formed a collective to create the kind of art that couldn't fit on a gallery wall. Today, Meow Wolf is a multimillion-dollar enterprise with more than 300 employees, out-of-state expansion plans, and a top spot on everyone's list of what to do in Santa Fe. The House of Eternal Return exhibit upended notions of what art could be, offering a psychedelic journey into a labyrinthine family home. You can walk through and simply marvel at it, but the installation also holds clues to a mystery that might take several visits to solve. The group's award, recognizing Meow Wolf as a major contributor to the arts, honors its impressive outreach to New Mexico schools, plus community efforts ranging from neighborhood cleanups to collecting back-to-school knapsacks. Supported by numerous grants and legendary author George R. R. Martin, Meow Wolf not only transformed a closed bowling alley but blew a revivalist's breath into its Siler Road neighborhood.
"Meow Wolf demonstrates that youth matters," says Tim Harman, president of the Santa Fe Gallery Association. "Young artists with a kernel of an idea can create something entirely new that is sustainable, economically successful, and boundary-blurring. Meow Wolf is at the forefront of redefining the very idea of art."
Meow Wolf has also created an open maker space for the community and injected its pizzazz into events like the burning of Zozobra, the Navajo State Fair, and the International Folk Art Market's annual parade. As if all that weren't enough, Meow Wolf has also become one of the places to catch live music in Santa Fe, and also boasts a restaurant, bar, and gift shop featuring local artists. As for the future, Vince Kadlubek, Meow Wolf's co-founder and president, has big plans.
What's Next: "We're expanding into Denver, Las Vegas [Nevada], and additional markets, where we'll put the passion and talent that built House of Eternal Return to work with local artists there. We'll create exhibitions two to three times larger—the coolest things anybody has ever experienced. And we are expanding the presence of live performers in Santa Fe, our DIY Arts Fund, and community efforts here and beyond."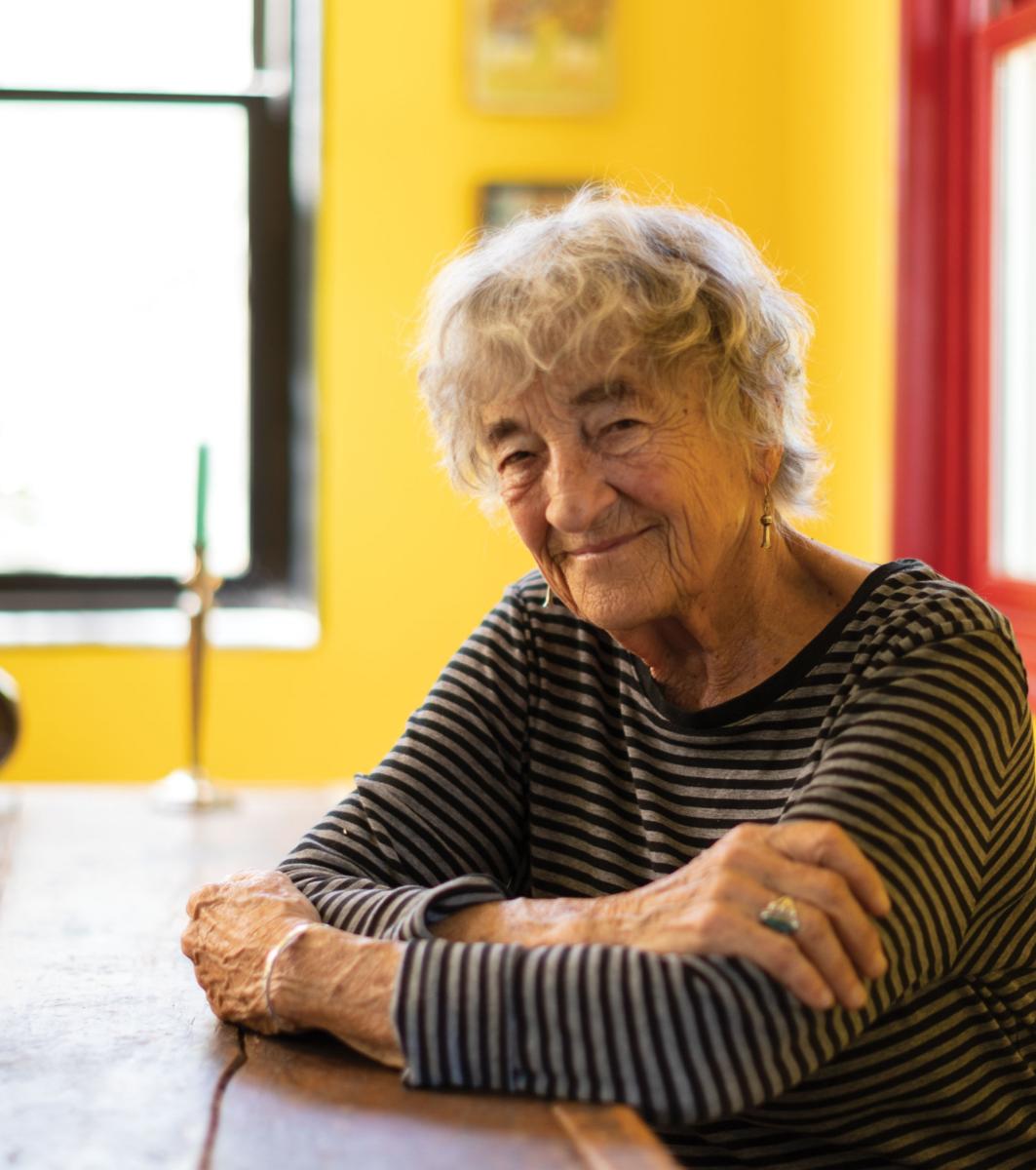 Above: Lucy Lippard. Photograph by Gabriella Marks.
LUCY LIPPARD
Author, Galisteo
In 1966, Lucy Lippard co-wrote an essay, "The Dematerialization of Art," that established her as a global voice in art writing and criticism. Then a New Yorker, she pioneered a way to explain the emergence of conceptual art that helped prepare the soil for the art form to flourish. She could have played out the generally pleasant arc of art critic and curator until retirement, but in 1994 she moved to an off-the-grid house in Galisteo, south of Santa Fe. There she began exploring the complicated intersections of art, history, geography, archaeology, culture, and politics—while continuing to curate exhibits, lecture worldwide, and harvest an armload of honors. Her 24 books include the acclaimed The Lure of the Local and Down Country: The Tano of the Galisteo Basin 1250–1782.
In naming her a major contributor to the arts, the Governor's Award cites how she supported young artists for decades, in part by purchasing their works. Some 400 of those works now belong, free and clear, to the New Mexico Museum of Art, in Santa Fe, which considers Lippard's collection a gem. With pieces by Louise Bourgeois and Judy Chicago, it also reveals Lippard's connection and commitment to second-wave feminism.
As a community activist, she helped develop the Santa Fe Railyard and protect the county's open spaces and trails. What her Galisteo neighbors like best is that she's in her 21st year of editing El Puente de Galisteo, the village's monthly newsletter.
What's Next: "I'm finishing last-minute fact-checking and details for my 25th book, Pueblo Chico: The Village of Galisteo, New Mexico, 1800–2018. I've been working on it off and on for some 20 years, having published its predecessor, Down Country, in 2010. And then I hope to put a lot more energy into supporting issues of immigration, public lands, and the role of social art practice—maybe in another odd book like my last, Undermining: A Wild Ride Through Land Use, Politics and Art in the Changing West."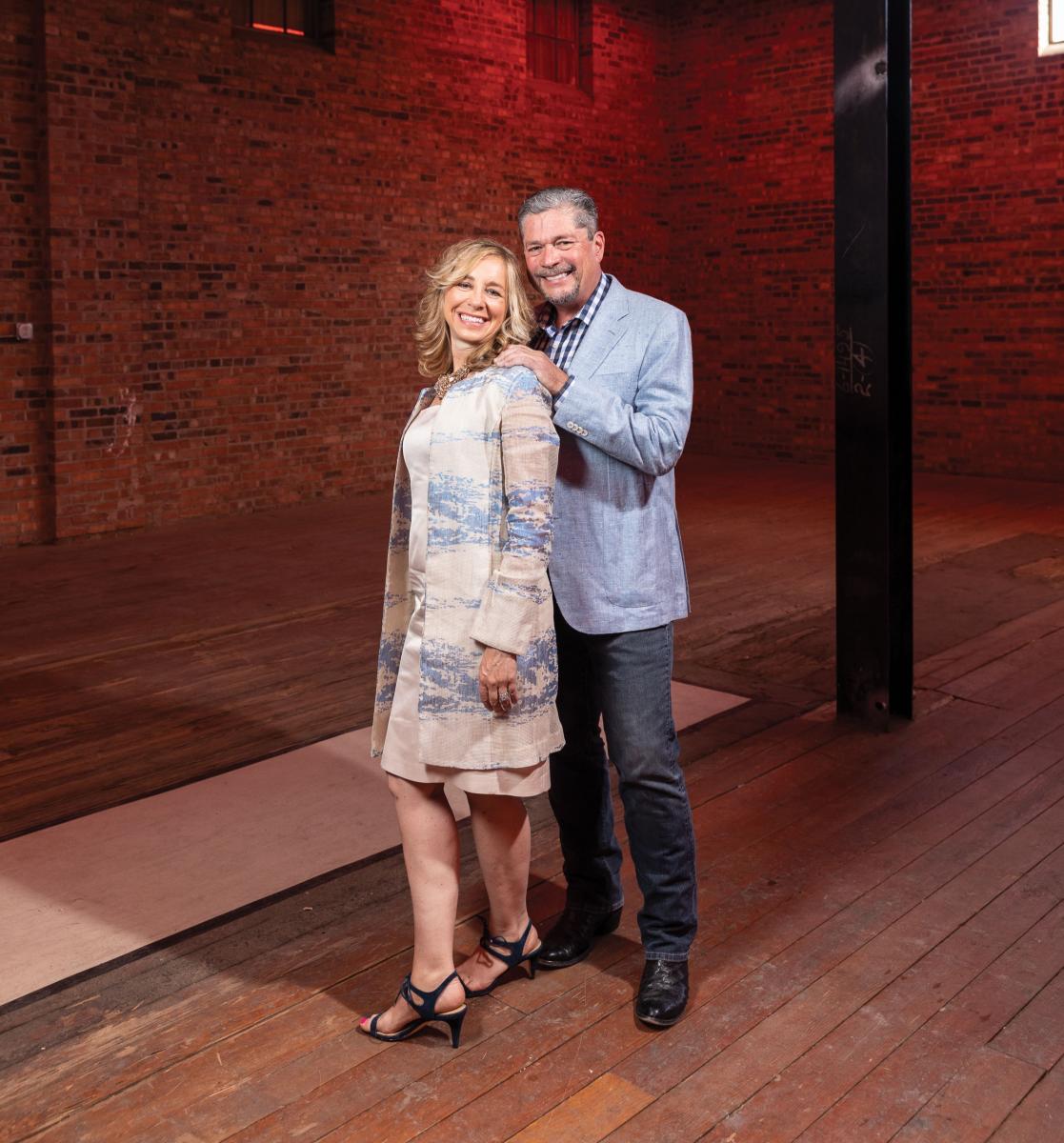 Above: Dan and Ashlyn Perry. Photograph by Gabriella Marks.
DAN AND ASHLYN PERRY
Philanthropists, Santa Fe and Chama
Dan and Ashlyn Perry get around. The couple, honored as major contributors to the arts, have donated money, artworks, and leadership to the Santa Fe Opera, the Santa Fe Arts Commission, and the New Mexico Museum of Art's planned expansion into what will be the Vladem Contemporary. They've created conservation easements along their Trout Stalker Ranch, in Chama, and lent a hand to Big Brothers Big Sisters of Northern New Mexico, the Institute of American Indian Arts, SITE Santa Fe, and Silver Bullet Productions. And that's just since moving here full-time in 2011 after years of opera-laced visits.
Most of their recent work focused on the Vladem. The couple have helped lead fund-raising—including among donors in their former Texas home—for the planned gallery in the Railyard's Halpin Building. The 1930s-era warehouse has served largely as an oversize storage unit for years and needs major upgrades, along with an addition to provide more space and an architectural flourish. "Sometimes these things are more honorary positions," says Mary Kershaw, the museum's director. "But Dan and Ashlyn have been truly active. Without their involvement, we would not be where we are in the campaign."
What's Next: "We hope to complete funding of the Vladem this year, so that we can break ground early in 2019 and look forward to opening in late 2020. We are focused on maintaining the pristine beauty of nature and thriving wildlife at Trout Stalker, while also giving our guests the best fishing and outdoor experiences available. That commitment extends to the nearby village of Chama, where we recently bought a restaurant property and are partnering with chef Matt Wallace to bring more great dining to the community. We also hope to partner with the village by donating academic scholarships to students."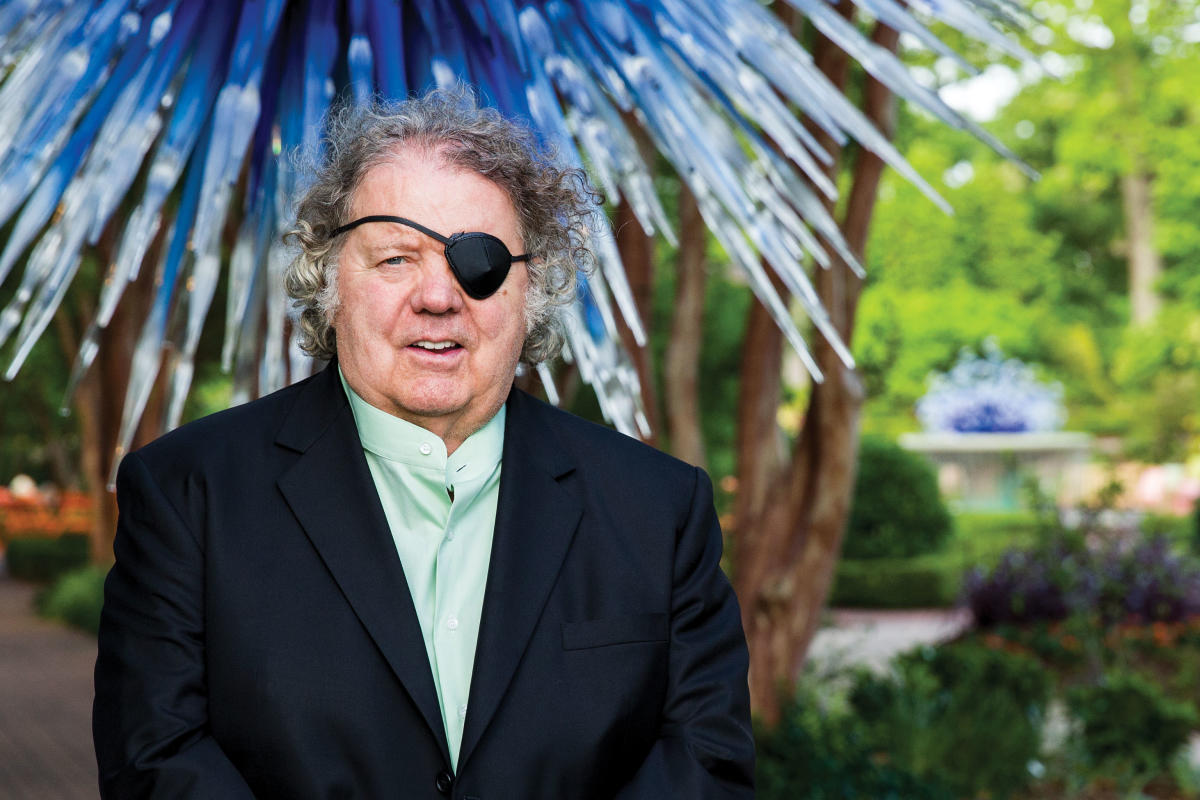 Above: Dale Chichuly. Photograph by Chihuly Studio.
DALE CHIHULY
Glass Sculptor, Seattle
In 1974, Lloyd Kiva New had an idea for Santa Fe's Institute of American Indian Arts, which he led. Glass, he thought, could become the next new medium for Native artists. His idea carried an imperative: Get Dale Chihuly. The soon-to-be-famous glass sculptor was just a young professor at the Rhode Island School of Design. New asked him to consider setting up a glass program at IAIA. The experience changed Chihuly's art as he dabbled with Navajo blanket designs and even poured molten glass onto New Mexico landscapes to see what forms it would take. Though he eventually returned to Rhode Island and then his native Washington, his influence stayed behind. Isleta artist Tony Jojola counts him as a mentor, and Jojola's students have included Taos/Ohkay Owingeh artist Ira Lujan (see "Home Made," p. 40). The monumental sculptures Chihuly eventually crafted bedeck the Spencer Theater for the Performing Arts, near Ruidoso, including Indian Paint Brushes and Glowing Sunset Tower, in the lobby, and The Persians, on the balcony. Two elaborate Chihuly chandeliers hang in the dining hall of United World College, at Montezuma Castle, near Las Vegas, New Mexico.
Since his 1970s stint, Chihuly has continued to support IAIA's annual scholarship dinner and auction. He returns to Santa Fe this month to accept a Leadership in the Arts Award. The rare honor was last given in 2010, to actor, producer, and activist Robert Redford.
What's Next: "The Groninger Museum, in the Netherlands, invited me to create an exhibition to open in December, so I am focused on developing the exhibition design. In my Seattle studio I continue to work on new ideas for my artwork; I am always thinking about new creative projects and ways to innovate. That means looking for inspiration to develop new series, and sometimes revisiting earlier series to develop them further."  

SAY CHEERS
One of every year's most moving ceremonies, the 2018 Governor's Arts Awards will take the stage at a free event September 14 at 5:15 p.m., in St. Francis Auditorium at the New Mexico Museum of Art, on the Santa Fe Plaza. Make time beforehand to attend the opening of a special exhibition of the winning artists' works, 3:30–4:30 p.m., in the Governor's Gallery at the State Capitol.
---