Above: Jessi Lloyd of Grey Collective and her three children. Photographs by Minesh Bacrania.
It was Christmas Eve of 2012 when Jessi and Tristan Lloyd got the news that changed their lives. The couple had just moved back to Albuquerque, where they met in high school, after Tristan finished law school in San Diego. A few days earlier, Tristan had been helping his dad, a plumber, with a project. He was on a ladder when he had a seizure. His dad caught him, but during the holiday, tests revealed an unimaginable reality: Tristan had a handball-size chunk of cancer growing in his brain.
The couple had been on the fast track. They wanted a big house, nice cars, and to send their kids to the best private schools. "We wanted to go big," says Jessi, now 29, who always speaks with a smile. "And then you think, okay, that's not really what I want to do in life. I'd much rather have a smaller income to have more time. I feel like we've had a whole paradigm shift in every aspect of life." The two moved onto Tristan's parents' eight-acre property outside Tijeras, in the quiet country 30 minutes east of Albuquerque, for the additional support and to ease the burden of medical bills. Tristan passed the bar in early 2013 and eventually got a job at a law firm. When he had the tumor removed later that year, the surgery left a long scar on his head. He decided he needed a good hat.
Jessi, a lifelong seamstress, made him one. "It was terrible," she says now, laughing, but he wore it every day. She found she enjoyed the process of making beaver fur felt hats, and word started to travel about her custom, handmade work. The artisan pieces fit with the trend of brimmed, felt hats—and they allow for customization beyond the manufactured fedoras and tillers that line the shelves of Urban Outfitters. She found a beaver felt supplier in Tennessee, and she now regularly makes hats for various photo shoots and has a hat in Spur Line Supply, a trendy boutique near Albuquerque's Old Town. Earlier this year, she decided to go all in. She formally launched her company, the Grey Collective, named after the Welsh translation of their last name and the symbolic color for brain cancer awareness. Twenty percent of her proceeds go to the Ben and Catherine Ivy Center, in Seattle, where Tristan had his brain surgery.
Read more: An innovative artist, a bespoke tile company, and a glassblower highlight the many makers of New Mexico.
"I just always wanted to find something, because I just hated not being able to do anything," she says of her husband's diagnosis. "This is my way of trying to help in any way that I can. I know that my little business isn't going to be the one that finds the cure for cancer, but it might help further it."
Jessi was five months pregnant with Rowan, their youngest child, when the cancer came back. Tristan had a second brain surgery to remove another handball-size tumor in 2017, after Rowan was born. He recently finished chemotherapy and radiation treatment. Doctors say his best-case scenario is 10 to 15 more years of life.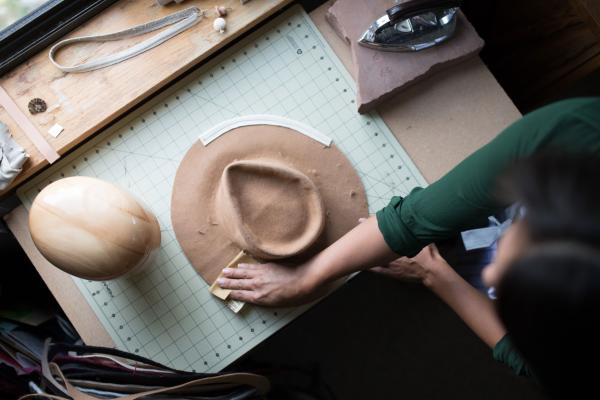 Above: Each of Lloyd's hats is carefully crafted and customized. She lights each one on fire to give the piece a velvety feel. 
Meanwhile, Jessi is homeschooling their three children, ages 2, 6, and 11, and making ready-to-wear and custom hats. When the felts arrive, she steams each one and then places them on wooden hat blocks to provide their shape and size. It's her custom hatbands that stand out—thin pieces of leather, brass, rope, or ribbon, accented with delicate stones or feathers. Then she ships them in customized round wooden boxes she got from a cheese factory in Wisconsin.
But before she can do that, she has to light the hat on fire. We're on a sunny, cluttered wooden deck outside her home, amid tall piñons, as Jessi sprays a hat with alcohol. Dogs from her mother-in-law's homeopathic veterinary clinic bark. Jessi takes a lighter to the hat. Rowan watches intently. Later, she'll brush off the burnt excess hairs to give the piece a velvety feel. She believes in creating products of longevity in an age of factory-made fast fashion.
"Everything's thrown away—there's a lot of waste," she says. "To figure out that I could make something of quality that can be passed down for generations, I thought was really cool."  

Find Jessi Lloyd's hats at Spur Line Supply Co. and greycollectivehats.com. 
---