Smoked potato salad and pork fajitas—and no heating up the kitchen? Yes, please. Photographs by Douglas Merriam.
ONE OF THE MANY BLESSINGS WE ENJOY in New Mexico is our lengthy grilling season. The thrill we get from the smell and the smoke of a ready-to-cook barbecue offers a welcome sign that summer has hit full swing. The promise of tasty, often sticky, and spicy goodies that have spent just the right amount of time over glowing coals or sizzling gas-fired grates spurs us gleefully out to the portal or backyard.  
For me, that's a pleasant departure from the short and humid three grilling months of my youth in upstate New York. No fancy dry rubs or gourmet toppings adorned my family's barbecue chicken, but rather simple bottled sauce and (sometimes) a too long stay over the fire that introduced me to blackened food long before visiting New Orleans. Luckily, though, the thoughts of a happy childhood overshadow the memories of the carbon crust lodged in my teeth. 
A decade I spent in Australia included an introduction to a much exaggerated version of "shrimp on the barbie," where pub customers would purchase meats, seafood, and vegetables at the bar and then head outside to a rudimentary grill shared by all the customers for a Foster's-and-wine-fueled feast. In my mind, I can still taste those happy—if fuzzy—reveries of Down Under.  
I have a few fundamental grilling tips that can turn any newbie into a grillmeister. I think of grilling as being all about hot and fast. (By comparison, barbecue is all about low and slow.) It's important that—whether you're using a gas or charcoal grill, both of which can get good and hot—you hear a sizzle when you add the food.  
To prevent food from sticking, coat it with oil or simply oil the grill grates, preferably after cleaning them with a brush. If you don't own a grill brush, a good-size ball of wadded-up aluminum foil can create an abrasive surface to remove last week's drippings. Don't try to turn the food until it has cooked enough on one side to release easily; otherwise you'll tear off the surface. 
An extra step of pre-smoking items before grilling can help create some added oomph, especially on ribs and other meats. Lately, my favorite kitchen tool is a Camerons Stovetop Smoker that hot-smokes food quickly, either in the kitchen or outside on a hot grill. It comes with nine varieties of wood chips that offer a range of flavor profiles. Hickory and mesquite do well for hearty meats, while the milder chips—pecan, apple, cherry—are better for seafood and vegetables. 
Marinating food prior to grilling is another flavor booster. Tenderizing meat first opens up its cells and allows internal marination. For that, I keep another gadget close at hand: a Jaccard meat tenderizer that boasts multiple thin steel blades encased in a hand-size tool; you set the food on a cutting board, then plunge the blades into it. (I recommend it for the Jerked Pork Fajitas recipe.) The sauce-drinking punctures also speed up cooking time. Your marinade of choice can also be used as a serving sauce, but if raw meat has spent any time in it, you need to bring it to a boil for five minutes or so. 
Be sure to include some of New Mexico's most distinct and vibrant flavors. There might be chipotle in your barbecue sauce, plus pinto beans—perhaps in a micaceous clay pot—bubbling over the flame, squashes charring for a smoky toss of calabacitas, or blistered corn on the cob ready to be swirled in mayo and sprinkled with lime, chile, cilantro, and Mexican cheese. Need more inspiration? Check the recipes. And flame on.
---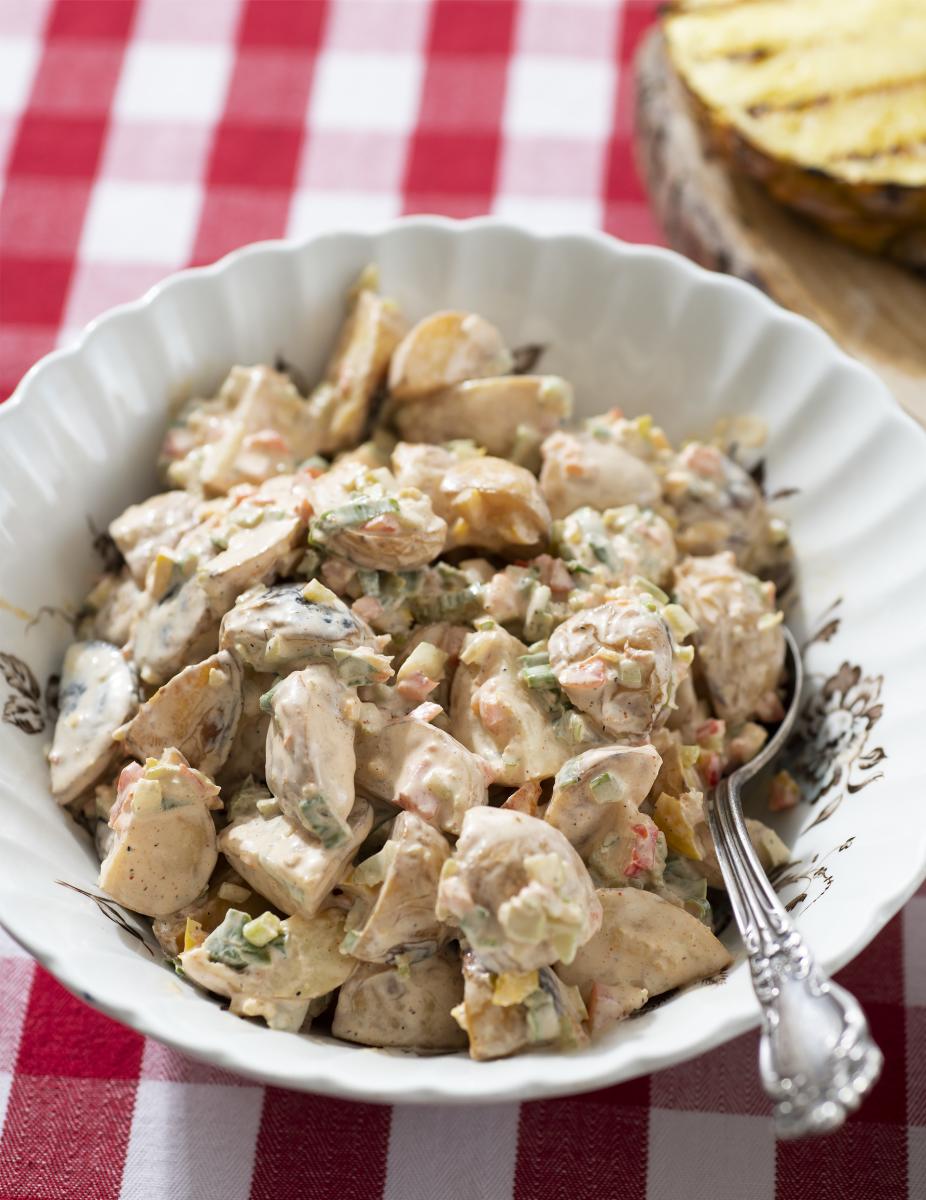 Photograph by Douglas Merriam.
Smoked Potato Salad with Blue Cheese
Serves 6
2 pounds small red potatoes, quartered (about 16)
¾ cup finely diced celery
½ cup finely diced red bell pepper
½ cup finely diced yellow bell pepper
¼ cup finely diced green bell pepper
½ cup chopped scallions
2 tablespoons red wine vinegar
1 teaspoon salt
1 teaspoon fresh ground pepper
1 teaspoon Spanish smoked paprika
¾ cup mayonnaise or to taste
½ cup Cabrales or other blue cheese
Cover potatoes with cold water in large saucepan and bring to a boil. Cook potatoes until fork tender. Drain and immediately smoke for 10 minutes, using the mildest wood available, such as alder, cherry, or apple. (I use a Camerons Stovetop Smoker.) Allow potatoes to cool.

Meanwhile, in a large bowl, mix celery, bell peppers, scallions, vinegar, salt, pepper, and smoked paprika.

Add potatoes, mayonnaise, and blue cheese and toss well. Allow salad to sit refrigerated for at least 30 minutes for flavors to meld. Garnish and serve.
Note: You can find the Camerons Stovetop Smoker used here and the Jaccard meat tenderizer recommended in the story for the Jerked Pork Fajitas at many stores throughout the nation, including Las Cosas Kitchen Shoppe, in Santa Fe (lascosascooking.com).
---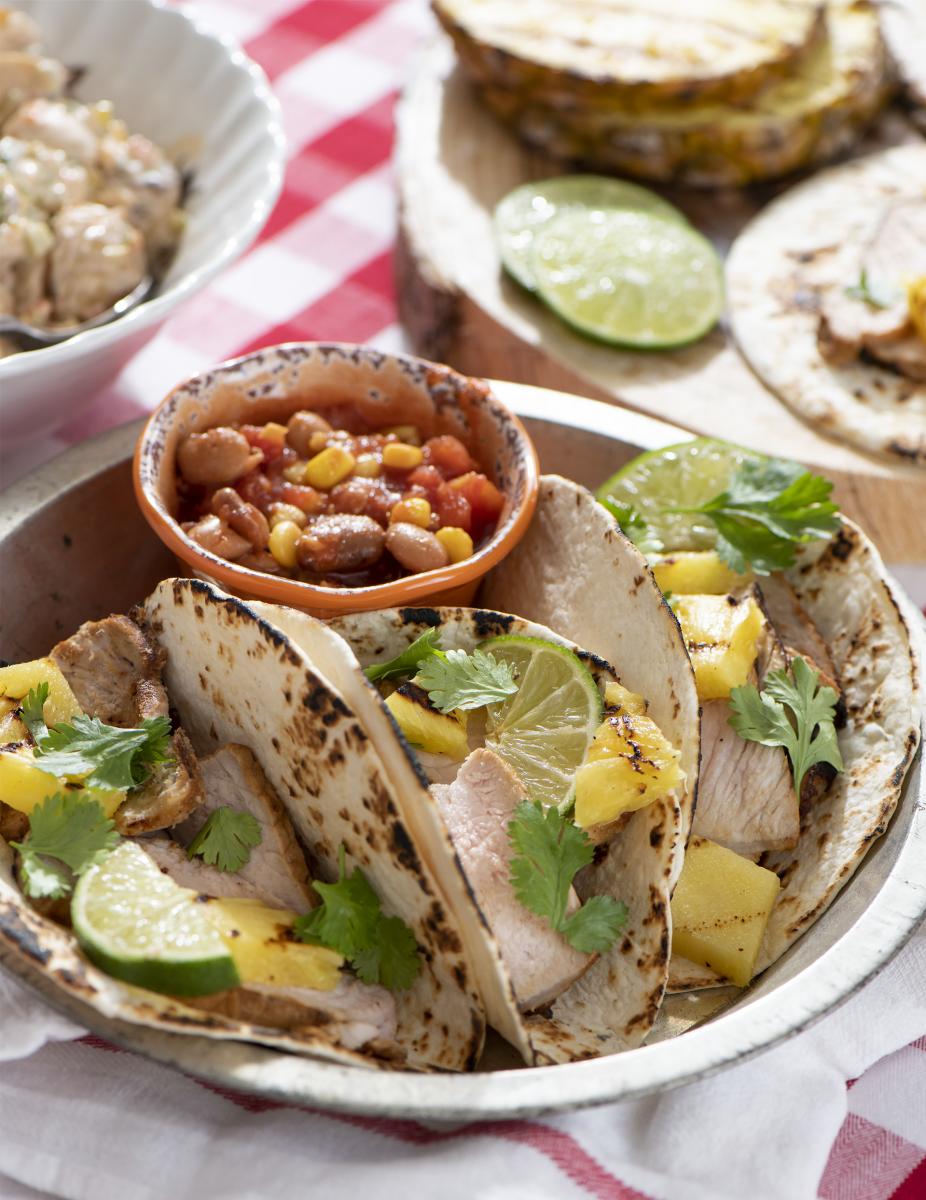 Photograph by Douglas Merriam.
Jerked Pork Fajitas
Serves 8
3 pounds lean boneless pork chops
Sliced pineapple, fresh cilantro, salsa, and flour tortillas for serving
Jerk Marinade
2 habanero chiles or 3 or more jalapeños, seeded and finely chopped
½ teaspoon ground allspice
½ teaspoon cinnamon
1 teaspoon nutmeg 
2 tablespoons kosher salt 
1 tablespoon molasses 
2 tablespoons apple cider vinegar 
2 tablespoons lime juice 
½ red onion, diced 
Zest of 2 oranges 
1 teaspoon lime zest 
2 teaspoons tamarind paste, available at Asian markets
(or substitute 1 teaspoon cider vinegar mixed with 1 teaspoon brown sugar)
Place all marinade ingredients in a food processor or blender and puree until smooth. Wear rubber gloves when working with habanero chiles; the oils can burn your skin. 

Trim any fat from pork chops and tenderize with a meat-tenderizing tool. Carefully spread a thin layer of the jerk marinade onto both sides of the pork, cover, and refrigerate 1 hour. 

Prepare the grill and remove the pork from the marinade. Grill for 4 minutes on each side or until meat is completely cooked through, reaching an internal temperature of 155°. Lean pork chops cook quickly. If you do not have an instant-read meat thermometer, cut a slice of the chop and see if it is cooked through but still has a hint of pink in the center.

Slice pork across the grain and serve with grilled pineapple slices, cilantro, salsa, and grill-warmed flour tortillas.
---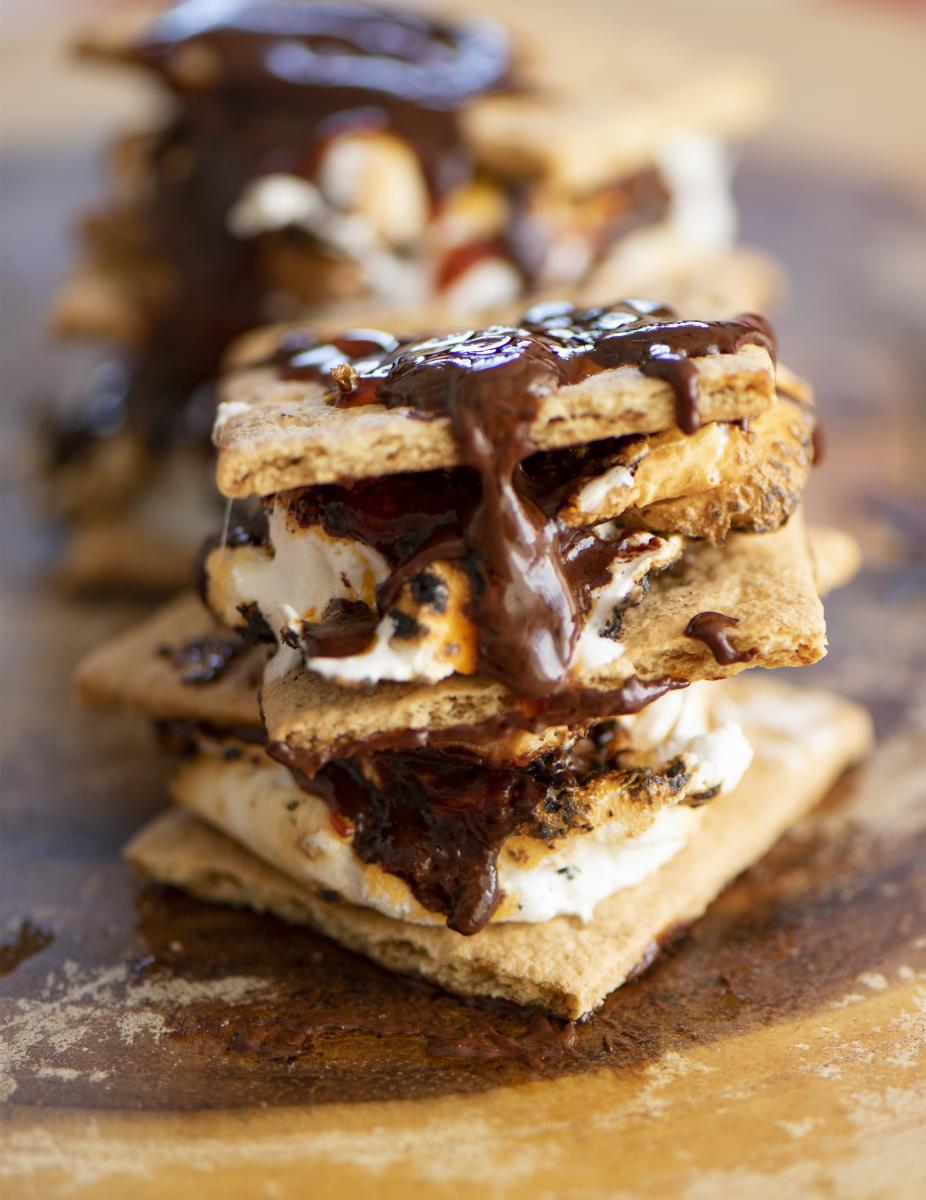 Photograph by Douglas Merriam.
New Mexico S'mores
Makes 8
8 sheets honey graham crackers 
8 large marshmallows 
Hot-Hot (New) Mexican Chocolate Sauce 
Red Chile Caramel Sauce
Heat a grill to medium-low heat. Halve each graham cracker sheet to create 2 squares.

Skewer a marshmallow on a long fork or metal skewer and hold over the heat, about 2 inches above the grates. Toast, turning occasionally, until the marshmallow puffs and turns golden brown, 1 to 2 minutes.

Place gooey marshmallow on a graham cracker square and drizzle with both caramel and chocolate sauces. Place second cracker on top, using it to squish the marshmallow down, and pull out the skewer. Top with more sauce and enjoy.
---
Hot-Hot (New) Mexican Chocolate Sauce
Makes 2 cups
⅓ cup granulated sugar 
⅓ cup water 
1 cup milk 
2 cups semisweet chocolate chips (one 12-ounce bag)
1 teaspoon vanilla extract  
¾ teaspoon ground cinnamon 
2 teaspoons hot ground red chile 
Pinch of salt 
Stir together the sugar and water in a medium saucepan and heat over medium. After 2 minutes, add milk. Bring to a simmer, stirring constantly.

Stir in chocolate chips and remove from heat. Mix until chocolate chips are completely incorporated. Add vanilla extract, cinnamon, red chile, and salt and stir until smooth.

Serve warm or cold.
Note: This sauce has a thin, drizzling consistency. If you prefer a thicker sauce, refrigerate it before using.
---
Red Chile Caramel Sauce
Makes 1½ cups
1 cup sugar
⅓ cup water 
1 cup heavy cream, warmed
1 teaspoon salt 
2 tablespoons hot ground red chile, or to taste 
Place water and sugar in a heavy saucepan and stir to moisten sugar. Bring to a boil over medium-high heat. Allow to boil until mixture reaches a deep golden-brown color and registers 350° on a candy thermometer (336° at elevations above 4,000 feet), about 10 minutes. Use a pastry brush dipped in cold water to keep the sides of the pan free of crystallized sugar. 

Remove from heat and carefully stir in cream using a long-handled wooden spoon. Wear an oven mitt, as mixture will bubble up. 

Return to heat and cook until caramel becomes smooth, then stir in salt. Allow to cool, stir in chile, cover, and refrigerate for up to two weeks.