Above: Gruet Winery tasting room associate Diana Garner pours the makings of a proper toast. Photographs by Douglas Merriam.
If you've driven north on I-25 from Albuquerque to Santa Fe over the past few years, you've likely noticed 30 acres of trellised grapevines snaking up a gentle slope near the base of the Sandía Mountains. That's Santa Ana Pueblo's Tamaya Vineyard for the Gruet Winery. The deep-green tendrils reach out and grab your eye, especially in summer, when the orderly forest of color contrasts with the desert landscape. It looks like an unusual place for a vineyard, but this plot is the key to a big step forward in the 30-year history of New Mexico's most famous winery: the arrival of a new sparkling wine that reveals the region's unique terroir and showcases the expertise that winemaker Laurent Gruet has honed over decades in the Land of Enchantment.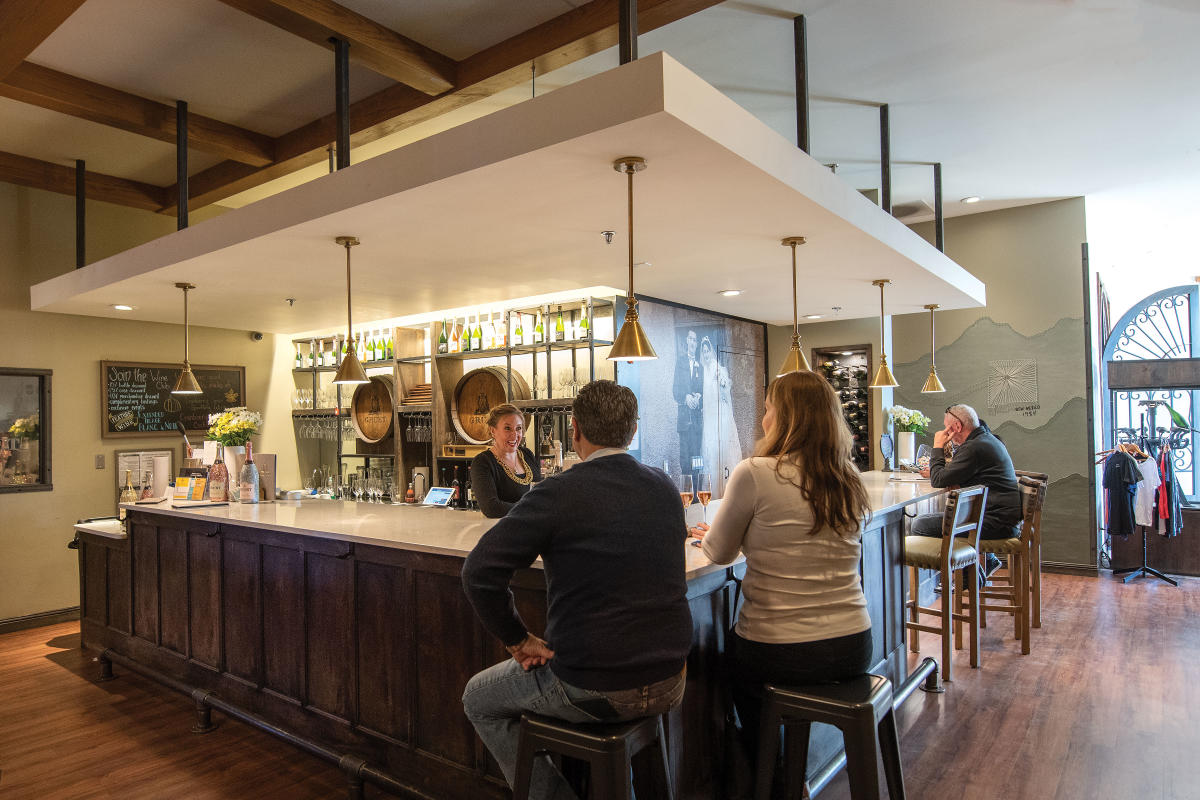 Above: A visit to Gruet's Albuquerque tasting room and bottling plant (below).
In the Champagne region of France, winemakers are allowed to use only three varieties of grapes: chardonnay, pinot noir, and one you've probably never heard of: pinot meunier (moon-yay). This long-overlooked grape makes up about one-third of vines planted in Champagne, but until recently it has been thought of mostly as a member of the chorus and not a soloist. That's been changing with the surge in popularity of "grower" champagnes, sparkling wines with names you've never heard of because they come from farmers who make their own wine instead of selling their grapes to established wineries. A champagne like Dom Pérignon is famous because, through skillful blending of the initial still wines, the result tastes deliciously consistent from year to year. But connoisseurs seek out grower bubblies for the opposite reason: because they taste so different from one another and from year to year, thrilling with idiosyncrasies derived from terroir and the vision of the winemaker. At the same time, more producers have begun to release single-varietal sparkling wines that show off the character of pinot meunier. All those ideas come together in the 1,000 cases of Sparkling Pinot Meunier Brut that Gruet released in September, available exclusively at the winery.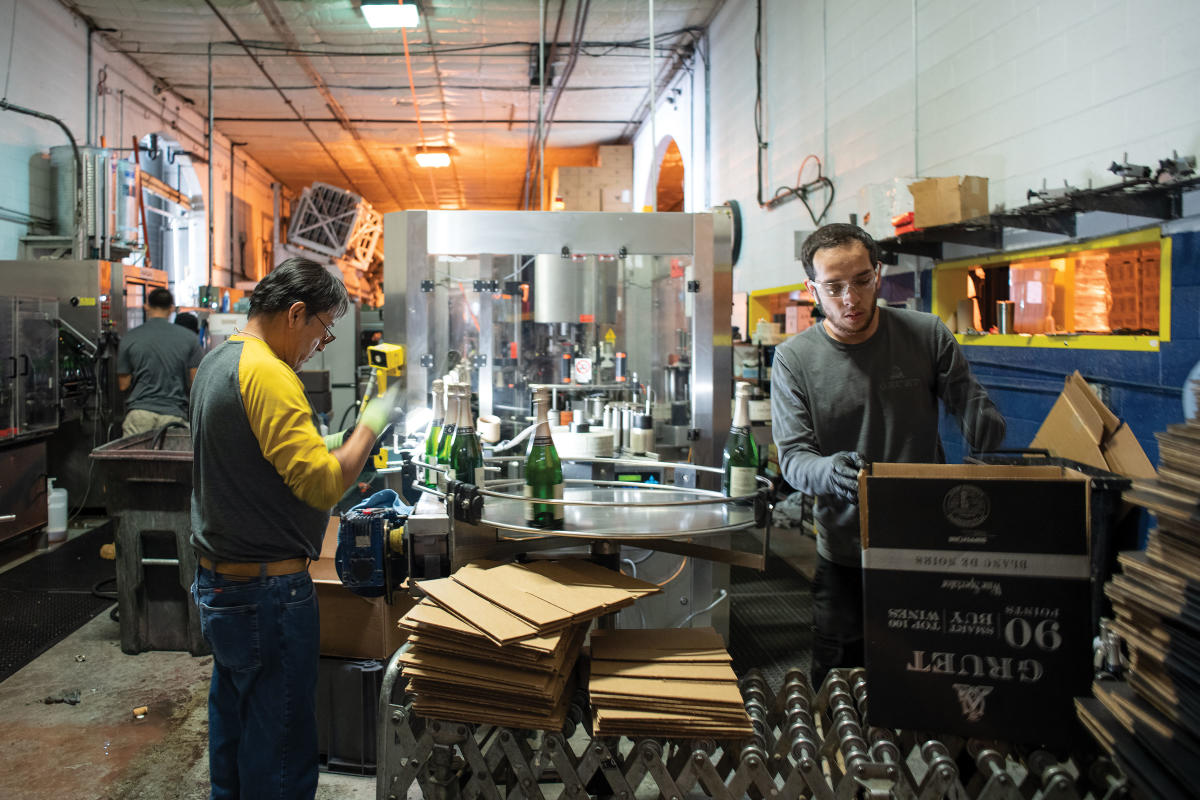 "I just wanted to showcase the grapes by themselves," Laurent Gruet says. "The flavor is very similar to pinot noir: rustic and earthy, with nice fruit but richer." The wine spends two years aging on the yeast and gets a smaller-than-usual dose of sweetness just before bottling.
In 1952, Gilbert Gruet started a scrappy little winery in the Champagne region of France, and his children, Laurent and Nathalie, continued the tradition by setting up their own sparkling wine business in New Mexico, producing their first bottles in 1989. By 2014 the business had grown so much that it partnered with Precept Wine, a family-owned company in the Northwest that took over much of the sales and distribution, allowing Laurent to focus on winemaking. The partnership also allowed the winery to grow, but there was one problem: not enough grapes. Gruet gets about a third of its fruit from New Mexico, but it still buys grapes from California and Washington State, too.
After a couple of years of negotiation, Laurent Gruet consulted with the pueblo on siting the Tamaya Vineyard, an expansion of the tribe's agricultural projects. (Santa Ana also runs a nursery.) One of the few Native-owned vineyards in the country, it sells its grapes exclusively to Gruet. The first vines planted in 2014 were chardonnay and pinot noir, the two famous grape varieties that go into nearly everything Gruet produces—the top-selling Brut is a blend of the two grapes, as are the Demi-Sec and Grand Rosé, while pinot noir makes a solo in the Blanc de Noirs and the Brut Rosé.
Above: Gruet's beautiful patio at their Albuquerque tasting room.
"I convinced them to add pinot meunier because we're at over 5,000 feet in altitude," Gruet says, explaining that the later-budding pinot meunier is less vulnerable to spring frosts. The vines grew well and produced a wine of striking flavor, one he didn't want to disappear when mixed with others. Although a few French producers were releasing champagnes made with just pinot meunier instead of the traditional blend, he hadn't heard of any American wineries doing it, and Gruet was game to experiment with fresh ideas. The wines' early success has Gruet eager to see more pinot meunier planted on the pueblo.
Because of Santa Ana's pioneering vineyard, this special little release became Gruet's first sparkling wine since partnering with Precept to be made with 100 percent New Mexico grapes, a fact announced on the label: "100% grown and produced in New Mexico." In September, a packed house of fans in the Albuquerque tasting room raised their flutes to toast the winery's 30th anniversary and the release of the Pinot Meunier Brut. "All the sommeliers want 100 percent pinot meunier right now, and I am very proud of this wine," Gruet says. "It comes from a small vineyard and it shows how much potential New Mexico has to make great wine."  
---
THE RECIPES
¡Qué Fancy!
Santa Fe Spirits' Atapiño liqueur really does taste just like toasted piñon nuts. I like to add a splash to Gruet for an über–New Mexican celebratory toast. 
Makes 1
1/2 ounce Atapiño liqueur
4 1/2 ounces Gruet Brut
Into a champagne flute, pour the liqueur and top with Gruet.
Pomegranate Mimosa
My pomegranate tree in Albuquerque usually delivers 20 pounds of fruit in the fall, much of which I squeeze into juice and freeze for holiday cocktails. This mimosa delivers a festive dash of color and a fruity-but-not-sweet flavor. If you don't have pomegranate juice, substitute pomegranate liqueur for a slightly stronger drink.
1 ounce pomegranate juice, chilled
4 ounces Gruet Brut
Into a champagne flute, pour the pomegranate juice and top with Gruet.
---