Above: Since 1992, the Hachita Food Mart has been an on-again off-again passion project for Jeff Cullum. Photographs by Andrés Leighton.
Old buildings are often said to possess "character" or "charm." What of an old building whose architecture possesses neither but that has nevertheless enchanted its reluctant owner? The Hachita Food Mart—leaky roof, peeling paint, finicky front door—came into Jeff Cullum's life in 1992 and has been in and out of it ever since, try as he might to get rid of it.
"He sells it, takes it back, sells it, takes it back," 72-year-old cashier Patty May says, in her Dolly Parton drawl, while sitting on a vinyl diner bench here in one of the state's poorest, smallest towns, in the arch of southern New Mexico's Bootheel.
It isn't yet 8 a.m. on a summer Sunday, and the sun bakes the gravel parking lot outside. Sometimes the sky here reflects the deep Abiquiú blue that inspired Georgia O'Keeffe. But on a day like this, the sun burns the blue away and casts a glaze that pales and yellows the horizon like an overexposed photograph. Business is slow.
Cullum—52 years old, blond, and sun-weathered—is home in Truth or Consequences and won't be back down to Hachita till he musters a new load of junk bought at auction to stock the store, the part that was once a mechanics' shop but is now crowded with tables of sundae and sherry glasses, hard-shell suitcases, paperbacks, vintage toys, and other knickknacks. Outside, a single gas pump beckons. Inside, noisy fridges hold drinks, ice cream, and burritos.
The combination gas station, convenience store, and antiques shop is more than the sum of its parts. It's a godsend to drivers watching their gas tanks tick toward empty in this unpopulated, unforgiving stretch of Chihuahuan Desert. It's a first or final pit stop for hikers and bikers on the long-distance Continental Divide Trail. For locals, it's a daily gathering spot for gossip, and, for five of the area's 49 residents, it's a paying job.
Want to know what else is happening in New Mexico? Subscribe to New Mexico Magazine and get 12 issues for $25.95.
But for Cullum, a homebuilder by trade, the Hachita Food Mart is a strange passion project that perennially wears him out, then beckons him back. Cullum is self-effacing; he speaks quietly but gets excited about Hachita and the little store that has given him so much trouble for so many years. "It's just something about it down there," he says. "Hachita—it's way out there. I like being able to see so far. You can see everywhere, a hundred miles."
As middles of nowhere go in New Mexico, this one isn't as isolated as it appears. The Hachita Food Mart stands at an international crossroads. A north–south highway runs from the border crossing at Antelope Wells to I-10; the east–west NM 9, a popular road for shoppers, smugglers, and Border Patrol agents, connects El Paso and Ciudad Juárez with Arizona.
The store flanks the Continental Divide Trail, a 3,100-mile trek from the Mexican border to Canada, through desert plains and mountain forests, across elevations ranging from 4,000 to 14,000 feet. The CDT is "the highest, most challenging and most remote" of the National Scenic Trails, according to the nonprofit Continental Divide Trail Coalition—and it's a favorite of hardcore mountain bikers worldwide. Those who start at the northern end in summer arrive in Hachita in July, August, and September. In 100-degree weather, the Hachita Food Mart materializes like an oasis.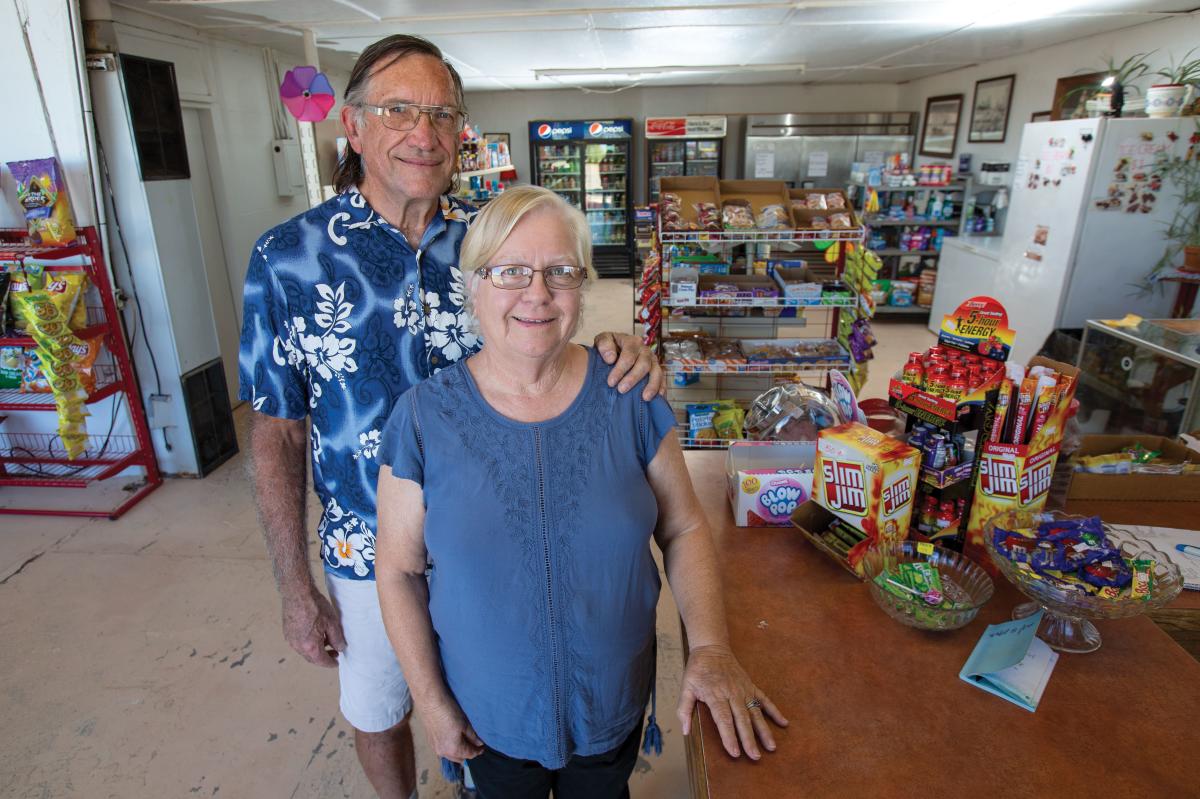 Above: Hachita's only business is a hub for Border Patrol agents, locals like its previous owners, Robert and Bonnie Denzler (pictured above), and Continental Divide travelers.
Claude Marthaler, 58, rests against the store's canted front window with his legs stretched out like two tanned, tightly wound ropes. It was mid-September when the Swiss journalist and long-haul biker, who has scaled the Alps, the Andes, and the Himalayas, pulled into the Hachita Food Mart after reaching the finish line at Antelope Wells, the tiny border crossing 43 miles south, the night before.
"When I arrived it was really beautiful," he says in English tinged with a French accent. "I had the sunset on the left. I had the moon on my right. The sky was huge, and I felt very close to nature. I loved immediately this place in the night, with the light and the one gas pump."
The original Hachita Food Mart was a gas station and mechanics shop on bustling Motel Drive in Lordsburg, some 50 miles northwest, during that town's 1960s heyday, when it sat at the crossroads of US 80 and US 70 and travelers fueled the local economy. That was before the 1974 construction of I-10 let drivers fly by the city, draining businesses.
According to local lore, in the early 1980s, shortly after the construction of the interstate, a retired truck driver named Howard Fredrickson, from Pennsylvania, had the car repair shop lifted from its foundation. He hauled it down to Hachita on an enormous trailer, escorted by state police. "They took it down the interstate," Cullum says. "And it's big. It's really big! He must have gotten a real good deal on it. So he hauled it down, and he was the one responsible for setting it up."
Fredrickson's daughter Bonnie Denzler spent part of her childhood in Hachita and then returned with her husband to retire. She remembers how happy the town was when her dad set up shop; back then, Hachita was filled with families supported by the now defunct mining and smelting operations nearby. "The town didn't have a mechanic, and it is so far to Deming or Lordsburg," she recalls. "If somebody had a flat tire, my dad could get it fixed real quick for them. He also had a grocery store and gas pump put in. It was a unique situation."
In 1992, Cullum visited Hachita with a buddy who had grown up there. He bought a house in town that he planned to fix and flip, and he also inquired about the store. The next year, Fredrickson offered it to him for $250 a month, interest-free—a rent-to-own agreement. "A couple of people before me had bought it from him and gave it back," Cullum said. "The opportunity was there to just come in and take over things. I had planned on fixing it up and selling it, I thought." So he did. Over and over—and over again.
By most measures, the Hachita Food Mart has been a losing proposition in the little crossroads town for nearly four decades. A load of fuel costs $15,000 to $25,000, and the store doesn't generate enough cash flow to make that an easy purchase. It takes three or four weeks to sell all the fuel, which means that the price of a gallon can change drastically—making the Hachita gas by turns either much cheaper or more expensive than in Deming or Lordsburg. Ups and downs in the Mexican peso can boost or drain business, as Mexicans change their crossing habits in response to the strength of their currency against the dollar.
But a solid bottom line isn't what keeps the doors open. Hachita has always embraced adventurers and outcasts, folks looking for an out-of-the-way place to put down roots. And the store itself has taken on the character of a stray that has chosen its home and won't be turned out. No one wants to see it close. Residents say they always gas up at the store and try to buy milk and other staples. Local ranchers pay forward accounts for gas and snacks. A wooden drawer beside the cash register holds stacks of carbon-paper blocks with their purchases marked down, like in an old-fashioned general store—except it's the ranchers carrying Cullum, not the other way around.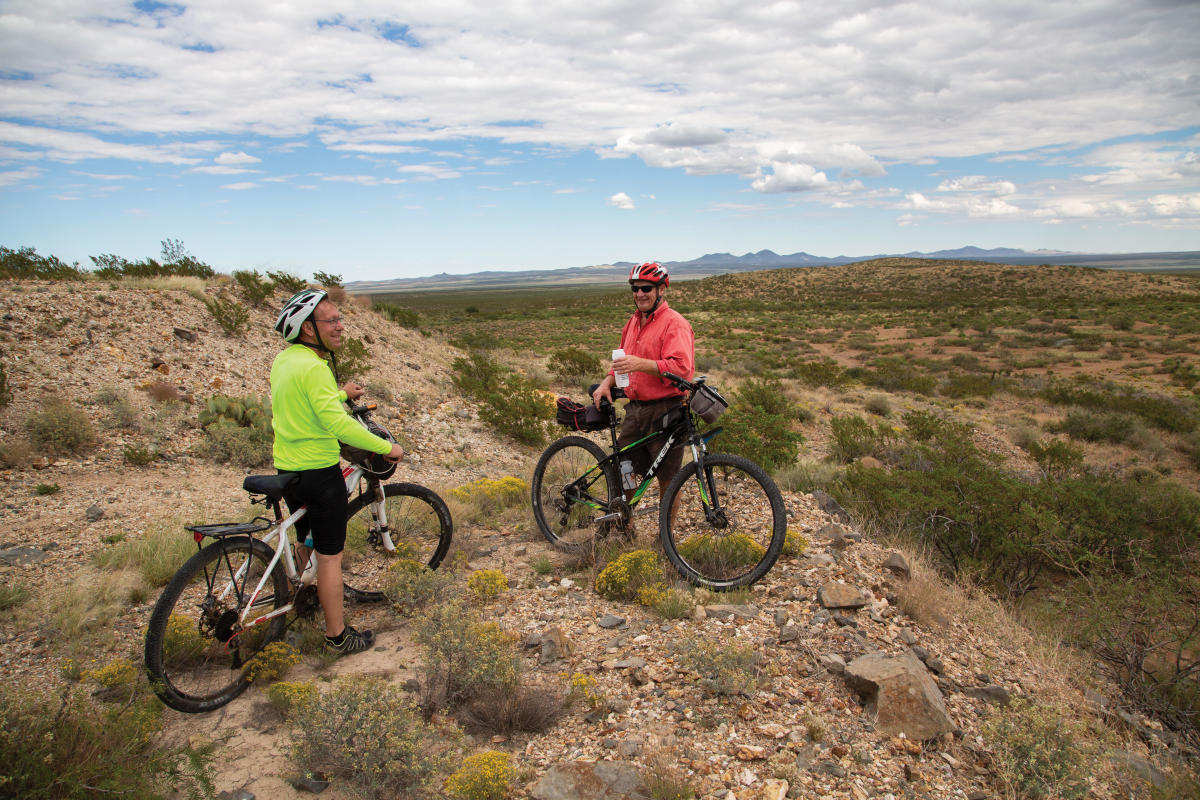 Above: Jeff Cullum and Jeffery Sharp go on a ride on the Continental Divide Trail, near Hachita.
"It's important," says next-door neighbor Jerry Roach. The 81-year-old is outside painting his clapboard house tobacco brown. Roach says he is too busy to talk, but he doesn't pass up the chance to gossip.
"The town can't support it, if you know that story," he says with a look suggesting the store may not stay open much longer. "I don't want to blow smoke up your ass, and all I have is hearsay…"
If folks gossip and fret about Cullum selling the store, they have good reason. When Cullum bought the business, he ran it for a year before selling it to a Hachita couple for $400 a month. Pat and Marlene Harris renamed it the Egg Nest and kept it for six years—the longest of any of the owners after Fredrickson. When business slowed, they gave it back to Cullum, setting off a cycle that saw Cullum sell the store and take it back another three times—until the last owners who bought it on a payment plan, Hachita ranchers Jason and Cheyenne McDonald, ran it for two years then shuttered it.
Four years passed.
That was too much for Cullum. In early 2017, he told the McDonalds to leave the keys on top of the broken Pepsi machine outside. He was coming down. Expecting to find a musty mess, he opened the door. "You have to push on the door with your foot and you have to pull the key just slightly and give a little jiggle as you turn it," he says, fondly describing the finicky front door. "It'll open right up! But if you try too hard, it won't open. The harder you try, the worse it gets."
To fix up the store, Cullum temporarily moved from Truth or Consequences to Hachita and lived out of his car. He put in a new fuel pump, gave the store a fresh coat of mint green, and painted hachita food mart in black on top. By July 2017, the town's only business was back in business.
"When Jeff opened the place, it excited the whole town," says Mike Sims, a local writer and occasional cashier. "The thing that happens at least once a week is someone comes in and says they are just glad we're here. They appreciate we are out here in the middle of nowhere."
The foundation is broken at the seam where the old store meets the addition. The metal roof inside the store is peeling white paint. And when it rains, it pours—inside. "The roof leaks like a sieve," May says. "We have to put big buckets out."
When May's short morning shift comes to an end, cashier Lisa Mikow arrives in a dusty Dodge Ram with her two girls. Mikow is the Australian wife of a Bootheel cowboy. ("On his tax return, his occupation is 'cowboy,'" she says.) She made her way to New Mexico after packing mules for an outfitter in California. Her girls spend long summer days playing ponies on a faded rug by the diner benches.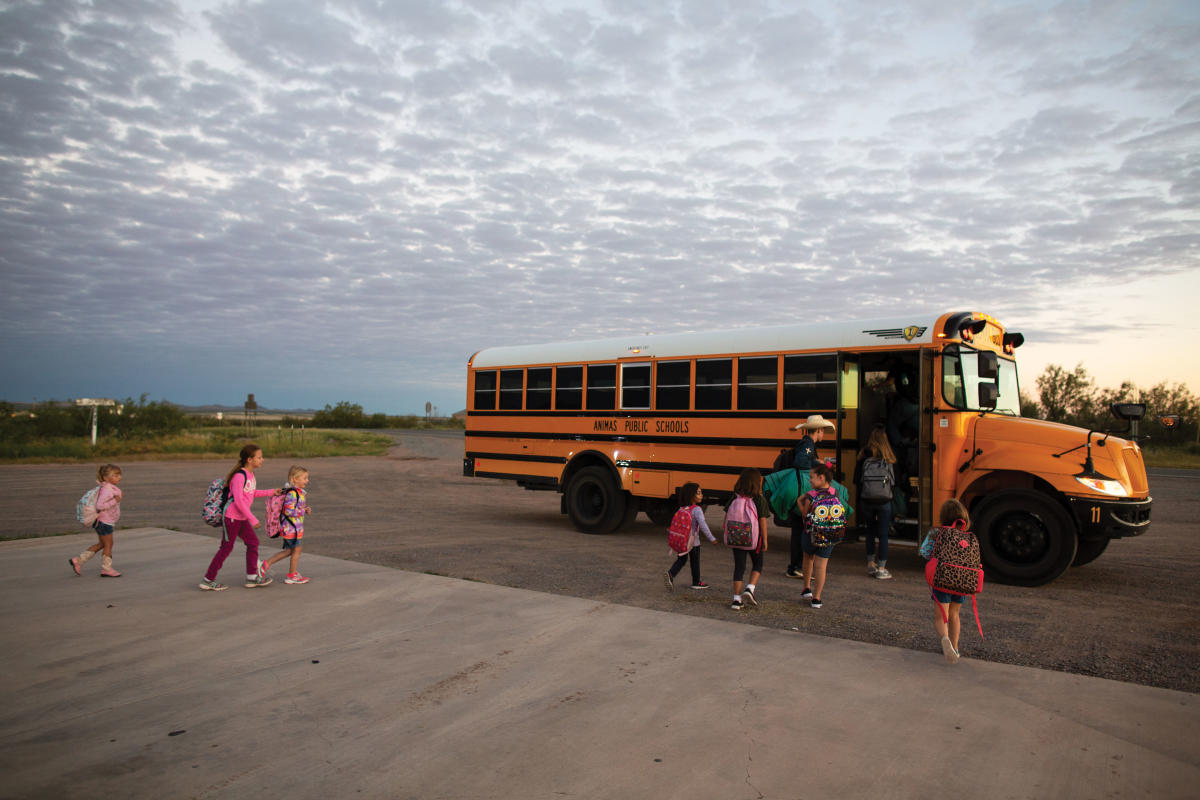 Above: The Hachita Food Mart is also a bus stop for the Animas Public Schools.
"I don't know how many American towns I have driven through and half the businesses are closed," she says before a flurry of customers comes just after 9 a.m. She echoes everyone's sentiments about how much the little store means to Hachita. A Border Patrol agent stops in, buys two Monster drinks. The lady from the Hachita Post Office fuels up her car. A Volvo station wagon pulls up to the pump, lifting a little cloud of dust from the hot gravel. And then nothing, for hours. It feels as if the clock ticks backward.
Even as he mulls another sale of the store, Cullum's optimism springs eternal: "I think the town is on a comeback," he says, despite all the evidence to the contrary.
The Hachita Food Mart wears him out—he says this over and over—but Cullum remains inspired. Last year, he traveled to Canada and set out on the Continental Divide Trail alone on his bike, despite having never ridden long-distance. He made it, all the way to the Mexican border south of Hachita, in 34 days. He never quit.
He says of his rosy vision for the future: "You've got to picture these things, you know?"

THE LITTLE HATCHET THAT COULD
According to Robert Julyan's book The Place Names of New Mexico, a mining camp was established in the Hatchet Mountains around 1875 to seek silver, lead, copper, and turquoise. By 1884, 300 residents called Hachita home. Its name is Spanish for "little hatchet," though Julyan says no one really knows how the mountains got their wood-chopping label. Just after 1900, the El Paso and Southwestern Railroad laid tracks nine miles east of town, spurring a second settlement and dividing the community into Old Hachita and New Hachita. "Today," Julyan writes, "the RR has gone, but Hachita—New Hachita, that is—remains."
---