Above: Cliff River Springs offers guests canoes, kayaks, noodles, and rafts to enjoy its spring-fed pond.
COURTESY OF CLIFF RIVER SPRINGS 
ON A JULY AFTERNOON IN 1997, as I drove west along US 60, taking in the otherworldly view of the Very Large Array radio astronomy laboratory and thunderheads in the distance, I passed a sign welcoming me to Catron County and thereby achieved my goal of visiting every county in the state.
I set out to explore them mainly in the name of wanderlust and a deep curiosity about this land I'd first visited early in my career as a travel writer. Since then, I've continued to roam these rural highways, mountain passes, and dirt roads, regularly discovering unexpected treasures, from fabled hole-in-the-wall diners and rural B&Bs to offbeat roadside attractions and quirky shops. Here is a sampling of my favorite out-of-the-way finds.
SMALL-TOWN EATS
Thousands of I-40 drivers zoom past one of the best burger joints in the Southwest every day without even knowing it. Laguna Burger, named for the pueblo it sits on, occupies a retro fifties-style dining room adjacent to the 66 Pit Stop convenience store. Order at the counter—I recommend the mammoth half-pound green chile cheeseburger with a side of hand-cut fries. But it'd be a shame not to sample the stellar Frito pie, too. (505) 352-7848
Sit on the breezy Windmill Patio of Ardovino's Desert Crossing to enjoy panoramic views of the Franklin Mountains south of Sunland Park, near the Mexico border. Devotees of this romantically 1940s Rat Pack–esque restaurant come for exceptional old-school Italian cuisine, including lightly breaded artichoke hearts stuffed with goat cheese, rib-eye steak in a mushroom-merlot sauce, and Mamma Ardovino's spaghetti and meatballs. Wrap up your evening with drinks in the Mecca Lounge, with its cool vintage gambling artifacts. (575) 589-0653; ardovinos.com
First-timers to El Farolito often drive by this tiny restaurant in the historic village of El Rito, not far from Abiquiú, without realizing it. Just a few hundred square feet, with five or six rough-hewn tables, the family-run eatery has earned its share of accolades for big flavors. The invigorating green chile stew is justly celebrated, but a regular I know swears by the chile rellenos, and now I do, too. Save room for a banana split or malted chocolate shake. (575) 581-9509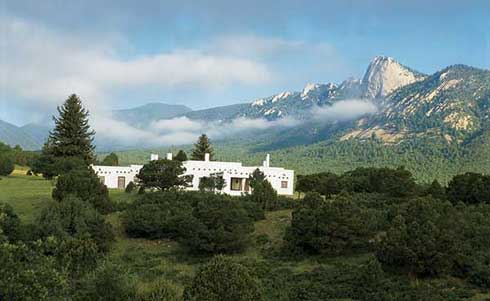 Casa del Gavilan B&B. 
COURTESY OF JULIA VANDENOEVER
IN THE ROUGH
The state's sterling reputation for golf kicked up a notch with the 2014 opening of the municipal Rockwind Community Links in Hobbs, a magnificent redesign of Ocotillo Park Golf Course. Comprising a perfectly manicured 18-hole championship course and a fun nine-hole executive layout designed by renowned golf architect Andy Staples, Rockwind also boasts a first-rate contemporary bar and grill. With $20 greens fees, this undulating 7,100-yard Scottish links–style course is an amazing value. Rockwind's layout is well-guarded by greedy bunkers, and pin placements reward those with polished short games. (575) 397-9297; rockwindgolfcourse.com
Although it's tested the mettle of golfers since 1965, the 8,000-foot-elevation Pendaries resort remains one of New Mexico's lesser-known golf jewels. From Las Vegas, it's a picturesque 45-minute drive through the unhurried Mora Valley to this pine-scented getaway that's also home to a lodge with 18 simple but comfortable rooms and the convivial, wood-paneled Moosehead Bar & Restaurant. In contrast to most of the state's wide-open courses, Pendaries has tight fairways—several with tricky doglegs flanked by ponderosa pines—that favor precision over power. (505) 425-9890; pendariesnewmexico.com.
SLEEPING UNDER THE STARS
Cliff River Springs, a 1,200-acre guest ranch in rugged La Madera, has been in the family of genial proprietor Hope Atterbury for generations. Warmly appointed, tin-roofed casitas with full kitchens encircle a grassy plaza that has chairs and benches, fruit trees, birdfeeders, and an outdoor grill and dining area. It appeals to solitude-seeking travelers as well as groups that rent the entire place. Take in spa treatments and soaks at nearby Ojo Caliente, or explore one of the hiking trails leading from the property. I'm a fan of the moderately challenging climb to the summit of nearby Cerro Tecolote, where you'll encounter few other souls besides the occasional lizard or coyote. Cool off afterward with a swim in the property's spring-fed pond. (505) 583- 0002; cliffriversprings.com
Nestled in a tract of Sangre de Cristo wilderness almost completely surrounded by the famed 220-square-mile Philmont Scout Ranch, Casa del Gavilan B&B has served as a secluded getaway for creative spirits since colorful East Coast bon vivants Jack and Gertrude Nairn built the stately Pueblo Revival hacienda in 1912. The house abounds with vivid western paintings and sculptures, including an original Frederic Remington bronze that adorns the largest and most memorable of the six guest accommodations, the Nairn Room. Sitting in the central courtyard, you may hear the rumblings of an approaching storm or the whir of hummingbird wings, but little else will interrupt the tranquility—or remind you of what century you're in. (800) 428-4526; casadelgavilan.com 
There are few more remote or rewarding backcountry experiences than a few days riding horses at Geronimo Trail Guest Ranch, an intimate and authentic dude ranch in southwestern New Mexico's 3.3 million–acre Gila National Forest. With four cheerfully furnished cabins tucked beneath a grove of pines—each with its own porch—the down-home hide-away run by the warm and welcoming Stout and Esterly clans is 70 miles from the nearest cell phone reception. Days are spent riding easygoing horses through a pristine alpine landscape. Hiking and creek swimming round out the fun. In the evening, guests convene for hearty meals, followed by stargazing and conversation around the campfire. (575) 772-5157; geronimoranch.com
HAND-CRAFTED
Down a winding dirt lane in the Sangre de Cristo foothills near Eagle Nest Lake, Comanche Creek Brewing quietly produces first-rate craft beer. Order one of the rotating brews, such as rich Iron Mountain Porter or heady triple-hops Touch-Me-Not IPA. Kody and Tasha Mutz run this casual brewery from a rustic cabin where you can sit on the deck and spy an elk scampering through the forest. (575) 377-2337; comanchecreekbrewingco.com
You can sample the elegant wines of Ponderosa Valley Vineyard at a growing number of restaurants and wine shops around the state, but you haven't truly experienced what this 23-year-old standout of New Mexico viticulture offers until you make the scenic trek to its winery. It's in the far-flung village of Ponderosa, just a few miles off the red rock–flanked Jemez Mountain Trail National Scenic Byway. The informal tasting room is relaxed and inviting—a lovely spot to sample Ponderosa's acclaimed Riesling, pinot noir, and Sangiovese. If you're lucky, four-legged employee Sammy will greet you. (575) 834-7487; ponderosawinery.com
Coffeehouses producing single-origin, artisan-roasted drinks have begun to flourish around the state, but I was still happily surprised to stumble upon 302 Espresso, which serves cult-favorite PT's Coffee, inside Artifacts Gallery in downtown Farmington. The staff is passionate about fair-trade coffee and pours a mean macchiato as well as strong and smooth cold-brew coffee. Dramatic landscape paintings and abstract mixed-media installations by the gallery's more than 50 member artists fill the loft-ceilinged space in what was an early 1900s lumber shop. (505) 327-2907; 302main.com
ENCHANTING ADVENTURES
The extremely well-kept Alameda Park Zoo—the oldest in the Southwest—takes up 12 prime acres in the heart of downtown Alamogordo. Tack it on to visits to the area's White Sands National Monument and New Mexico Museum of Space History, especially if you have animal-loving kids in tow. Paths meander beside carefully designed enclosures, affording close glimpses of more than 260 species, including tortoises, ring-tailed lemurs, and lions. Young ones are especially fond of the chubby and plush capybaras, the world's largest rodents. It's the smallest facility accredited by the distinguished Association of Zoos and Aquariums. (575) 439-4290; ci.alamogordo.nm.us
Only a handful of historic trading posts remain on the vast Navajo Indian Reservation, but the rambling adobe building that's housed Two Grey Hills Trading Post since 1897 continues to thrive down a remote country road about seven miles west of tiny Newcomb, off of US 491 between Gallup and Shiprock. This is one of the most authentic sources for buying or simply viewing ornately patterned rugs and blankets created with handspun and -dyed Churro sheep wool. The post is also an integral part of the surrounding Diné community, where local residents stop in for groceries and gossip. (505) 789-3270; twogreyhills.com
With its huge mural of bison and elk grazing in a meadow, the building that houses Peñasco Theatre and Sugar Nymphs Bistro stands out dramatically along the High Road to Taos (575-587-2726; penascotheatre.org). Amado Roybal built the structure, with its 16-inch adobe walls, in 1940. Today the nonprofit Peñasco Theatre Collaborative offers local kids after-school and summertime puppetry and circus-arts classes, from juggling to trapeze. In the summer, you can attend magical performances—from opera to a dazzling aerial-arts show. Plan to dine at Sugar Nymphs, an acclaimed foodie destination in which chef-owners Kai Harper Leah and Ki Holste conjure sustainably sourced regional American food, such as ratatouille with red quinoa salad and chipotle pork loin. The food is well-prepared and healthy but not without decadent touches—finish your meal with a slice of the gooey triple-layer chocolate cake, and you'll see what I mean. (575) 587-0311; sugarnymphs.com
Travel writer Andrew Collins, a frequent contributor, is featured in "Storytellers".