Right: The ranch has 30 miles of trout streams. Left: Turner hosts a dinner
to celebrate the reopening of Casa Grande.
FLY ROD RAISED LIKE A BROADSWORD, James Reidy crashes into a thicket of head-high willows on the shore of Merrick Lake with all the subtlety of an elk chased through dry timber. Normally as light on his feet as a cat, he explains that years ago he nearly stumbled into a mountain lion in this thicket and has since always broadcast his presence with some thrashing.
"She glared at me and made it clear I was in her territory, not the other way around," says Reidy, the head guide at Vermejo Park Ranch. "This is wild land. It's 920 square miles of freedom, I like to say."
In the clearing past the reeds, as Reidy ties a stonefly on his line, he recalls two more firsthand mountain lion encounters. Anywhere else, reports of multiple run-ins with these reclusive predators would smack of boastful guide-spin. But at Vermejo, a 585,000-acre wilderness that straddles nearly a quarter of the New Mexico-Colorado state line, the sightings sound completely natural.
This Sangre de Cristo ranch, owned by Ted Turner and the largest privately owned single piece of land in the United States, is arguably among the most pristine pieces of mountain country in the lower 48. In the past year, not only has Turner opened what was previously a hunting and fishing lodge through his new eco-tourism venture, Ted Turner Expeditions, but he's also completed a ground-up renovation of Casa Grande, a 25,000-square-foot mansion that has been painstakingly restored to its turn-of-the-century grandeur. The baronial home, where the media magnate regularly vacationed until five or so years ago (sometimes with ex-wife Jane Fonda), is set to become the centerpiece of Vermejo. During the week I visit, Turner himself is on the property to inspect the handiwork and cut the proverbial ribbon.
"I'd like to show people how we go about preserving land," Turner says. "Not everyone can have a ranch like this. But now, for a few days, I hope they can afford it. And by showing people what we're doing, I hope it inspires them to also care for the land."
Like me, Turner is somewhere in these vast mountains this morning plying the waters for trout, though Reidy says it's early for fishing—the water's too cold. Still, he hooks a rainbow trout in one or two casts, and then another. It's difficult to not be inspired by the bounty of the land. The muscular fish glint in the morning sunlight as Reidy holds them briefly to extricate the hooks, then wriggle from his hand and flash and shimmer before melting into the green depths, like buried treasure briefly exposed.
An hour west of Ratón, Vermejo Park is "lost in the middle of nowhere," as Turner puts it with a chuckle, but when it was first developed in the early 1900s, it might as well have been on another planet. New Mexico wasn't even a state, and Apache and Navajo still ranged these mountains. That didn't stop William Bartlett, a wealthy grain trader and tycoon from Illinois, from purchasing 200,000 acres of the fabled Maxwell Land Grant to create Vermejo.
The property was a fancy at first, but Bartlett settled it in earnest in 1907 in hopes that the high, dry mountain air would help rehabilitate his oldest son's tuberculosis. He commissioned one of Frank Lloyd Wright's mentors, architect Joseph Lyman Silsbee, to design Casa Grande, and the residence became a spectacle, with masonry walls from stone quarried in the surrounding hills, fine mahogany carvings by Italian craftsmen who had come to the region to work in the mines, and marble pillars shipped all the way from a Chicago bank. Bartlett built more lodges and lakes, introduced elk to the property, and wooed friends and colleagues from back east with hunting and fishing.
"It was the most important example in the United States of the private game preserve movement of the late 19th century, which coincided with the establishment of many of our national parks," says Mark Kossler, general manager for Turner Ranches. "Bartlett was striving to create a private game preserve."
Today, Turner has channeled Bartlett's vision, writ large. The 77-year-old media magnate, who founded TBS, CNN, and TNT, has amassed 25 properties worldwide that total over two million acres, more land than Rhode Island and Delaware combined. He uses much of it, including Vermejo, to pasture the bison herds that supply his Ted's Montana Grill restaurant chain, but he's also deeply committed to conserving the land. Since purchasing Vermejo in 1996, Turner has discontinued cattle ranching and rehabilitated the riparian corridors that were damaged by it, worked to reintroduce the endangered black-footed ferret, and traded non-endemic fish in the Costilla watershed, on the western half of the property, for native Río Grande cutthroat trout, a project that almost single-handedly kept the species off the endangered list. "We gotta take care of this planet," Turner tells me, his words tinged with the colloquial southern lilt of his native Atlanta. "If we mess it up, it's going to be the end of us."
The four-year, multi-million-dollar restoration of Casa Grande is just another step in the conservation plan, as Turner hopes that the upgrade will draw more guests. It's worth visiting the ranch just to see the renovation, which includes a monumental great room capped by a bison head at the west end and, on the east, a taxidermy lion that's rumored to have been the MGM mascot, a meticulous reproduction of Bartlett's office, including a period bank safe and shotgun showcase, and access to Mr. Turner's private master bedroom suite, which is still decked with personal books and family photos. It's almost as astonishing to find such grandeur out in the wilderness today as it must have been in Bartlett's day, and the update brings Vermejo, which has been running a relatively modest hunting and fishing operation for decades, into a more luxury market. Says Jeff Mokotof, chief administrative officer of Turner Enterprises and the project lead for TTX, "We see it as a cross between an American safari lodge and a national park."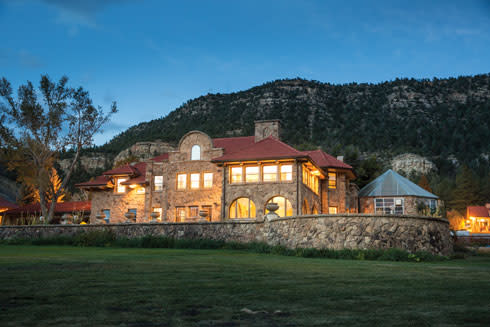 Above: Casa Grande. 
The staff at Vermejo and all of the TTX properties, which include two ranches near Truth or Consequences (see "A Turning Point in Turner Country"), have obviously been coached to use that line about Turner's lands resembling national parks. I hear it so frequently during my visit, from managers, guides, and even grounds-keepers, that it sounds almost hackneyed. But the pride is merited: Vermejo, which is about a quarter of the size of Yellowstone, has a higher density of bison (totaling about 2,500 during calving season) and elk (8,000) than the Wyoming landmark, but it gets only a couple thousand visitors each year, as compared with the national park's four million.
"We're giving guests a nearly certain chance to see more wildlife than you would ever see at the very best national parks, and to do it in solitude," Vermejo Park ranch manager Jeremy Gingerich tells me over a dinner of elk tenderloin. The next morning, I witness this firsthand with Reidy. We hook enough trout for a big family dinner—but release them to the lake—then spend the day touring the property in a lifted Toyota Tundra. We spot grazing bucks in the aspens up Leandro Creek, inspect a massive dam constructed by a colony of beavers, call in wild turkey that are milling in the shade of ponderosa pines, and glimpse small gangs of elk disappearing into the dark timber at nearly every turn. Though he's only 34, Reidy has been guiding at Vermejo since age 17, and his tracking abilities are uncanny. From the driver's seat of the truck and solely by their birdsongs, he IDs black-headed grosbeaks, yellow-rumped warblers, western wood-pewees, and the first hermit thrush of the season. As we're creeping through a clearing at 10,000 feet, he idles the truck, climbs out and walks 400 yards into the field, then returns with a pair of antlers—elk sheds that had caught his eye.
We eventually make our way to a grassy knoll with views over Little Costilla Peak and lounge in a carpet of blue flax, yellow peas, and Rocky Mountain iris. In an entire day of touring, we've passed no other cars, seen no other people. "I love to stop, get out, and soak this in. People tell me it's therapeutic," Reidy says. I can't help but think about Bartlett's hope that this land would heal his sick son. It wasn't that powerful, sadly, but by preserving the expanse for himself and now others, Bartlett enhanced countless lives. "We're living Bartlett's vision right now. He wanted these lands to share the wild with friends and family. It's the same for Mr. Turner."
A light wind blows cool air down from the high peaks and whispers through the tall grasses. For 920 square miles, it's just us, the animals, and blessed wilderness.
—Aaron Gulley is featured in "Storytellers."
LODGING
West of Ratón, Vermejo Park Ranch is approximately a four-hour drive from both Albuquerque and Denver. The ranch and its activities are open year-round to overnight guests only. Rooms in the Casa Grande start at $550 per night; Turner's master-bedroom suite is $650. Less expensive accommodations can be had next door at Casa Minor and the hunting lodge. Once only bookable in its entirety, Costilla Lodge, a 30-minute drive northeast onto the ranch, is opening on a per-room basis, though rates weren't yet set at press time.
ACTIVITIES
Outdoor explorations can be tailored to clients' interests, from wildlife safaris with a high probability of seeing elk, deer, bison, pronghorn, bobcat, bighorn sheep, and bear to historic tours that take in abandoned turn-of-the-century coal mines and ghost towns. Hikes range from rambles in the valleys surrounding the lodge to multi-day excursions that top out on multiple 13,000-foot peaks. There's horseback riding and mountain biking on two-track forest roads and wooded singletrack, and fishing in 16 trout-rich lakes and 30 miles of streams. There's skeet shooting, sporting clays, including a walking course and five stand, and a 3-D archery range. Winter activities include snowshoeing, nordic skiing, ice fishing, and sledding. Activities (aside from unguided fishing) are supplemental to accommodation costs.