Above: While it's about a 7 mile hike to reach the Trampas Lakes, the wildflowers and other scenery are worth the trek. Photograph by Christina Selby.
I'M ON THE LAST STRETCH of a seven-mile hike to Pecos Baldy Lake. It's the last mile and the most vertical. My thighs burn, my heart thumps, and I can hardly catch my breath. Why am I working so hard? … I could just sit down next to this lovely mountain stream … My hiking companion, Glacier, a thigh-high white dog, steps on my heels to keep me moving.
The trail finally levels out as the afternoon sun cozies up to the horizon. I pass through a field overflowing with colorful wildflowers and arrive at the lake. A deep-blue pool sparkles below East Pecos Baldy, its 12,529-foot peak still topped with a cornice of snow in July.
The view reminds me of a saying posted over my desk: "Life is not measured by the number of breaths we take, but the moments that take our breath away."
Two young guys have set up a backcountry camp under the pines about 300 feet away from the lake. As they approach to say hello, my dog charges at them, barking fiercely, and then rolls over on his back for a belly scratch. So much for my protector.
They're friendly guys and tell me tales of their multiday backpack through this high country of the Pecos Wilderness, northeast of Santa Fe. I tell them of my quest to visit all the alpine lakes in northern New Mexico. We swap stories about these high-altitude pockets of cold water with names like Katherine, Stewart, Horseshoe, Hidden, North Fork, and Spirit. 
In the fading light, I set up my tent and hang my bear bag in a tree. Glacier and I settle in for a night's rest. I dream of water as we drift to sleep amid absolute silence.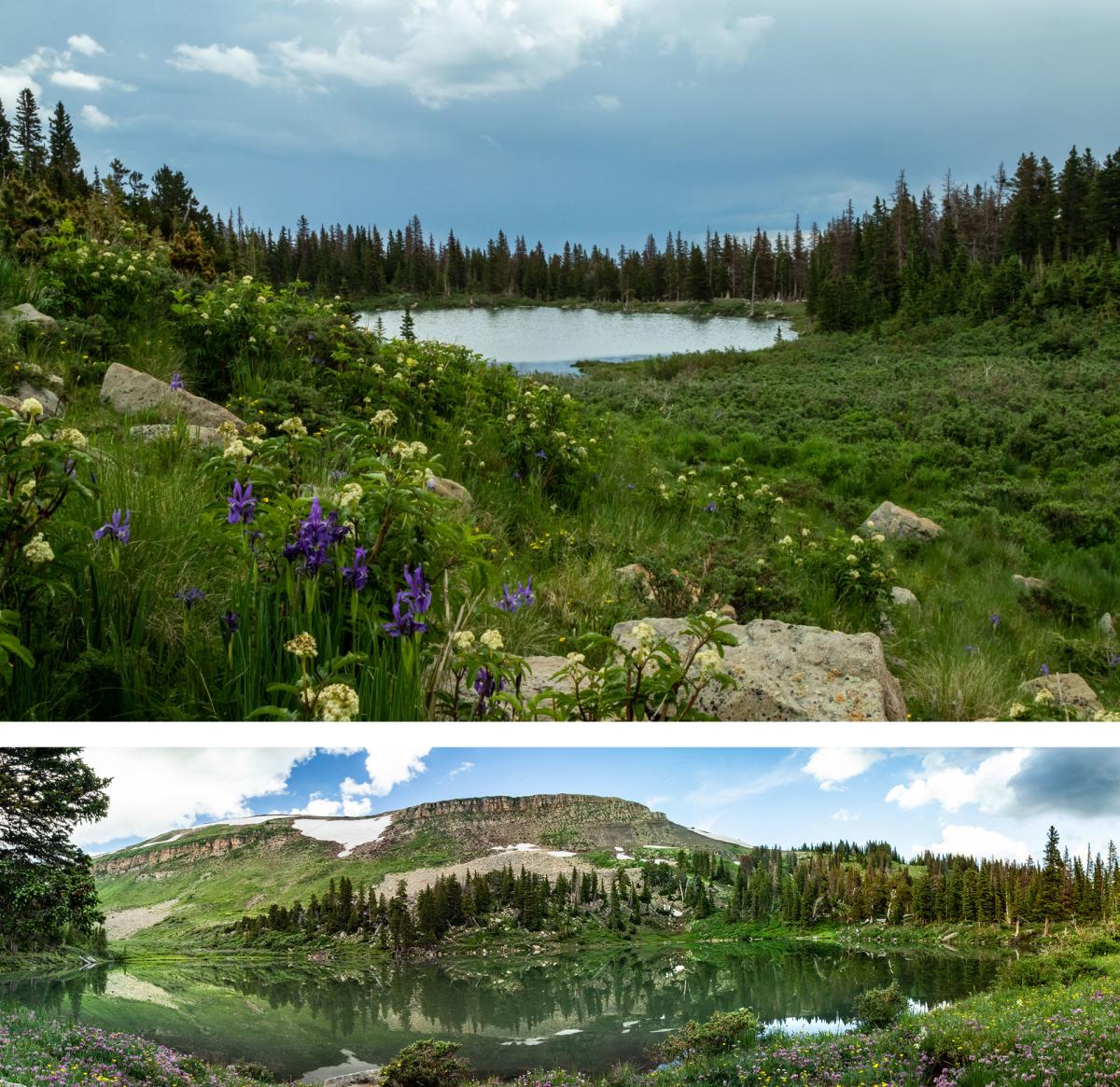 Rocky Mountain iris blooms near North Fork Lake. North Fork Lake, in the Pecos Wilderness. Photograph by Christina Selby.
AS COOL REFUGES FROM DESERT HEAT, alpine lakes, with their brilliant blue water, summer wildflowers, charismatic wildlife, and relatively few visitors, are attractive destinations for any hiker willing to put in the muscle to reach them. But these alpine environments, so essential to life in New Mexico, are rapidly changing.
More than 35 natural snow-fed lakes dot the southernmost of the Rocky Mountains before those towering peaks subside into the earth at Glorieta Pass, southeast of Santa Fe. As glaciers retreated in the last ice age, they left depressions large enough to hold a significant amount of snowmelt. 
For thousands of years since, alpine lakes and high-mountain wetlands have acted as the natural "water towers" of the West. They collect and hold each year's snowmelt and release it slowly over weeks or months. 
Read more: New Mexico's meadows, mountains, canyons, and deserts burst with native species. Here's where to go and what to look for.
Flowing through hundreds of miles of streams and rivers, and recharging groundwater, snowmelt provides up to 90 percent of the water that New Mexicans in downstream communities use for drinking, growing food, and running industries that fuel our economy.
The latest report from the Intergovernmental Panel on Climate Change finds that scientists are documenting profound change in mountain ecosystems all across the globe. Less snow falls, and it melts earlier. During my hikes to alpine lakes in 2018, a year of intense drought, I witnessed water levels in some lakes drop between 20 and 80 feet. Eighty feet.
"Alpine regions have long been talked about as incredibly sensitive and incredibly vulnerable," says Heidi Steltzer, a professor at Fort Lewis College, in Durango, Colorado, and co-author of the mountains chapter in the IPCC report. "I would tend to say that mountain regions are more resilient than vulnerable, but that's a more complicated story to tell." 
Still, "we just don't know" what the future holds, Steltzer says, as changes in New Mexico's mountains are not well studied.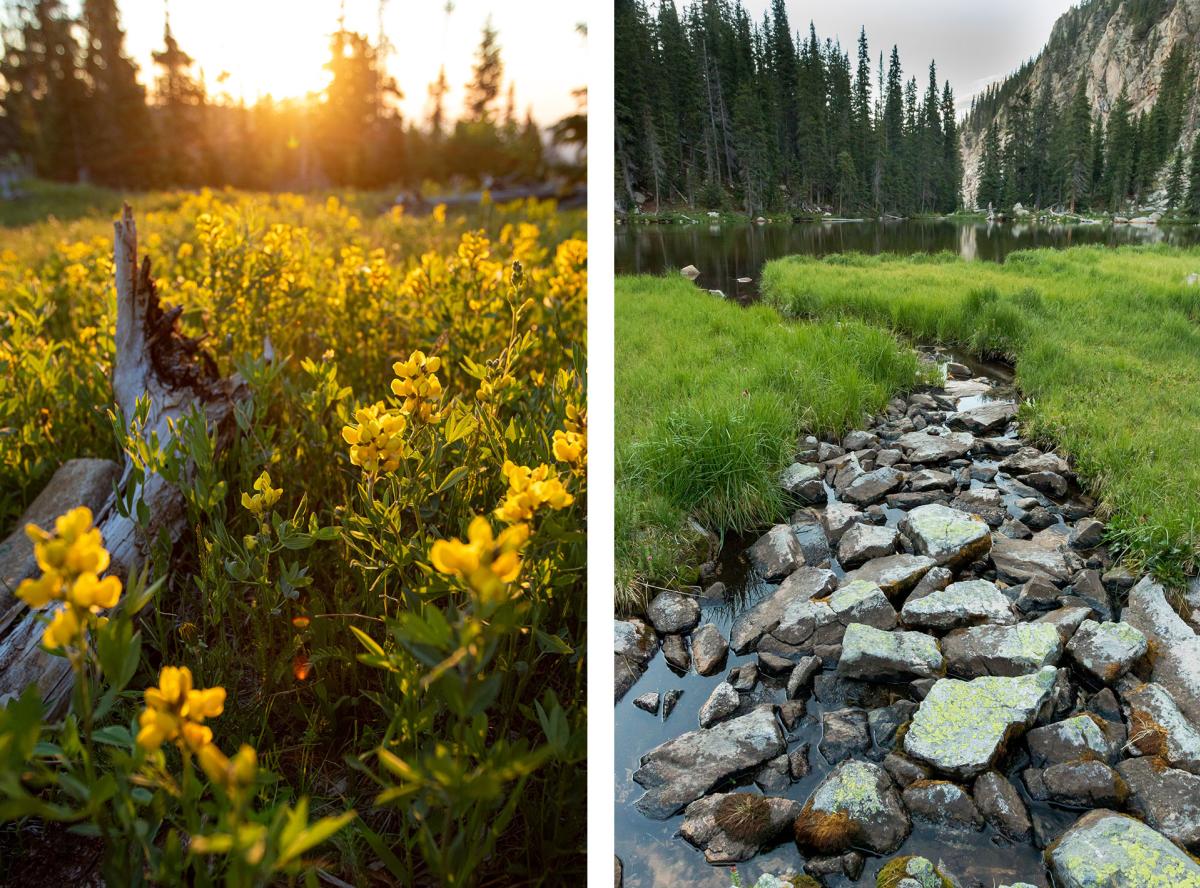 Left: In early summer, golden banner blossoms blanket an alpine meadow near the trailhead to Serpent Lake. Right: Snowmelt gathers in Nambé Lake. Photograph by Christina Selby.
ON A CLOUDLESS SUMMER DAY, I'M approaching Jicarita Peak, near the village of Tres Ritos. I stop at the edge of Santa Barbara Ridge to catch my breath. The trail peters out into snow still covering the northern face of the mountain. 
I'm not prepared. At this time of year, I expected a nearly bare ridge, but 2019 was a good snow year. I brought no traction spikes, no snowshoes, no hiking poles, no ice ax to catch me from sliding down should I slip.
As I stand there, a woman and her dog appear above me. She's wearing short-shorts and nearly treadless tennis shoes. I watch her gingerly descend the snow, slipping here, crab-crawling on all fours there. I kick a toe hole and start up a vertical track.
We cross each other halfway up the snowfield. "I'm glad to see I'm not the only one who made bad decisions today," she says. We laugh at our mutual unpreparedness.
A few steps later, a dark figure moves across the snow in the distance. I watch for a few minutes and realize it's a marmot. He climbs onto a bare rock at the top, only to jump off and slide down the snow. He repeats this several times. I'm stunned. Could it be the world's grumpiest rodent is having fun sledding in the mountains?
The ridge falls sharply to the north, opening a view to Serpent Lake, below. Taos's Wheeler Peak, the state's highest, at 13,161 feet, is visible on the horizon, with several Colorado fourteeners beyond. Two pikas cautiously peek out from the scree along the trail. They call to each other with loud eeks, making sure the other is aware of my presence. As I watch, they dart in and out of the rocks, gathering grasses and wildflowers to stockpile for winter.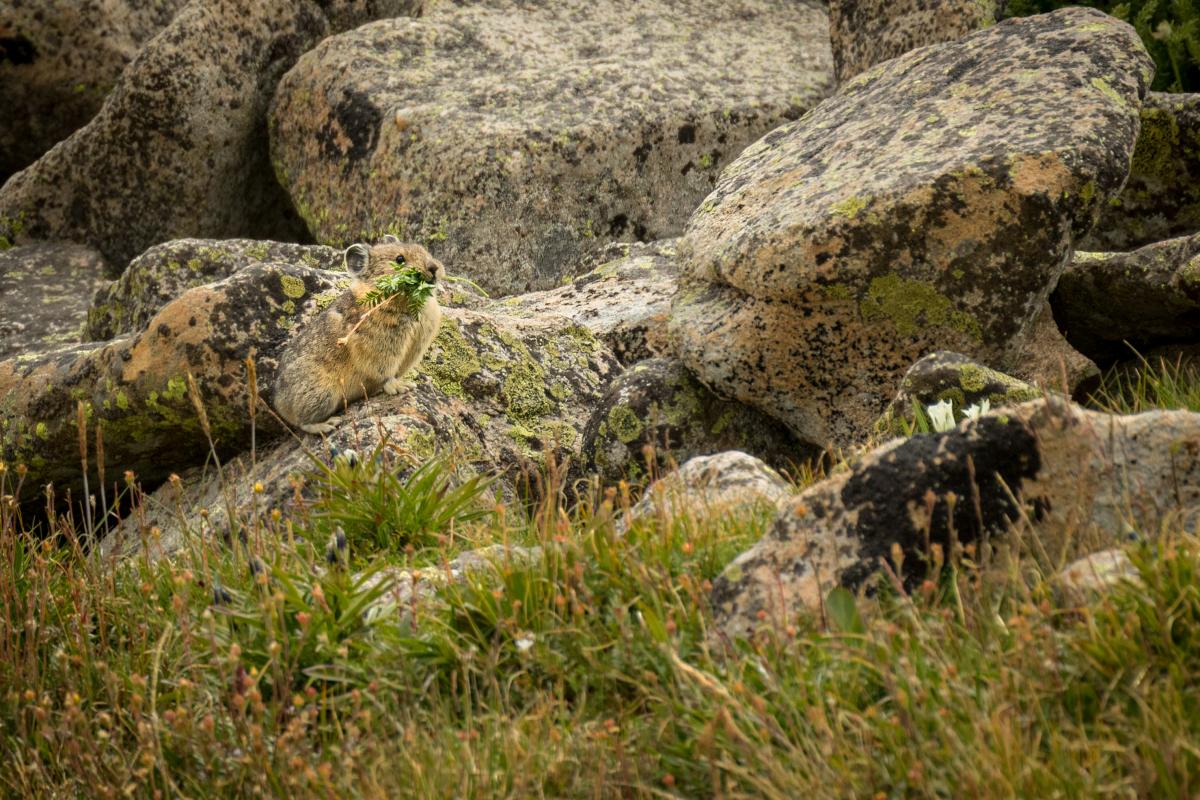 Above: A pika gathers food near Trampas Lakes. Photograph by Christina Selby.
These abundant but small mammals live above the tree line, where summers are cool and winters are cold—or once were. Mountains are warming faster than any other ecosystem in the world. Pikas are an indicator species for the potential impact. Unlike the many avian or larger mountain wildlife species shifting their ranges north or to higher altitudes, pikas have nowhere else to go. Their tiny legs won't take them down these mountains and up other ones farther north. Unless we help them. Wildlife biologists are considering "assisted migration"—moving pikas to higher peaks where cooler temperatures can help them survive.
As I ponder what it would take to catch one of these fast-moving animals, two bighorn sheep materialize to my right. They side-eye me as they saunter by, seemingly undisturbed by my presence. 
They navigate the rocky terrain of the ridge with ease. After a long winter, their coats are patchy as they shed their outer layer. They graze as they go, fattening up on protein-rich plants' new growth. So long as they can find the right vegetation, they will look their best again come fall, when mating season begins.
AFTER NEARLY SEVEN MILES ON Trampas Lakes Trail 31, the route starts to level out and turn soggy, a signal that a lake is near. American bistort, marsh marigold, queen's crown, and Parry's primrose paint the path. These wildflowers thrive in high-alpine wetlands. Hundreds of pink elephant's heads decorate the marsh. I squat down to inspect the flowers closely—the parts do look like the large ears, long trunk, and rounded forehead of an elephant.
I finally reach the lakeshore, where the sharp granite summits of the three Truchas Peaks tower above in astonishing beauty. The lake is surrounded by the blue shade of pines and spruce. Rust-red boulders brighten up the shoreline. 
Read more: No matter your experience level, an adventure awaits on these four great hikes.
Two other hikers laze about. An angler flicks a fly rod, hoping to catch native Río Grande cutthroat trout in the clear water. Each of us keeps an unspoken distance from the others to maintain the feeling of solitude we sought by walking many miles into the wilderness.
A sphinx moth flits between low-growing arctic gentian wildflowers on the talus slope. With higher temperatures in the mountains, wildflowers are abundant earlier because of early snowmelt. But the window in which they bloom is shortening. This means wildflower enthusiasts need to make adjustments to when they hike to the high country to catch the outstanding displays in New Mexico's mountains.
"Even though it's changing, it is still beautiful," says Steltzer. "If you aren't from a mountain region, you might not even notice."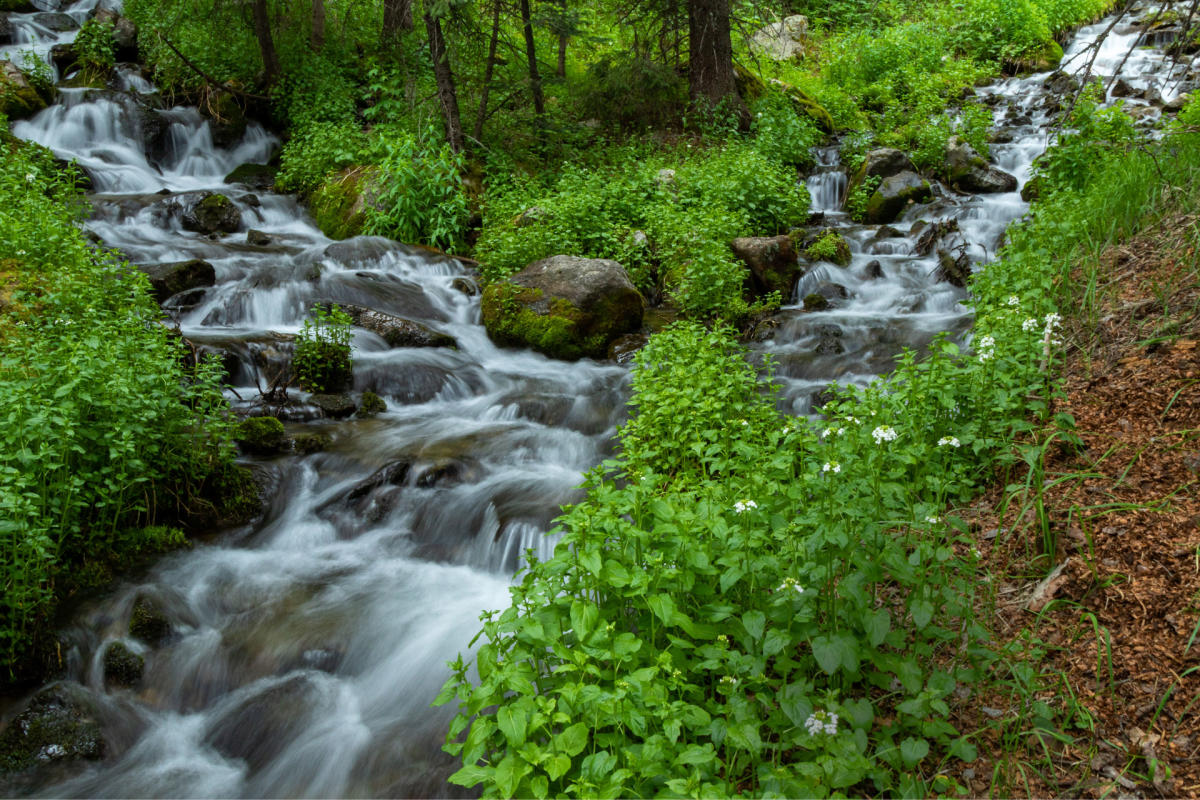 Above: Bull and Lake Fork creeks meet near Heart Lake. Photograph by Christina Selby.
TWO STEPS FORWARD, PAUSE, BREATHE, repeat. My mind locks on to this mantra and turns it over, egging me on to Heart Lake, in the Latir Peak Wilderness, near Questa, my last lake hike of the season. I fall into the hiker's zone where thoughts fade away and all that is left is slow and steady movement forward. My senses are at full attention. A breeze bends the trees, the grasses rustle, wildflowers paint the trail in bright colors, and the forest smells of the pine needles that crunch under my feet.
They say that the desert heals the soul and mountains clear the mind. Scientific research now confirms this. A walk in the woods, through a wildflower meadow, or by an alpine lake eases anxiety, stress, and depression. This is what drives my quest to see every alpine lake. Walking high into these mountains makes me feel good, even if it's a chore to get there.

THE UPTAKE
Clustered in the Sangre de Cristos of northern New Mexico, the state's highest peaks shelter these hike-to lakes on public lands: Bernardin, Cow, Enchanted, Goose, Heart, Hidden, Horseshoe (two of them), Indian, Johnson, José Vigil, Katherine, Lost, Lost Bear, Middle Fork (in Pecos Wilderness), Nambé, No Fish, North Fork, Pacheco, Pecos Baldy, San Leonardo, Santiago, Serpent, Spirit, Stewart, Trampas, Williams, and surely more. Several alpine lakes are accessible by car and have developed campgrounds, including Canjilon, Stinking, and Trout lakes, near Tierra Amarilla; Goose, Middle Fork, and Pioneer lakes, near Red River; La Cueva, near Sipapu; and Latir Lakes, near Questa.
Some trails to get you started
Serpent Lake: About 7 miles round-trip on Trail 19; trailhead at end of FR 161.
Trampas Lakes: About 13 miles round-trip on Trail 31; trailhead at end of FR 207.
Pecos Baldy Lake: Nearly 15 miles round-trip on Beatty's Trail 25 to Jack's Creek Trail 257; trailhead in Jack's Creek Campground equestrian area, at end of FR 555.
Nambé Lake: About 8.5 miles round-trip on Winsor Trail to Nambé Lake Trail 400; trailhead at Santa Fe Ski Area.
---
Hiking Tips
Alpine wildflowers grow close to the ground and in mats. Walk carefully in fragile alpine tundra environments.

Stay on the trail. User-created trails can drain, incise, and transport water and sediment away from headwater systems.

Go to the bathroom at least 200 feet from lakes, streams, and wetlands. Bag and pack out your and your dog's waste, or carry a shovel to bury it.

The National Forest Service recommends camping at least 300 feet from lakes, streams, and rivers and building no campfires, which damage soil and water quality.