Navigating San Pedro Parks Wilderness trails can be tricky, especially in the boggy meadow. Photograph by Elizabeth Miller.
HEAVY RAIN FELL SOME DAYS BEFORE MY HIKE into the San Pedro Parks Wilderness, so the first miles of trail read like a registry of passersby. The elongated half moons from elk hooves and the arrowhead hearts from deer cut deep into the now dry ground. A single set of hiker footprints was left not long after the storm, each step bedeviled by the squish and slip of mud. For two days, those intermittent tracks and my dog were the closest things I had to company.  
San Pedro Parks Wilderness sits in the northwestern corner of the Santa Fe National Forest, a plateau of dense pines and lush meadows that rises out of the burnished canyons around Abiquiú, Coyote, and Cuba. When Dawnyelle Smith, recreation staffer for the national forest's Coyote Ranger District, told me this spring that she views her district as an undiscovered gem, I felt compelled to return.  
On my first trip, I drove to a trailhead with a friend who was backpacking for the first time. We'd planned a one-mile hike to camp and a short loop the following day. When we arrived, near dusk, I said, "No problem. We have headlamps." But within 15 minutes, something large cracked a branch off the trail near us. Even in the dark, I could see her eyes widen. She froze. We car camped.  
The next day, we hiked corridors of golden aspens. We spotted elk with more antler points than I could count. Then the trail started blinking in and out through the meadows. The map didn't match what I experienced on the ground. A dearth of landmarks hindered navigation. (Later I learned that the area's maps were woefully out of date, but were reissued last year.) We pieced together what looked like a trail, missed our spur back to the car, and effectively doubled our mileage for the day.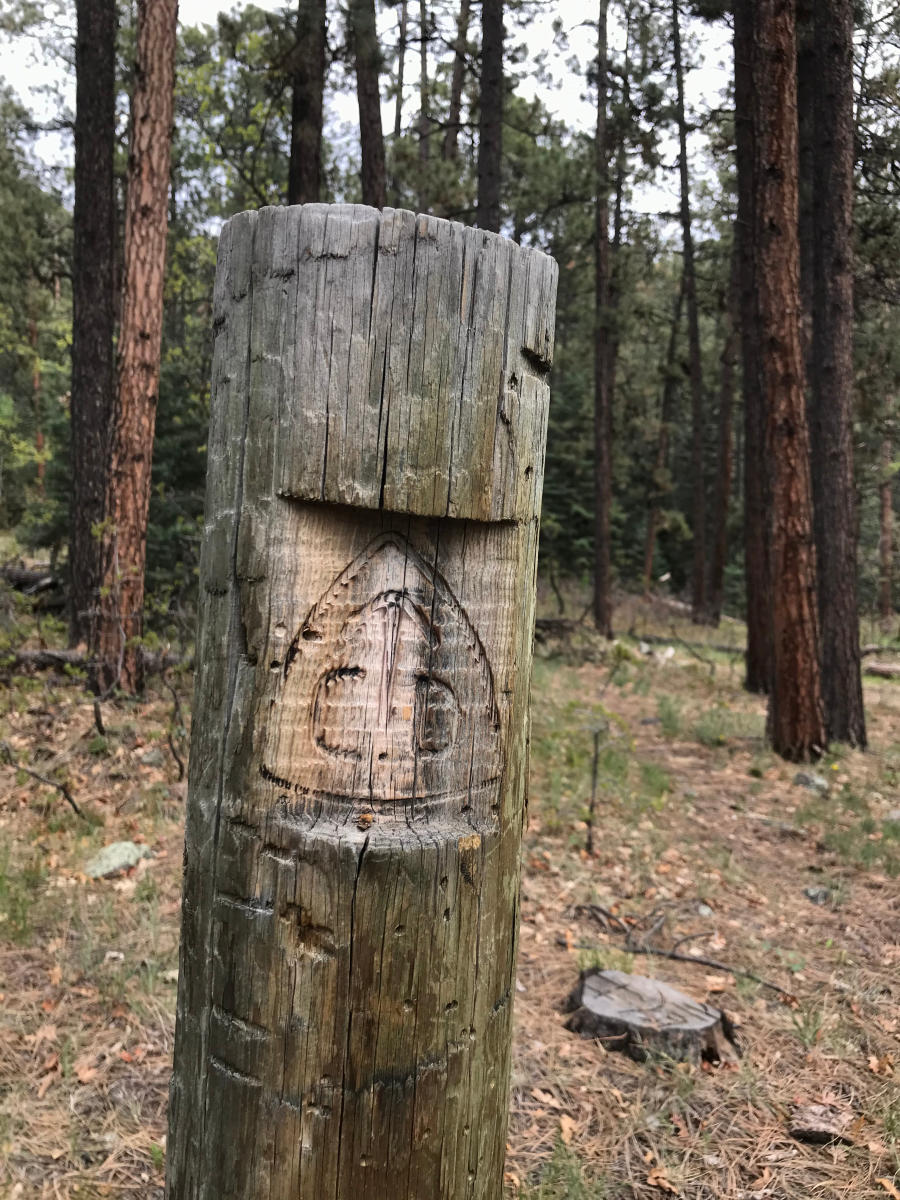 A Continental Divide Trail marker identifies the trail ahead. Photograph by Elizabeth Miller. 
Still, the lure of solitude drew me back to this place that often defies its own maps. I shrugged into my backpack and, over the course of an afternoon, walked up a west-facing slope dressed for summer with lupine and Indian paintbrush, into spruce and pine forest spotted with red columbine and golden pea. My shadow stretched long over the grass when the trail leveled out at the top of the plateau, a patchwork of forests and meadows laced with streams. 
Clouds spit rain, then broke open as I set up camp on a knoll overlooking a creek. I watched shreds of the storm race by in jagged layers. I lit my camp stove to heat my dinner and boil water for tea, hugging my fingers around the mug to soak in the spare warmth. As dark covered the pines, I crawled into my sleeping bag, my dog nested against my hip.  
In the morning, I hiked into the wilderness. Water flooded the trail from the massive, boggy meadow. Frogs thrummed, and a pair of ducks launched from a pool. The trail faded out. I turned around often, keeping my compass and map close at hand, and pressed on with the next landmark in mind.  
If nothing else, I figured, I could navigate back to my car by the scent of cinnamon rolls from Bode's Mercantile, in Abiquiú, that I'd stowed there as a post-hike reward. 
CAMP CONFIDENTIAL
Best site: Trailheads ring San Pedro Parks Wilderness and vary in what, if any, amenities are available. In the backcountry, camp 200 feet from water sources and the trail.
Nearby activities: Hiking, horseback riding, wildflowers, hunting. For trail conditions, latest maps, and fire restrictions, call the Coyote Ranger District (575-638-5526) or Cuba Ranger District (575-289-3264).
Bathrooms: The Resumidero Campground, near the Corralitos and Vega Redondo trailheads, is a primitive campground that has seasonal, portable toilets.
Water: Pack everything you need (and maybe a little extra, just in case).
Dogs: Allowed on leash.
Fee: Free. 
---
Read More: Follow these backcountry safety tips from search and rescue expert Marc Levesque.
Read More: A hike in the Gila National Forest trains the eye to follow what matters most.
Read More: Take your experience to new heights on these bird-friendly hikes.