NEED TO KNOW
Casa Camino Real is open to the public daily during the 20th annual Border Book Festival, April 25–27, and regularly Thursday through Sunday and by appointment. 314 S. Tornillo St.; (575) 523-3988;
borderbookfestival.org
.
Although the houses in this story are not currently on any historic home tours, Mesilla Valley Preservation Inc. periodically runs workshops and sponsors an annual tour each February, featuring comparable renovated/ well-preserved historic (often adobe) homes. (575) 521-4794;
mvpres.org
Artist and historian Preciliana Sandoval also provides tours of the historic buildings of Mesilla. La Morena Walking Tours; (575) 647-2639;
preciliana@q.com
Even knowledgeable fans of the Land of Enchantment may not be familiar with the rich history of the Mesilla Valley, and are often surprised to learn that Las Cruces, with a population of over 100,000, is New Mexico's second-largest city. The 1854 Gadsden Purchase made Mesilla, once Mexican territory, part of the United States; now it's a town in the Las Cruces metropolitan area. The historic houses of the region endure as private living-history museums. The owners and caretakers of the diverse homes featured here all share a desire to preserve Las Cruces' cultural legacy and share what they've learned with others.
Literary Salons
Casa Camino Real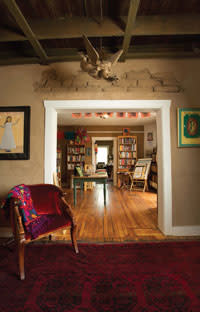 A plump putto hovers in front of exposed adobe bricks in the front sitting room. Note the lovingly restored wood floors.
The modest adobe in Las Cruces' original homestead area has hosted some amazingly diverse soirées, from book signings, banquets, and Día de los Muertos crafts workshops to a recent reunion of relatives of one of its former residents, Lula Y. Grimes.
"Lula used to sit in this window and read her Bible. She and her husband, Alonzo, came in 1914 and raised their eight children here," said Denise Chávez, an award-winning author. She's also the founder of the Border Book Festival Inc. (BBF), a nonprofit group that holds an annual festival in April and periodic workshops and special events focusing on borderland culture.
In 2012, Chávez and her husband, artist and photographer Daniel Zolinsky, moved the headquarters from Mesilla to the 1850s adobe owned by Daniel Sosa Jr.
"He's a former New Mexico Supreme Court justice, and his family has been here for seven generations. They have been dear friends," Chávez said.
The home is near the site of Phillips Chapel, New Mexico's oldest African American church, which is being restored.
"When an adobe gets destroyed, we grieve," said Chávez, who still lives in the nearby adobe where she was born on a wooden table.
"I still write on that table," she said. Heritage is important to her, and that's evident in the décor of the old home, which has original wooden ceiling beams, thick adobe walls, and pine floors, with some carefully restored patches.
"It's beautiful old wood. One of the people who helped us with the floors said the texture was like stroking the skin of a beautiful woman," Chávez said.
The kitchen is painted in bright colors that evoke Frida Kahlo's home and art. Rooms devoted to collections of books and eclectic art are named for Lula Grimes and departed BBF volunteers.
Vintage bookcases and armoires hold carefully arranged first editions and curiosities. Chávez said a book that shows the trail and death of an actual bookworm is a big crowd-pleaser for classes of elementary school kids who visit to learn more about their city's history.
Making Beautiful Peace with the Past
Reynolds-Chávez-Fountain House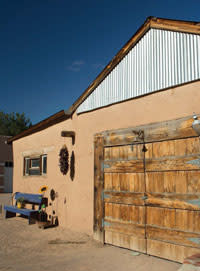 The property's old adobe barn has been repurposed as a garage, workshop, and storage area for the couple's seven Christmas trees and trimmings.
The elegant Reynolds-Chávez-Fountain home, in Mesilla, unexpectedly captured the hearts of Len Gambrell and his wife, Lori Miller, when they were making plans to build their modern dream home in Las Cruces' Talavera area.
"We'd do it all over again, but sometimes I wish it was a little smaller," Gambrell said. The two-story Territorial adobe, built in the 1860s by Mesilla merchant Joseph Reynolds, has lured generations of industrious residents dedicated to its preservation.
"Many people think it was the legendary Colonel Albert Fountain who lived here, but it was really his grandson, Albert J. Fountain," explained Gambrell, a University of Wisconsin–Eau Claire political science professor emeritus.
The 5,000-square-foot home has two-foot-thick adobe walls, seven chimneys, five working fireplaces, and 13 screen doors, along with a formal dining room and a separate eating area near the kitchen, an office/den, and several ground-floor porches and patio sitting areas.
Both love their home's special features, like an atrium room with a skylight, "once used for wintering over geraniums and other plants," said Miller, the family gardener.
"Landscaping can be a challenge, taking on Mother Nature. Sometimes I wish we'd gone with cactus," said Miller, who established an orchard of fruit trees (pear, peach, fig, apricot, apple, and pecan) that includes transplants from other sites on the one-acre property.
The thick walls maintain temperatures well, but getting to optimum levels in summer or winter is difficult. Gambrell said the recent addition of solar panels has dramatically cut energy bills.
They've added their own touches, including a game room with a vintage pool table and a bar showcasing their favorite beers. The Midwestern transplants said their collection of antique furnishings fit well into the home, and they've learned to seek out artistic but pragmatic necessities like vintage trunks and armoires. "There are no closets or storage spaces in these old houses, so you learn to be creative," Miller said.
Small bathrooms have been enhanced with space-saving tankless water heaters and compact built-ins and nichos. Len and Lori refinished wood floors and added a tin ceiling to their kitchen.
They found inventive ways to repurpose the home's vintage plumbing fixtures and cabinetry. An old sink now graces an outdoor patio kitchen. A claw-foot bathtub has a new home in the second-floor guest suite.
A hand-carved, punched-tin-ornamented bed and a large armoire created by Hector Telles was carefully built in pieces to allow transport up a narrow, winding staircase. An old adobe barn has become a two-car garage and Len's workshop.
The couple praised knowledgeable experts, including Les Williamson, of B.W.D. Construction, who helped with adobe restoration work, and Hopper Shannon, a blacksmith artisan, who created the wrought-iron gate for the stone-wall entrance and pulls and handles for new kitchen cabinetry.
The couple said their home has again become a favorite place for entertaining, from gatherings with their family and friends to holiday events, home tours, and chats with frequent visitors who share information about the house's history.
Love's Legacy
Lalo Natividad House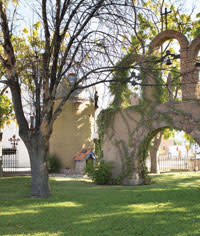 Towers, an archway, and an intricately tiled doghouse add interest to Natividad's backyard.
Their artistic home and hospitality and their passion for sharing borderland culture put Lalo Natividad and Richard Weeks on a first-name basis with the world.
"People would address mail to 'Lalo and Dick in Mesilla,' and it always got to us," said Natividad.
Natividad, a retired El Paso firefighter, and Weeks, a former Silver City copper miner who died in 2008, fell in love with Mesilla in the 1960s.
"We found an old adobe that was being used as an automotive repair shop and decided we could do something with it," Natividad said. They created a showplace that has been featured in numerous books and magazines and became a popular site for benefit events they hosted for several regional charities. They filled their home with folk art from Mexico and artistic collectibles from travels to Europe and Central and South America.
"When we traveled, I learned to look at architecture and building techniques and stop and ask questions, and then come back and make things here at home," Natividad said.
Several rooms, including an interior grotto filled with plants and a parlor with an ornate fireplace, were added to the original structure, dating to the early 1900s. They also built a two-story studio apartment and created a lushly landscaped backyard with a gazebo, pillars topped with angel statuary, a shrine to La Virgen de Guadalupe, and the region's most elegant doghouse, covered with colorful handmade tile. "It started out as a double horno oven, but the dogs liked it," said Nativadad.
His circular, freestanding adobe tower has become a Mesilla landmark. Evoking Moroccan retreats, the tile tower is ornamented with arches, artwork, and statues. "Little kids in the neighborhood call it a temple," said Natividad. It's an outdoor bathroom, with full plumbing, he revealed.
If his home has become an attraction for visitors, he feels it's a fair exchange: He considers the nearby Mesilla Plaza an extension of his backyard.
In 1994, Natividad and Weeks founded El Grupo Cultural de Mesilla, credited with reviving several traditional borderland celebrations on the Mesilla Plaza, from Christmas Eve caroling with luminarias to Cinco de Mayo and Diez y Seis de Septiembre. They were also great supporters of mariachi music and Mesilla's Día de los Muertos commemorations, which have grown to become the largest Day of the Dead celebration in the region.
"Those events have grown to become regional celebrations attracting thousands of visitors and highlighting Mexican American/ Latin culture and tradition," said Irene Oliver-Lewis, who presented Natividad and Weeks with Court Youth Center Legacy Awards. She also praised their warm hospitality and style.
Natividad has often hauled truckloads of plantings from his yard to enhance Plaza events. He said he picked up gardening in El Paso when he was raising his two daughters and needed extra jobs. "It all just fell into place when we moved here."
Lalo continues his contributions as Mesilla's unofficial ambassador, leading informal tours to show visitors interesting outdoor shrines and tile nichos hidden in Mesilla's yards and patios, including his own, of course.
Enduring Whimsy
The Frenger- Schlothauer House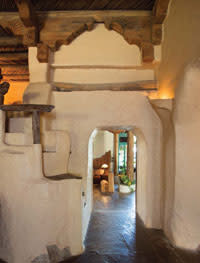 Curving stairs lead up to the loft over the main living room.
At first glance, the Frenger-Schlothauer House might be mistaken for a venerable old beauty on Santa Fe's Canyon Road. And that impression would have pleased Clara Frenger. It's what she was going for in an ambitious, and very possibly unprecedented, metamorphosis.
The complex started out as a classic Victorian home, built on four city lots in 1887. Judge Numa and Clara Frenger purchased the house in 1902. Three decades later, Clara, inspired by visits to Santa Fe, embarked on an imaginative—some say eccentric—quest to create what locals still refer to as "La Fantacia."
She recruited generations of craftsmen from Mexico and the borderlands, who spent more than 20 years helping her realize her vision. The result is a wonderland of surprises, adroitly blending New Mexican traditions: kiva fireplaces, patios with lush plantings, 40-foot porch beams, graceful curved parapets, hand-painted corbels, and a charming casita.
Janet and Gary Schlothauer bought the property in 1997. Ever since, they've been enjoying (and are still discovering) Clara's artistic inspirations.
"It was love at first sight for Janet. I knew we had to make it work," said Gary, who specializes in restoring vintage properties.
As a teen, he remembers visiting the home during its incarnation as Vonnie Lee's, a gourmet restaurant known for its "cave bathroom," inspired by the Carlsbad Caverns. The cave is still a hit on home tours, along with the choir loft where choral and orchestral groups performed for soirées in the main living area.
Facing one of the home's patios is another entertaining feature, the sunken, tiled mariachi pit, where mariachi bands played for Clara's parties, a tradition the Schlothauers have perpetuated.
There are compromises involved in making a home within Clara's fantasy. The kitchen is small. "Clara didn't have to cook for herself," said Janet. They pointed out areas where they have filled in the ceiling of what was once the home's aviary, where Clara would open panels and admit birds to feed inside.
They put on a new roof, added adobe walls surrounding the property—along with an entrance gate and 200-year-old doors found in Mexico—and made extensive renovation repairs in keeping with the home's Pueblo Revival style. They hired noted California artist Antoinette Cox to restore an expanse of painted window motifs. They also researched old-style plasters and looked for what hints they could find of Clara's original color choices. In the process, they came to admire what their son Cliff calls Clara's "excessive artistry," like subtle painted turquoise patinas on wooden surfaces, and pencil marks on corbels for designs she was unable to finish. (Read about his restored Las Cruces house at mynm.us/nmm-csh.) ✜