BEFORE SANTA FE'S Camino del Monte Sol became the archetypal art-colony road, before any other houses dotted the hills above Acequia Madre southeast of the Plaza, artist, preservationist, and Hispanic folk-art godfather Frank Applegate began mixing mud, making adobes, and stacking walls for a new home. Soon, four recently relocated painters—Josef Bakos, Willard Nash, Will Shuster, and Fremont Ellis— began digging basements, heaving bricks, slapping on mortar, and hauling timbers for their roofs from the mountains nearby, each crafting a mud hut of his own. Walter Mruk, wary of building because he lacked the skills, likely bought Applegate's former house.
These men—once called the five little nuts in five adobe huts—banded together as the short-lived but forever influential Cinco Pintores (Five Painters), serious artists who linked to party up and down the camino. Considered Modernists at the time, a few favored Impressionism and realistic landscapes. Their lasting legacy? Santa Fe's set-in-stone reputation as a world-renowned art center. They also crystallized, expressed, and broadcast all the best reasons for living there.
Today, for a million bucks, you can own a piece of this hallowed ground if you purchase one of these unique, handcrafted Cinco Pintores houses. Compact, multistory, and architecturally distinct—dripping with prototypical Santa Fe style—many of these homes sit in a neat row along the west side of Monte Sol. Their adobe walls crowd the narrow lane now shaded by firs and elms and lined with flowering gardens—a far cry from the rangeland these artistic forefathers pioneered. And, just around the corner, you'll find the Applegate estate itself on the market.
Inside these classic homes you can see elements now considered the defining traits of the local vernacular: carved corbels and vigas or milled beams at the ceiling; exposed rustic lintels over doors and windows; arched kiva fireplaces, usually in the corner; plaster walls; flagstone, brick, tile, or wood floors with locally woven throw rugs; exposed exterior viga-ends; earth-tone plaster over adobe walls; and portal-shaded patios. Rooms were small, ceilings low, and straight lines scarce— a concession to the off-kilter tendencies of handcrafted adobe work, greenhorn builders, and artistic sensibilities.
It's a rare chance to own—or to just peek inside—an essential talisman of the city's mythic past.
FRANK APPLEGATE ESTATE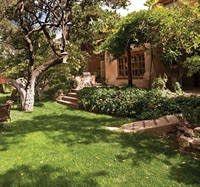 Built in the 1700s, this former three-room farmhouse belonged to Mexican Army sergeant Francisco de la Peña. A century-old photo shows a low-slung, flat-roofed house with two rooms flanking a small portal—the now-elaborate U shape writ small. Thanks to artist and Spanish Colonial Arts Society cofounder Frank Applegate (in the 1920s), gallery owners Gerald and Katie Peters (50 years later), and others in between, the house grew up to be a baronial hacienda. In later photos by none  other than Applegate buddy Ansel Adams, a dramatic two-story rises above the original casita. Lovely beveled windows flaunt the depth of triple-thick adobe walls. After the Peters bought the home in the late 1970s, they added several rooms across the back. Outside, they have faithfully mud- plastered—not stuccoed—most exterior walls. The lush, irrigated grounds include a guesthouse, a clay tennis court, and four optional guesthouses on additional land. You couldn't ask for a home with a deeper pedigree in the arts.
Listing: 831 El Caminito, Santa Fe. $3.3 million. Main house: 9,300 square feet, 6 bedrooms, 7 baths, 4-car garage. Guesthouse: 880 square feet. Land: 1.74 acres with water rights. Brokers: Deborah Bodelson, Santa Fe Properties (505) 660-4442 or Cary Spier (505) 690-2856; santafeproperties.com
WALTER MRUK HOUSE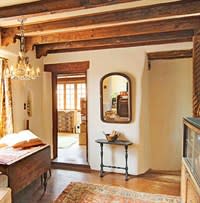 In a period photo, the first house Applegate built on Camino del Monte Sol slumbers alone in the sun on a dusty hilltop, accompanied by a solitary utility pole and a scattering of head-high juniper trees. By the mid-1920s, several homes lined the lane beside it. Walter Mruk moved into the Applegate place as the other four Pintores were propping up their teetering, sometimes toppling, mud-mortared walls nearby.
Almost a hundred years later, Mruk's former home looks basically unchanged, despite a large west-side addition, with floor-to-ceiling windows, circa 1975. From the road, you see a largely symmetri- cal two-story with room blocks on each side thrusting nearly to the street; a Juliet-worthy balcony perches above the recessed, blue front door. Neither strictly Pueblo style nor Spanish Colonial, the architecture pointed toward a new direction in 1921, while respecting the local traditions.
Listing: 558 Monte Sol, Santa Fe. $1,050,000. House: 3,466 square feet, 4 bedrooms, 3 baths. Land: .047 acre. Broker: K. C. Martin, Sotheby's International Realty; (505) 690-7192; kcsantafe.com
JOSEF BAKOS HOUSE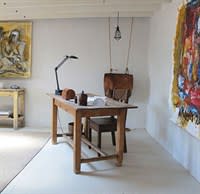 Josef Bakos came to Santa Fe in 1920, when you couldn't swing a chile ristra without whacking a newly arrived artist. Unlike so many others, he stayed, living with his wife, Teresa, at 576 Monte Sol until they moved out to Tano Road in the 1960s. His long tenure in this house shows: After digging out the basement and building a four-room casita, he added a room upstairs, and a large den reached down several steps following the slope of the lot. You'll still spot Bakos's hand everywhere, including his frescoes at the entry portal, a carved door and lintel over it, a nifty high-modern bas-relief scratched into the adobe in the former dining room, and two frescoes that emerged when current owner Louis Briones scraped away old plaster while renovating a shed. Briones has updated the home's major systems, while leaving the old-time feeling intact.
Listing: 576 Camino del Monte Sol, Santa Fe. $999,500. House: 2,697 square feet, 3 bedrooms, 3 baths, outbuildings. Land: Approximately .25 acre. Brokers: Sotheby's International Realty, Ann Brunson (505-690-7885) or Ed Schroeder (505- 690-1007; sanatafesir.com); Keller Williams Realty, Joe Briones (505) 699-7097; kwsantafe.com
FREMONT ELLIS HOUSE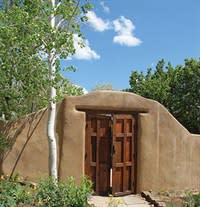 Fremont Ellis claimed to be "the dumbest" builder among the Pintores. He might appreciate the irony that today his old place rocks a sweet blend of vintage style and contemporary elegance, due to its sleek new finishes and head-to-toe restoration. The master suite delivers the contemporary amenities demanded in the price range without jarringly outsized scale and anachronistic detailing—the house works as a whole piece. Architecturally, the stepped rooflines and jumbled room blocks perching on the steep lot evoke the exotic Santa Fe that seduced Ellis and the others nearly 100 years ago.
Listing: 586 Monte Sol, Santa Fe. $1,499,000. House: 4,303 square feet, 4 bedrooms, 31⁄2 baths. Guest house: 600 square feet. Land: .35 acres. Broker: Francesca Stedman, Sotheby's International Realty, Santa Fe; (505) 670-5566; santafesir.com
Charles C. Poling is a contributing editor specializing in homes and architecture.