Above: Artist Joanna Keane Lopez at New Mexico Earth Adobes. Photograph by Gabriella Marks.
THE PALE PINK ADOBE WALL sparkles in the sun, milky rays catching bits of mica that glitter like tiny stars. Mirrors cover the concave side of its crescent shape, ascending in square-edge steps that pay homage to the stacked nature of Puebloan architecture. In this way, adobe artist and painter Joanna Keane Lopez crafts striking sculptures that blend futuristic visions with traditional designs.    
She creates her installations with adobe bricks covered in aliz, a paint-like slip made with a fine ivory clay that stands out among the red, orange, and tan sands of the high desert. She mixes it with buttermilk, and it becomes a substance that hardens as it dries to form a protective layer over the adobe. Other natural elements appear, like fabric stained with cochineal (a scarlet dye made from cactus beetles), as well as the mica she adds to make the works glisten.     
Keane Lopez is a naturalist in every bit of her practice. Her soundtrack of choice is the music made by wind as it blows through pines. Nature inspires her, and her art borrows from it in shape, texture, and color. She curves her works in on themselves, forming an embrace. She sets round golden mirrors above an installation to represent the sun.  
At 28, with only four years of working in this medium under her palms, Keane Lopez has drawn national attention. 
She was recently featured in American Craft magazine and was chosen to show work at the Crystal Bridges Museum of American Art, in Bentonville, Arkansas, in an exhibit that featured 60 artists hailed by the museum as the future of contemporary art. The Harwood Art Center, in Albuquerque, holds one of her permanent installations.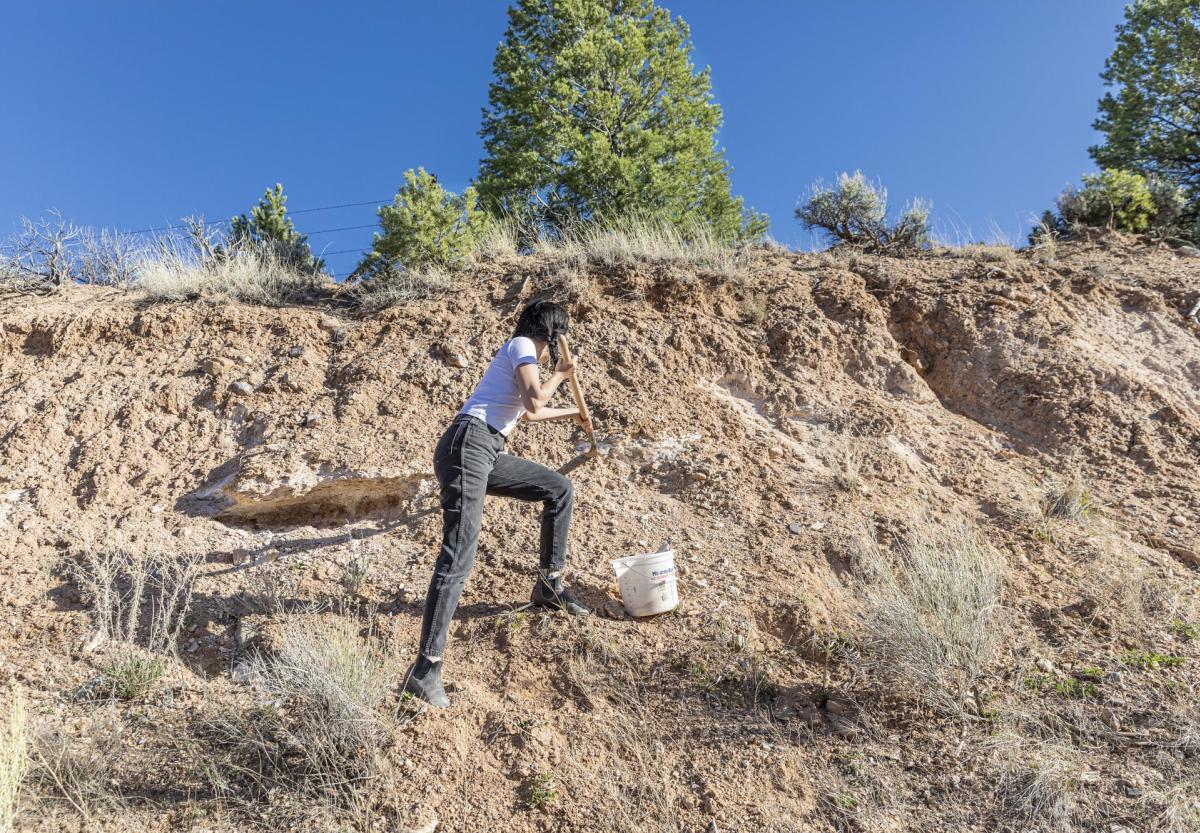 Above: In a special locale near Taos, the artist digs for and collects the milky clay she mixes with buttermilk to make aliz. Photograph by Gabriella Marks.
Reviving skills long practiced by women, she works with five-gallon bucketloads of clay and hundreds of pounds of adobe bricks to produce a singular architecture meant for other artists: Her works are built to be stages for female performers.   
A musician herself, under the name Noche Blanca, Keane Lopez says the performances complete her works. "That's an aspect for me that is bringing together both worlds: being an artist and also being a musician," she says. "These sculptures are social sculptures, not inanimate pieces of art. I want them to become spaces of gathering and performance. Spaces where events can take place, so they can become activated."
Depending on where you stand in relation to a Keane Lopez work, you see different things in the mirrors—wildflowers, clouds, even yourself. "I am trying to talk about home and family and land and community. I want people to be brought into it, and to see themselves in it," she says. "A mirror reflects, and in that act of reflecting, the mirrors bring all these other aspects into it."   
Between the clay and the art, she says, her work looks forward and back. "It goes back to the family," she says. "It's a rebuilding of something and looking back toward memory or tradition or history. But at the same time, it builds toward something new or a healing."     
Read more: When life throws us off-center, ancient ways may hold a cure. One way to find out? Ask Mama.
Lopez's family traces its lineage in the Río Grande Valley as far back as the early 1700s. Many of them still live in Lopezville, an area established by a Spanish land grant near what is now New Mexico Tech, in Socorro. Across the years, the family history acquired its share of darker stories, with elements of drug addiction, imprisonment, and suicide. For Keane Lopez, adobe work serves as part of the healing process, one she can return to repeatedly as the adobe changes over time.  
"I am trying to create a rekindling. It's very personal for me in a lot of ways, but I feel like adobe is something you have a very intimate relationship with. It signifies home."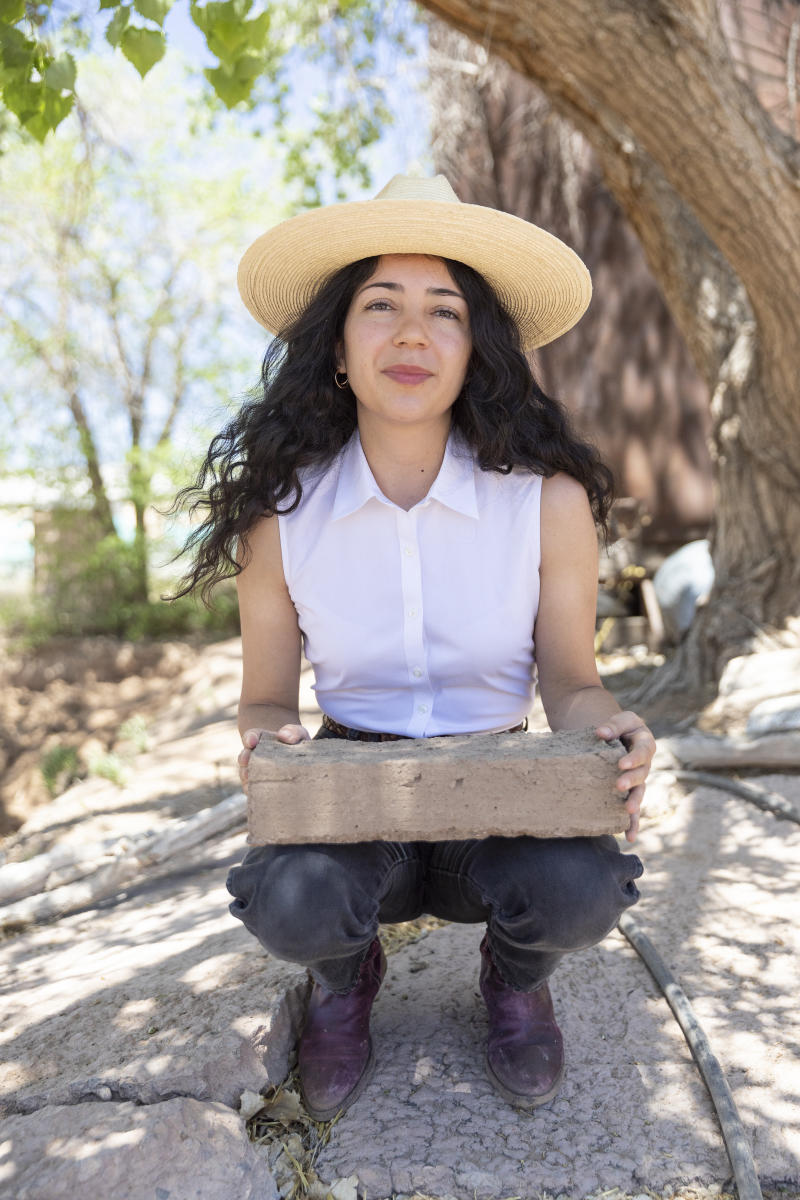 Above: Joanna Keane Lopez with her favorite building material, an adobe brick. Photograph by Gabriella Marks.
JOANNA KEANE LOPEZ BEGAN HER earth-building journey in 2014 while living in Taos and working on a BFA thesis at the University of New Mexico. During that time, she connected with Carole Crews and Anita Rodríguez, both renowned artists and adobe builders who have nurtured the legacy of enjarradoras, women who became masters at building and preserving earthen architecture.    
"When I started resurrecting the techniques of the enjarradora, nobody had ever heard about the women who did this work," Rodríguez says. "We were not in any of the history books, and yet we have passed on this technology by oral tradition for over 1,000 years."
Rodríguez, who guided Keane Lopez to a vein of especially rich clay near her Taos-area home, has taught earthen building to hundreds of people, has run her own adobe construction company, and is working on a book incorporating the 79 years of knowledge she's gathered here and in places like Egypt and China. Keane Lopez stands apart from her other students in part because she credits her forebears, Rodríguez says. "She recognized the importance of continuity."    
Understanding that lineage is all the more essential because of their chosen medium. "You know the best thing about adobe?" Rodríguez asks. "It melts. My beautiful house, which is a piece of sculpture, she will melt back into the earth from whence she came. Joanna appreciated that." 
In fact, Keane Lopez says, that appreciation ties back to her sense of community. "Adobe homes demand a relationship," she says. "You can really see the wear of time on adobe, which can be beautiful in itself. You have to replaster them; you have to make sure there aren't leaks. If the family disintegrates, then you can see how the adobe home, because it's alive, also disintegrates. Through the home, you can see the health of the family. It's very interconnected."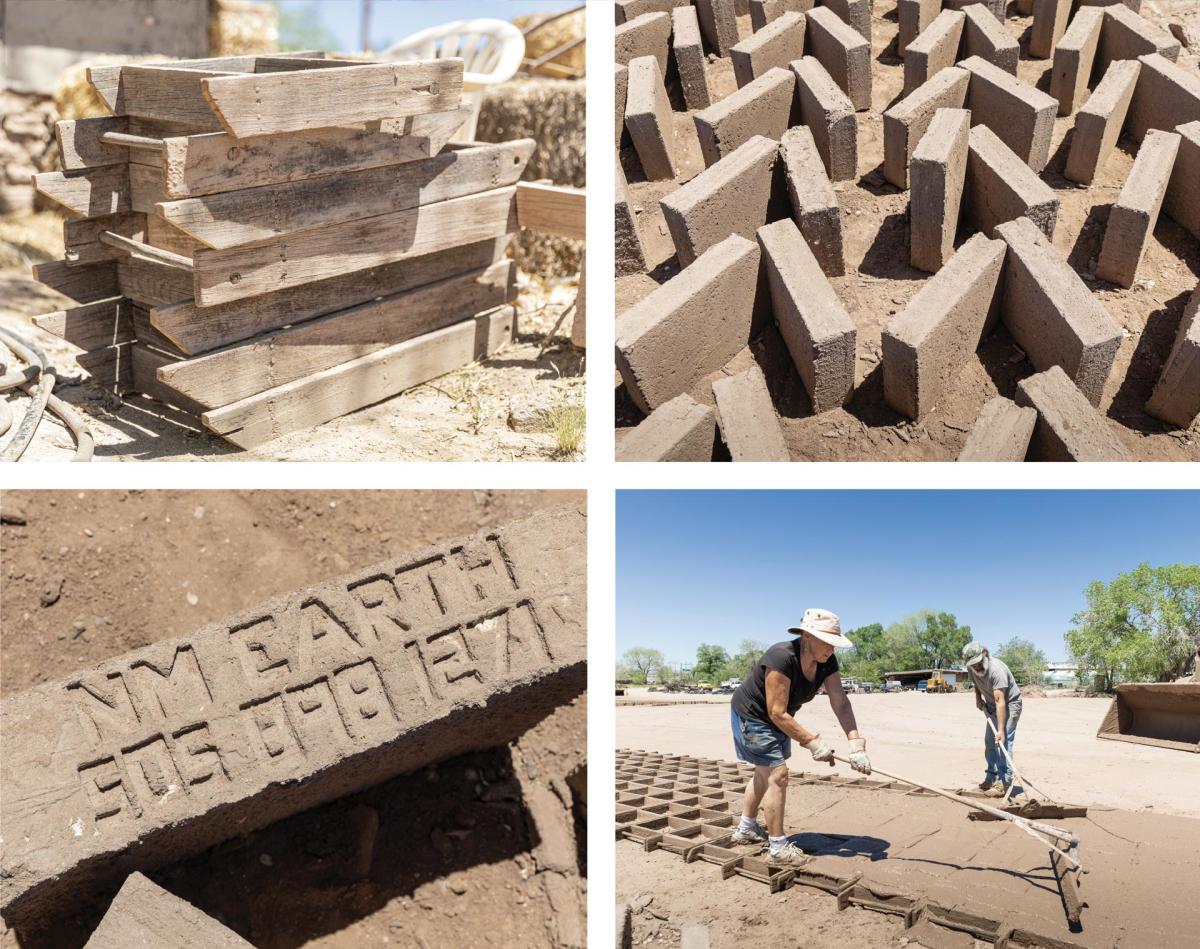 Above: A bounty of wooden forms and masterful mixes of mud have helped make New Mexico Earth Adobes, in Albuquerque, one of the largest adobe yards in the world. Photographs by Gabriella Marks.
Over the past few years, Keane Lopez has created installations throughout the state and the nation, including her 2018 Expanding Sequences piece at the Harwood. Later the same year, she created Resolana in front of Factory on 5th Gallery, in Albuquerque, with support from the Fulcrum Fund, a grant program of downtown Albuquerque's 516 Arts made possible by the Andy Warhol Foundation for the Visual Arts.  
The installation realized its full potential with five women performers, including musicians Nizhonniya Luxi Austin and Jazmyn Crosby of Glitter Vomit. The white wall, embedded with panels of rectangular mirrors, bowed into a half circle, focusing attention on the performers at its center.  
Read more: Diego Medina spins complex histories of indigeneity into a creative practice.
Internationally renowned artist Judy Chicago chose Keane Lopez's work to be part of the inaugural pop-up exhibit at her Through the Flower Art Space, in Belén, in the summer of 2019. For the opening event, Keane Lopez created an interactive, paint-by-numbers canvas, Women + Mud, which paid homage to her female teachers. All of the paint she created for the project was aliz. Attendees used it to paint a 2D adobe home, sitting under the arch of a big rainbow and a Zia sun.
Early this year, Keane Lopez traveled to Bentonville to participate in an exhibit that celebrated the opening of Crystal Bridges' new contemporary art space, the Momentary. She made a resolana (a Spanish term for a sunny wall where people gather) titled A Dance of Us (Un Baile de Nosotros). Featuring white aliz, small yellow mirrors, and rectangular turquoise ones to represent the sun, sky, and water, it would have been another stage, but the performances were ultimately canceled due to the COVID-19 pandemic.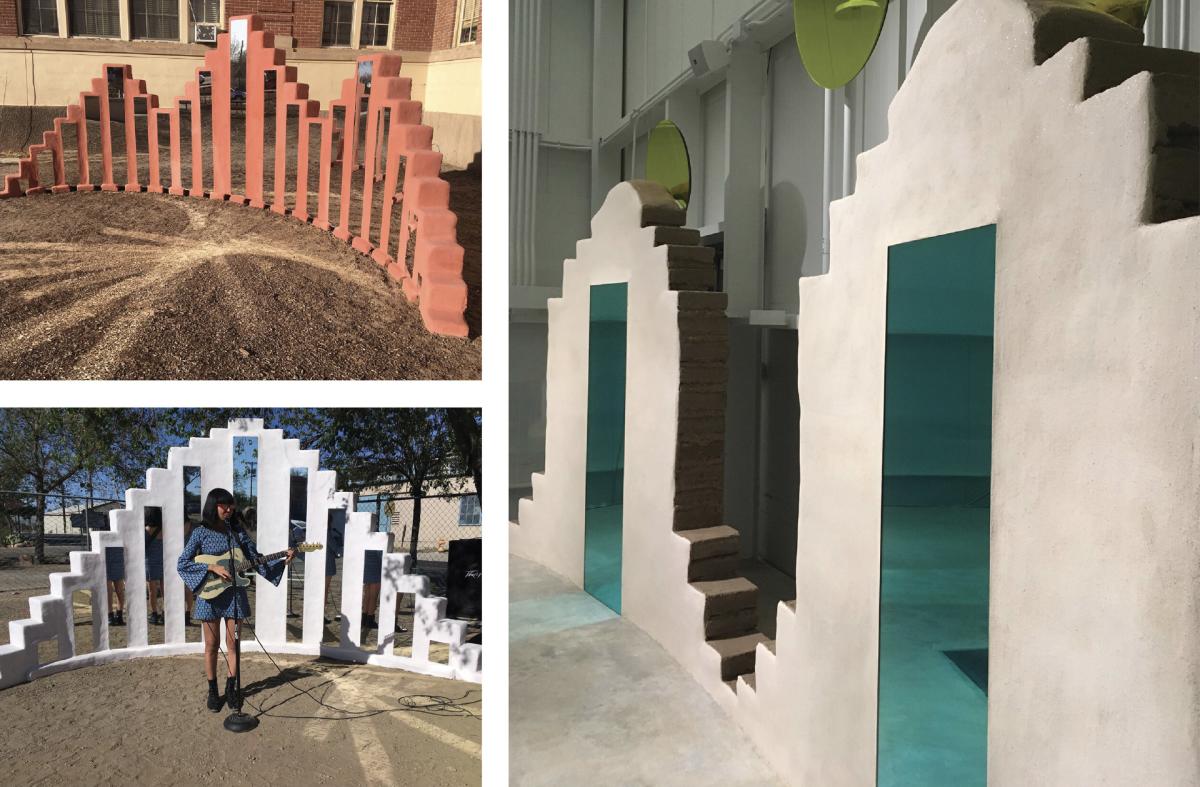 Clockwise from top left: Expanding Sequences, outside the Harwood Art Center, in Albuquerque. A Dance of Us (Un Baile de Nosotros), at the Crystal Bridges Museum, in Bentonville, Arkansas. Nizhonniya Luxi Austin performs in front of Resolana at the Factory on 5th Gallery, in Albuquerque. Photographs courtesy of Joanna Keane Lopez.
Keane Lopez intentionally leaves the backs of her works unpainted, exposing their earthen interiors, solid and fragile, all at once. Every so often, she returns to that vein of clay in Taos where her teacher taught her to harvest. There, she gathers more material for her art, scooping handfuls of the earth into her bucket, moving forward while looking back. "With my work," she says, "I am trying to create a blessing."

Earth Tones
​Using her musical performance name of Noche Blanca, Joanna Keane Lopez is working on a new album, Spell Songs. Keep up with her through Instagram, @jokeanelopez, and see more of her work at joannakeanelopez.com