Above: Judith Espinar in her Santa Fe home. Photographs by Bill Stengel.
The man on the other end of the phone meant business. In his native French, he declared, "Non!" Do not come to his village. A terrible flood had buried everything. The pottery you want? It was ruined. Click.
Judith Espinar and her sister, Linda Champlin, stared at each other. They had meticulously mapped out this buying trip to rural France—which day, which village, which potter. Briefly, they considered other places to go, then shrugged. How bad could it be? So they went. And it was bad, really bad.
"But we had the best time ever," Espinar says. "Everyone in the village thought we were so brave and so wonderful." She cradles a plump teapot shaped like an apple with a serpent for a handle and a bare-breasted Eve seated triumphantly on top. "They made this for us afterward."
Want more great stories like this delivered to your door? Subscribe to our magazine today. 
From the art-filled living room of her home off Santa Fe's Canyon Road, Espinar spools out such tales of her life as a self-taught Indiana Jones of folk art—or what she prefers to term "cultural art," to honor its handmade character and deep roots within traditional communities. Since a 1961 grad-school trip to Mexico, when she fell hard for a clay pot in a tourist trap, she's amassed more than 3,000 museum-worthy ceramics, bultos (carved devotional images), pillows, pieces of furniture, mirrors, Uzbek textiles, Portuguese candelabras, African masks, and one larger-than-life-size Our Lady of Pomata painting from Peru. About 200 of those pieces go on display at the Museum of International Folk Art, in Santa Fe, December 16 through August 25, 2019. Consider A Gathering of Voices: Folk Art from the Judith Espinar and Tom Dillenberg Collection an amuse-bouche for the full collection, which Espinar has promised to bequeath to the museum's already world-famous holdings. (Dillenberg, her former husband, remains a dear friend.)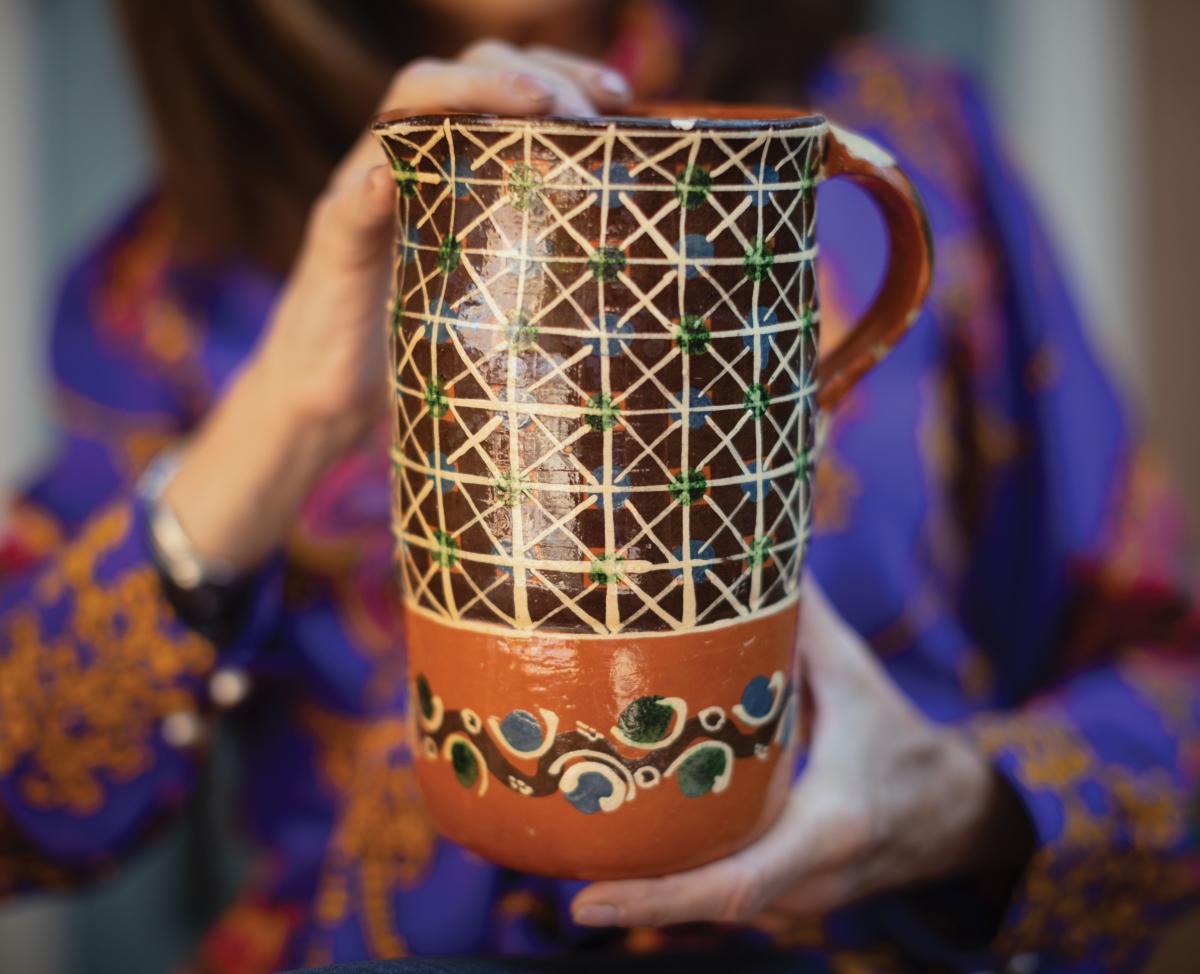 Above: Espinar mixes ceramics from around the world.
"This is transformational for us," Khristaan Villela, the museum's director, says of the planned donation. "We usually take in about 500 pieces a year. Judith's is a collector's collection, the best of the best. It represents one person's vision over decades. And it comes with her encyclopedic knowledge. She's almost done all the work for the museum already."
Beyond Espinar's renown as a fearless hunter of folk art, most especially ceramics, her crowning glory is how robustly she lives with it. The walls of her adobe home are painted in deep ochre, teal, and yellow—tones that complement the spoils of buying trips to nearly every continent. ("I never made it to Australia," she says ruefully.) Pieces hang on walls, perch on shelves, line the floors. In every room. In every hallway. She sits on them, drinks from them, wraps her shoulders in them.
"I think people who put things in tissue paper are missing out," Espinar says. "To me, most folk art was made either for spiritual utility or living utility. These things had a reason for coming into the world. Using them connects us to where they were born and how they evolved. They call to me to be used."
Case in point: Any time she thinks of hosting a dinner party, Espinar starts by picking out serving pieces from a variety of international makers. Then she thinks about what to serve. "Everything's about the plates," she says.
As part of its goal to encourage visitors to collect their own usable art, the museum plans to include five table settings within Gathering of Voices. Different designers, including Espinar, will offer video tips for re-creating each one.
Espinar developed her eye for design during a 30-year career in the New York fashion industry, during which she traveled the world seeking out fabrics and learning to divine the intricacies of patterns printed onto them or woven into them. Imperfections in their repetition could reveal a sloppy motif or an inspired hand. She spotted the difference at a glance, a skill she soon applied to ceramics. "Everyone says Judy can look through 1,200 plates and find the right ones," Villela says.
Read more: After Her Husband Was Diagnosed With Cancer, This Artist Decided She'd Help Find A Cure. 
As she began tacking vacation days onto work trips to explore local crafts, she strengthened her knowledge through the collections at the 65-year-old Museum of International Folk Art. Eventually, she moved to Santa Fe, where she and Champlin opened the Clay Angel, a sorely missed shop that, in its time, carried ceramics and textiles from around the world. In 2004, Espinar co-founded the International Folk Art Market, which has since grown into one of Santa Fe's largest art gatherings, one that both preserves traditional crafts and encourages innovations within them.
"After Market took root," says Espinar, who still serves on the advisory board, "I traded up. I saw better things, learned about techniques, and began to love folk art even more."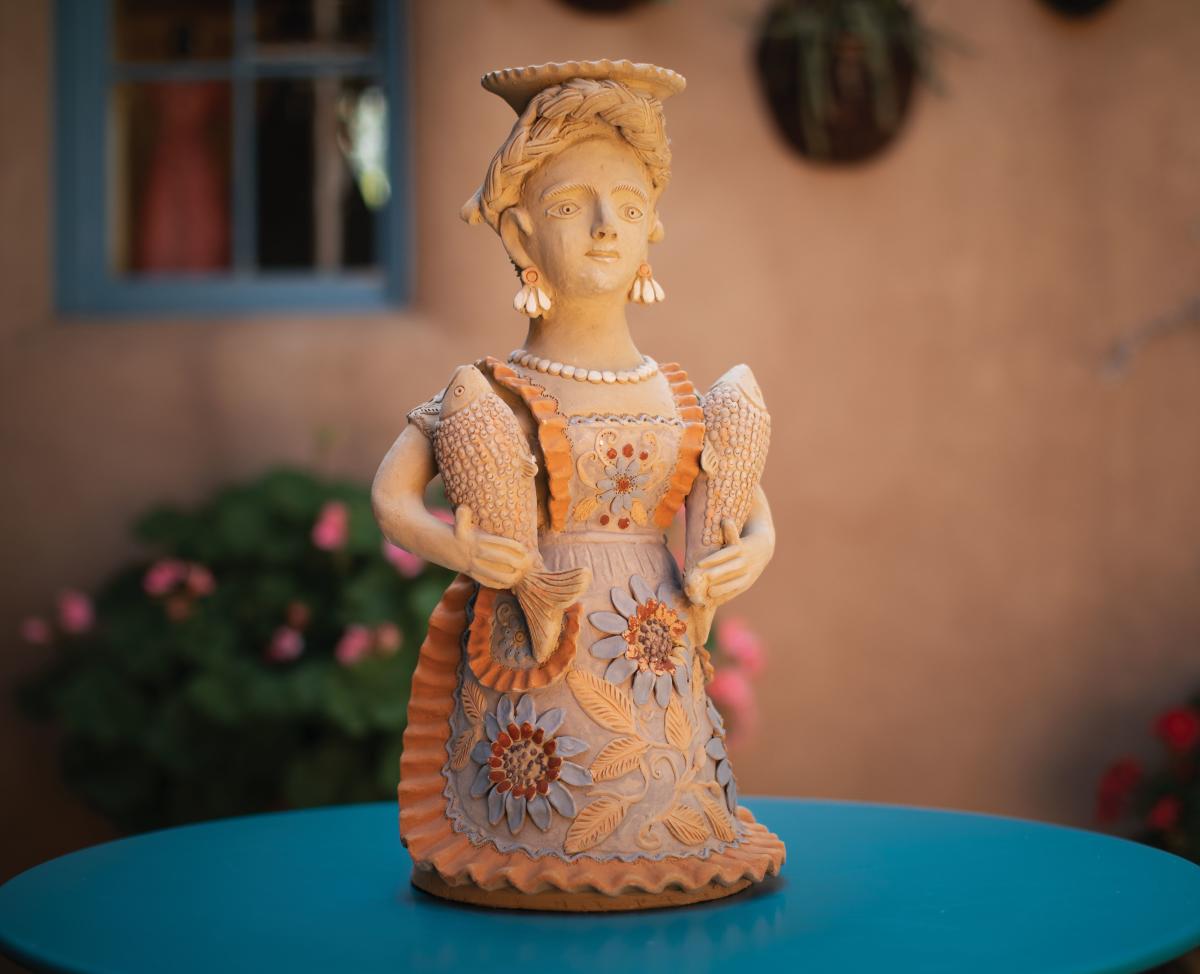 She buys most of her pieces from living artists in order to support them and their communities. But it's hard to imagine where even a Turkish demitasse might fit in her cacophony of clay chickens, wooden saints, and a fish candleholder by Mexican master potter Herón Martínez Mendoza that bears dripping-wax proof of recent use. When pressed, Espinar reluctantly admits to renting a few off-site storage units as well. She promises that her collecting days have slowed, but she still advises others on how to find things they will love, especially items that will improve their makers' lives.
"If you're collecting handmade things," she says, "you're doing important work in the world. You're keeping artists alive and helping them to live decently and giving their children a choice about whether they want to continue an art form that, maybe, goes back to when their family started on the planet. These are pieces with so much life that they can teach us where to go for more life."  

MAKE A DATE
These events present opportunities to meet artists, learn about their traditions, and add to your collection.
Winter Spanish Market, December 1–2, National Hispanic Cultural Center, in Albuquerque (spanishcolonial.org).
Winter Indian Market, December 15–16, La Fonda on the Plaza, in Santa Fe (swaia.org).
Folk Art Flea Market, June 8, 2019, Museum of International Folk Art, in Santa Fe.
International Folk Art Market, July 13–14, 2019, Museum Hill, Santa Fe (folkartmarket.org).
Traditional Spanish Market, July 27–28, 2019, Santa Fe Plaza (spanishcolonial.org).
Indian Market, August 17–18, 2019, Santa Fe Plaza (swaia.org).
A Gathering of Voices: Folk Art from the Judith Espinar and Tom Dillenberg Collection, December 16–August 25, 2019, Museum of International Folk Art, in Santa Fe. Take time to visit the museum's two gift shops for authentic artwork from around the world.
OBJECT LESSON
We asked Judith Espinar to share some pro tips on collecting folk art.
Bone up on the basics. "I started with the Museum of International Folk Art. Visit the exhibits. Buy books on folk art traditions you like. Read about the techniques, the skill sets, and artists' particular expressions. All the big markets in Santa Fe are worth going to—Spanish Market, Indian Market, Folk Art Market. When I travel, I research ahead so I can pop in and out."
Good hunting grounds. "All the museum shops in Santa Fe carry art from different traditions. Don't overlook flea markets and yard and estate sales, especially in Santa Fe for Mexican and Native jewelry. I met a guy here who said he bought a great bolo tie collection just by going to an estate sale. He didn't see any, but he asked. And the people said, 'Oh, we didn't think of putting that out there.'"
Does it have to match? "'Match' isn't the word. You want it to 'go with.' One of my friends said, 'Everything that's beautiful looks good together.' Does the quality match? How about the proportions and, ultimately, the usefulness? Stay open about how things work. If you're not sure, live with it on the table, get up the next day, have your coffee with it, and see what it does for you."
But is it art? "If it's beautiful to you, it's beautiful. If it moves you in some way, it's moving. Look for the beauty and the emotional response and trust that your eye is good and that you'll love it even more if you integrate it into your life."
---