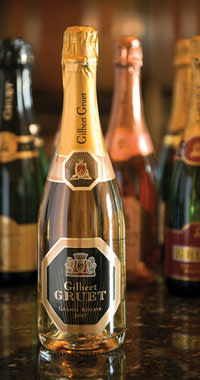 LAST YEAR, ALBUQUERQUE'S Gruet Winery marked its 25th birthday by forming a partnership with Seatlle-based Precept Wine, a top-20 North American wine producer. Gruet, well-known in-state and to in-the-know wine lovers as offering great bubbley for under $20, is now poised to become a mainstream brand around the country. And as Gruet produces 135,000 cases annually, there's plenty to go around.
This development has redefined the parameters of success for vintners all over New Mexico, the oldest (but perhaps least-well-known) wine region in the United States, and made news within the wine world. But it wasn't surprising to me. A longtime wine lover, I moved to Corrales, New Mexico, 16 years ago, after living in northern California for three decades. I've been hosting radio shows about wine and writing wine columns for the Albuquerque Journal ever since. New Mexico gives me endless fodder. Its wine industry has grown rapidly this past decade, not just in terms of volume, but as a force to be reckoned with. As a result, my 2008 book Wines of Enchantment is already begging for updates.
My weekends are therefore dominated by visits to wineries and wine festivals. New Mexico doesn't just offer local wines on retail shelves; its atmospheric winery tasting rooms, tours, and bistros allow wine enthusiasts to indulge on multiple levels. Usually planted at about a mile up and greater, the state's vineyards are some of the highest in the country, offering breathtaking views and peaceful surroundings.
In 1984, the Gruets moved their business here from France's Champagne region after hearing through the grapevine that the beneficent mix of sunshine, dry air, high elevations, unsullied land, and plenty of good soil provided grape-growing conditions comparable to those in France, Italy, and Spain. They joined a solid community; many of the state's four dozen vintners have been perfecting their craft for three or four decades now. Their wide array of wine types, Old World and New, win top awards at prestigious competitions. Along with their reputations, vineyard acreage and output numbers show positive growth each year.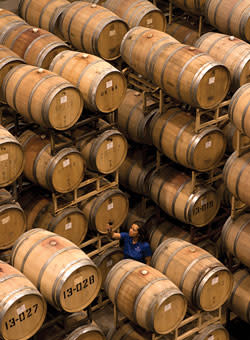 At Southwest Wines' St. Clair Winery in Deming, vintner and production manager Carrie Gurule tests a glass of wine among the barrels.
Deming-based Southwest Wines and St. Clair Winery, another successful French-vintner transplant story, made the global wine industry sit up and take notice in 2009 when its 2007 Lescombes Cabernet Franc won the San Francisco Chronicle Wine Competition's prestigious Red Sweepstake triple-gold award.
The Lescombes moved their wine business to Deming from Burgundy, France, in 1981. After extensively testing the soil in several parts of the state, patriarch Hervé Lescombes decided the conditions at a 180-acre vineyard just east of Lordsburg, in an area known as Pyramid Valley, were optimal for making the Old World-style wines his family had been producing for years in both France and his native Algeria, Southern New Mexico's hot, dry climate, with its cool (but not cold) nights and sandy-loamy soil, provides optimal conditions for cultivating wine grapes, especially the longer-maturing red varietals. The dryness discourages rot, while the chilly nights prolong the area's relatively short growing season, allowing grapes to mature naturally and spend less time aging in oak barrels. Today, Deming is the state's grape-producing fertile crescent.
So what characterizes New Mexico wine? More Old World than New, it exhibits bright fruit, balanced alcohol, and mellow tannins. Varietals include cabernets, merlots, syrahs, zinfandels, cabernet sauvignons, chardonnays, gewürztraminers, and rieslings, with white grapes and wines dominating in the northern part of the state. Look out for Spanish tempranillos and albariños, or Italian sangioveses and montepulcianos. New Mexico's rich tradition of winemaking reaches back to 1629, when two monks from a Spanish mission at Senecú—a Piro Indian pueblo south of Socorro—imported Spanish vines from Mexico in defiance of King Phillip's ban on New World wine production, an economic measure intended to protect Spain's growers. By the close of the 19th century, New Mexico wineries were pumping out more than a million gallons of wine a year; today's industry is almost back to that mark now. After seven Río Grande floods and seven droughts between 1880 and 1910 devastated most of New Mexico's vineyards, a Prohibition-driven surge of underground winemaking revived production, beginning in 1919. But in the late 1940s, a massive flooding of the Río Grande in the Black Range area wiped out most of the southern vineyards. In the mid-1980s, an influx of vintners, many of them retired Sandia and Los Alamos laboratory engineers eager for new challenges, reignited the industry. In the 1990s, one of them, John Balagna—a former nuclear chemist who worked directly under Oppenheimer at LANL and later discovered two elements on the periodic table—put out a La Bomba Grande wine, replete with a mushroom cloud on its label, to mark the 50th anniversary of the Trinity Site test near Alamogordo.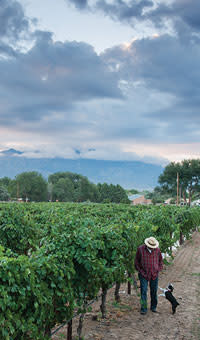 Rick Hobson and friend at Milagro Vineyards, his exceptional winemaking business in Corrales.
These days, it's not just Southwest Wines and Gruet—the state's largest producers—but also several smaller wineries cultivating buzz along with their grapes. Thirty-year-old Milagro Vineyards, owned and carefully tended in Corrales by Rick Hobson, and arguably New Mexico's best boutique winery, is a regular Jefferson Cup award winner. Hobson, formerly an Albuquerque-area engineer, is predictably exacting about every step in the life of his remarkable wines. Because his is a small-scale enterprise, Hobson can control every aspect of the winery—choosing, for instance, to invest in expensive oak barrels from France, keep wines bottled for a full year before releasing them, grow all his own grapes, and hand-select each one off the vine. The impressive results mean you'd be hard-pressed to find a better French-type bottle for the price anywhere else in New Mexico. Many of Milagro's wines sell out quickly each year, a testament to their cult status.
Up north in Dixon, Chris and Jesse Padberg and their wives, Michele and Liliana, have owned and run Vivác Winery since 1998, creating elegant Bordeaux and Italian-style blends, aged in French oak barrels, that are at once edgy and sophisticated. Vivác gained a reputation for producing only distinctively dry Old World wines, in a state that has always had its fair share of sweeter bottlings. But in response to tasters' requests, Michele recently launched the irreverently named Buxom Blonde and Red Hot Mama line of dessert wines.
With so many wineries to choose from, it can be over-whelming to map out a wine-centric getaway. Take advantage of my happily won expertise by choosing any one of these road trips, from a day trip to a more leisurely tour. The ruggedly beautiful north is home to a small group of edgy, creative boutique wineries. The vast vineyards and wineries of the grape-friendly south also offer a bounty of stop-and-sips. And despite Albuquerque's urban buzz, the central-region wineries serve as rustic retreats along the pastoral Río Grande bosque.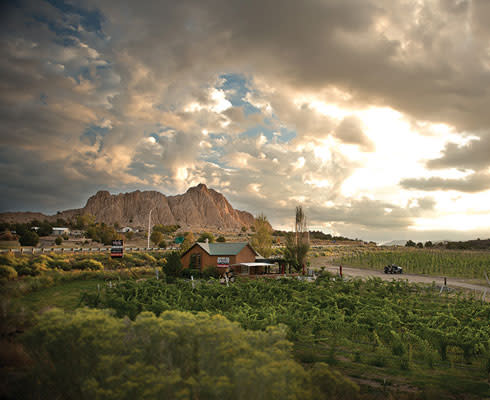 The high drama of northern New Mexico's landscape provides a stunning backdrop for the enterprising vineyard owners here, where growing seasons are brief.
MOST OF THE WINERIES in the northern region are clustered between Santa Fe and Taos. Higher altitudes and rugged terrain mean a shorter growing season: White wine grapes and French hybrids (a cross between Old World French grapes and disease-and cold-resistant American ones) do best here, where days are milder and nights are colder. Many northern wineries use grapes from Deming vineyards along with their own.
Just steps off Santa Fe's historic downtown Plaza is Vino del Corazón, a great place to start any wine tour. As a child, Erica Hart, who owns the six-year-old business with her husband, Richard, stomped grapes for her family's homemade wine. The wine room, painted in tones of gold, burgundy, and brown, is considered one of the most inviting in the state. STANDOUT: Santa Fe Siesta Red, a subtly spiced sangria-style wine, is perfect with carne adovada. Tues.−Fri., 12:30−5:30 p.m.; Sat., 12−5:30 p.m.; Sun., 12−5 p.m. 235 Don Gaspar Ave., Ste. 6; (505) 216-9469; vinodelcorazon.com
Next, head north on US 84 toward Española. Soon after passing Buffalo Thunder Resort & Casino, turn right on NM 503 toward Richard Reinder's Estrella del Norte Vineyards. The tasting room at this seven-year-old vineyard and winery in Pojoaque offers both Estrella and Santa Fe Vineyards wines. STANDOUT: Holy Molé, Estrella's top seller, a red wine with notes of chocolate and red chile. Try it with chicken and mole sauce; it's also great with chocolate. Mon.−Sat., 10 a.m.−6 p.m.; Sun., 12−6 p.m. 106 N. Shining Sun; (505) 455-2826; estrelladelnortevineyard.com
Back on US 84, take the right fork out of Española onto NM 68 and head north toward Taos. After about 24 miles, the first stop on NM 68 is Black Mesa Winery, in Velarde. Jerry and Lynda Burd purchased the operation in 2000, amassing an impressive number of awards ever since—most recently, 2014 Jefferson Cup triple golds for both its 2011 cabernet sauvignon and Cosecha Ultima. This year, the Burds won two silver medals in the Finger Lakes International Wine Competition, one each for the 2012 malbec and merlot. STANDOUT: 2012 Burd Montepulciano (Jefferson Cup double gold)—medium-bodied, with hints of dark fruit and black pepper. It's a great companion to bruschetta topped with buffalo mozzarella, tomatoes, basil, and plenty of garlic. Mon.−Sat., 10 a.m.−7 p.m.; Sun., 12−6 p.m. 1502 NM 68; (505) 852-2820; blackmesawinery.com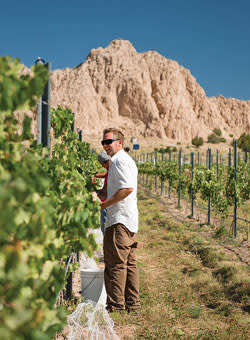 Vivác's Jesse Padberg harvests grapes at the winery's 1725 Vineyard on NM 68 in Dixon.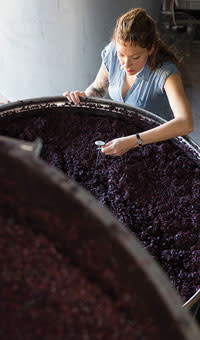 Michele Padberg, of Vivác Winery, tends to a batch of red grapes.
Continue along NM 68, and the road soon widens into the beautiful Embudo Valley. In Dixon, where NM 68 and 75 meet, the Padbergs' Vivác Winery, a high-energy spread with a youthful vibe, stands out against a striking desert backdrop. STANDOUT: 2010 Diavolo, an earthy Bordeaux-Rhône blend featuring dark fruit and dense tannins. Pair it with a black-pepper-encrusted New York strip steak and a Caesar salad with anchovies. Mon.−Sat., 10 a.m.−6 p.m.; Sun., 11 a.m.−6 p.m. 2075 NM 68; (505) 579-4441; vivacwinery.com 
Also in Dixon, La Chiripada Winery, established more than three decades ago by the Johnson family, is northern New Mexico's oldest wine business. Vintner Josh Johnson works with Old World varietals and French-American hybrids, all of which are grown on Chiripada's 10-acre vineyard. Awards include multiple silvers from the Finger Lakes International Wine Competition. STANDOUT: the special reserve riesling, off-dry, with notes of tropical fruit. Great with Thai green curry dishes or chicken satay. Mon.−Sat., 10 a.m.−6 p.m.; Sun., 12−6 p.m. 1119 NM 75; (505) 579-4437; lachiripada.com.
Once you've sipped your way through this loop, consider driving the 25 miles for dinner in Taos. But first, right off the plaza on Ledoux Street, Taos' own little Museum Hill, visit Black Mesa Winery's tasting room and patio (241 Ledoux St.; 575-758-1969), the perfect spot for a pre-dinner glass before heading to Doc Martin's for your evening meal. Housed in the Taos Inn (125 Paseo del Pueblo Norte; 575-758-2233; taosinn.com), Doc Martin's offers northern New Mexican specialties and an extensive wine cellar with a range of international and domestic holdings that number in the hundreds. On sunny days, ask to be seated on the back patio. Sun.−Thurs., 5−9 p.m.; Fri.−Sat., 5−9:30 p.m.; (575) 758-1977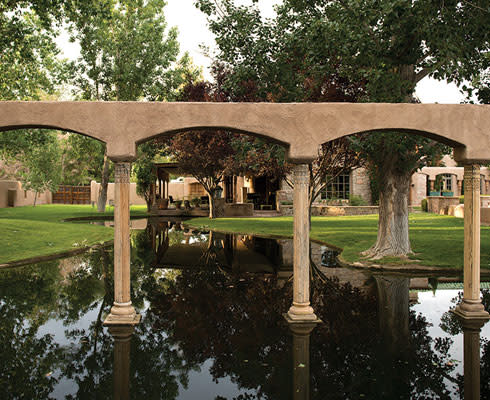 In Los Ranchos de Albuquerque, Casa Rondeña offers Old World Spanish splendor.
ALBUQUERQUE'S footprint nestles up to some lovely rural areas, many of which include vineyards. Just a few minutes' drive from downtown (or the Sunport) is all that separates you from your first sampling. This day-trip tour focuses on three noteworthy stops.
Start at Gruet Winery, situated in a brick mini-château amid quasi-industrial commerce on the I-25 east frontage road north of Paseo del Norte in Albuquerque. Try Gruet's Blanc de Blancs Extra Dry, a bubbly that won a silver at the 2011 San Diego International Wine Competition and was christened "one of American's greatest wine buys" by noted critic Jancis Robinson. Gruet produces 11 sparkling and five still wines, and they all taste much more costly than they are. STANDOUT: Sauvage, a bone-dry sparkler with notes of floral apple, citrus, and spice. Pair with Belgian endive leaves filled with crème fraîche and caviar. Mon.−Fri., 10 a.m.−5 p.m.; Sat., 12−5 p.m. 8400 Pan American Freeway NE; (505) 821-0055; gruetwinery.com 
Leaving Gruet, go north on the frontage road to Alameda Blvd. NE (NM 528) and turn left (west) toward the rural village of Corrales and Milagro Vineyards and Winery. Take Corrales Road off NM 528, then turn left on W. Ella Drive. A short visit can easily turn into a lazy afternoon as you sip a glass of chardonnay with a rich burgundian character, or an award-winning syrah. In 2012, owner Rick Hobson won the Jefferson Cup Medal of American Merit for his 2009 syrah. STANDOUT:Old Church Road Zinfandel is a rich, claret-style wine of brooding dark fruit and fine tannins with a long, silky finish. Pair it with mint-and-rosemary-marinated lamb chops and couscous. Select weekends, or by appointment only; call ahead. 985 W. Ella Dr.; (505) 898-3998; milagrovineyardsandwinery.com
The tour ends in historic Los Ranchos de Albuquerque. Return to NM 528 and turn left, heading east for 3 miles to Río Grande Blvd. NW. This quiet, two-lane road, with its historic homes and mansions, is the site of Casa Rondeña, a family winery that was established in the 1990s and that may well be New Mexico's most beautiful. Amid the vine-covered property is a peaceful reflecting pool. Owner John Calvin once lived in Spain, working as a flamenco guitarist, and his winery evokes a bucolic Mediterranean getaway. Its grand, Old World−style building is reminiscent of the Alhambra, the famed 14th-century Moorish palace in southern Spain. Certainly worth the splurge, Casa Rondeña's $75-a-month 1629 Club offers two complimentary bottles members choose each month at the winery, unlimited on-site tastings, and access to the clubhouse's soigné restaurant (Thurs.−Sun., 4−9 p.m.) and exquisite grounds. STANDOUT: 1629, a blend of syrah, cabernet sauvignon, and tempranillo. Pair it with a plate of manchego cheese and kalamata olives. Mon.−Sun., 12−7 p.m. 733 Chavez Rd. NW; (505) 344-5911; casarondena.com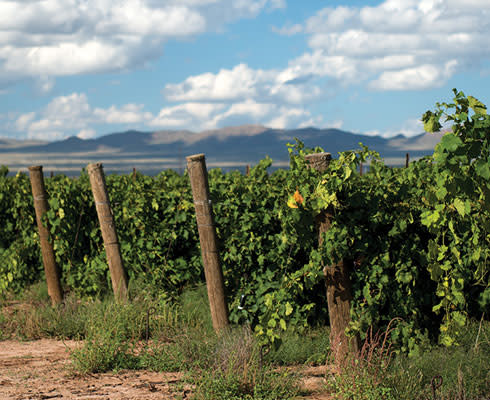 Grapes thrive here in the comfortable south, where an obligingly hot climate and rich soil make the area a natural spot for sprawling vineyards and sophisticated winemakers.
THIS LEG OF the grand tour begins in Las Cruces and historic Mesilla. Evocative of Old World Mexico, Mesilla is a popular weekend getaway for northern New Mexicans, especially in the colder months. Sixty miles to the west, Deming is home to Southwest Wines, the state's largest winery, and New Mexico Vineyards, its largest vineyard.
For lodging, the very quaint Casa de Rosie, set among orchards in Mesilla, offers all the comforts of home, along with a lovely Old World−style courtyard (2140 Calle del Norte; 575-993-1410; casaderosie.com). From there, turn left onto Avenida de Mesilla (NM 28) to find two of the five tasting rooms and both wineries that enrich the Las Cruces–Mesilla area.
Luna Rossa Winery and Pizzeria, the casual tasting room for Paolo D'Andrea's 14-year-old vintner business in Deming, which includes the 300-acre New Mexico Vineyards, serves up Italian varietals that complement the Italian food. D'Andrea moved to southern New Mexico in 1986 from his native Italy, where he comes from a long line of winemakers. A gifted viticulturalist, D'Andrea's awards include a gold medal at the Finger Lakes International Wine Competition for the 2008 reserve nebbiolo. STANDOUT: 2010 Nini—a blend of premium Italian grapes, aged for more than four years. Pair with veal piccata and Parmigiano Reggiano−drizzled polenta. Mon.−Thurs., 11 a.m.−9 p.m.; Fri.−Sat., 11 a.m.−10 p.m.; Sun., 11 a.m.−8 p.m. 1321 Avenida de Mesilla; (575) 526-2484; lunarossawinery.com
Just below Luna Rossa, but still in Mesilla, is Southwest Wines' charming St. Clair Bistro, whose master chef collaborates with the vintners to create gourmet cuisine that works especially well with the St. Clair and D.H. Lescombes wines. STANDOUT: D.H. Lescombes Petit Verdot, an earthily robust blend with hints of tobacco, dark fruit, and spices. Pair it with elk medallions and roasted root vegetables. Sun.−Thurs., 11 a.m.−9 p.m.; Fri.−Sat., 11 a.m.−10 p.m. 1720 Avenida de Mesilla; (575) 524-2408; stclairwinery.com
Head south on NM 28 for 4 miles to the Río Grande Vineyards and Winery. Owners Gordon and Sandi Steel have a 10-acre vineyard, established 11 years ago, right outside the door. The tasting room features a dark-wood Victorian-style bar the Steels commissioned when they lived in England, along with grand views of the rugged Organ Mountains. STANDOUT: Gordon's chardonnay, a crisp, chablis-style wine. Pair it with field greens, piñon nuts, and goat cheese. Fri.−Sun., 12−5:30 p.m. 5321 NM 28; (575) 524-3985; riograndewinery.com
Continue south on NM 28 for another 21 miles to La Unión, deep in the Mesilla Valley, and La Viña Winery, the state's oldest, where you'll enter the two-story hacienda through a hewn-stone archway. Owners Ken and Denise Stark, who have been growing grapes and making wine for close to 40 years, host many special events here, including the Fall Wine Festival (see sidebar, p. 41)—a two-day wine, music, and food event that takes place October 10−11 this year. STANDOUT: Primitivo, an Italian zinfandel blended with notes of dark fruit, black pepper, and other spices. Pair it with kebabs of lamb, tomato, red pepper, and onion on a bed of saffron rice. Thurs.−Tues., 12−5 p.m.; 11:30 a.m. tours by appointment. 4201 NM 28; (575) 882-7632; lavinawinery.com
If you'd like to see how grapes are transformed into wine and you have extra time for a small side trip to Deming, Southwest Wines and St. Clair Winery makes for an ideal field trip. Its operation there has a half-million-gallon capacity—enough to produce 250,000 cases of the 80-plus wines the business puts out annually. Mon.−Thurs., 9 a.m.−6 p.m.; Fri.−Sat., 9 a.m.−8 p.m.; Sun., 12−6 p.m. 1325 De Baca Road; (575) 546-1179 or (866) 336-7357; stclairwinery.com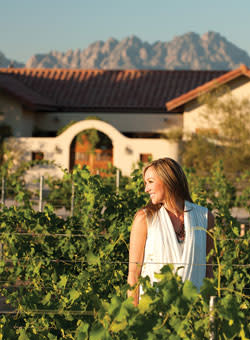 LET THERE BE WINE!
A CROP OF FESTIVALS
The Harvest Wine Festival, sponsored by the New Mexico Wine Growers Association, takes place at the Southern New Mexico State Fairgrounds in Las Cruces Sept. 5−7. Enjoy live music all three days; you'll score a souvenir glass while you taste. $20 at the gate and $15 in advance online. 12125 Robert Larson Blvd., Las Cruces; (575) 522-1232; wineharvestfestival.com
The Tularosa Basin Wine and Music Festival will be held at Alameda Park in Alamogordo Sept. 18−19. $12 ($20 for a two-day pass) at the gate and $9 in advance. 1021 N. White Sands Blvd., Alamogordo; (575) 522-1232; tularosabasinwinefest.com
Santa Fe Wine and Chile Fiesta holds events in several Santa Fe locations Sept. 23−27. In its 25th year, the marquee festival offers an international list of wines, wine dinners prepared by top chefs, wine seminars, and more. Cost varies. (505) 438-8060; santafewineandchile.org
The Corrales Harvest Festival, held in the rural village outside Albuquerque since 1986 and sponsored by the local Kiwanis club, takes place Sept. 26–27— with family-friendly music, crafts, food, and events (including a pet parade and kazoo marching band) held at various places throughout the village. $5 wine-tasting fee; most other events are free of charge; corralesharvestfestival.com
La Viña Fall Wine Festival, hosted by New Mexico's oldest winery, offers tastings, food, music, and crafts Oct. 11–15. $20; includes a souvenir glass and either tastings of 9 wines or one glass of wine. 4201 NM 28, La Unión.
(575) 882-7632; lavinawinery.com