BY THE 1930S, artists from the East Coast had logged three decades painting, sketching, and drawing the landscapes and people of New Mexico. With few hotels, and even fewer places for them to sell their work, Canyon Road had slowly transformed from farmland into the residences and studios of well-known artists of the day. But where would aspiring newcomer artisans live and work?
Enter Robert and Eulala Nason. The Nasons purchased the Staab House and its acreage, a few blocks from the Santa Fe Plaza, in the mid-1930s. The city's first brick-and-wrought-iron mansion had been built in 1882 by wealthy merchant Abraham Staab and his socialite wife, Julia.
Renamed La Posada (Spanish for "inn" or "resting place") and opened as lodgings in the late 1930s (with the eventual addition of the Staab House restaurant), the compound hardly resembled the Staabs' residence. Nason, who later developed resorts in Tucson and Mexico, remodeled the big house, a neighboring residence, and adobe outbuildings. He erected little casitas in the now-recognizable Santa Fe style and invited artists to stay.
While the lobby and other public spaces retain much of their European hunting-lodge charm, by the 1940s one of the largest and most stately residences in town had morphed into the "Art Hotel of New Mexico." Artists and writers flocked to La Posada's shady lawns for plein air sessions, attracting tourists and locals for classes. Nason filled the lobby, restaurant, library, and hallways that lead to elegantly landscaped grounds with original art. Aficionados bought canvases right off easels and the hotel's walls.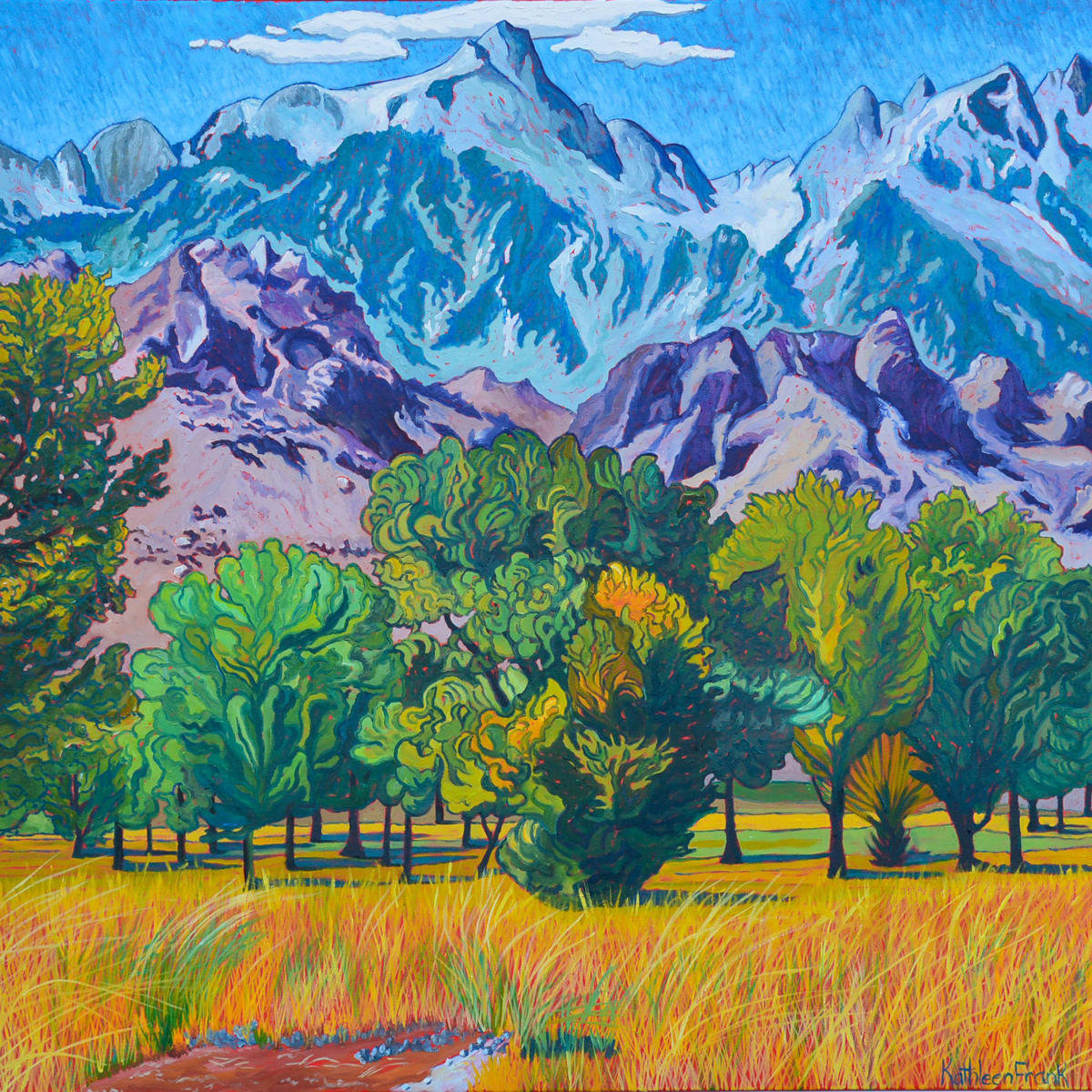 Oil painting "Foothills to Whitney" by Kathleen Frank is on view on La Posada de Santa Fe. Photograph courtesy of La Posada de Santa Fe. 
"If the artist couldn't sell enough to start paying rent in three months, they would have to leave," says La Posada art curator Sara Eyestone, herself a painter and Los Alamos native. "When I was a child, this elegant old hotel was my grandmother's favorite. We stayed here together in the forties and fifties, when the art of famous painters like Will Shuster, Pansy Stockton, and Georgia O'Keeffe graced the walls."
For nearly 15 years, Eyestone has championed the hotel's legacy of giving local artists a handsomely historic venue in which to sell their work. Her carefully nurtured relationships with artists elevate the hotel's practice of wall-to-collector sales. Through her encyclopedic knowledge and charismatic presentation of the hotel's history and art tradition, she has created both the demand and the supply for La Posada's gallery. Every piece in the public areas comes directly from an artist's studio, and the paintings, photographs, and sculptures rarely linger. At the time of sale, she connects the buyer with the artist to promote the relationship. "My goal has been to recapture the glory days," she says.