NEARLY 50 YEARS have passed since I went to sleep every night in the slant-roofed room at the top of the stairs on Seventh Street in Las Vegas. One twin bed was mine, the other my grandma Celia's, one on either side of the window above the porch. Night after night, Grandma would tuck me in after my mother had kissed me good night, reciting her prayers as I fell asleep. To the light of candles, she would pray the rosary in Spanish, read aloud to me about the lives of the saints, and otherwise do her best to ensure my eventual entry into heaven. When I was a little girl, the house was my world. It was where my brother and I were raised, where my mother and her brothers and sisters grew up and where my grandmother, Celia Gallegos Wallace, had lived for most of her life. Her mother, Vicenta Garcia de Gallegos, bought the house after sending her husband into exile for reasons that were never discussed. My mother's opinion was that her grandmother could not stand a man who had trouble collecting a paycheck.
For four generations, 712 Seventh Street was the place my family returned to, on weekends and during summers. In the early 1970s, that house became a parking lot, and it remains one today. Seeing an asphalt lot where a family thrived reveals much about my complex relationship with my hometown. Las Vegas ("the Meadows") is the place where my great-grandparents, grandparents, aunts, uncles, and cousins are buried, where my roots were nourished, but where, today, I have few close connections. Still, who I am will always be linked to that house, those people, and that town. My town.
Read more: You can take the New Mexican out of New Mexico, but you can't take the chile out of November's best meal.
When I was asked to write about it, though, I hesitated. I don't visit Las Vegas very often now that my parents and other relatives are gone. My husband and I have responsibilities to our jobs in Santa Fe, our son, and my in-laws in Taos. The Las Vegas of my childhood, I knew, had changed. But maybe returning now would help me understand both the town of my memories and what Las Vegas has become. What I discovered was a place that is putting to use the blue-collar muscle that kept it alive through generations of challenging change. I found parts of my Las Vegas alive and well. But I also found a new Las Vegas, still in the midst of shaping a robust future, but definitely getting ready for its next act.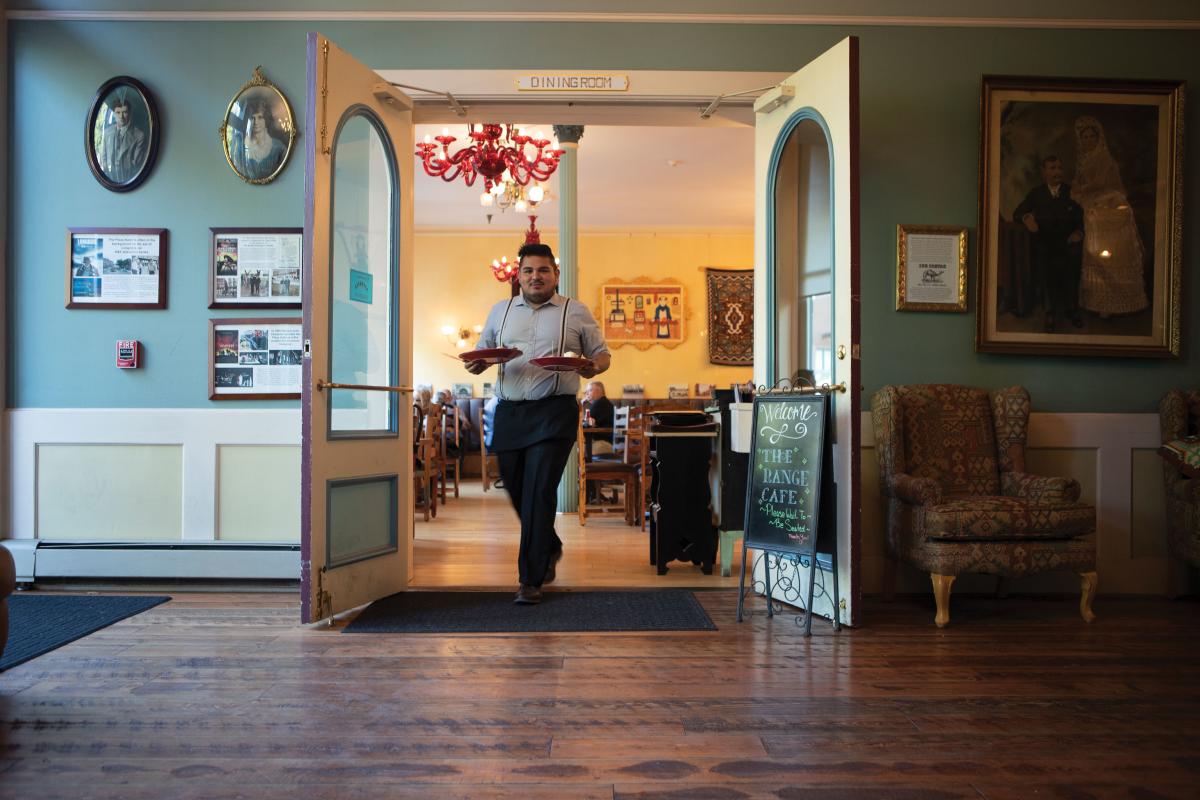 Inside the Historic Plaza Hotel in Las Vegas.
CHILDREN WHO GREW UP in Las Vegas knew the story of Las Vegas, or at least we students at North Public Elementary School who were in Mrs. Beatrice Lopez's first-grade class did. She would take us on walking tours of Old Town, pointing out the important historic houses and telling us not-so-tall tales of the past. Las Vegas was a frontier town, founded in 1835 along the Gallinas River. Wagon trade from the Santa Fe Trail boosted its prospects, and when the railroad came through in the 1880s, the town boomed, only to see prosperity fade as the 20th century advanced, the Depression arrived, and trucks replaced trains as the carriers of goods and products. Because of Mrs. Lopez, my classmates and I had a deep appreciation for our shared history, even though most of my fellow students lived in Old Town and I came across the river from New Town at my mom's insistence. A graduate of Immaculate Conception Catholic School, she nourished a lifelong, irrational dislike of East Las Vegas Schools. (To this day, the little town has two school districts.) So we crossed the bridge.
Want more great stories delivered right to you door? Subscribe today. 
We were a busy family. My mom worked banquets and ran a small café on Sixth Street. My dad had a gas station by Lincoln Park, but also did some logging back when big trees still came down in Gallinas Canyon, up in the Santa Fe National Forest. We lived with my grandmother, known far and wide (in Las Vegas anyway) as a superb tortilla maker. One job for grandkids who walked into the kitchen at the right time was bagging tortillas, six or seven dozen, then taking them to customers, most notably the Columbia Supermarket a few blocks away on Eighth Street.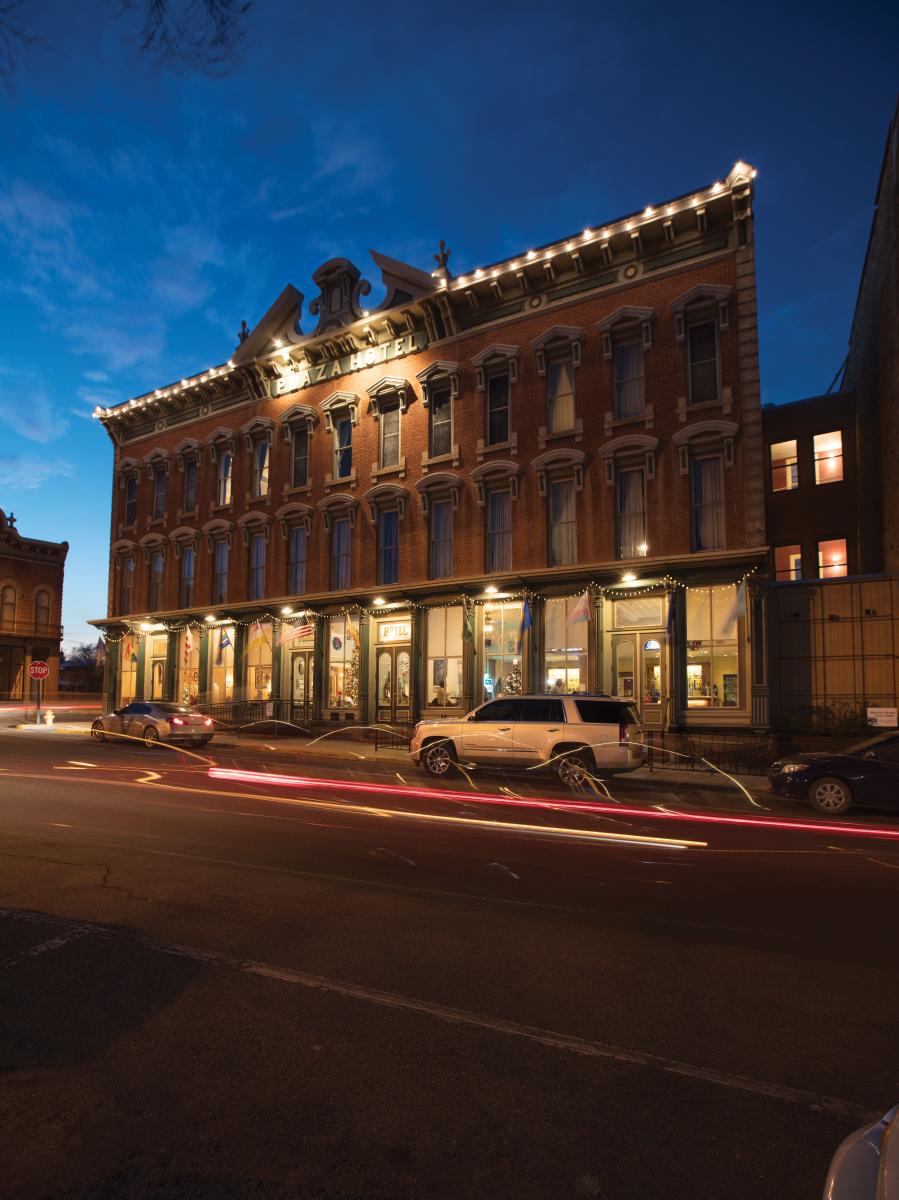 The Plaza Hotel's windows glisten at the holidays.
Our house was nothing fancy, bungalow style with a wide porch, located between the Douglas Street business district and the stately homes on upper Seventh Street. Down Seventh from us toward Douglas was the First Federal Bank Building (gone; not the building but the bank), where lawyer H. E. Blattman had his office (also gone). Up the street was the home of my best friends, the BB twins, so called because they were as much alike as two BBs; Jack's Car Lot (gone), on the corner; and, next to it, a small grocery that let customers pay on account, with meat fresh from the butcher. You could see the cow carcasses hanging from hooks if you asked nicely. I did. The cold locker was refreshing on a hot summer's day. Around the side of the store was rich dirt, where my friends and I dug up worms for fishing at McAllister Lake. The market has been gone for years. The arrival of the Safeway (also gone) in the mid-1960s helped start the process of putting the small grocery stores out of business.
Such changes are part of the evolution of small-town life. They become fatal only when nothing rises up to replace what is missing. With such constants as a Normal School for teacher training (now New Mexico Highlands University) and an asylum for the mentally ill (now the New Mexico State Hospital), the economy of Las Vegas weathered its tough times. There were still jobs, and there was, always, a sense that better days were coming. The stagnation had one positive effect on the town: Even though many people stayed, no one had enough money to ruin their historic homes with lousy remodeling jobs or to tear down classic buildings. As a result, some 900 buildings in Las Vegas are listed on the National Register of Historic Places, and a short walk of a few blocks in any part of town can expose a visitor to grand architectural styles. The town, as they say, has good bones. (Drop into the Las Vegas Citizens' Committee for Historic Preservation on Bridge Street for tips on where to see what.)
Read more: Being born into a family of artists set a course for Rose B. Simpson. But she had to travel far to find her way home.
Another positive: People used to making do stayed tough. Just as my grandma turned to selling tortillas to bring in extra money, my mom worked night banquets after her shifts at the café. My great-grandmother took in boarders, mostly college students, at the house on Seventh Street. People did what they needed to do so that there was food on the table, wood for the stove, and gas in the truck. There remains in Las Vegas an optimism that, with a little hard work, tomorrow will be better than today. Lately, that sentiment has grown stronger. You can hear it in the hammer blows at the Castañeda, a former Harvey House hotel in the town's Railroad District that's being reborn as a boutique inn. Entrepreneur Allan Affeldt is the engine driving the Castañeda's revival, and he's doing it by hiring local craftspeople and buying supplies from local businesses wherever possible. He also purchased the famous Plaza Hotel, in Old Town, did some renovations there, and turned the restaurant into the northernmost outpost of the Range Café, an exuberant chain of diners that started out in Bernalillo.
Already, railroad buffs and "Fredheads" (fans of the Fred Harvey Company) are angling for Castañeda reservations. The remodeling of this "Queen of Las Vegas," the oldest Mission Revival–style building in the state, is sure to attract visitors, who will spend money at the town's shops and restaurants, which will lead to more small businesses opening and eventually a steadier, more robust economy. Near the Castaneda, other projects have perked up, with work being done on the Rawlins Building (a former dorm for Harvey Girls who worked at the Castañeda) and a warehouse that sculptor and earthwork artist Charles Ross wants to turn into a retail space and studio.
  Las Vegas's Montezuma Castle.
I HAVE A SOFT SPOT for the Railroad District and the Castañeda. What other people saw as a rundown hotel by the train tracks was where my childhood friends and I made our own bike park. We spent hours riding by abandoned buildings, speeding through the covered passageways in front of the hotel rooms, and at the end, jumping our bikes down flights of stairs. We loved riding by the hotel almost as much as we thrilled to coming down KFUN Hill, our feet lifted from the pedals (no brakes, Ma!) pushing to go as fast as possible without crashing. It's a wonder that we all survived.
Those good times ended before middle school. My parents divorced and we moved away for my stepdad's job. Las Vegas became the city we visited, stopping to see my grandma, before the house was sold and the bank put in its parking lot. Then our anchor became my aunt Rita's house in Old Town. We quit coming in on Grand Avenue and up Seventh Street; now, when we left I-25, we headed down Hot Springs Boulevard to Mora Street, where my aunt lived. It's a quirk of Las Vegas that this small town was divided in two, East and West Las Vegas. East was New Town, where the railroad brought with it wider, American-style streets that marched out in straight lines. There were brick and stone houses with pitched roofs, a variety of architectural styles, and a different approach to doing business. West was Old Town, where Las Vegas started. There, life was constructed around a Spanish-style plaza, houses were made of adobe, and the narrow streets twisted in no discernible pattern.
Read more: White Sands National Monument is more than a great place to play. Among its shifting dunes, scientists are unearthing an ancient history teeming with mammoths, dire wolves, and sloths.
My brother and I loved to get from Grandma's to my aunt's house, New Town to Old Town, by walking along the river. Scrunched below the sidewalks and streets, marveling at the girth of ancient cottonwoods, we were invisible to the adults above. There are actual trails and paths by the river now, with more improvements in store for the Gallinas River Park—making it a place to exercise and reflect, while also restoring and replenishing the watershed.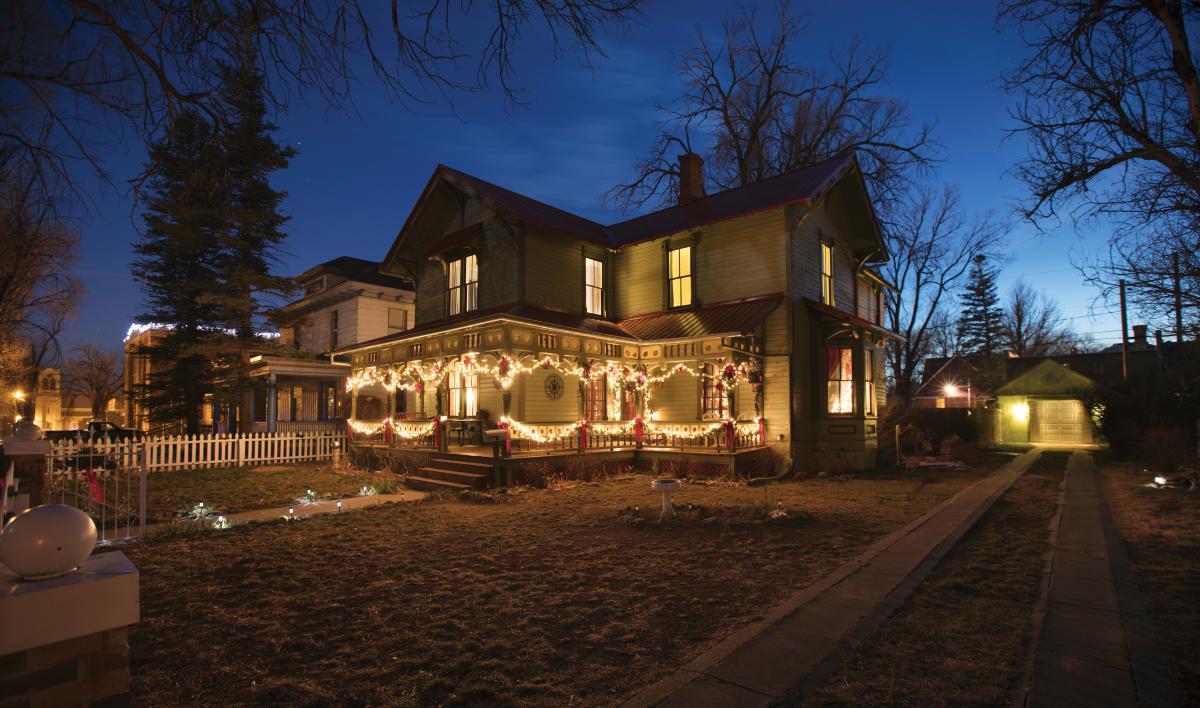 A home from Las Vegas's Holiday Historic Homes Tour.
Other reminders of my childhood remain. The Carnegie Library sits across the street from my old neighborhood church, the Immaculate Conception. I would deliver tortillas to the rectory or drop off flowers inside the church, head to the library, and disappear for hours. My first academic success came in the summer reading contest. For each book that you read, a circle was added to a poster to form an inchworm. I won. I don't know how many books I read. I don't recall a prize. But I do remember the joy of reading, of taking a book with me as I climbed a tree, to read in the shade on the tree-house floor where no adults could find me. I read in the winter, too, spread out by the radiator at the library, hearing the comforting hiss as I worked my way through the The Wonderful Wizard of Oz or the Narnia books. Saturday afternoons often were spent watching Disney movies at the Serf. Today, the Historic Serf Theatre presents concerts and hosts parties and other special events. Charlie's Spic & Span Bakery and Café is still nearby on Douglas, and I still love looking at the cream puffs in the case (although they are no longer at my eye level). Fort Union Drive-In has survived and presents first-run offerings, as opposed to the classic Antonio Aguilar movies my mom favored on Sunday nights. Montezuma Castle, practically abandoned when I was a child, draws students from all over the globe to attend the United World College of the American West. (I came home in 1982 to see the college open, standing with my mom and aunt to wave at Prince Charles as he rode by. It's not every day you see a prince, perhaps a future king of England, on Mills Avenue.)
On a recent late-summer trip, I was struck by the renewed beauty of the Old Town Plaza. The grass was green and healthy, just as I remember it from childhood, unlike the packed dirt in recent years when drought had hit the town hard. The big cannon we children had climbed over is gone, but now the park boasts carved and painted bultos, including my favorite, Our Lady of Sorrows, by Margarito R. Mondragón. Independent bookstore Tome on the Range has moved from Bridge Street to the plaza proper, with more space than ever, a welcoming place to browse. New Mexico Highlands University, where my grandmother and mother were students and where I learned to swim but got kicked out of violin lessons, has won notice as a top-value school with excellent social-work, counseling, and media-arts programs. On its campus, the stone Ilfeld Auditorium stands sentry, a grand tribute to a time when even small towns presented concerts, speeches, traveling plays, and other amenities.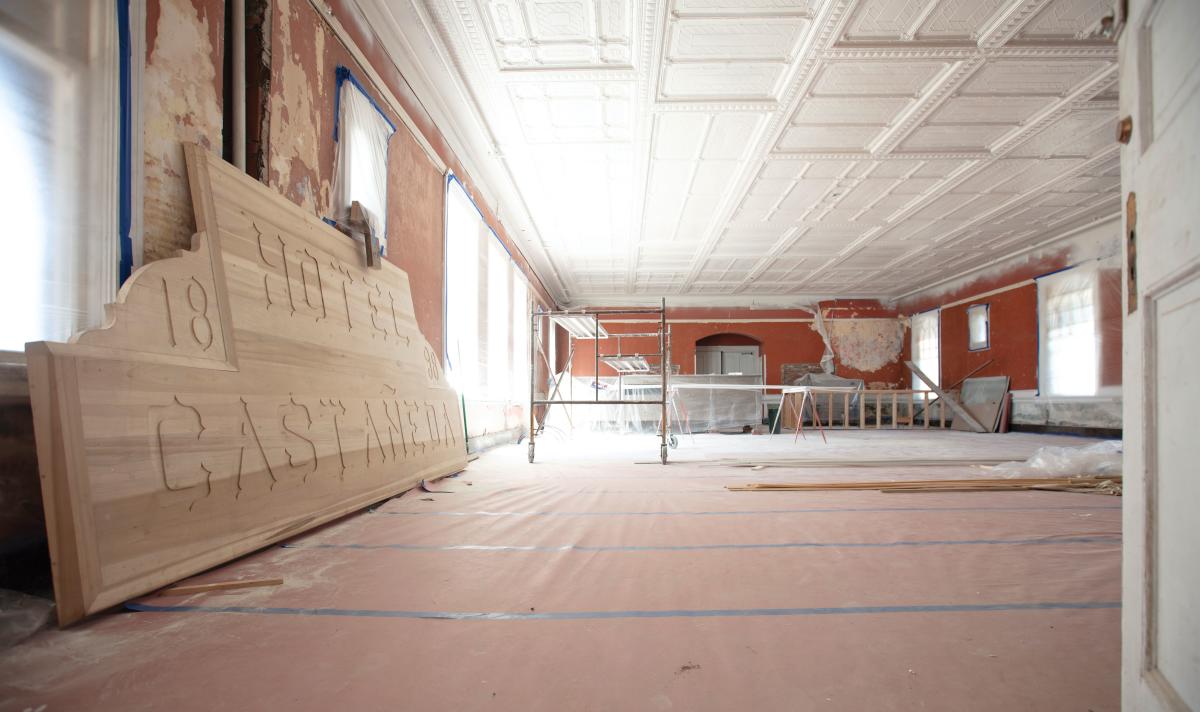 Inside the Hotel Castañeda, currently under construction.
There's more: new shops on Bridge Street, a thriving arts culture, terrific antique stores, and even a funky new restaurant with crazy good tacos, the Skillet, which Charlie's kid Isaac Sandoval put into a historic building. As I drove around, showing off my town to my son, the signs of renewal occurring in Las Vegas were obvious. Change, good change, is happening. It may have been 50 years since I slept there every night, but Las Vegas will always be my hometown. Through world wars, economic upheaval, and the turmoil of 20th-century life, the town that wouldn't give up seems poised for revival in the 21st. Las Vegas residents always believed that something better was around the corner if they could hang on long enough. The day they've been waiting for seems to have arrived. It's not my Las Vegas now. It's better.
VEGAS, BABY
Do
Hit the shops and galleries around the Las Vegas Plaza and on Bridge Street December 1, then hang around for the sundown start of the annual Electric Light Parade as it wends through historic neighborhoods and finishes at Plaza Park (visitlasvegasnm.com). On December 8, step inside some architectural wonders, including the historic El Fidel Hotel, during the Holiday Historic Homes Tour, a fundraiser for the Las Vegas Citizens Committee for Historic Preservation (505-425-8803).
All year, Southwest Detours offers guided tours of the under-renovation Castañeda Hotel, Montezuma Castle, and historic neighborhoods (505-459-6987). 
Stay
From the Historic Plaza Hotel, you can walk to most shops and restaurants, although the in-house Range Café, Byron T's Saloon, and gift shop may persuade you to never leave (230 Plaza Park, 505-425-3591). Check the website to find out when rooms open at the Castañeda Hotel.
The California Mission Revival–style El Fidel Hotel has new owners, who are renovating the rooms to honor their 1920 origins. Attention, Amtrak riders: It's a short stroll from the train station (500 Douglas Ave., 505-425-6761).
Sip
World Treasures Traveler's Café is steps away from the Plaza Hotel and, besides great coffee and tea, serves breakfast, lunch, and luscious desserts (1814 Plaza St., 505-426-8638). Borracho's Craft Booze and Brews packs 'em in with classic cocktails made from organic and local ingredients. Dare ya to try the Chupacabra Margarita, made with house-infused green chile tequila (139 Bridge St., 505-615-3561). Borracho's doesn't serve food, but a local favorite next door, El Rialto Restaurant, will deliver its northern New Mexico dishes to you (141 Bridge St., 505-454-0037).
Bite
Go for the tried-and-true (with red and green) at Charlie's Spic and Span Bakery & Café (713 Douglas Ave., 505-426-1921).
Charlie Sandoval's son Isaac runs the Skillet, a one-time food truck that now funkily occupies a historic building near Bridge Street. Gourmet tacos for $4 apiece are a draw, but so are the wild art, live music, and full bar (619 12th St., 505-563-0477).
At Dick's Pub and Restaurant, the menu ranges across American cuisine, northern New Mexico fare, and locally beloved barbecued ribs (705 Douglas Ave., 505-425-8261).