Find a wide selection at Spirit Winds in Las Cruces. Photograph courtesy of Spirit Winds
ONE OF THE BEST GIFTS I've ever received cost the giver less than $5. The holiday light, about the size of a golf ball, shines pink, teal, and lavender from its snowflake-shaped translucent parts, making a mini aurora borealis on my walls. My yoga teacher remembered my affinity for sunsets, and she nailed it. I asked a few experts who curate gifts every day for advice on how to ace your holiday season.  
Think theme. 
"A gift is something you can always have around and never get sick of it," says Cris Urena, co-owner of Spirit Winds, in Las Cruces. So start by thinking about what makes the person you're buying for smile.
The café and gift shop focuses on New Mexico–made goods, like Odd Daughter Paper Co. greeting cards, Collette Marie earrings, and Spiced Ink painted skulls by Chelsy Spicer, as well as crystals, candles, notebooks, and silver and turquoise jewelry. 
Try choosing a theme and getting a few little items tied to it, says Lance Smith, buyer at Spirit Winds. "Coordinate a mug with a notebook, so they can use their journal while sipping their tea in the morning."
Spirit Winds, 2260 S. Locust St., Las Cruces; 575-521-1222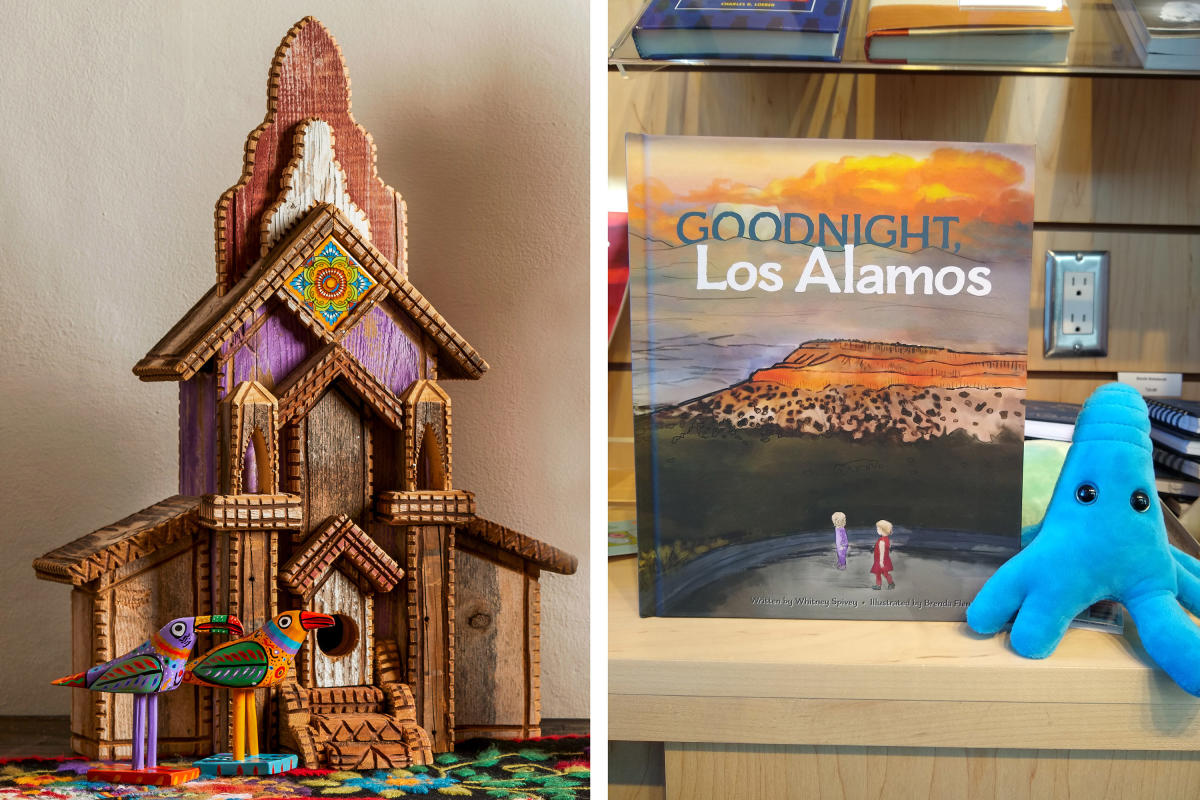 A Thomas Hogan birdhouse at Detours at La Fonda (left) and educational ideas at Gadgets (right). Photographs courtesy of Detours at La Fonda and the Bradbury Science Museum Association.
Tell a story. 
"I look for the handmade quality," says Linda Troynak, manager and buyer at Detours at La Fonda, in Santa Fe. "And it needs to be unique." 
A feast of pattern and texture, the hotel shop sells an array of housewares, folk art, and textiles from around the world. Troynak loves items made by women in places like India, China, Peru, Argentina, and Guatemala. She helps customers understand where and by whom items were made, so that their stories are passed on. "It spreads the importance of buying handmade and supporting artisans," she says. 
Among her favorite local gift ideas this year are a jacket made by Taos designer Lynn Wilkinson and a hand-carved birdhouse from Santa Fe artist Thomas Hogan. Both have that New Mexico feel and history that visitors and locals yearn for.
Detours at La Fonda, 100 E. San Francisco St., Santa Fe; 505-988-1404
Get hands-on. 
"With all the online learning kids are doing, having something hands-on that can demonstrate these principles is important," says Shari Foley, manager of Gadgets gift shop at the Bradbury Science Museum, in Los Alamos.  
Foley suggests hand boilers—twisty glass containers with colorful liquid inside and a ball on each end—as an inexpensive crowd-pleaser. They're fun to watch and easy to understand. 
While wooden puzzles are a classic, she recommends the Soma cube, a miniature version of one of the museum's exhibits, which has 240 ways it can be put together.
Bradbury Science Museum, 1350 Central Ave., Los Alamos; 505-667-4444