Above: Noah Martinez, Tanya Nuñez, Jordan Wax, and Leticia González play for a packed house. Photography by Inga Hendrickson.
THE PAST IS EVER PRESENT—alive, even. Today it takes the form of Gregorio Ruiz, whom Jordan Wax and Noah Martinez evidently revere. Wax has a snapshot of the long-passed elder—a fiddler, guitarist, and saxophonist who lived in Pecos for most of his life—saved on his phone. It's old and overexposed-looking, probably from the late 1960s. In it, Ruiz sits with a well-worn fiddle resting in his lap, a barely visible grin crossing his lips. There's also a hard-to-miss patch covering his right eye.
"Gregorio had an eye patch before Al Hurricane," Martinez says, beaming, his norteño accent noticeable as he draws out the last syllable of the musician's name. "Same eye, even," he goes on to point out. It's a coincidence, of course, funny only in retrospect, but for both Martinez and Wax, the founding members of the New Mexico–based acoustic conjunto Lone Piñon, the eye patch is a signature for two of the state's most notable músicos. Ruiz and Hurricane are like bookends in a timeline: Lone Piñon plays the music of Ruiz's generation all the way up to the moment when Hurricane's corridos and cumbias blew up the airwaves.
The pair banter about their musical predecessors with so much purpose they barely pause to eat breakfast. They even finish each other's sentences, picking up a thought where the other trails off. "We're nerdy musicians," Martinez says at least a couple of times. Wax agrees with a nod. It's a known fact among the two, and one they wear proudly. As multi-instrumentalists, Wax (violin, piano, three-row accordions, mandolin, guitar, and vocals) and Martinez (bajo quinto, quinta huapanguera, tololoche, guitarrón, and electric bass) play music from northern New Mexico, southern Colorado, Huasteca and Michoacán, Mexico, and San Antonio, Texas.
They might as well be  musical archivists, searching out a repository of songs that knows no end in this swath of territory. That research means playing everything from Tohono O'odham fiddle tunes and huapangos to rancheras and New Mexico swing.
"We're on a quest to go further into an older style," Martinez says, "to dig into the deepest root we can find." Tracing that lineage as far as five generations back is twofold: researching recordings from the past, such as Gregorio Ruiz's polkas and waltzes, and seeking out living legends, like Trio Jalapeño's famed accordion player, Antonia Apodaca. They play the tunes of those forebears with slightly different arrangements and a creative energy that reflects their current moment, carrying a piece of that musician, and his or her version of a song, into the present and the future. "We played in Cañoncito 50 years after Gregorio did," Wax says. "It's like he opened for us."
Martinez and Wax formed Lone Piñon in 2014, after meeting one Sunday morning at Zendo Coffee, in downtown Albuquerque. Martinez was performing with one of his former bands (he was a "sideman" for several, he says) when in walked Wax, who'd moved to New Mexico from Missouri two years before, joined by Greg Glassman. "At first I thought Noah was a heavy metal bass player because of his long hair and sunglasses," Wax says. And Wax confounded nearly everyone when he and Glassman started mouthing the lyrics to some of the son jarocho–style songs. It was only a matter of time before Wax started tuning his fiddle and joining the session.
Read more: Our guide to all things music in New Mexico
"After that, we jammed for like four hours," Martinez recalls of the encounter, a meeting that now feels fated. They pretend to get misty-eyed just thinking about it and then laugh.
While driving down Agua Fria, in Santa Fe, they passed a storage unit called Lone Piñon. Glassman, a member of the original trio who has since parted ways, thought it would be a good band name. It stuck. (The storage unit is now called Around the Corner.)
In the years since they formed, Lone Piñon has released three albums (two with Glassman and one with Leticia González) and played around 150 gigs a year, traveling as far west as Bellingham, Washington, and as far east as the Kennedy Center, in Washington, D.C., where their concert was sponsored by the Library of Congress. But Lone Piñon has gained its strongest following here in New Mexico, in tiny towns and a handful of metropolitan areas. Martinez and Wax are like the carpa musicians that any viejito will recall from the olden days, traveling from one New Mexico town to another—Santa Fe and Albuquerque brewpubs, a bandstand in Cañoncito, a matanza in Peralta, a public school gym in Carrizozo, or a senior center nearly anywhere.
They've got those hybrid New Mexico–Americana vibes.
Listen to 101 songs by artists featured in our May issue with this Spotify playlist created by Silver City's KURU DJ Mitch Hellman.
EVEN IN THE LOW LIGHT, I can glimpse Martinez's tattoos—a fret on his right arm and two saints, Isidro and Cecilia, on his left. He and Wax walk around the jam-packed taproom at the original Second Street Brewery like seasoned mariachi musicians who've perfected the art of serenading you table-side. A mesh bag hangs from the neck of Martinez's guitar, swinging with the weight of tip money. Wax plays progressions on the accordion, then inhales deeply before belting Spanish lyrics that project across the room and above the Friday-night bar chatter. He closes his eyes and furrows his brow with the intensity of Flaco Jiménez.
It's typical for Martinez to wear suspenders or overalls and a vintage cut-off T-shirt; one has two shovels and the words pala power emblazoned across it, a nod to his and his family's acequia activism and agricultural roots. When not jamming with Lone Piñon, he's a full-time farmer in Albuquerque's South Valley and dad to two sons, Isadore, 10, and Serafin, 2. He bought his tololoche, an upright bass, with change he saved for six years.
Wax's spectacles give him the look of a studied Romantic-era poet who has an affinity for dusty cowboy boots, Western button-up shirts, impassioned singing, and finding old recordings. On the days between performances and the studio, he drives from Lone Butte to Santa Fe to teach Yiddish at Temple Beth Shalom, and sings and reads books to toddlers for the Santa Fe Public Library program "Bilingual Books and Babies."
They seem like polar opposites—too different to work, but somehow different enough that they balance each other out. "We arrived at traditional music together, and that bonded us," says Martinez.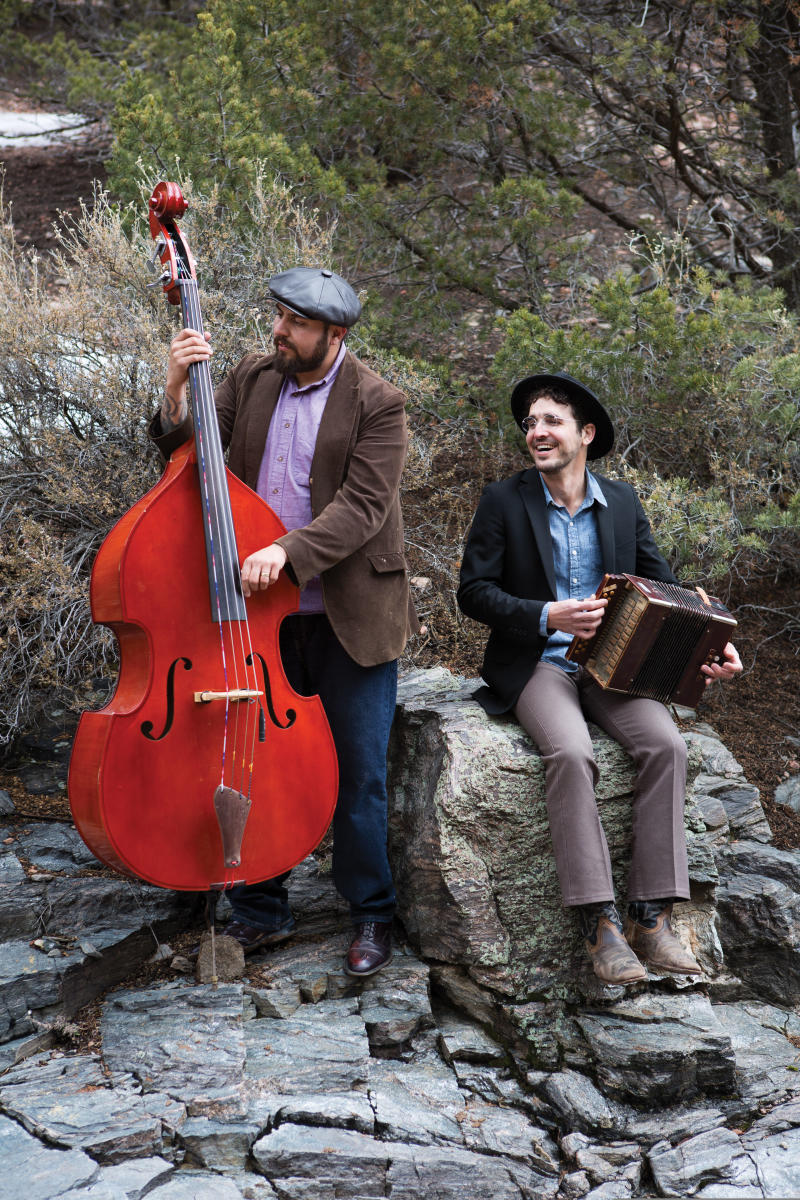 Above: Lone Piñon founding members, Jordan Wax (right) and Noah Martinez.
At certain points, Lone Piñon has been a trio, and at others a duo—just Wax, 37, and Martinez, 29, deciphering the art of regional polkas and then playing their hearts out. They are unexpected but apt disciples of acoustic music produced before World War II—unabashedly old-timey (Martinez says he's "been practicing the art of aging for years") but also energetic, and very sincere. They also share a deep-seated love for elders, those from whom they've learned the most and the ones in their own families who set the first musical examples.
Martinez's parents were in a band together, and his great-grandfather was a fiddle player from the village of Carnuel, just east of Albuquerque. Wax's grandmother, who's 99, has long played piano, a shared love that "opened up their relationship," he says, not to mention that her father and brother were fiddle and mandolin players back in Missouri.
Their own paths toward Lone Piñon (which at one point Martinez tries to convince me, almost biblically, is an actual tree in an actual place, before revealing the storage-locker story) may have been circuitous, but their respective backgrounds in American music anticipated their search for deeper roots.
Love New Mexico? So do we. Subscribe today for just $3 an issue and we'll deliver our award-winning monthly magazine right to your door.
At Valley High School, Martinez's first band was called A Week and Seven Days, a punk rock outfit he formed with a skater friend after a brief stint as a troublemaking cholo. When he became a young dad at 19, Martinez started working in restaurants to support his family, the urgency of which had pushed music down on the list of priorities.
One year, he took to the road on his annual 90-mile pilgrimage to the Santuario de Chimayó, guitar in hand. His prayer was for music to re-enter his life. "There was black ice that day and I ended up getting hit by a car," he says. "It changed my life, because I had to quit my restaurant job. I would've never had the courage otherwise.
"God's a coyote in the sky laughing," Martinez goes on, as if his prayers were ultimately answered, but in the form of a sideways joke.
With a torn ACL, Martinez quit his job as a chef at Indigo Crow, in Corrales. But he needed cash, so he started playing alongside local bands, like Felix y los Gatos, a self-described zydeco Burqueño blues band. He also jammed with a couple of guys who sang beneath the shade trees in his neighborhood while drinking beer. Eventually they formed a grupo called the Knightcappers. The band, he says, would often end the night with the refrain "Let's have a night capper, one more beer, one more song!"
Wax was raised in the college town of Columbia, Missouri, near the Missouri River Valley, a longtime agricultural hub, where his maternal family goes back generations and where his Jewish father worked as a writer for the local lawyers' association. In Missouri, Wax says, assimilation hit hard in the 1950s, creating suburbs that multiplied with conformity.
Nearby, just southeast of Columbia, the Ozark Mountains formed something of a buttress against the trend of turning mainstream.
"There are places in the Ozarks where playing the fiddle is still a tradition, where different dialects are still spoken, where there are still different spiritual beliefs," he says, even if elsewhere "culture wasn't celebrated, but suppressed." It was a pattern he saw repeated in his trips to Latin America, where in some places diversity had given way "to the capitalization and globalization of culture. It's as if there were two worlds existing side by side."
Read more: Get your dose of New Mexican girl power with the home-grown Albuquerque band, Lindy Vision.
Ozark fiddler Fred Stoneking and central Missouri dance fiddler John White became Wax's mentors. He also learned how to make instrument cases from Billy Lee, who lived on the Missouri River. (Wax was eventually able to trade a handmade case for one of his current fiddles.) Later, local fiddlers in the San Luis Potosí region of Mexico, including Rolando "El Quecho" Hernandez, of Trio Chicontepec, and Casimiro Granillo, of Trio Chicamole, schooled him in the Huasteca style of fiddling over a six-month immersion.
In Mexico, he also learned how to sing songs in the indigenous language of Nahuatl by taking classes a couple of times a week. That skill came in handy when Lone Piñon recently played at a quinceañera where the family spoke Spanish and Nahuatl. "They blushed when I sang to them," he says.
When he moved to New Mexico, Wax says, he was "looking for regional music cultures and to connect with other generations." To get here, he hopped on the Old Santa Fe Trail, "but at 70 miles per hour."
MUSICIANS HAVE ALWAYS BEEN the first adapters to a new culture, just like traders," Martinez says. "They have a way of interacting, of sharing complex and unspoken information through music."
It's part of a longer answer to a question about whether listeners have ever given Wax any flak for playing music not strictly within his culture. Maybe it's oversimplified, even myopic, to ask, despite being relevant to our moment. But listening to them talk about their songs, I'm reminded of how musical styles and genres have always been travelers, originating in one place while picking up new sounds along the way. And many of the songs they play are veritable migrants.
During a recording session at FW Studios, off Santa Fe's Baca Street, Wax and Martinez lay down a track for the song "Pajarito Carpintero," based on a version by the famed Tejano accordion player Valerio Longoria, best known for modernizing the conjunto sound and adding more progressions to accordion playing. His version of "Pajarito Carpintero" is actually based on a German pop song. After recording their adaptation, Wax plays the German clip from his phone.
Or there's "La Burra Orejona," a classic chotís—from the German schottische, which arrived in Mexico in 1850—which happens to also be a fiddle tune known in Missouri as "The Flop-Eared Mule."
And what of the songs that are actually about crossing cultures? Take the love song "El Tecolotito," recorded on Lone Piñon's most recent album, Dále Vuelo, with vocals by Martinez's wife, Lia. A 1940 version by Ricardo Archuleta of Antonito, Colorado, now held in the Library of Congress, mimics the same tone as a Penitente's alabado (or hymn), even though it's about an owl that travels between two lovers, one Hispanic, the other Native.
Read more: Why Music is Just Different in New Mexico.
Wax even speaks of a Genízaro singer from Ranchos de Taos named David Fresquez, whose repertoire included Apache war songs, Navajo songs recorded in English, and Penitente alabados.
Music is like food in that way—bearing the fingerprints of many makers from all corners. Even Antonia Apodaca's husband, Maximiliano, played German music while working in the mines in Wyoming.
Still, there's that hanging question of belonging, of which traditions belong to whom, especially when the tides of assimilation have created the conditions for the loss of cultures, languages, and even music. While some regional musicians feel a stronger sense of ownership and maintain their claim more firmly, others have been generous with both Wax and Martinez.
"I'm a total outsider," Wax says, "but musically, I feel like I'm a descendant of these musicians." In most cases, older generations especially "are so tolerant and open-minded. People like Tomás [Maes] and Antonia [Apodaca] want us to carry this music forward."
"And at the end of the day," Martinez adds, "they love what we love—music. We have a deep passion. We're musicians first."
"We start off thinking culture is one thing," Wax continues, "but it's far more complex."
Both Martinez and Wax are interesting examples in their own right of how intercultural exchange might pan out when practiced with reverence, "with love and heart and care," Wax says. "I like the fact that we're modeling something different, because you can't put traditions in a box."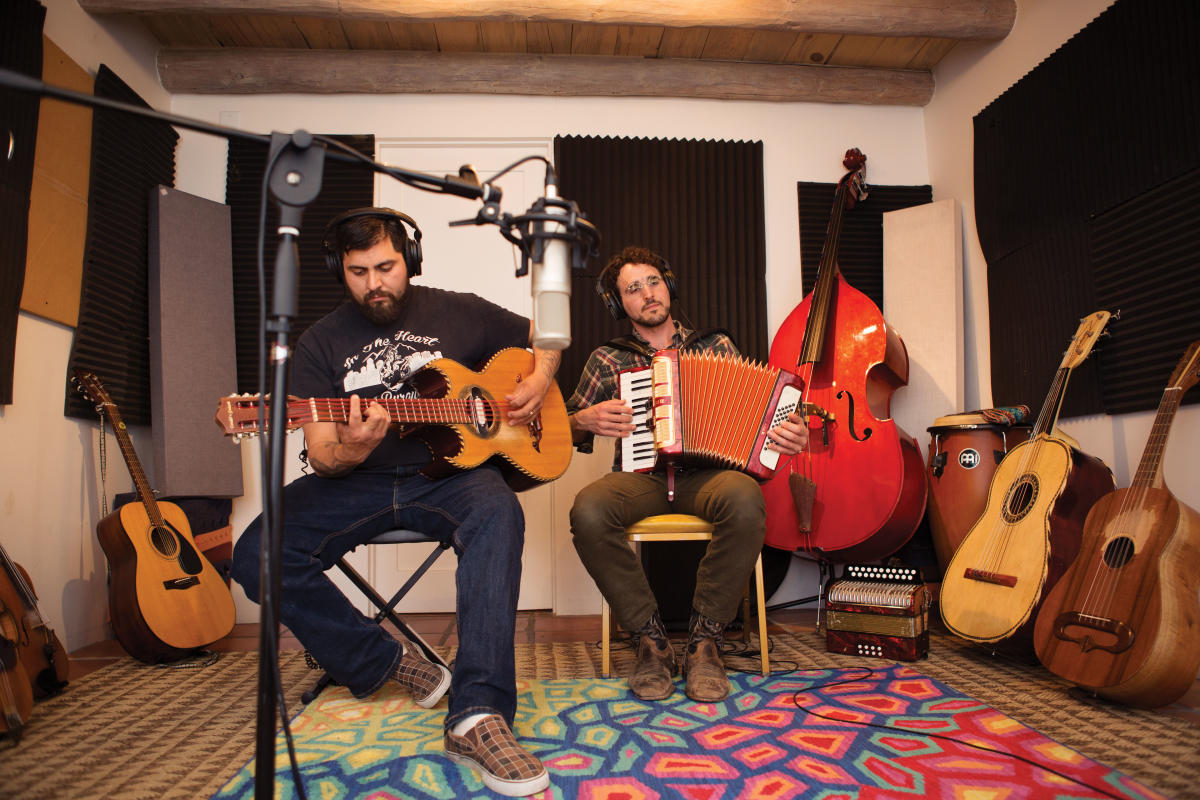 Above: At FW Studios, in Santa Fe, Martinez and Wax record the latest album.
The songs they play, moreover, are meant to bring people together over shared phenomena: "people who die, love that dies, and killing your ox," Martinez says in a deadpan voice as he lists a handful of themes. There are silly songs too: "yo-mama comebacks," Wax calls them, and the tongue-in-cheek coplas for asking someone to dance, and possibly rejecting a prospective dance partner, of which they learned from the folklorist Nasario García. The pair have also happened upon songs that originated as territorial-era poems in which Spanish speakers make fun of learning English.
A good slice of the songs they're now recording come from the John Donald Robb Archive of Southwestern Music, at UNM. Around the middle of the 20th century, Robb collected nearly 3,000 musical samples from his travels in the Southwest, South America, and Nepal. Wax and Martinez received a small grant from the archive to help record a forthcoming album, which will drop this month, of mostly northern New Mexico tunes, songs that have gone by many names—música del barrio, fandango, colonias, and música de los manitos. (The colloquial term manito translates to something like "homey.")
Those tunes go back to the generation of Gregorio Ruiz, whom Martinez fittingly calls the "OG" of the genre.
"That style of music," Wax says, "went from something filling the air to something very rare. There's this whole tradition that still exists and lives, but most don't have access to anymore." Recording the new album will bring the old audiences back, along with winning new ones.
And their music, even beyond this project, has become a soundtrack for all sorts: nostalgic viejitos wishing to transport, if briefly, back to another era, drywallers from Huasteca who've just finished their day's work and probably miss home, and newly minted Southwestern hipsters who dig the new old sound.
Though they are re-creating music from the past, "it's impossible to re-create it directly," Wax says. "These recordings come from people who are our grandparents' age—their whole life and way of being is in every note. We're playing the music in such a different context, and that's what we have to contribute—creativity and tradition." Still, he says, "we can never replicate the feeling, and that's humbling."  

LEARN MORE
Visit Lone Piñon's website, which includes upcoming performances and a link to purchase their music. Support them on their Patreon.
"JUAN CHARRASQUEADO"
This corrido, by Víctor Cordero Aurrecoechea, of Mexico City, was such a huge hit when it was released in Mexico that it was eventually made into a film. Northern New Mexican fiddle players then transformed the song into a polka. Lone Piñon's version is based on the early commercial recording by Jorge Negrete but integrates a regional arrangement by Librado Leyba, of Leyba, New Mexico, recorded by John Donald Robb in 1950.
Voy a contarles un corrido muy mentado, / De lo que pasa allá en la hacienda de La Flor. / La triste historia de un ranchero enamorado / Que fue borracho, parrandero y jugador.
I'm going to recite a well-known corrido, / Something that happened in a village called La Flor. / The sad story of a small-town Don Juan / Who loved to drink and party, and was good at cards.
Juan se llamaba y lo apodaban Charrasqueado. / Era valiente y arriesgado en el amor. / A las mujeres más bonitas se llevaba. / En esos campos no dejaba ni una flor.
His name was Juan, and they nicknamed him for a scar on his cheek. / He was risky and self-assured when it came to romance. / He sharpened his skills on the most beautiful women around. / He couldn't pass a field without picking each flower.
Un día domingo en que se estaba emborrachando, / A la cantina le corrieron a avisar. / "Cuídate Juan que ya por ahí te andan buscando. / Son muchos hombres, no te vayan a matar."
One Sunday afternoon as he was getting drunk, / They came running to the cantina. / "Watch out, Juan—they're looking for you. / There are many men—we don't want anything bad to happen."
No tuvo tiempo de montar en su caballo. / Pistola en mano se le echaron de a montón. / "¡Estoy borracho!" les gritaba. "¡Y soy buen gallo!" / Cuando una bala atravesó su corazón.
He didn't even have time to get on his horse. Pistols in hands, they set upon him all together. "I'm drunk," he was hollering at them, "and I can take you all!" When a bullet pierced his heart.
Creció la milpa con la lluvia en el potrero, / Y las palomas van volando al pedregal. / Bonitos toros llevan hoy al matadero. / Qué buen caballo va montando el caporal.
The corn is tall now with the rains that came, / And the doves are flying off into their hills. / Today there are some nice bulls being led to slaughter. / What a beautiful horse the foreman is riding.
Ya las campanas del santuario están doblando, / Todos los fieles se dirigen a rezar. / Y por la sierra los rancheros van bajando / A un hombre muerto que lo llevan a enterrar
The bells of the old mission church are tolling, / And all the faithful lower their faces in prayer. / Up in the hills, men from the village / Are carrying down a body to be buried.
En una choza muy humilde llora un niño. / Y las mujeres se aconsejan y se van. / Solo su madre lo aconsuela con cariño. / Mirando al cielo llora y reza por su Juan. 
In a humble shack, a child is crying. / The women come and go, trading advice. / Only his mother comforts him with affection. / Looking to the sky, she cries and prays for her little Juan.
Aquí acabo de cantar este corridor. / De Juan ranchero, Charrasqueado y burlador. / Que se creyó de las mujeres consentido, / Que fue borracho, parrandero y jugador.
That's where I finish singing this corrido / About Juan from the country, with his scar and smirk, / Who fancied himself the ladies' favorite, / Who loved to drink and party, and was good at cards.
---