THE CAT'S NAME IS Mouse. Mouse likes to sit in a wicker basket on the old wooden bench outside the front door. The two chubby ducks will likely be nearby, ready to eat out of your hand before slowly waddling over to the pond. The peacock might stop by, too. He tends to eat Mouse's food. The four roaming alpacas are named Raya, Nublina, Luna, and Celestino. They're friendly but shy.
These will likely be the first characters you meet when checking in at Los Poblanos Inn, in Los Ranchos de Albuquerque, or when stopping for a bite at the famed restaurant Campo, sipping a locally sourced libation at Bar Campo, or simply perusing the Farm Shop. The wildlife, just like the staff, belong to a much bigger community at this 25-acre historical gem.
It was dusk in the Río Grande Valley when I met Wes Brittenham, the farm and landscape manager for Los Poblanos Historic Inn and Organic Farm. Sandhill cranes flew overhead. It was a cool, clear evening with a nearly full moon. The last light of day cast a glow on Brittenham's leather hat and wool scarf as he showed me where they grow herbs for the kitchen, the cardoon plant that I'd soon eat in one of the best pasta dishes I've ever had, and lavender—three tons of it annually—which they distill and turn into salves, shampoo, conditioner, body washes, lotions, and scented mists. He also showed me where the fruit field will go, where the native grasses will soon be planted, and where they'll implement the Slovenian method of beekeeping. Brittenham wants 30 hives in all, with a place to sit and have a cocktail or receive a massage while listening to the steady buzz. He wants to bring back churro sheep, too, and utilize Native peoples' Three Sisters method of growing squash, beans, and corn. Hey, he's a dreamer, he says.
Brittenham was walking with Daniel Garcia, who collaborates with him on Campo's farm-to-table initiative. Garcia explained that it's not realistic to grow everything the kitchen needs, so they have also developed relationships with 19 local farmers. Garcia kicked on the door at Campo until chef Jonathan Perno, a James Beard Award finalist, hired him as sous-chef five years ago. As he pointed out the piles of compost from the kitchen and farm in various stages of decomposition, he told me how he needed to be part of a team whose convictions he believed in.
"We have a much bigger responsibility than being a really nice restaurant attached to a really nice hotel," he said. "We are trying to be this hub of community and bring everybody in and connect everyone. We all have to do our part. All Chef wants to do is provide healthy, organic, local food at a reasonable price for people. We're doing that."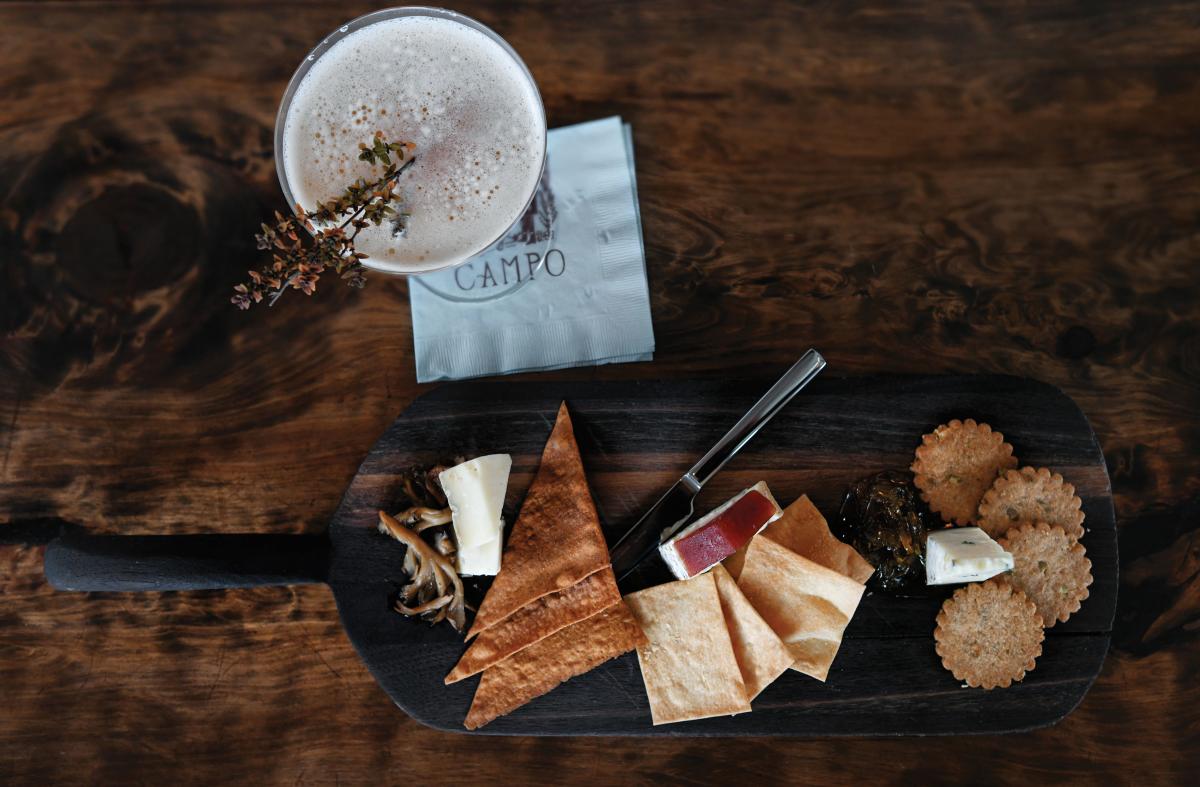 Sample fare from Campo.
PUEBLOANS FIRST INHABITED THIS LAND in the 14th century. Then came waves of colonists from Puebla, Mexico, the poblanos who gave the property its name. Los poblanos were first mentioned in New Spain's 1790 census, although land grants had been made in the area under the name of Elena Gallegos as early as 1716. At the time, there were six settlements in the North Valley and two main plazas. Later, the property became a ranch owned by two brothers, Juan Cristóbal and Ambrosio Armijo.
In the 1930s, the ranch was acquired by Albert G. Simms and Ruth Hanna McCormick Simms, who had fallen in love while serving in Congress as representatives from New Mexico and Illinois, respectively. They hired John Gaw Meem, the architect who pioneered Santa Fe style, to renovate their private residence (which is now the inn), as well as build La Quinta Cultural Center, with the help of numerous WPA artists. Spanish Colonial–era art hangs on the walls, and Pueblo rain cloud designs are carved into the wooden ceilings where tin chandeliers hang. A mural of San Ysidro by Peter Hurd is just outside, under the portal. Cattle grazed on the ranch, which also became home, in 1937, to the original Creamland Dairies complex. Now the Farm Shop, where lavender, handmade sausage, local pottery, and other goodies are sold, is located in the old milking quarter. Look down: The concrete floors are sloped and textured, for drainage and so the cows wouldn't slip.
After Albert Simms' death, in 1964, Los Poblanos went on the market. In 1974, Penny and Armin Rembe bought half of the ranch, raising their four children there, and purchased the other half, including La Quinta, in 1999. In 2000, after Armin's retirement from a career as an oncologist, the couple transformed the ranch and the historic Meem buildings into an inn and ensured that everything on the property—even the cleaning products—was organic and pesticide-free. The Farm Rooms were added in 2009 and the Field Rooms were completed in the summer of 2017. Just after that, they finished renovations on Campo and Bar Campo, located in more of the historic dairy buildings next to the Farm Shop.
Now the land is again being used to support local farmers and a more conscientious approach to making food by using seasonal crops in its menus. The chalkboard sign adjacent the two old grain silos says ROOTED IN HISTORY. PLANTING SEEDS FOR THE FUTURE.
"We're going back to what it was like 100 years ago, when there wasn't this global economy where you can go get berries in the middle of winter," Garcia says.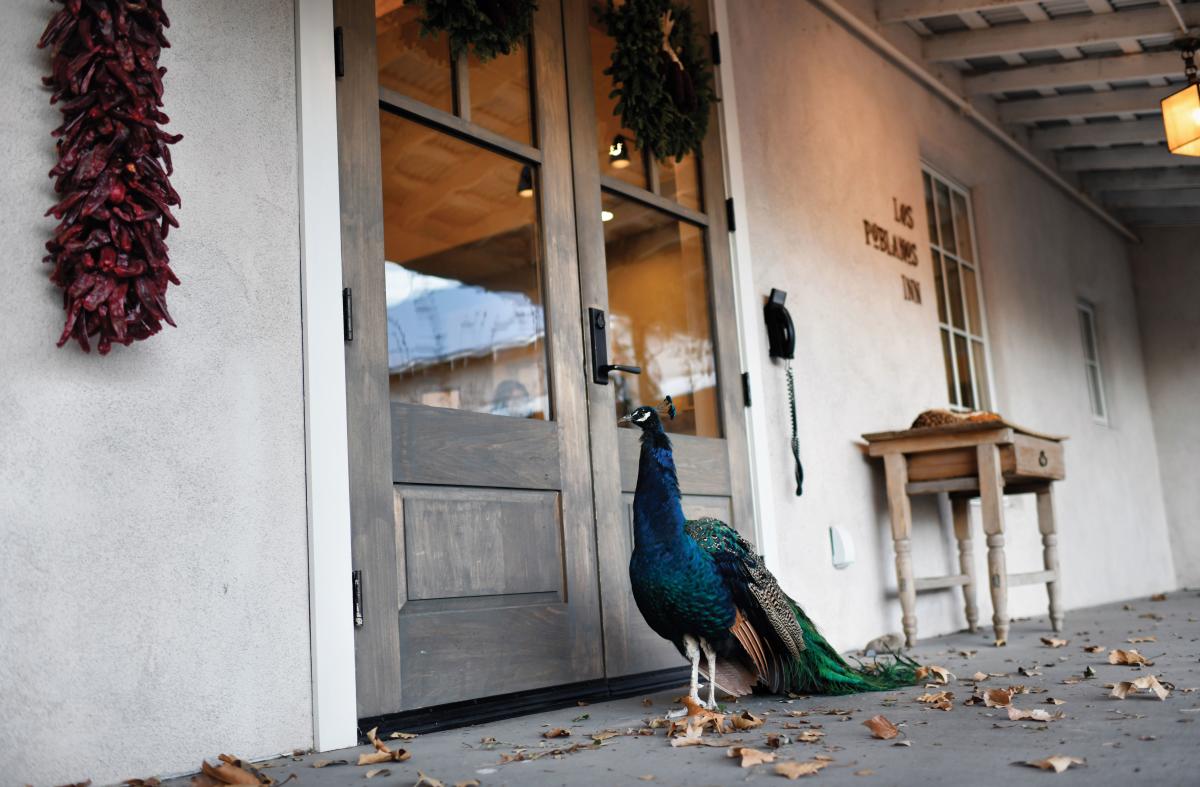 Exterior Views of Los Poblanos Historic Inn.
BAR CAMPO WAS STANDING ROOM ONLY. I ordered the cheese plate—the membrillo and crackers were homemade—and a Lavender '99, a smooth cocktail combining Santa Fe Spirits' Wheeler's gin, crème de violette, Domaine Saint-Vincent brut, lemon, and lavender. Brittenham was having a beer at the bar with other Poblanos employees after another day on the farm. Penny Rembe was there, too, with a couple of friends, while her two sons held court in different corners of the bar. Penny, a businesswoman who started the locally beloved Pennysmith's Paper stationery store in Los Ranchos, told me that when she first saw the property, she knew it was the place.
The couple raised their four children here. They rambled around the ditch banks and added their own mosaics to ones originally crafted by Pop Shaffer in a garden designed by landscaping pioneer Rose Greeley. Son Matthew now serves as executive director and the creative force of the expanding enterprise. The historic Meem rooms and suites feature classic New Mexican style, with original art, kiva fireplaces, wood floors, and carved ceiling beams. The new Farm and Field rooms match the historic 1930s dairy buildings and have pitched tin roofs and white stuccoed walls. The interiors are clean and modern, with a barn-style door next to the kitchenette, retro refrigerators, lots of natural light, and a big, comfortable four-poster bed.
From the Farm Shop—an essential visit, full of stylishly curated kitchen wares and crafts—to the bar, restaurant, and rooms, one theme holds true: Somebody with undeniably fabulous taste paid attention to every detail. You'll see it in the huge painted doors separating the bar from the restaurant, the handwritten note welcoming guests to their room, the images of Los Poblanos' mascot, San Ysidro—the patron saint of farmers—imprinted throughout the property, Laura Gilpin photographs, Alexander Girard textiles, the dining room tables with wood from the Gila Wilderness, the Gustave Baumann floral and Native American design patterns, the massive iron door hinges, the font choice for everything printed. Any space you walk into reveals a new interpretation of Southwest style, mixing farmhouse chic with rustic industrial and classic Spanish Colonial.
After a drink in the bar, I got a table in a packed Campo for dinner. I had a glass of Stoller pinot from the Willamette Valley and the cardoon mezzaluna with maitake mushrooms, sunchokes, and cream as a starter. For a main course, I ate scallops with a piquant sauce full of flavor, which I mopped up with house-made bread.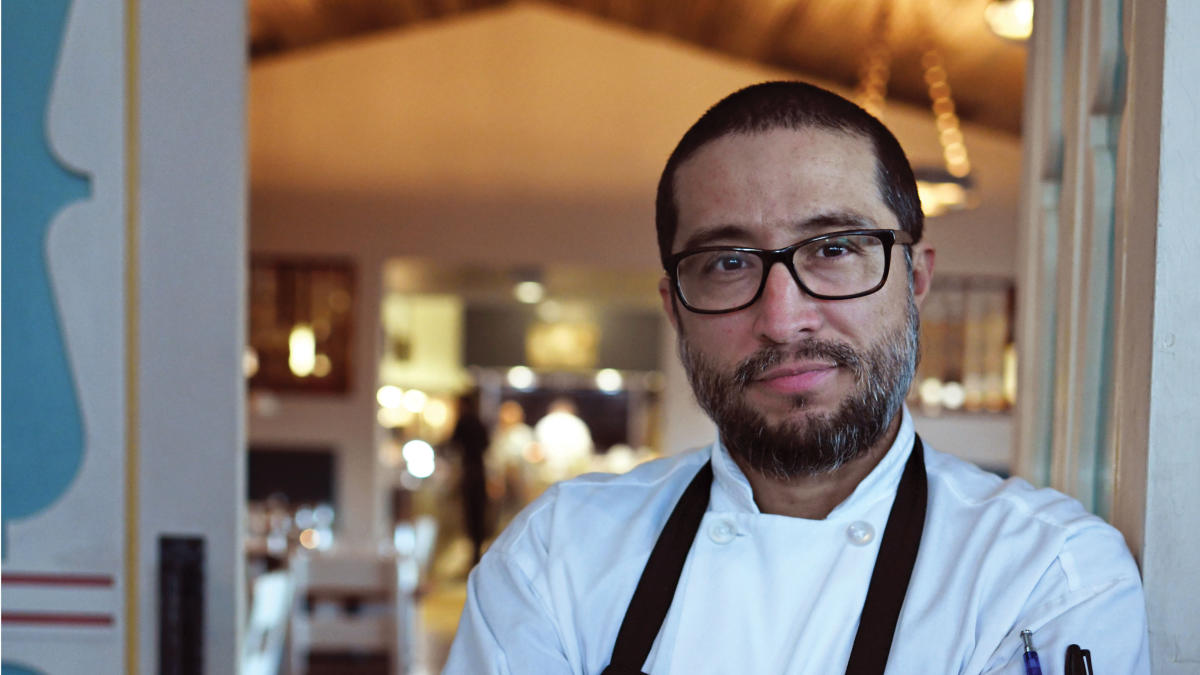 Campo's sous-chef Daniel Garcia.
IN THE MORNING, THE FIRST LIGHT POURED over the Sandias onto the lavender plants. I walked around the grounds and along the dirt road that parallels the acequia that runs through the neighborhood underneath massive centuries-old cottonwood trees. For breakfast at Campo, I ordered a fresh smoothie, chilaquiles with fantastic eggs and a sauce with just the right amount of lingering heat, and a cup of black coffee. Afterward, I found a place on the property to sit in the sun, not far from Hurd's mural. The ducks waddled past. Cranes warbled above. The alpacas ate breakfast and then lazed around. It was here that I began to understand Garcia's optimism.
"I have a lot of hope for humanity," he told me, "a lot of hope for where we're going to go, because we can't keep going the same direction we're going. And if we can do it right here, on this scale, we're just showing the world that, hey, anybody can do it if you really try."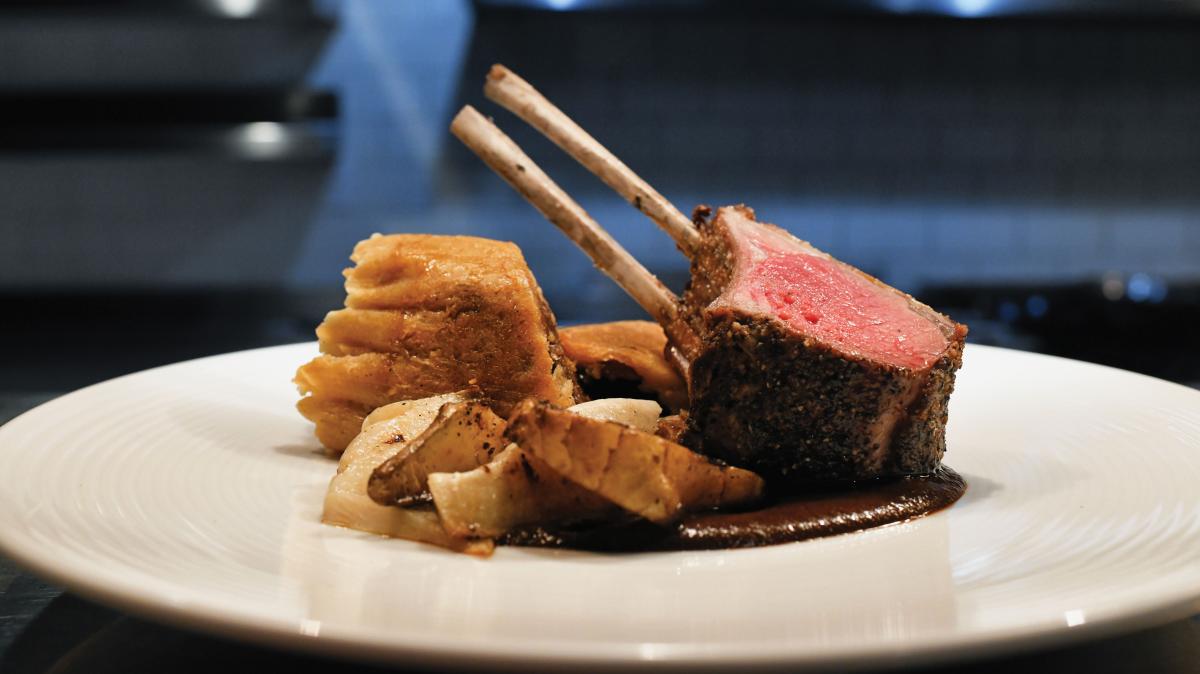 Campo's Shepards Lamb Mole Negro.
MORE THAN A FARM
Rooms at Los Poblanos Historic Inn start around $200 a night. Guests have access to a salt-water pool and workout facility and can check out cruiser bicycles to explore the property as well as other farms, wineries, and breweries in the Río Grande Valley. Pets are not allowed.
The Farm Shop and Campo are both open to the public. Visit the Farm Shop 9 a.m.–6 p.m. daily. The restaurant serves breakfast and dinner Wednesdays through Sundays; reservations are essential. Bar Campo is open 4–9 p.m. daily. The restaurant also hosts culinary events.
LEARN MORE
Check out tours of Los Poblanos' farm, art, and architecture.