For lovebirds of both the local and far-flung persuasions, New Mexico offers a wealth of outstanding wedding locations that have a strong sense of place. The landscape, the architecture, the food, and so much more add up to exquisite special events that just couldn't happen anywhere else.
Ghost Town Vows
Remotely nestled in the foothills eight miles south of Santa Fe, Bonanza Creek Ranch's Movie Town set hosted the wedding of Turner Ross and Sarah Wolters, who live in Talpa. Bonanza Creek, where westerns like Lonesome Dove and Young Guns were filmed, was the perfect backdrop for their "1920s traveling circus ghost town theme."
Creating the Moment
Turner (a documentary filmmaker) and Sarah (a nonprofit consultant) asked their guests to create an ontheme identity and dress the part: a Wild West outlaw, circus performer, or saloon girl. Sarah sewed red and white curtains and created a giant banner with paper pinwheels. Sarah's mother scoured thrift stores in central Texas, amassing a large collection of hobnail milk glass in which they placed red chrysanthemums, faux succulents, and more. For the reception, guests were encouraged to participate in a dance-off.
Sarah wore a 1950s silk chiffon debutante's dress from Off Broadway Vintage Clothing and Costumes, in Albuquerque. Susan, the owner, was such a pro to work with that Sarah tried on only two dresses before finding the one she chose.
The Menu
The couple wanted to share fresh, flavorful New Mexican food with their guests. Appetizers included tostaditos with mole negro, avocado, and asadero, and empanaditas with local lamb picadillo.
Turner and Sarah both love Santa Fe Brewing Company; they secured kegs of its pale ale, nut brown, and porter brews, perfect for pairing with red-chile-dusted peanuts and buttered popcorn with greenchile salt in the saloon.
In lieu of traditional wedding cake, for dessert they served the bride's three favorite desserts: Mexican chocolate brownie sundaes, Nutella s'mores, and Mexican wedding cookies.
Advice from the Bride
"Our photographer, Anne Staveley, took stunning portraits of all our wedding guests. These served as our party favors. Your wedding is not just one day, it's a pinnacle moment in your legacy. Use it to honor each other, and everyone in your lives who has supported and loved you both."
Farm Chic Union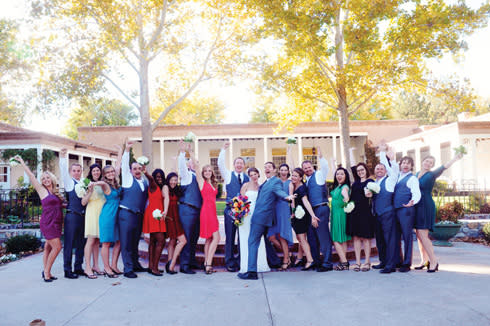 Photo by: Kim Jackson
With its historic 1930s landmark architecture by John Gaw Meem, majestic views of the Sandía Mountains, and winding garden pathways, J.J. and Sara Mancini felt Los Poblanos Historic Inn and Organic Farm, in Los Ranchos de Albuquerque, was the ideal setting for their intimate, colorful October wedding. And even better: it was close to their home in Albuquerque, where Sara works for the city as a policy analyst and J.J. is the owner of Desert Fuels.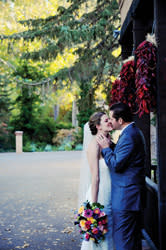 Photo by: Kim Jackson
Creating the Moment
The bride and groom wanted their marriage to be "a light for others," so the décor included lots of candles. Loving the contrast of fun colors against white and vice versa, Sara opted for a big, colorful bouquet that would pop against her lacy white Vera Wang wedding dress. The 12 bridesmaids were encouraged to choose any dress they wanted to wear, as long as it was made of non-shiny cotton material in a solid color; they each carried a single white hydrangea. J.J. and Sara also had four of their nephews form a bubble brigade; they walked down the aisle blowing bubbles at guests. The couple wrote their own vows, and read them to each other for the first time at the wedding ceremony.
The Menu
Los Poblanos was recently named one of the "Top 10 Food Lover's Hotels in the United States" by Bon Appétit magazine. Served family style, dinner included locally grown quinoa-stuffed bell peppers and roasted chicken wrapped in bacon. J.J. recalls, "And those tomatoes ... oh, those tomatoes. Could you call them candy?"
For dessert, J.J. and Sara served an assortment of cupcakes from Cake Fetish, an Albuquerque cupcake bakery. Cupcakes were decorated with hand-inscribed flags describing a memory associated with each type of cupcake. The s'moresflavored cupcakes included a tidbit about how they loved camping and making s'mores; the snowball cupcake flags told a story about how the couple once trekked up a snowy mountain to find their Christmas tree. The women of the bride's family made their favorite kinds of cookies, and guests were invited to take home a selection as a wedding favor.
Advice from the Bride
"Don't be afraid to limit your guest list for whatever reason if you want or need to. We wanted an intimate wedding and kept our guest list small, but the day after, we invited all of our friends, family, and co-workers to celebrate our first day of marriage at a backyard barbecue."
Destination: La Plaza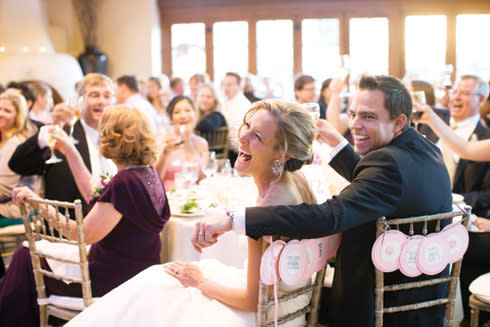 Photo by: Robin Parrott Two birds Studio
Jay Barron and Corrie Plant, lawyers from Santa Monica, California, had visited Santa Fe twice before, and found it to be a very romantic, unique city. They especially fell in love with the art, food, and historic character.
They chose the Santa Fe landmark hotel La Fonda on the Plaza to host their wedding, because they liked its Pueblo Deco style. They also appreciated that the ceremony amargin-top:5px;nd reception could take place in the same space, and serve as lodging for their guests. And they knew that friends and family from out of town would enjoy exploring all of the downtown shops, galleries, and restaurants on foot.
Photo by: Robin Parrott Two Birds Studio
La Marcha locales These downtown Santa Fe venues are also situated perfectly for a la marcha procession to the Plaza.
Inn and Spa at Loretto is among the most photographed buildings in all of New Mexico. As an architectural re-creation of the famous Taos Pueblo, this Santa Fe hotel provides a magnificent backdrop for your wedding photographs. (800) 727-5531; innatloretto.com
La Posada de Santa Fe Resort & Spa's adobestyle architecture, colorful gardens, and cozy outdoor kiva fireplaces evoke magic and charm. (855) 278-5276; laposadadesantafe.com
Creating the Moment
Corrie had a personalized stamp made with the word "love," their names, and their wedding date, then set about stamping the paper items: napkins, menus, welcome-bag items, and programs. Their florist, Margaret Bost, incorporated coordinating shades of peonies into all of the bouquets and table arrangements. Corrie wore a strapless, draped-bodice Monique Lhuillier gown with hand-bustled trumpet skirt.
To welcome guests, they assembled and gave out goodie bags packed with snacks, treats, and information about Santa Fe. They also included blank cards in which they asked guests to write a little something about what inspires them in life and bring their card to the wedding to be placed in the card box for Jay and Corrie to enjoy after the wedding day.
After the wedding ceremony, the couple and their guests enjoyed a festive mariachi-led musical procession known as la marcha. Though it is typically done at Hispanic weddings, this New Mexico wedding tradition is being incorporated by people of all cultural backgrounds. This procession travels through the streets, traditionally from the church to the wedding reception space, and leads the bride and groom to their first dance.
The Menu
For dessert, the couple decided to offer guests a bar stocked with pink candy instead of a traditional wedding cake. They thought it was one of the areas they could save on cost while adding something fun and personal. The bride made a sign for the table that read "love, sweet love."
Advice from the Bride
"We definitely recommend including the local tradition of la marcha musical escort and dance. One of the greatest memories we have is of the mariachi band leading all of our friends and family in a parade around the Plaza right after the wedding ceremony. The guests lined up on the sidewalk outside La Fonda shaking their maracas as the mariachi band led us through the crowd. We felt such joy in that moment."
Day of Wine & Roses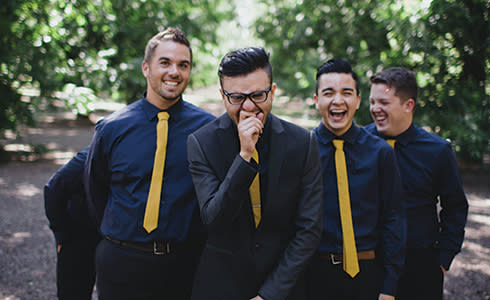 Photo by: Latisha Lyn
Roderick and Jenae Mendoza, of Las Cruces, dreamed of getting married near the bride's childhood home in southern New Mexico. Jenae, a musician who also works in accounts payable, and Roderick, a barista who also works with a production company, soon realized that the Rio Grande Winery was the perfect setting for their "vintage meets rustic" wedding. Set in the Mesilla Valley, it also offered gorgeous views of the Organ Mountains.
Photo by: Latisha Lyn
Creating the Moment
Full of do-it-yourself details, Roderick and Jenae's wedding day became a collaborative effort among family and friends. From the boutonnieres and bouquets made by the bride and her bridesmaids using hydrangeas, wildflowers, and mustard yarrow for pops of color, to the centerpieces (mason jars wrapped in burlap as candleholders), the wedding decor was kept simple to harmonize with the pastoral theme. At the reception, there was not a dry eye in the house when Roderick and Jenae, both very musically inclined, performed songs they had written for the occasion as special gifts to each other.
The Menu
To share their love of New Mexican food, Roderick and Jenae chose Las Cruces restaurant !Ándele! as their caterer. Dinner included red and green enchiladas, flautas, beans, and rice, as well as an appetizer of chips and fresh salsa. The couple served a four-tiered wedding cake with vanilla, chocolate, and red velvet layers covered in almond buttercream frosting. They chose to give their guests handmade chocolate truffle favors from the Chocolate Lady, in Old Mesilla, custom-wrapped with ribbon matching their color scheme of mustard yellow and navy. The winery's muscat and port were also available to guests.
Advice from the Bride
"We had two couples that we love and respect give us advice and a blessing at the reception. This meant so much to us."
Northern Glory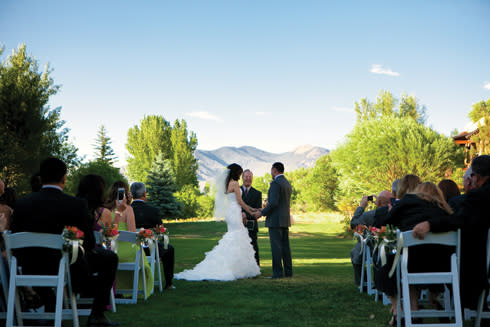 Photo by: Talitha Tarro
Albuquerque couple Don and Melissa Ortega knew they had to consider Taos's El Monte Sagrado Resort when a friend described it to them as "the garden of Eden." Melissa, a project manager, and Don, the owner of a jujitsu studio, were charmed by sunlit streams, tropical flora, and the sounds of calming waterfalls. Views of the Sangre de Cristo Mountains from the Taos Mountain Lawn ceremony site sealed the deal.
Photo by: Talitha Tarro
Creating moment
For her June wedding bouquet, ceremony, and reception decor, Melissa chose roses in colors of peach, apricot, and cream with gold accents to create a warm and summery feel. The bride's bright blue jewel-studded shoes added a pop of color, as well as doubling as her "something blue." Mark McKenzie, the minister from their church in Albuquerque, served as officiant, and read from love letters that the bride and groom had written to each other.
The Menu
Melissa and Don made New Mexico–themed gift baskets and delivered them to their guests' rooms. They contained candied pecans from Las Cruces' Stahmann Farms, bottles of St. Clair Winery's red and green chile wines, and El Pinto salsa, all nestled into Native woven baskets. The couple chose a cupcake tower, plus a cake for the traditional cutting of the cake. The cupcake frosting was piped to look like roses, then decorated with fresh flowers by Taos florist Simply Shelia. As a parting gift, guests received a locally sourced honey-chipotle spice mix.
Advice from the Bride
"Each year on our anniversary, we're going to make a trip back to El Monte Sagrado. We recommend every other couple visit their wedding site, too."
Hitched at the Hacienda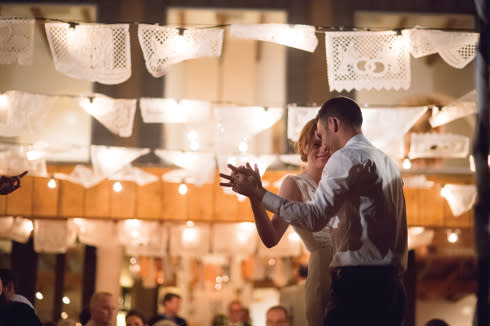 Photos by: Ashley Davis
Although Jasmine and Nick Firchau live in Brooklyn, where they are Web editors, they were born in Santa Fe, and decided to celebrate their wedding in this beloved Southwest setting. Nestled in the Ortiz Mountains, with courtyard views of the Sangre de Cristo Mountains in the distance, the just-remote-enough Hacienda Doña Andrea (in Los Cerrillos, an hour's drive from the Albuquerque airport) set the scene for Jasmine and Nick's gorgeous Southwestmeets- Gatsby-inspired wedding.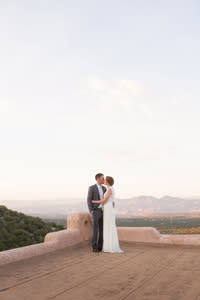 Photo by: Ashley Davis
Creating the Moment
Echoing the desert's palette, Jasmine chose a color scheme of cream, copper, peach, and pale gray. The bride's friends decorated the ceremony arch by wrapping a fabric sash around it and accenting the top with large paper flowers. The Hacienda staff hung papel picado, intricately punched paper that is traditionally made in Mexico but used throughout New Mexico, across the Hacienda's courtyard, along with string lights. Other handmade details included carefully embellishing each wedding invitation with a single feather. For place cards, Jasmine attached kraft paper cards to sage sticks and dried flowers sourced from the Santa Fe Farmers' Market.
The Menu
Marja Catering provided a light, seasonally driven Southwestern menu with chicken mole appetizers, a make-your-own flank steak taco bar, veggie enchiladas, and chilled gazpacho.
Advice from the Bride
"Don't be afraid to ask for help. I tried to do so much of it myself and finally realized I needed someone besides my fiancé to help me work through all of the tiny decisions, because we were beginning to stress out and lose perspective."
For more NM weddings, visit NewMexicoWeddingMagazine.com, edited by Susana Lucero.