Jessica Ilalaole draws inspiration from nature for her horseshoes, embroidery, and jewelry. Courtesy of CobraCult.
NOT FAR FROM THE COLORADO LINE, Jessica Ilalaole and her husband, Cody Hodge, live on a homestead with their three-month-old baby and their dogs, Pancho and Lefty. They built the house themselves on four acres near Questa that back up to the Latir Peak Wilderness. This plot is more than a home, though. It's an inspiration. 
An artist and maker, Ilalaole takes daily sojourns through the towering ponderosas, noticing the animals that live in the forest. "I gravitate toward animals, birds, and any colors that occur in nature and especially those in the mountains," she says. "When you are surrounded by wildness, it preserves something wild inside you, and that can be used to make art." 
A native of Hawaii who grew up swimming in the ocean and hanging out on cream-hued beaches, Ilalaole takes to unique, vintage mediums like painting old horseshoes and ornamenting them with brightly colored snakes, crescent moons, yuccas, and stars. Layered with coats of acrylic paint, they achieve depth and texture. 
Read More: 14 New Mexico makers we love right now.
She also embroiders fabric with quaint cabin scenes and local flora, forms ceramic earring holders shaped like birds and horses, and is a skilled silversmith. The work flows easily for Ilalaole, who paints whenever she feels the spark. Her CobraCult creations have built a passionate following, including more than 39,000 followers on Instagram, and frequently sell out quickly when posted online.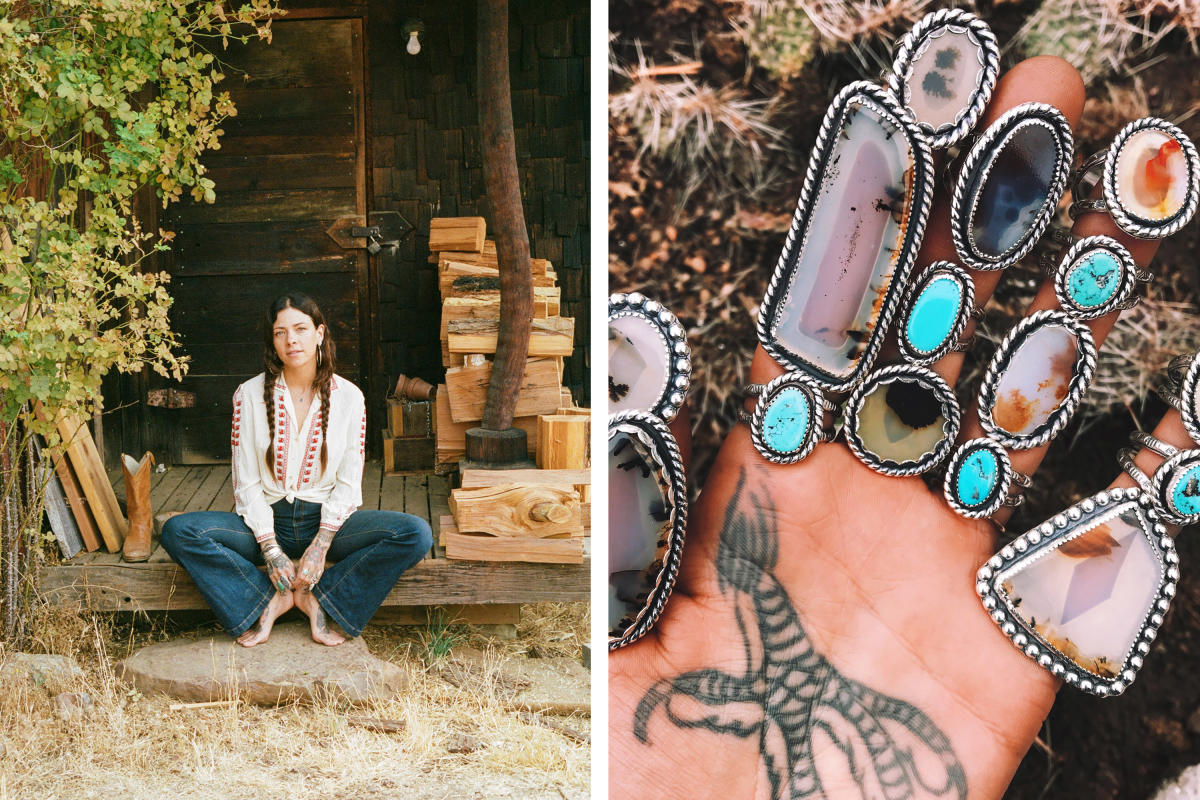 CobraCult founder Jessica Ilalaole has found inspiration from nature on her homestead just south of the Colorado border. Courtesy of CobraCult.
Her process has shifted since her son, Forest, was born this summer. "It's taught me the importance of simple moments," she says. "Staying in the present is important with a child. Not getting sucked into the news or your phone too much. You have to stay positive for them and be stronger for your child." 
Read More: Tracing the history of New Mexico through jewelry.
She likes a slow, intentional morning with a cup of coffee followed by exercise. Sweating helps ignite her creativity. Before the baby, Ilalaole often spent up to 10 hours in her studio each day. Now she has a little art corner next to her son's crib. "When Forest is napping, I make art," she says. "When he is awake, I belong to him."