Above: María Benitez helped put New Mexico on the map for flamenco. Photograph by Ruven Afanador.
BORN IN MINNESOTA to a mother with mixed Native heritage and a father from Puerto Rico, the future María Benítez was raised largely in Taos, a place she considered home, and from which she built an international career as a standout flamenco dancer. In her 2019 book Fringe: María Benítez's Flamenco Enchantment (Atomic City Lights Publishers), author Jaima Chevalier traces the artist from her humble roots to a commanding influence on an art form that excels all across the state. Year-round performances abound in Albuquerque and Santa Fe. The National Institute of Flamenco plans to present the 33rd annual Festival Flamenco Alburquerque June 12–20, with workshops, youth camps, and performances by international standouts. With this excerpt from Fringe, we pay homage to the woman who took a Spanish tradition and  bestowed upon it a New Mexico home.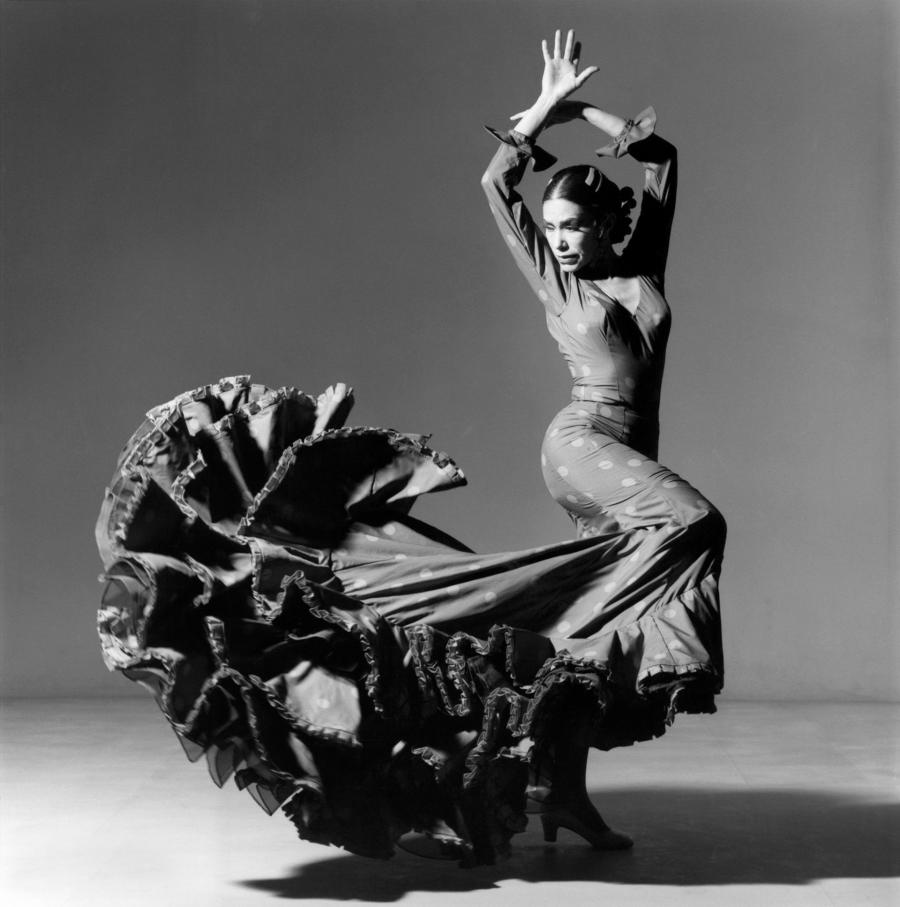 Above: María Benítez always brought a flourish to her performance of flamenco. Photograph by Lois Greenfield.
THE PHYSICALITY OF FLAMENCO is cataloged in a textbook set of movements and expressions: minute curls of the fingers, the downcast gaze, the fiery sparks erupting between the principal dancers, the incessant tapping seemingly aimed at breaking the floor into splinters. Above all, there is that certain look that a flamenco dancer has: a peculiar gaze that is subject to interpretation. Between the male and the female dancers, the woman might be an object of desire. She might be an object of disdain or rivalry. All of these emotions might be real or feigned. The flash of insight from the eyes is vital to the interpretation of the dance story. 
María Benítez says that you must have the ability to transmit the power of what you are saying from your heart. Form is important, but the fire must burn inside of you. 
In María's case, she was able to hone her artistic statement by emitting a brilliant fire from her eyes. She could cast her gaze in such a way that it could seem to land in some middle distance between herself and the intended target: that verge between life and death where those watching might be struck by the feeling that they might die if they did not reciprocate the passionate love she was conveying. Even in repose, perhaps while her dance partner took a turn around the symbolic fire at center stage, María still crackled with emotion. She wanted to skirt the fire. She has attributed this ability of hers to the fact that she is "earthy and gutsy," "mean and angry, full of strength and power." She stresses these traits over that of "coquettishness," so often identified with the art form. Her mastery of flamenco is so profound that even if she was as still as a statue, María could evoke a dream with her eyes wide open. Or she could close her eyes and call forth a dreamlike state that brought the audience along on a trip into the imaginary. 
María was the ultimate conjurer, making viewers step into the dream before their eyes, turning the performance into a communal experience. 
In flamenco, the role of the narrator, or lead singer, informs the story and sets the stage. After the opening song, guitar music and dancers are layered in gradually or with a bolt of light. The dancers appear to search the stage floor for answers to the great questions of life. Silence follows the eruption of passion. Themes of love, loss, and pain are parts of the tapestry of flamenco. Despite the universality of these feelings, the only way to convey them is to make it seem as if they have never happened to anyone before. That is what made María's capture of them seem so authentic.  
María forced you not only to drink from the same cup, but to drink it to the dregs. Except in her case, after she had drunk her fill, she threw the cup to the stage and smashed it into bits.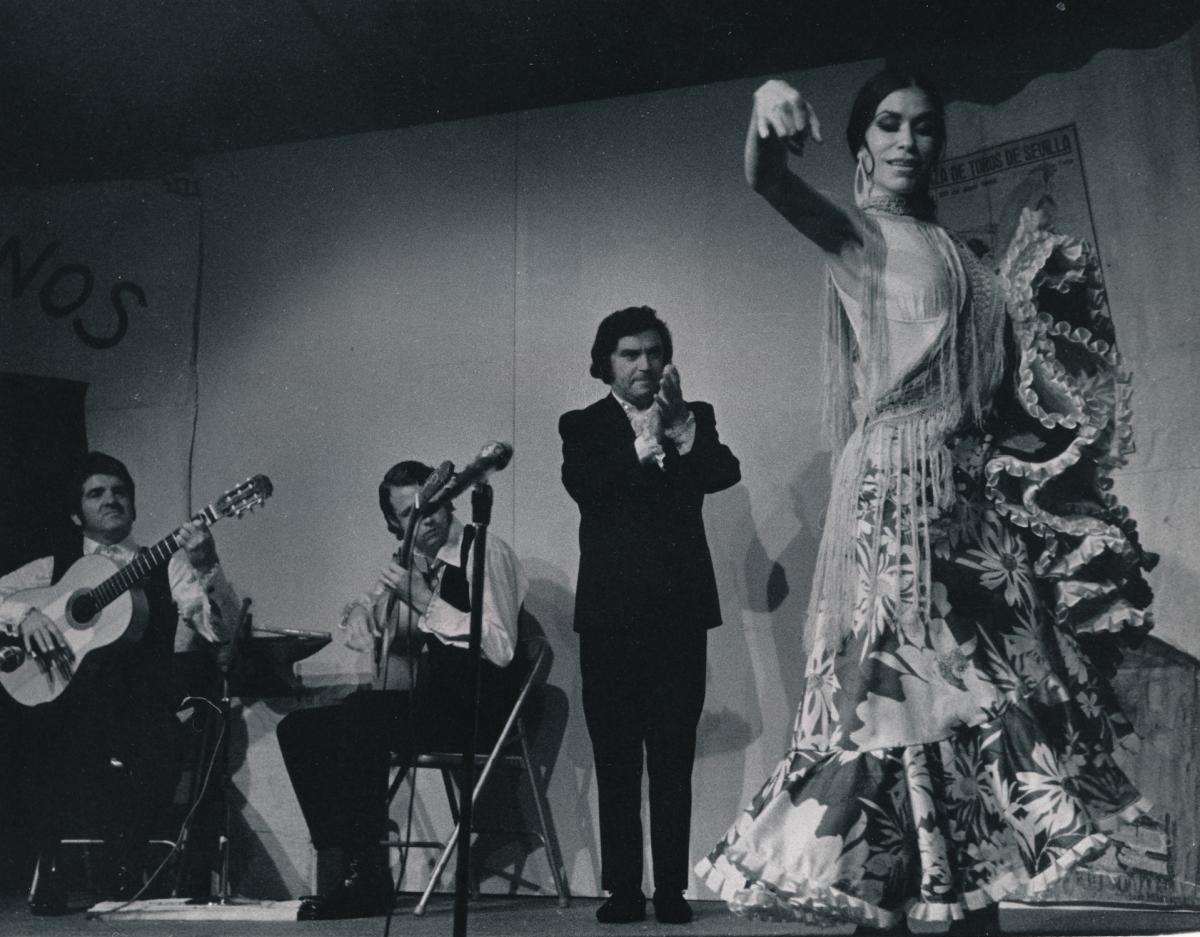 Above: El Nido restaurant, in Santa Fe, was a hot spot for flamenco performances. Photograph courtesy of Tony Vinella. 
MARÍA'S ROUTE TO FAME can be seen as circuitous or as very direct. After initial ballet and Spanish dance training in the United States, she traveled to Spain to study and perform. She also performed in North Africa, Portugal, and South America with large national Spanish dance companies and smaller flamenco groups. In the 1960s, she achieved international renown as a performer, choreographer, and director. The New York Times praised "the extraordinary force of her technique," with its "distinctive, sinuous style that suits her elongated arched back and expressive arms." She has been described by critics as "the Baryshnikov of Spanish dance." 
She met Cecilio Benítez in Madrid in 1966. They quickly married and moved to Taos, where María had been raised and where their son, Francisco, was born in 1967. Eventually, María and Cecilio co-founded the María Benítez Teatro Flamenco, which performed in 49 states and abroad at more than 1,600 venues, reaching millions of people live and on TV. Over the years, Teatro Flamenco and Estampa Flamenca, a second troupe of youthful dancers, kept up a blistering pace of performances. Her choreography for Carmen for New York's Metropolitan Opera was televised nationally in 1997 on PBS's Great Performances. Still, she reveled in the obscure and the difficult. In 2013, she portrayed the wife of the Spanish governor in New Mexico, both of whom were arrested by the Inquisition and accused of secretly being Jewish. In Her Own Voice: Doña Teresa Aguilera y Roche and the Intrigue in the Palace of the Governors was a Moments in Time piece co-produced by NMPBS and the New Mexico History Museum. 
Teatro Flamenco was a huge part of the Santa Fe social and cultural scene for many years. María danced for visiting celebrities such as Princess Grace of Monaco, actress Anne Baxter, and ballet star Jacques d'Amboise. Waitresses and plumbers came to see her or to take dance lessons. At one point, it seemed as if every photographer in town counted an image of her in their collections. Artists began to populate posters, postcards, and paintings with her image.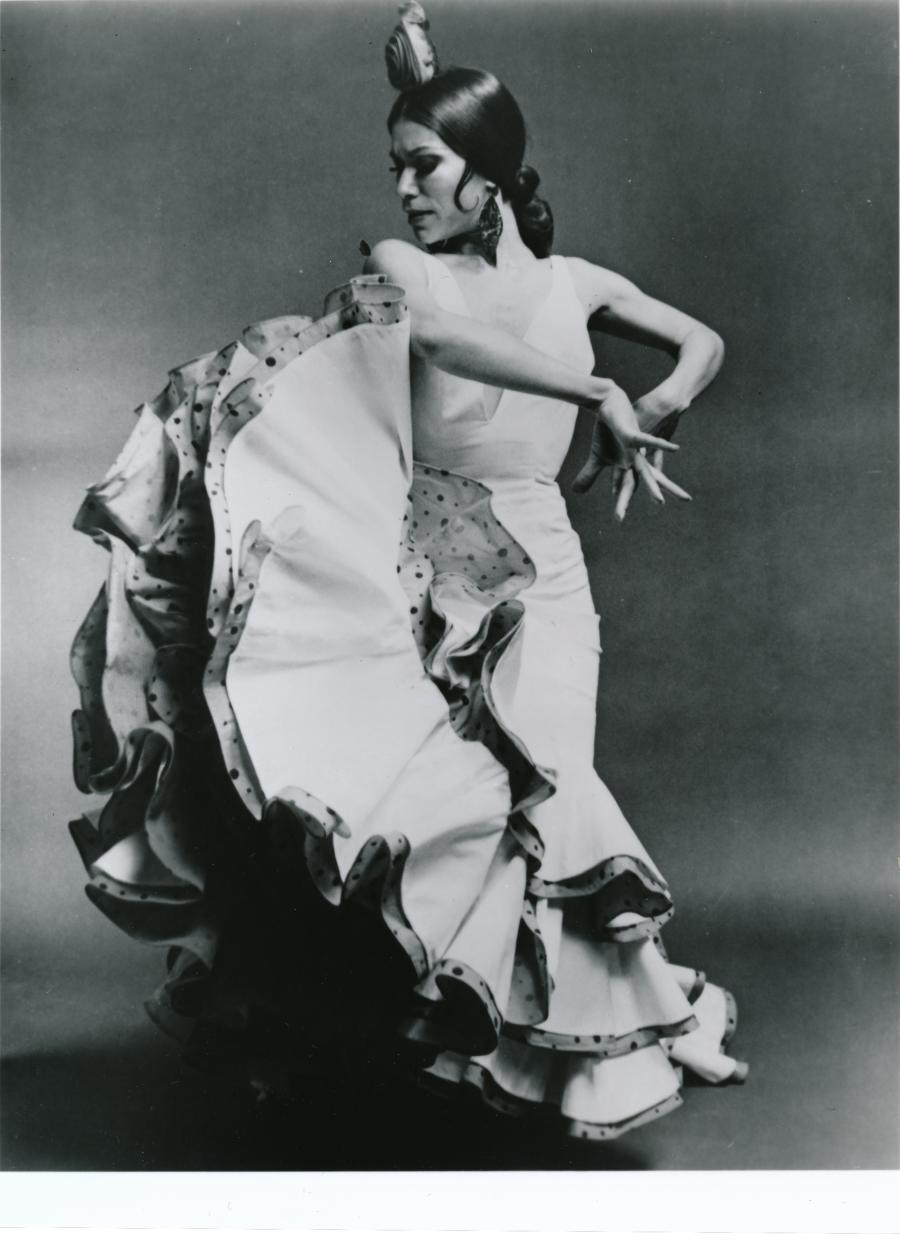 Above: María Benítez paid attention to every detail of her dancing, from her form to the precision of her spit curls and the drama of her costuming. Photography by Ken Howard.
In 1983, María and Cecilio co-founded the Institute for Spanish Arts as a nonprofit educational and cultural organization to preserve and promote the rich artistic heritage of Spain. The institute used art, music, poetry, and theater to engage students. For decades, the couple worked extensively in the public and private school systems in and around Santa Fe. Summer workshops for adults brought in people from around the world to learn guitar, dancing, singing, and percussion. 
As the classes grew, it was easy to see how the art form of flamenco was taking root in the high desert, and how María's style of choreography began to imbue the work of her students as they became professionals. She helped to establish or further the careers of many others, including Antonio Granjero, Estefania Ramirez, Vicente Griego "El Cartucho," Juan Siddi, Ricardo Anglada, and José Valle "Chuscales." (Chuscales is a flamenco guitarist from Antequera, Andalusia, whose formative years were literally spent in the Gypsy caves of the region.) 
Among the artists María helped to stardom was her protégé Emmy Grimm, "La Emi," one of the most popular dancers in New Mexico today. In 2019, La Emi was chosen to choreograph and perform in Opéra Louisiane's production of Carmen.  
When Cecilio passed away in January 2014, at the age of 80, María's own career began to draw to a close. In her many decades of traversing the globe, she never lost who she was at heart: a woman from an innocent time and place, who, despite the whirlwind cosmopolitan scenery of international fame, always wanted to look back at her beloved New Mexican vistas of mountains and cactus and waves of blue grama grass. 
María's dignity translated to a special kind of power, a presence conversant with both royalty and everyday people, allegiant to no one culture yet enthralled by all of them. That specialness kept her apart from any group, on the fringes of society, not unlike the fringe of her elaborate shawl, her audience watching as it fell in a solitary spiral with a move that began above her head and followed in a cascade down to her feet. She owned the control of that spiral. She held that power and understood its essence, capturing its ballet, defying time, as if to stop it in free fall—as if to say, "Watch this. You will never see it again."   

SEE IT LIVE
In Santa Fe, catch seasonal flamenco performances at the Lodge at Santa Fe and regular performances at El Flamenco, El Mesón, and El Farol restaurants. Take a class at the Santa Fe School of Flamenco or at Emi Arte Flamenco, founded by international performer La Emi. 
In Albuquerque, Tablao Flamenco Albuquerque performs at the Hotel Albuquerque at Old Town. Casa Flamenca, also in Old Town, offers classes and features performances. The National Institute of Flamenco hosts a Conservatory of Flamenco Arts and organizes the annual Festival Flamenco Alburquerque, now in its 33rd year, June 12–20.