Above: Jane and Steve Darland outside their home. Photographs by Jay Hemphill.
THE WATER OF ALAMOSA CREEK runs clear and constant and so warm that you could irrigate with it all year long. That, in part, explains the many pomegranate trees I spy around the village of Monticello. A few past-their-prime fruits still hang on to the highest branches of these Middle Eastern natives, despite the weather's early-winter bite. Centuries ago, that water secured the townsite I'm now rambling through, about 25 miles northwest of Truth or Consequences, as the ancestral home of the Warm Springs Apache, who also ranged farther north, following the stream into the high-country forests of the San Mateo Mountains.
I find the other reason for the pomegranates inside a sprawl of restored adobe buildings where Jane and Steve Darland take a break from pruning grapevines, simmering a pot of some wildcrafted-herb potion on the stove, and distilling—out back, in the Italian-style acetaia—the best balsamic vinegar on the domestic market.
"There are only 67 commercial makers of traditional balsamic vinegar on the planet, and only one outside of Italy," says Steve, referring to his own business, which makes Traditional Aceto Balsamico of Monticello. Barrel-aged for 21 years, each petite four-and-a-half-ounce bottle is priced at $154.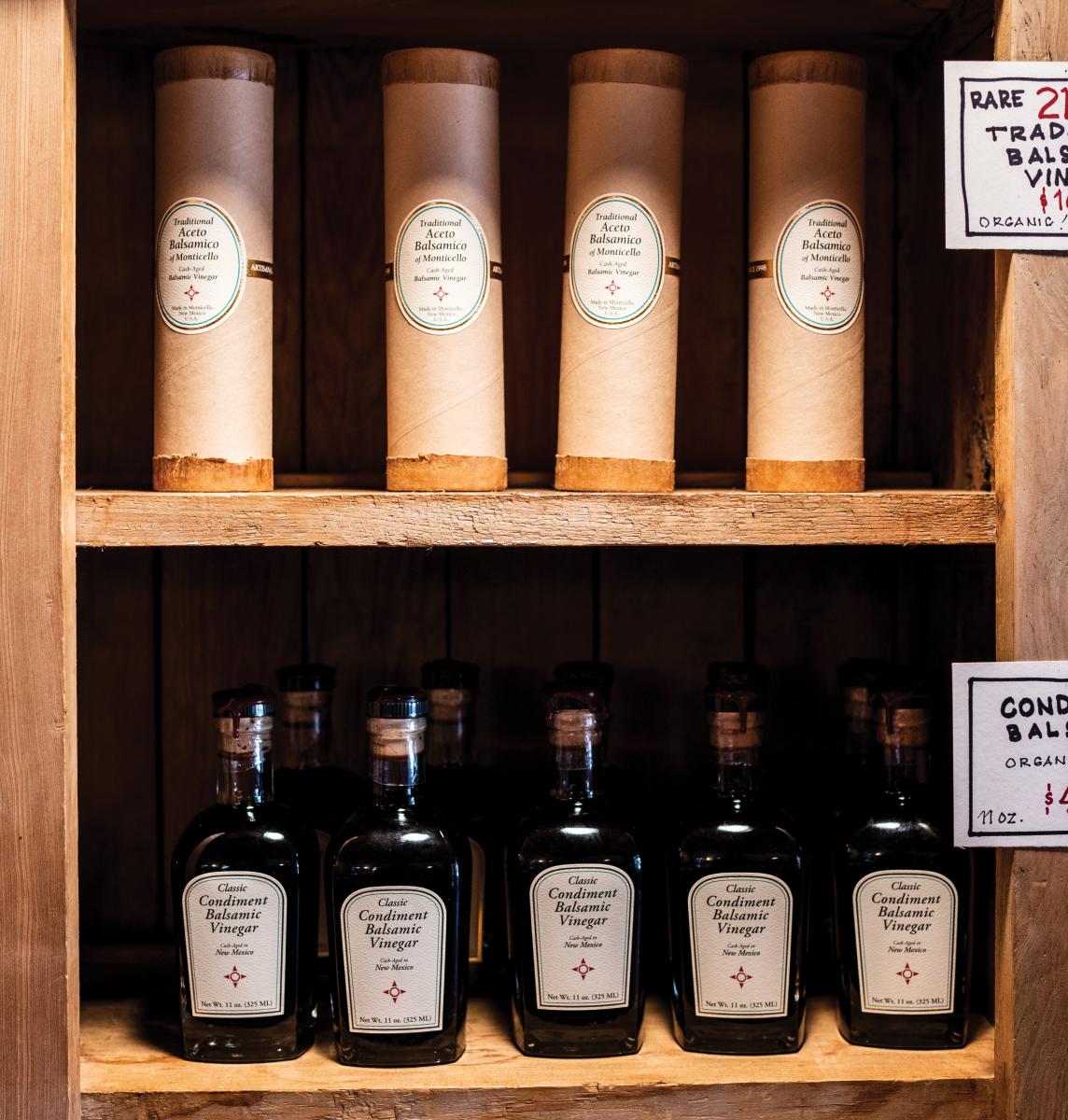 Above: Bottles of tantalizing balsamic vinegar.
THE EXISTENCE OF THIS EXCLUSIVE elixir is noteworthy enough. That it hails from an obscure historical hamlet of just 50 full-time residents and that its owners helped spark agricultural, architectural, and artisanal revivals in the community nearly knocks me out. They casually mention a teenager up the canyon who taught himself how to do blacksmithing and won an episode of the History Channel's Forged in Fire show. And, oh, his mom knits earthy ponchos, tights, and sweaters from alpaca wool, and his dad makes one-of-a-kind ukuleles from local walnut, almond, and oak wood. Down the way lives a Philadelphia transplant, an artist, who quietly runs what Jane calls "the MoMA of Monticello" and whose wife bakes a tasty rum cake. Growers throughout the valley sell their produce at a summer-through-fall farmers' market started by the Darlands in nearby T or C. And then there are the potters, crocheters, woodworkers, and other craftsfolk who turn the old Sullivan Store—restored by the Darlands—into a Santa's Village for two weekends every December.
The stories pile on—every restored building, every farmer, every artist, it seems, has one. Long on a list of New Mexico ghost towns—Cuchillo, Winston, and Chloride are just down the way—Monticello has collected enough stories to last for days. Let's start with one in particular, a tale that carries a sophisticated tang.
Read more: The silver-mine boom times faded, but history-loving émigrés are pumping new life into the places left behind.
STEVE DARLAND CLIMBED THE executive staircase in the West Coast wing of the J. Walter Thompson advertising firm while Jane held down their Marin County, California, home front and ran a design firm. Every year, they passed through New Mexico on a road trip and recalled his family's ranching roots and her childhood memory of spending time on the Navajo reservation. His sister discovered Monticello (said with an "s," not a "ch"), and in 1992 the couple bought what was then all but a ruin and began nurturing a dream of retiring to the vintner life. Eventually, the glut of competition soured them on the wine-making—but not on the grapes.
Vinegar, they figured, was an open field.
Those of us familiar with the balsamic vinegar on grocery-store shelves need to know that that stuff has as little in common with the real thing as Mad Dog has with Dom Pérignon. What we usually buy is bottom-shelf red-wine vinegar larded up with a darkened sweetener and barely aged—sometimes for as little as one night—before being pumped into 500-gallon lugs and shipped from Modena, Italy, to America. "They can't even sell it in Italy as balsamic," Steve says. "They call it industriale."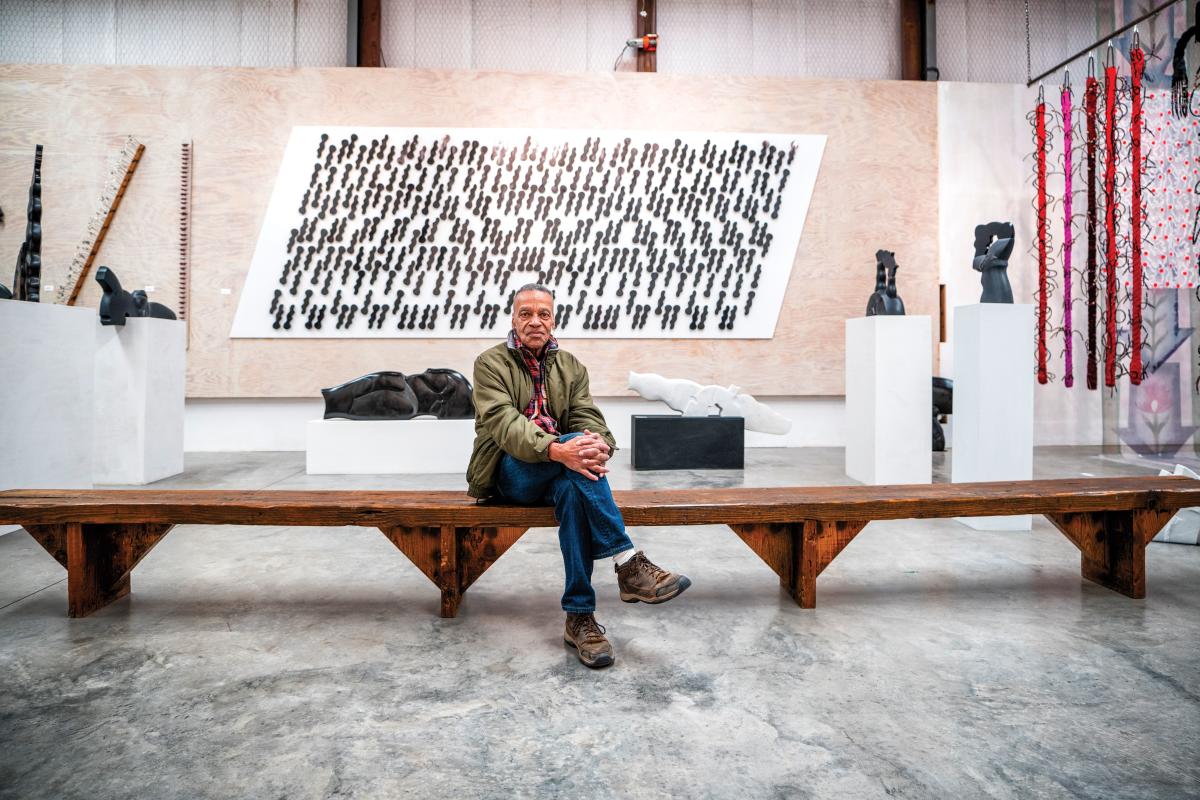 Above: The artist mmpharr takes a break at Pharrwest Galleries, aka "the MoMA of Monticello."
Real balsamic requires a hands-on process of distill-and-wait, shifting the liquid among wooden barrels over a course of years, until it grows so rich that the Darlands recommend consuming it only by the teaspoonful—drizzled, perhaps, across a slice of sun-ripened melon. "Italians grew up having it only at special occasions," Steve says. "It's an elixir."
He walks me from their home past trained vines of Trebbiano Toscano and occhio di gatto grapes and into a two-story wooden structure. It's the acetaia—the vinegar house. Intoxicated by the aroma, I float upstairs, where rows of Italian-made barrels unfurl across two wings—eight batteries of seven barrels apiece, each made from a different wood (oak, chestnut, cherry, mulberry, ash, acacia, and juniper) to add distinct layers of flavor. Steve notices me staring at a puddle of escaped balsamic ooze. He nods an okay. I dip in my fingertip and bring it to my lips.
This is the moment when a life changes. Words fail. It's that good.
They produce just 1,000 bottles a year—in a good year. You can buy it on their website and at places like the Farm Shop at Los Poblanos Historic Inn, in Los Ranchos de Albuquerque, where Chef Jonathan Perno includes it in dishes and drinks at his restaurant, Campo. International chef Yotam Ottolenghi uses it in his Las Vegas restaurant.
The Darlands had to wait three years before their certified organic grapes were worth harvesting and another 12 years for the juice to age into something sellable, so they devised interim moneymakers. Pomegranate juice was one of them, and as they renovated other village properties and enticed newcomers to do the same, even more pomegranate trees cropped up. They planted pistachio and almond trees and waves of herbs. Jane taught herself to craft hydrosols and essential oils for their daughter Amy to use at International Orange, a Bay Area day spa she co-founded.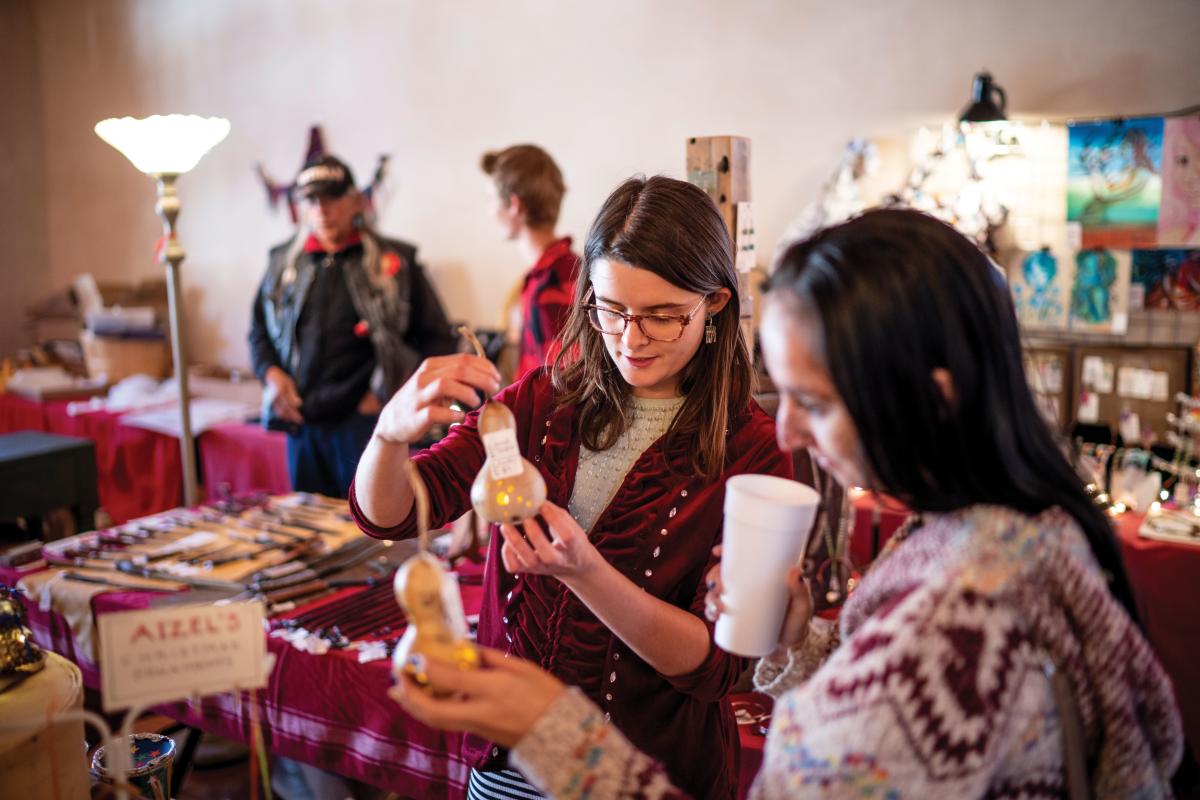 Above: Shoppers at the annual Holiday Store.
Bit by bit, they helped renew a village that once was an alternate leg of the centuries-old El Camino Real. Hispanic farmers properly founded it in 1856 as Cañada Alamosa (Cottonwood Canyon); an Anglo postmaster renamed it Monticello in 1881. The post office remains, along with the ca. 1860s San Ignacio church and the old plaza, where parishioners still gather for coffee and doughnuts after monthly Mass. At its 1910 peak, Monticello could count 1,000 families living up the canyon and down the valley. It had a Butterfield Overland stage stop with a hotel that the Darlands salvaged into a residence for a succession of relatives. Ghosts persist: A 1935 WPA-built school rests on the town's outer edge, abandoned, weedy, and roofless.
There's no gas station, no grocer, no restaurant, no obvious reason for anyone to tool north on NM 142 beyond the rustically charming Instagram ops. But I'm here in December, and that's when Monticello comes out to play.
SHORTLY AFTER 10 A.M. ON THE FIRST Saturday of the month, I snag one of the last parking spaces before everyone just goes for it, willy-nilly, all along the narrow main road. The porch of the Monticello Holiday Store bears evergreen garlands and wreaths, a cache of organic produce, and Christmas trees freshly cut by the local 4-H kids. Inside, kitchen helpers serve posole and apple pie. Shelves and tables fairly groan with the weight of all the patchwork quilts, jewelry, piñon salve, paintings, jars of quince preserves and raspberry jam, barbed-wire crosses, spiced pecans, balsamic vinegar, and Ashé Cravenock's knives and leatherwork.
Now 20, Cravenock got national attention for his blacksmithing skills while still finishing his schoolwork. A lean and sunny kid raised on his folks' organic-garden pickings, he seems impressed that he can make money by simply doing what he loves. "I'm happiest when I'm banging on metal," he says. "There's something beautiful about taking hunks of old junk and turning them into functional art and tools."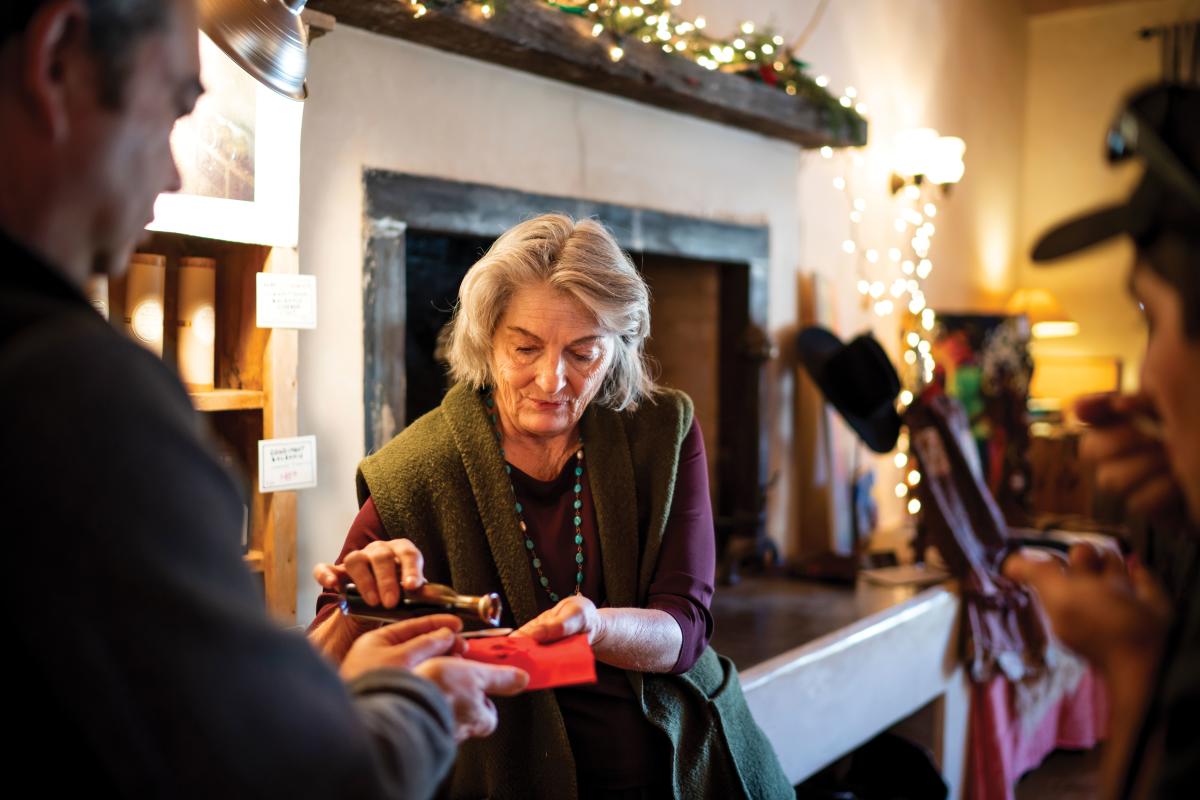 Above: Jane Darland pours a sample of balsamic vinegar.
Cravenock's skill at crafting kitchen knives, hunting blades, and exotic weapons won him $10,000 on a 2018 Forged in Fire episode. His mom, LaLynn Nock (Ashé's last name blends that of his father, Joshua Cravens, with LaLynn's), tells the story of when he was given his first spoon. She imitates baby Ashé raising his arm, clutching that piece of metal as Arthur would Excalibur. "As soon as he saw his first blacksmith," she says, "it was over. He came home, built a campfire, and was melting wires and banging on a piece of railroad tie."
Nock had stayed up late the night before to finish knitting the luscious poncho I had ordered off her Etsy site a few weeks earlier. Cravenock slips it under one of my arms; the other holds the lid from a cardboard box for gathering more treasures. I'm too late to snag one of Kim Jordan's rum cakes, but when I run into her outside, she tells me where I can find her husband, the artist mmpharr, and peek inside his Pharrwest Galleries.
Read more: In his Heart-of-NM hometown, David Pike delights in childhood memories and the singular place it has become, quirks and all.
He takes me first to the main attraction among the three art spaces, a two-story corrugated tin building filled with abstract sculptures and enormous multimedia assemblages that he created during his Philadelphia years. "I had a gallery there selling my work, and the owner wanted all of these, but I didn't want to sell," he says. "So I ducked out of town without answering her." He and Jordan, a physical therapist, wandered a bit before discovering their Monticello spread in 2001, where he now hosts the occasional art show and otherwise opens the doors on request. He sells his current, smaller pieces out of a rescued adobe home, but a big part of his story beats like a heart inside this metal one. "I come in here every day for some reason," he says, "and I'm reminded that this is where I was."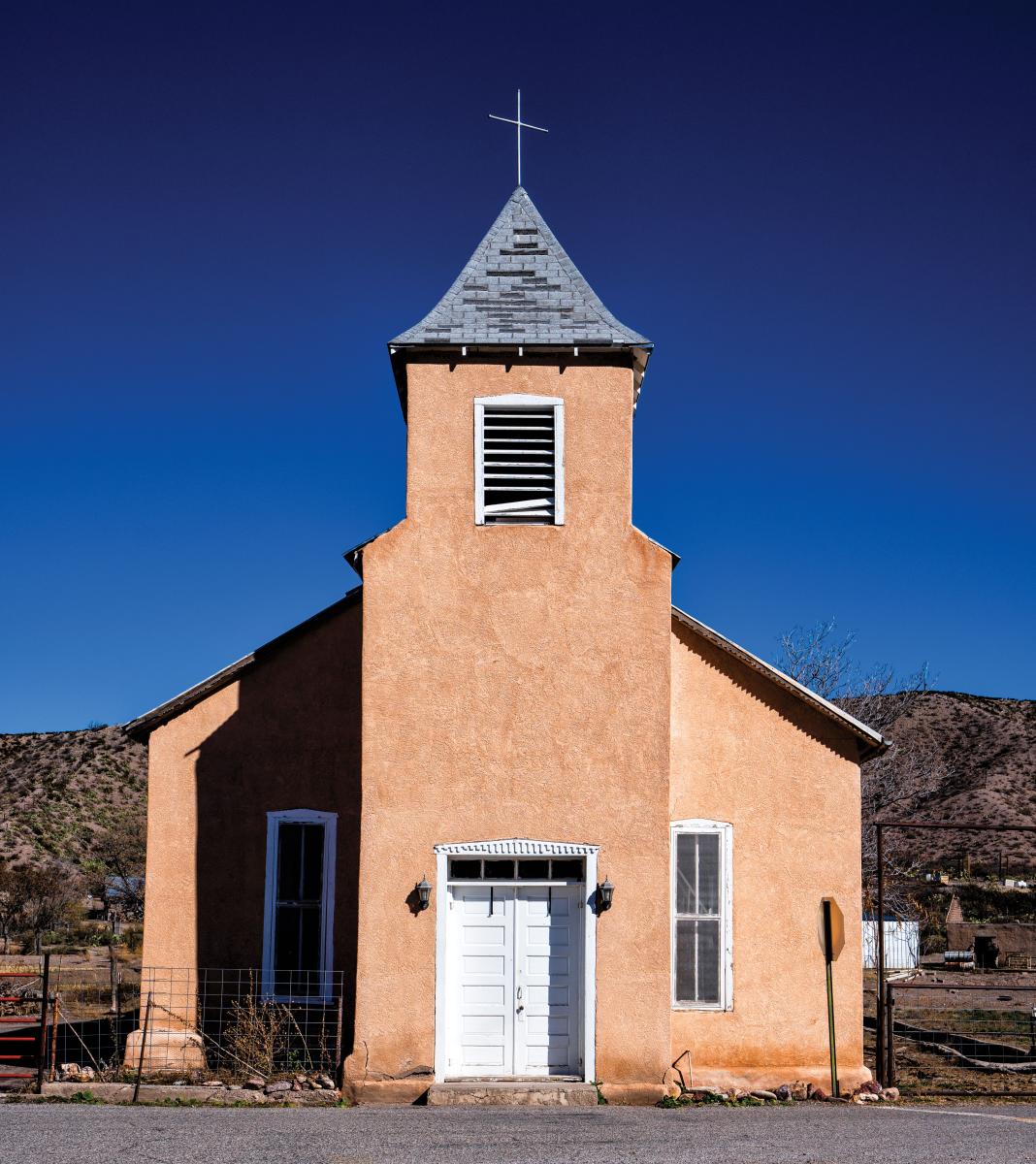 Above: San Ignacio church.
From the big city to the ghost town, he and Jordan planted old roots in a new place, as did the Darlands, the Cravenocks, and dozens of others. "People live here to be private," Jane says, "but when there are projects that need doing, they come together." Case in point: An old cottonwood was looming dangerously over the plaza. After considerable discussion and torn emotions, folks agreed to take it down. "So yesterday," Jane says, "we had wine and cheese to celebrate the tree, and everyone took a chunk home."
Chances are, shoppers at this year's Holiday Store will find an object or two crafted from those chunks. Stay long enough and you'll hear the story to go along with them.

GHOST TOWN TRIPPING
The Monticello Holiday Store, just north of the town plaza on NM 142, is open 10 a.m. to 4 p.m. on December 7–8 and December 14–15. Bring cash or checks; the store doesn't accept credit or debit cards.
Head west about 24 miles on NM 52 for Yuletide in Chloride, November 30 to December 8. Tour the old mining buildings, score handmade art at the Monte Cristo Gallery, and enjoy lunch or dinner, Thursday through Monday, at the Chloride Bank Café. The gallery and Pioneer Store Museum are open daily, 10 a.m. to 4 p.m.
Detour south to Hillsboro, on NM 152, for Christmas in the Foothills December 7 from 10 a.m. to 4 p.m. Local artists sell their works and you can enter the $49.99 Art Show and Sale raffle. (Winners choose from artworks at that fire-sale price.) Main Street merchants can point you toward historic sites around town.
Nearby Truth or Consequences has lodgings and campgrounds. Go thoroughly local by reserving a restored mining cabin in Chloride, where the rough-wood walls are complemented by cozy furniture and modern kitchens. Airbnb options abound throughout the region, including at artist Josh Bond's compound in the old mining town of Cuchillo. (Ask if the "Breaking Bed & Breakfast" RV is available.)
---