Above: Green Chile Corn Chowder with grated Tucumcari Mountain cheddar makes for a great harvest meal. Photograph by Douglas Merriam.
IN AUGUST, WHEN THE CORN is as high as the proverbial elephant's eye, smart farmers and farmers' market fans know to pick it or grab it, shuck it, and enjoy it in its absolute prime. In New Mexico, corn holds a hallowed status as one of the "Three Sisters" of Indigenous cuisine, along with beans and squash. When grown together, the trio works in harmony: Cornstalks give the beans a pole to climb, the leaves of the squash plants provide shade, and the beans add nitrogen to the soil as nourishment for all three.
When I was a kid, my paternal grandfather had a huge garden in upstate New York that we visited in the summer to feast on his harvest. As a chubby youngster, I much preferred my corn bathed in butter, but I remember that my granddad's crop boasted such fat and juicy kernels you could literally pull it off the stalk, peel it, and eat it raw, still warm from the sun. 
The dirt in the field was rich and almost black, with a strong earthy aroma. The corn towered over us as we ventured through the neatly ordered rows. We always went home with a peck or two of the crop. It was featured on our family dinner table nightly, simply boiled with lots of salt and runny butter.  
As summer turns to fall, I, along with bushels of eager fans, await the arrival of Schwebach Farm trucks laden with sweet corn. They appear on street corners and at farmers' markets and tend to be mobbed by those of us who buy our ears by the dozen—or more.
Six generations of Schwebachs have tilled fertile soil as farmers, with the last two generations settling into Moriarty, about 40 miles east of Albuquerque in the shadow of old Route 66. There, Dean Schwebach, the son of Don, who started the farm in 1960, carries on the family tradition of growing the state's best corn, aided (in spirit at least) by his wife, Ivellise, and their six children.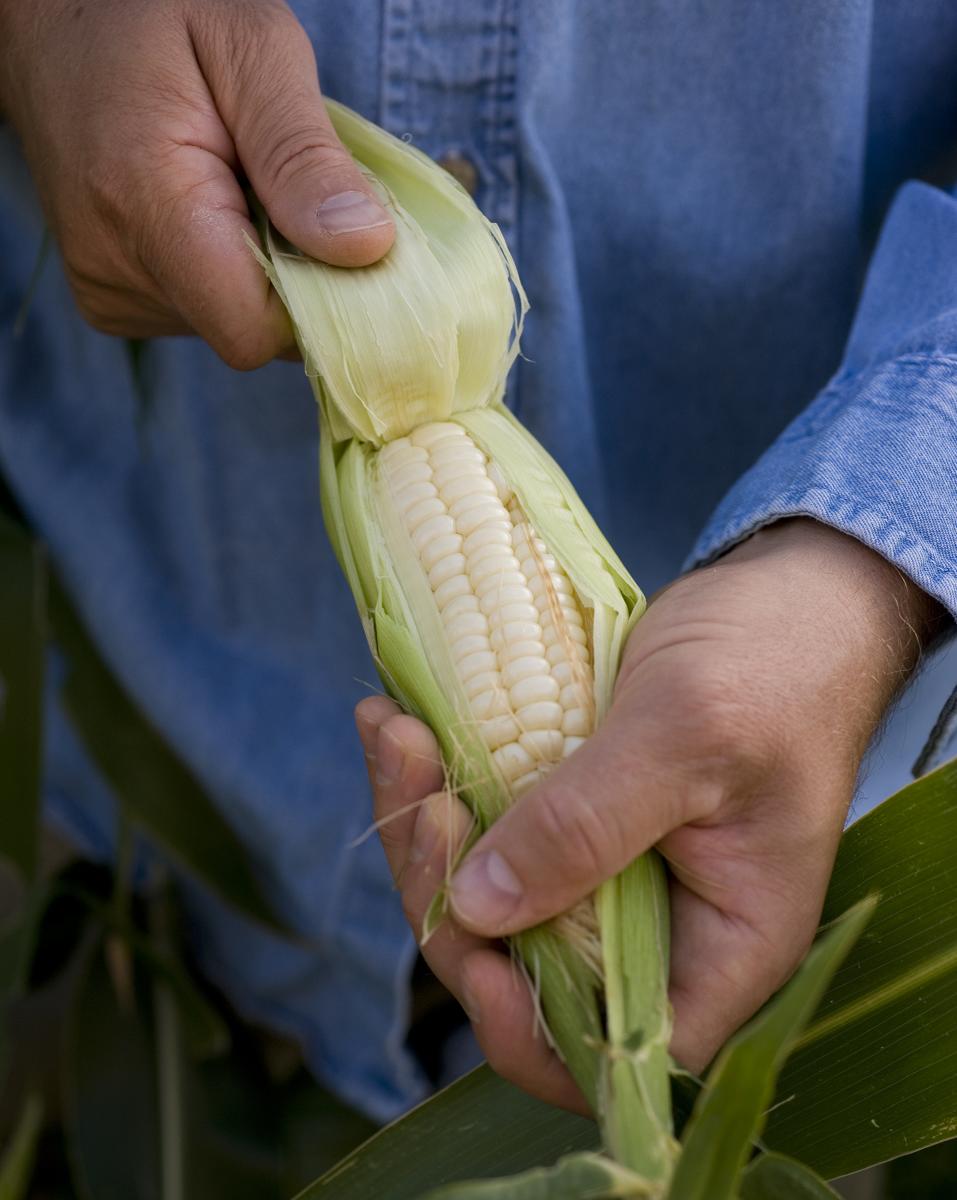 Above: Sweet corn picked straight from the fields. Photograph by Douglas Merriam.
"We plant 75 percent of our fields with a terrific eating corn called 'Ice Queen' white supersweet," Dean says. "The remaining crop is a bicolor corn called Xtra Tender. I attribute our 6,200-foot elevation for perfect growing conditions. It allows us cooler nights, which help to develop the sugars in the corn."
One bite of Schwebach corn demonstrates why it's long been the darling. The simplest way to get a taste is to sign up for their community-supported agriculture (CSA) program, which allows you to pick up boxes of vegetables harvested the same day right at the farm or at locations in Edgewood and Cedar Crest (available weekly or biweekly). The bounty of corn and other veggies amply supplies produce for a family of four.
Want to get your hands in the dirt? Sign up for the U-pick garden plan and bring the whole family to reap the benefits of high-season crops. There's even a charming cottage available for overnight stays, should you wish to sleep a shovel's throw from the abundant fields. "It's so nice and peaceful that I keep telling my wife we should move in there and rent out our main house," Dean says.
For an updated list of other activities, including farm tours and bonfire-pit rentals with everything you need for a s'mores cookout, check the Schwebach Farm website.  
Once you score your cornucopia of goodies and corner the market—but before you exhaust your corniest puns—it's time to either swirl it over a whole stick of butter on a plate or try one of these summery recipes that will have the whole family exclaiming, "Oh, shucks, that's good!"
---
Green Chile Corn Chowder 

(Serves 8)
4 ears fresh corn, or 4 cups frozen
2 tablespoons unsalted butter
3 fresh green chiles (or to taste), roasted, peeled, seeded, and finely chopped, or ½ cup frozen or canned
1 medium onion, finely diced
1 small potato, peeled and diced into ¼-inch cubes
3 cups milk
1 cup cream
1 teaspoon sugar
1¼ teaspoon salt
½ teaspoon ground white pepper
New Mexico red chile, ground (for sprinkling)
1 cup grated Tucumcari Mountain cheddar or green chile jack cheese
Using a sharp knife, scrape corn kernels off cobs and then, using the back of the knife, scrape cobs again to release all of the corn milk.

Melt butter in a medium soup pot. Add corn, green chiles, onion, and potato and sauté, covered, over medium heat until onions soften, about 10 minutes.

Add milk, cream, sugar, salt, and white pepper. Simmer soup uncovered until it thickens slightly and potatoes are tender, about 15 minutes.

Remove from heat and allow to cool. At this stage, you can puree the soup smooth or leave it chunky, as is traditional for chowder.

Reheat and serve, garnished with a sprinkle of red chile and 2 tablespoons cheese per bowl.
---
Above: Grilled corn with scallion oil. Photograph by Douglas Merriam.
Grilled Corn with Scallion Oil 

(Serves 6)
1 cup thinly sliced  scallions (about  8 ), green part only
⅓  cup  vegetable oil
1½  teaspoon  kosher salt
1 teaspoon sugar
6 ears fresh corn, shucked
1 tablespoon chile caribe
1 lime, cut into 6 wedges
Preheat the grill to medium-high heat.

To make scallion oil, heat oil until very hot and stir in scallion greens. Let it cook for 40 seconds. Remove from heat and stir in salt, sugar, and chile caribe. Allow to cool. (This keeps well in the refrigerator for a week.)

Grill corn with the lid down. Turn ears occasionally until some kernels pop and others have a nice charred brown color, 12 to 15 minutes.

To serve, brush each ear with scallion oil and squeeze with lime. Enjoy while it is warm.
Note: For a New Mexican twist on Mexican street corn, sprinkle the grilled corn with crumbled Tucumcari Mountain feta, to taste. The corn can also be cut off the cob and served as a side dish.