Above: Barbara Hubbard in her hallway filled with keepstakes from all of the performances she helps shepherd to New Mexico.
NO ONE WOULD HAVE predicted that a diminutive girl from hardscrabble Arkansas would one day become the concert queen of Las Cruces—not even Barbara Hubbard. The 91-year-old woman, more affectionately known as Mother Hubbard, is still a dynamo, decades after using grit, charm, and honesty to carve an indelible and profound mark on New Mexico's music scene while pioneering a new role for women in the workplace. She's the reason why everyone from country crooners to the hippest and edgiest rock 'n' rollers have turned southern New Mexico into the place to see the biggest acts in the biz.
Country mega-star Garth Brooks? Yeah, she got him. Along with Pearl Jam, Whitney Houston, U2, and many more. Hubbard herself once acknowledged that "it would be easier to compile a list of major recording acts that had not played the Pan Am Center than it would be to name all those that had." Her influence has even spread beyond her own arena. This month, as the Las Cruces Country Music Festival notches its sixth and potentially biggest year  at the Hadley Sports Complex, founder Phillip San Filippo tips his cowboy hat to Hubbard, calling her an early and important supporter of the event, a key navigator to booking talent for it, and the smartest consultant he could find for crafting the best fan experience.
While she's content to let others lead that event, don't think she's slowing down. Instead Hubbard has taken the lead on a new plan: transforming 55 acres into a new multi-use amphitheater complex with more than 21,000 seats, making it the top collegiate venue in the state and a permanent home for rodeo competitions, concerts, and other events. (George Strait, the "King of Country," is helping to promote the project.) She's also trying to create degree programs in entertainment business and venue management.
That's the kind of hustle she began learning at just 10 years old, when her father's eye surgery went poorly, robbing him of his vision. Young Barbara helped him learn to type and found him books in braille. Some of her most vivid memories are of her father toiling away in the kitchen, scrubbing dishes and mopping the floor while her mother was away at work. He refused to let blindness stagnate him, and that may have been the definitive lesson of her life: make no excuses, skip the complaints, work hard.
She already had two jobs by that time, delivering the local Benton, Arkansas, newspaper each afternoon and mowing lawns in the steamy summers. Like so many Depression-era kids, she figured out ways to make do. "I remember putting cardboard in my shoes, which was not uncommon in those days," she says. Although she grew up loving music, nobody else in her working-class town seemed to have the time to enjoy it. So at age 18 she opened Teen Town, a music venue and a place for youngsters to hang out—which immediately drew critics who accused her of promoting dancing and card playing. She kept the joint open.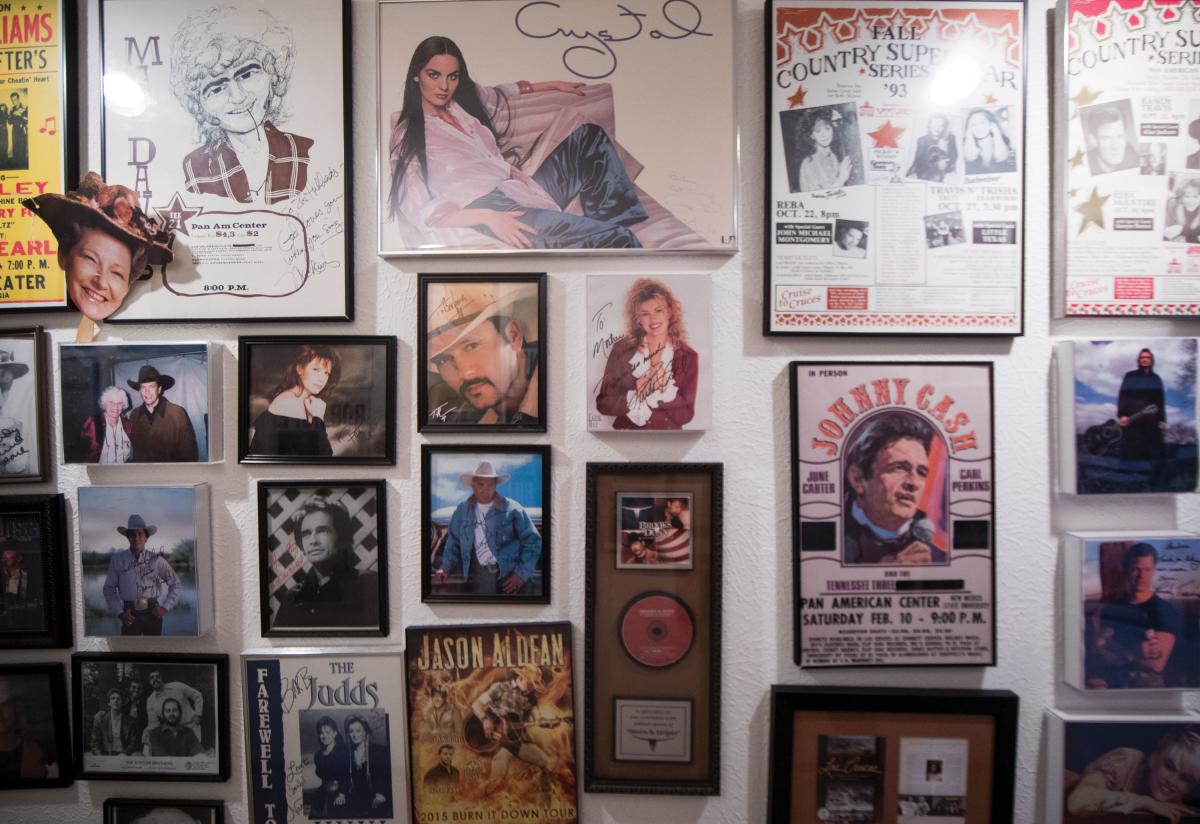 After high school, she enrolled at Henderson State Teachers College, in Arkansas, earned her degree, and got accepted to graduate school at George Peabody College, in Nashville, before it was absorbed into Vanderbilt University. By 1954 she could boast of a credential few young women had—a master's degree in biology. She thought she would try to find work in the Southwest, for one very specific reason: "I never liked the cold," she says.
She sent her résumé to nine places, mostly in Phoenix and Tucson, and headed west to follow up. One Sunday afternoon, fighting fatigue along I-10, she stopped for the night. The town was Las Cruces, and she registered at the Mission Inn. On a whim, she called Las Cruces High School and asked about job prospects. She figured a janitor might answer and tell her to try the principal on Monday. Instead, principal Tom Mayfield picked up. He told Hubbard to meet him outside her room in five minutes. "All I had on was shorts and a T-shirt," she says. "He talked to me for 15 minutes, then offered me a job teaching biology on the spot." He even promised the 27-year-old far more money than she'd made in Arkansas. 
Within a few years she'd completed a master's degree in education at NMSU and begun teaching there. Soon she married Peirce Hubbard, and they had two sons. Peirce was president of the booster club for New Mexico State athletics and an accomplished saxophone player. He was also friendly with the university's hotshot basketball coach, Lou Henson, who was already well on his way to a Hall of Fame career. In 1968, with a newly completed Pan American Center for his basketball arena, the coach needed someone smart and energetic to run it.
Hubbard got the job and, from 1968 to the mid-1980s, ran the entire Pan Am Center without a full-time assistant, just a handful of eager and able students who pitched in on guest service and maintenance duties. At that time, most Americans would look at a national map and count Las Cruces as one of the most remote destinations in the country. But Hubbard saw an opportunity. The town had close to 35,000  residents, and the university wanted to fill its 12,500-seat Pan Am Center as often as possible, even though the basketball team played only a dozen or so home games a year. "I wanted to keep the students busy and get them a paycheck," Hubbard says of her pinch-hit staff. "But we needed other sources of revenue."
Looking at the map, Hubbard realized that Las Cruces sat halfway between several key cities. Entertainers, bands , and their trucks of gear and roadies had to stop somewhere when traveling from Los Angeles to Dallas or Phoenix to Austin. Hubbard asked what no one else had thought to: "Why not stay over in Las Cruces? Why not rest up while getting paid, enjoy the New Mexico sunshine, mountains, great Mexican food—and put on a show?"
The task she set for herself wasn't easy. The music industry in the late 1960s  was a "good ol' boys club," Hubbard says, and few women had even attempted to join. But she considered herself a good ol' gal. "I had an advantage," she says, "because I was working at NMSU, where there was an educational component that is still a great benefit today."
Ike and Tina Turner were the first non-athletes to play the Pan Am Center, in 1971. Neil Diamond soon followed. Hubbard then mustered enough confidence to produce her first concert without an outside promoter. She aimed her honesty at country music legend Charley Pride. "Have you ever done this before?" Pride's manager asked. "No," she answered, "but I'm going to give it the old college try."
In 1973, she brought one of America's most beloved entertainers, Bob Hope, to the Pan Am Center. (Hope, who became a lifelong friend, gave her that "Mother Hubbard" nickname.) The big names kept rolling in. Jimmy Buffett. The Eagles. Kiss. Tom Petty. Her own favorites? Strait, Brooks, and Reba McEntire. Albuquerque, four hours north, was far bigger, but Hubbard regularly outmaneuvered her rivals to draw Duke City music fans south.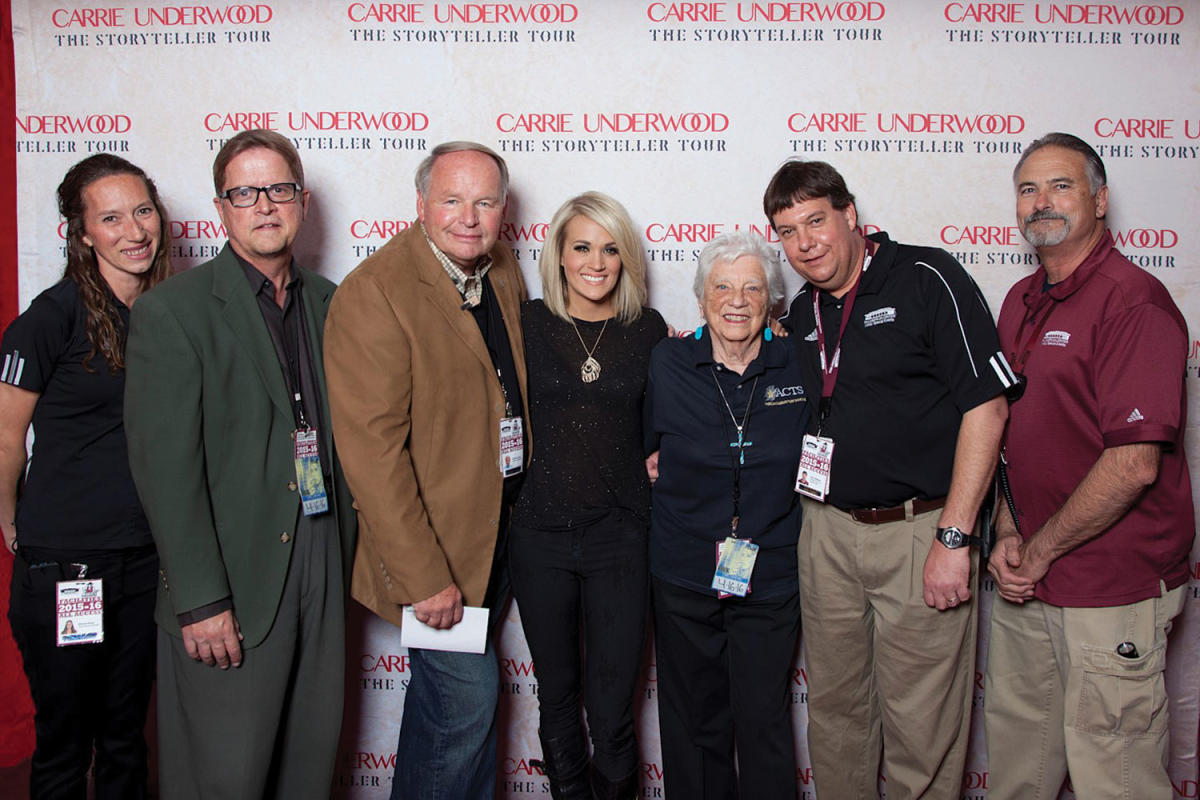 Above: Performers like Carrie Underwood (above) and Johnny Cash have played at the Pan Am Center. Photograph Courtesy of Barbara Hubbard.
"When I was growing up, going to shows at the Pan Am Center was amazing," says Jim Ward, who fronted indie rock band Sparta, as well as the post-hardcore group At the Drive-In. "Seeing the talent she brought through has had more of an influence than anyone could imagine." Ward was influenced not just by the music but also by Hubbard's industriousness: His El Paso rock 'n' roll club, Tricky Falls, is now a hot music venue as well.
Hubbard's passion for firing up students led her to form the American Collegiate Talent Showcase scholarship program, which jump-started the careers of people like Jeff Dunham and Sinbad. Many university and entertainment business professionals today view her as something of a feminist icon—a fiercely determined and successful woman who educated hundreds of students. Hubbard doesn't buy it. "Just do your damn job," she insists. "That's the advice I would give. You do that and the men will respect you. And be honest. I was just up front with everyone." 
Was there trouble? Disrespect? Harassment? "I really didn't even think about any of that," Hubbard says. "I just knew what the score was, and I learned how to play the game. I never let that other stuff bother me."
"Barbara knew the playing field," NMSU facilities manager Scott Breckner says. "But her angle was that she was pleasant and friendly in a business where sincerity is not always the number-one attribute. She busted through any sort of glass ceiling, strictly through credibility and knowledge."
"She was a pioneer," says Bobbie Welch, a longtime music promoter in the Southwest who learned some of her chops from Hubbard. "Who else would have taken a chance on Las Cruces, New Mexico, in the 1950s? She loved the town and was always unabashed about that."
But lots of folks love Las Cruces; that's not what makes Barbara Hubbard special.  Instead, it's something that can't be copied or even imitated. "She's a force of nature," Welch says. "And forces of nature don't retire."

GRAB YOUR BOOTS
The sixth annual Las Cruces Country Music Festival fills the Hadley Sports Complex October 19–21 with boot-scootin' standouts, including headliners Dwight Yoakam, Randy Houser, and Rick Trevino. Enjoy two music stages,  food trucks, vendors with country-music-inspired items, a kids' area with games and bounced houses, and a cash bar. Here's the music schedule:
Friday, October 19: Gates open at 5 p.m., with regional music, followed by King Leg, Frankie Ballard, and Dwight Yoakam.
Saturday, October 20: Gates open at 5 p.m. The main stage features Brennin, Sawyer Brown, and Randy Houser.
Sunday, October 21: Gates open at 11 a.m., with a country DJ, the Abe Mac Band, and Rick Trevino.
---