NEED TO KNOW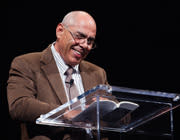 June 4
A Night of Poetry, featuring Jimmy Santiago Baca with Hakim Bellamy, Hawah Kasat, Jose Antonio Ponce, and Adam Jones. 6 p.m. at the National Hispanic Cultural Center. $10.
June 5
A Place to Stand, 7:30 p.m. at the KiMo theater. $7 admission. For more information about The Albuquerque Film and Music Experience. (505) 265-7866;
abqfilmx.com
Some of the first shots in A Place to Stand, a documentary based on a memoir of the same name by the writer Jimmy Santiago Baca, trace the lonesome highways of northern New Mexico. A dusty two-lane blacktop edged with Russian olive. Sunset over a distant mountain range, seen through a rolling scrim of piñon. These are the roads on which Baca grew up.
But listen to the lines he recites over the images, from a poem called "Who Understands Me but Me," and you start to hear about a very different home:
they build walls higher, so I live without treetops,
they paint the windows black, so I live without sunshine
As the camera rolls toward dark mesas propping up a sky heavy with snow, you realize this is the route that once carried Baca away from Albuquerque, toward the Arizona state prison in which he served five years in his twenties. The beginning of his story is as familiar as it is sad: a broken home, an angry adolescence, a drug bust. But it was inside those sunless, treeless prison walls that he learned to read and write, and so began to turn his life around.
who understands me when I say this is beautiful?
who understands me when I say I have found other freedoms?
"The most horrible thing was that when I was in prison—" Baca breaks off his story with a glare. "I never talked about this, ever."
It's hard to believe there could be anything under the sun that he hasn't chewed over before. Jimmy Santiago Baca is a talker. He's halfway through a glass of white wine at an Italian restaurant near the Santa Fe Plaza and already he's touched on Breaking Bad, frontier history, the DEA, Kickstarter, John Wayne, and the poetry of Natalie Diaz. When he talks, his eyes glint from under an all-business brow, his expression darting between machismo and vulnerability, playfulness and menace.
"When I was in prison," he says, "I wanted to go to school more than anything in the world."
One day in the prison yard, he looked through the fence and recognized an acquaintance who had informed on him to get a lighter sentence. Baca had tried to be a model inmate in hopes of being allowed to take classes, but he was assigned to work the fields—and now the informant, who was white, was carrying books.
"He was going to school. And I looked at him and I thought, Wow, how unjust can life be, you know?"
Against the odds, Baca set to work educating himself. Confined to the prison basement, he pored over a dictionary mailed to him by a correspondent who'd found his address on a church ministry mailing list. Language became an escape. Before long he was bartering original poems for coffee and cigarettes, then mailing them away to literary magazines he couldn't afford to subscribe to. He made his name in the poetry world while still serving time.
In the end, all of his grievances, his unshakable sense that life had given him a raw deal, didn't matter. "You know what mattered to me?" he says. "The poetry I was reading. That was what mattered."
He leans in to the table, grinning in a lopsided way that implies a challenge. "Guess where I was getting the books from? Death row."
The grin widens. "Guess which poet was the most read on death row?"
He has his audience hooked and he knows it. When he's on, which is most of the time, Baca shows a boundless need for attention, for communication. He can pull people in with a confession, a turn of phrase, a self-aggrandizing proclamation, or, as in this case, an exquisitely observed detail.
"Emily Dickinson. Is that a trip or what?"
He leans back to flag down a waiter for the menu, and his friend Jim Mafchir, a publisher at Western Edge Press, produces some slender volumes of poetry from his bag and lays them on the tablecloth. No one says it, but prisoners nowadays read Jimmy Santiago Baca. 
A few years ago, a young documentary filmmaker named Daniel Glick went to visit a friend of a friend in a New York prison. "I just had this sensation, being in there, that nobody coming through that place is going to come out the other side better for it. The guards, the inmates, the visitors. It was a pretty depressive, negative place," he says. "And then the inmate—his name was Tommy—he said, 'Oh, if you want to learn more about this culture, you should read A Place to Stand.'"
Baca's memoir "really hit me deeply," Glick says. "It was a continuation of that experience of 'What is our society doing with the way we treat prisoners?'" He e-mailed the author right away. The way Baca tells it, his story had attracted film offers from both Santa Fe and New York, including one from HBO, but something about Glick's youthful spirit spoke to him. He agreed to let him turn the book into a movie and serve as director on one condition: that Baca's son Gabriel, who also works in film, participate in the project.
"Me and my brother, when we were younger, were obsessed with what we called 'Little Jimmy Stories'"—unsanitized anecdotes about what their father had gotten into at their age, Gabriel Baca said. He signed on to produce the film in order to tell the big Jimmy story, the one that goes beyond sensational accounts of violence to explore how his father had found a new stimulus for that same adrenaline rush in the written word.
The elder Baca wasn't always an easy subject. "He's a storyteller, a troublemaker, a hustler, a punk, a whirlwind, a saint, lots of things. Each moment is different," Glick wrote in an e-mail. Just getting him to focus for an interview could be difficult, let alone disentangling the film's story from Baca's legend. But the "bigger truth" that emerges from Baca's steady stream of talk, Glick said, is the one inscribed on the long arc of his life: that "deep human transformation is possible if you're really willing to do the work."
That's the message that Glick and Gabriel Baca hope to spread to New Mexico schools with a curriculum developed around the documentary. First, however, comes the work. For the past year, they've shown the film to select audiences, beginning in September with two Santa Fe screenings that led the mayor to establish a Jimmy Santiago Baca Day. On June 4, Baca will headline the Albuquerque Film and Music Experience's Night of Poetry, ahead of a screening of A Place to Stand the following night.
"When we have him running around on the film festival tour and he can't write, that's when he gets irritated," Gabriel Baca says of his father. "But then he just vanishes up to his cabin and writes, and he comes back like a fresh teenager, full of energy."
By the time the menu arrives, Jimmy Baca has sustained a near monologue for half an hour. He's been up since before dawn banging out a new screenplay with a partner, and though he claims to be tired, it hardly shows. Already today the men have driven from Albuquerque to Santa Fe, and after lunch they'll be on the road again, speeding north along the Sangre de Cristo Mountains toward a new organic farm Baca is working to get off the ground.
Yet of the many things that distract him from his poetry, the documentary seems far from his mind. "It's my son's film," he says.
It's a deflection, a way to sidestep questions, but it contains an important truth. For all his grandstanding and gamesmanship—this is a man who, at the movie's Santa Fe premiere, compared himself to Gandhi and MLK—Baca is quick to share hard-won credit. Maybe he's trying to buy himself space to write, or maybe that's just what happens when you grow up without parents, without your siblings at times, without freedom to be yourself.
"The message, if I had a message, it would be that the vast majority of people I met in prison just want to be respected and loved and have families," he says. Poetry hasn't made him rich, but it's bought him that much. He has the home he always wanted now, and he's found other freedoms: the open road, the blank page.
What keeps him writing, he says, is the people he loves.
"To be able to be present for them. To be able to show them: This is how it is. This is how a man is balanced." Baca is picking up steam now, slipping into the incantatory rhythms of his verse. His brow furrows. Words carry him along.
"This is how a man honors his ancestors. This is me, your father. This is how I do it. For my children. Then I take that into the writing, and I let it sing."
Check out the trailer for A Place to Stand...