Above: Late winter grasses at the Ladd S. Gordon Waterfowl Complex. Photographs by Stefan Wachs.
HIS TEAM HAD JUST PLOWED the last of the corn into the soil, Milnor Lucero says, almost apologetically. It's why the multitude of sandhill cranes and Canada geese here just a week ago have all flapped their way north. Other than a few stray ducks, the Bernardo portion of the Ladd S. Gordon Waterfowl Complex, a state Game and Fish Department property about 17 miles south of Belén, is bereft of its namesake avians.
But Lucero doesn't have to apologize to me. I like the solitude. Only one other visitor traces the waterfowl-viewing road that winds among ponds, acequias, and a bosque newly shorn of water-hogging tamarisk trees. The aroma of freshly turned earth speaks of springtime, encouraging Lucero, the site's manager, and me to leave our cars behind and stretch our legs while I deliver my own apology to him.
No matter how many times I've driven past Bernardo on I-25, I tell him, I didn't stop. The larger and more popular Bosque del Apache National Wildlife Refuge, farther south, held a stronger pull. "You can get a lot closer to the birds when they're here than you can at Bosque del Apache," he says, "and there aren't as many photographers." I'm listening. I stand with those who believe that nature's rewards are best earned away from crowds. And I suspect that Game and Fish isn't alone in delivering such solace. With that, I challenge myself to discover a handful of little-known places that welcome we the people—if only we the people knew where to go.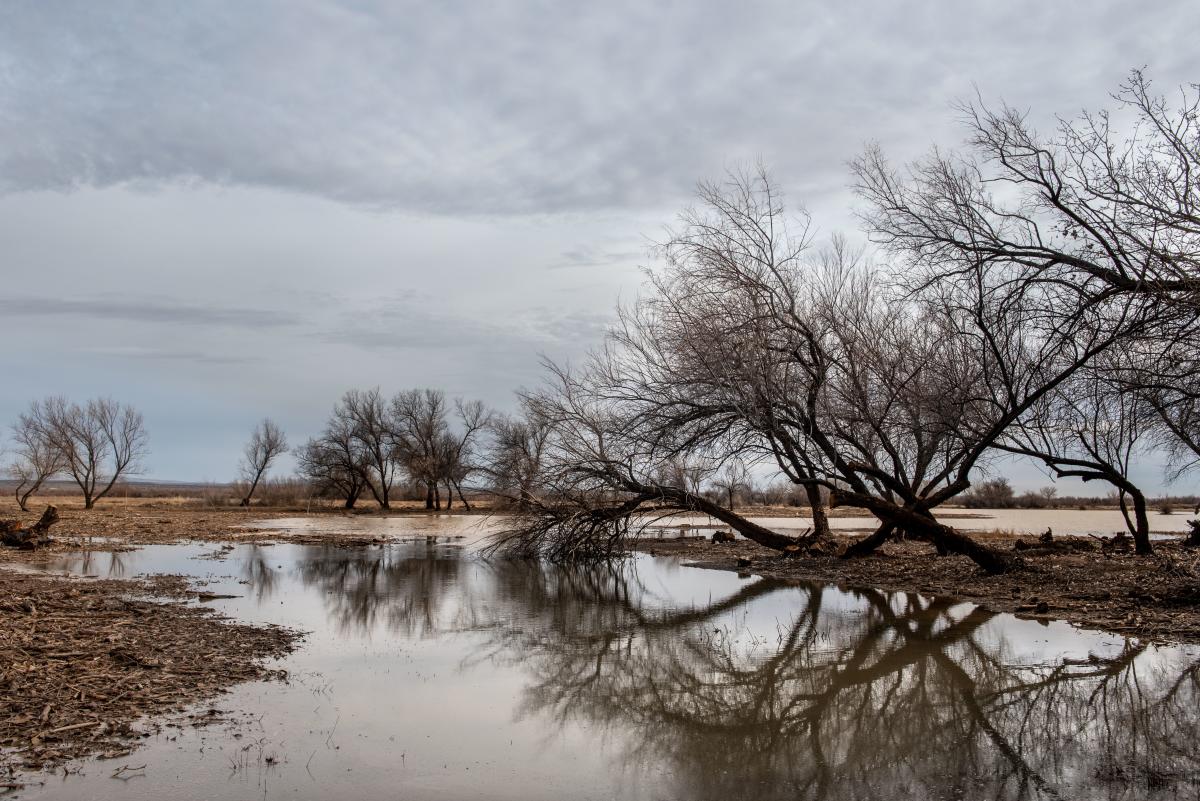 Above: A pond at the Ladd S. Gordon Waterfowl Complex invites contemplation.
RYAN DARR WORKS FOR GAME AND FISH, overseeing some 200,000 acres on 49 parcels of State Game Commission lands all across New Mexico. For years, their purpose was solely to benefit hunters and fisherfolk. But about five years ago, he says, the department's philosophy shifted to welcome recreational activities in general. "As long as you follow the rules," he says, "you can enjoy them as you like." Birdwatchers, rejoice. Along with hikers, mountain bikers, OHVers, horse riders, and more. The rules may mean some areas are closed during winter months or to protect species' mating times. Depending on the time of year, you must share the space with hunters and will kindly not interfere with the flow of a trout stream. (Rock skippers, hold your fire.) Hit the recreation tab at wildlife.state.nm.us to see what you can and can't do or to get links to regions all around the state with details on prime destinations.
Bernardo, Darr says, is a crown jewel of the department, one of four sites that make up the Ladd S. Gordon Waterfowl Complex. The reserve has seen its greatest improvements under Lucero's supervision: Invasive trees have been cleared from the bosque, cottonwood saplings and crops for the birds have been planted, and birdwatching platforms have been built. Even with all those amenities, Darr says, it's hard for him to pick a favorite among all the Game and Fish sites.
"There's so many that I absolutely love, and I love every one for a different reason," he says, citing a span that runs from the Edward Sargent Wildlife Management Area, near Chama, south to the newly opened Mimbres River Ranch Wildlife Management Area, near Deming. "That one may get four or five people a week," he says of River Ranch. "These areas range from 100 acres to more than 30,000 acres. You have a lot of backcountry where you can get away from it all."
In the months when sandhill cranes aren't at Bernardo, Lucero says, you can still see falcons, deer, elk, and the occasional javelina. Ladrón Peak and the San Mateo Mountains provide a dramatic backdrop beyond the duck pond, and I realize this is a perfect place for a short jog or a long picnic that's a quick hop off I-25. Best of all, Darr says, "You can see some of the premier wildlife habitat in the state."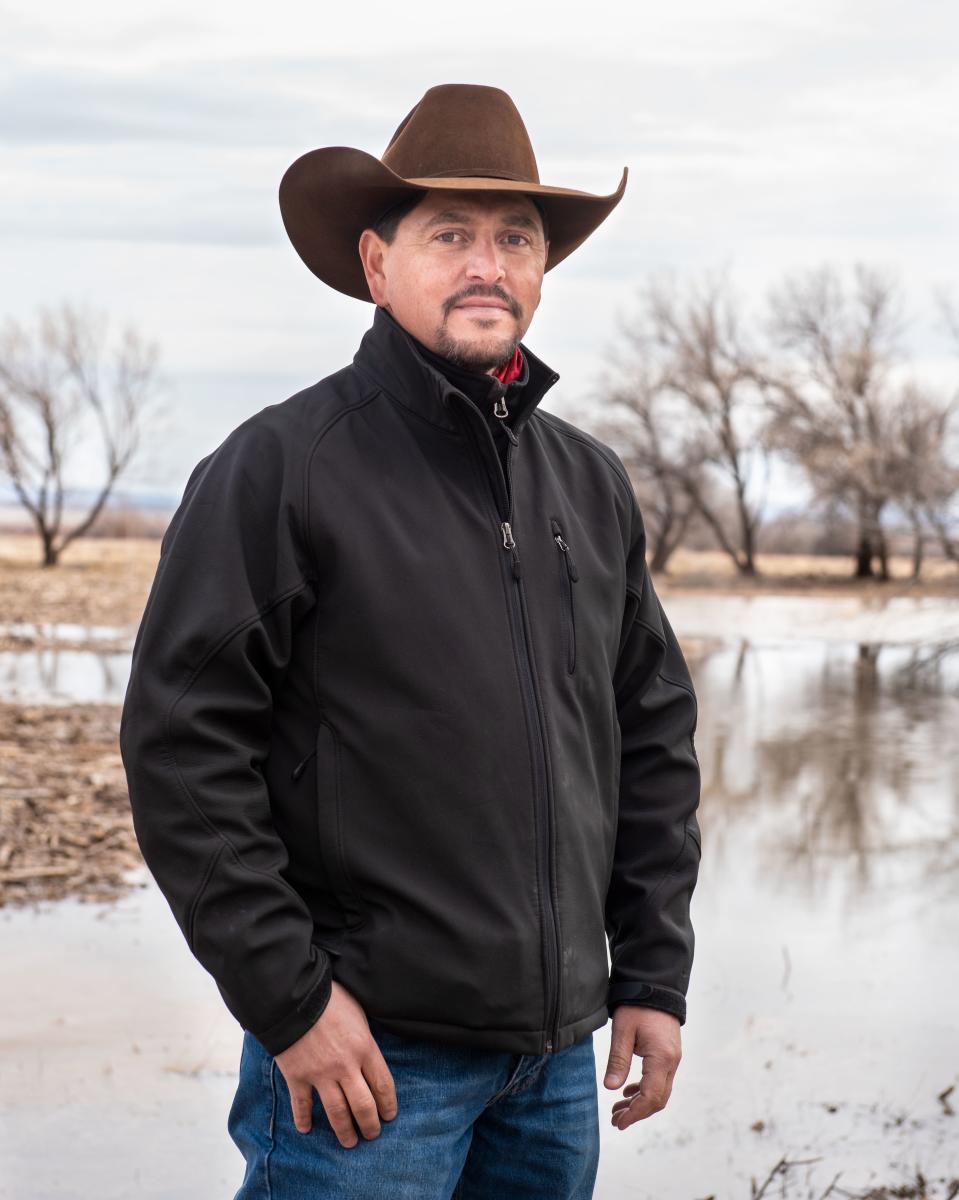 Above: "You can get a lot closer to the birds when they're here than you can at Bosque del Apache," says Milnor Lucero, site manager of the Bernardo portion of the Ladd S. Gordon Waterfowl Complex.
EIGHTEEN MILES WEST OF LOS LUNAS, photographer Stefan Wachs and I turn off NM 6 and park at a ranch gate. State Land Office permit in hand, we head east on a 3/4-mile trail to behold one of the most persistent mysteries in New Mexico. Or one of its biggest hoaxes. The Decalogue Stone, aka Mystery Stone, aka Commandment Rock, is but a knee-high boulder at the base of Hidden Mountain that bears an incised inscription reading right to left at a diagonal tilt. We almost miss it. It doesn't exactly inspire awe, but it has certainly spurred flurries of scholarly articles since its 1933 "discovery" by UNM archaeologist Frank Hibben. Various theories tie the inscription to ancient Phoenicians or a lost tribe of Israel or perhaps extraterrestrials, any or all of them wandering New Mexico centuries before the first Spaniard set foot on it.
David Eck audibly sighed into the phone when I quizzed him about it earlier. "The company line," says Eck, who works as an archaeologist for the State Land Office, "is that it's a very popular recreation spot and we highly encourage everyone to get a permit before visiting." He paused, then added, "It's a hoax. It's a big rock that people have abused and further abused. It's a bad copy of a published shorthand version of the Ten Commandments, and the perpetrators of the hoax didn't even bother to copy it correctly. There's a line jammed in between two other lines with an editor's caret pointing to it."
I peer at the rock and see that he's right. Would ancient Phoenicians have known what an editor's mark looks like? Would they have needed one in their otherwise perfectly spaced lines? Skeptics have long noted the graffiti signatures of "Hobe" and "Eva" near the site, speculating that those were the students who perpetrated the hoax on their professor. Since then, other taggers have left marks in both spray paint and etchings, including The truth is out there and Home.
Eck has no patience for the artistic embellishments, nor for the trails that now lead away from the rock, illegally, onto a ranch owned by Isleta Pueblo, which long ago lost its sense of humor about trespassers. Stick to the stone, Eck says, and focus on the solitude, the view of the Río Puerco, "and the hawks talking to each other."
The $35 permit sold by the State Land Office (go to nmstatelands.org) is good for a year and covers access to the Decalogue Stone plus six other sites, including the 15-mile-long Luera mountain range, in Catron County, and Sierra Grande, an extinct shield volcano in Union County.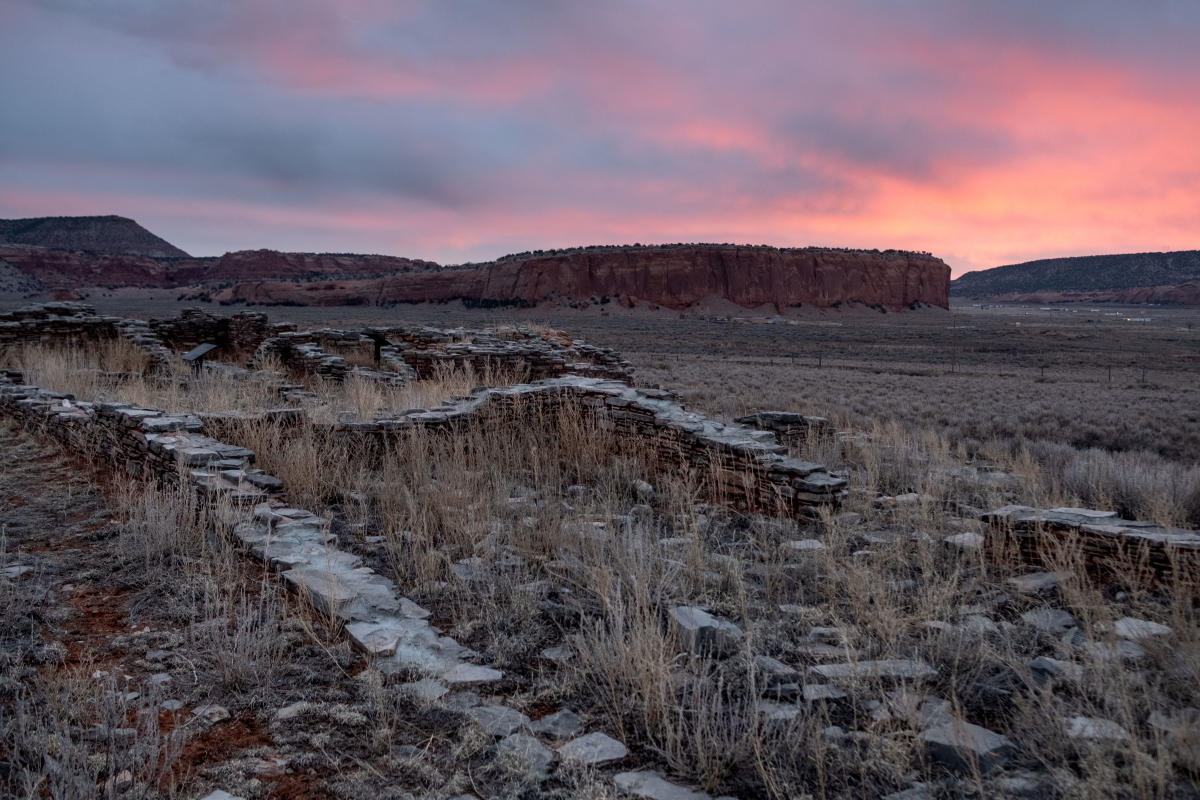 Above: The ruins of the Casamero Pueblo represent 22 ground-floor rooms and perhaps a handful of second-story dwellings.
BACK AROUND AD 1100, Casamero Pueblo likely bustled with up to 100 residents working the fields, harvesting trees, and building stacked-rocked structures that stand, today, as mere ruins of themselves. Not much else is known about the Bureau of Land Management site, which sits in a bucolic valley buttressed by a spectacular red-cliffed mesa. "In the 1960s, it was pothunted systematically," says Gretchen Obenauf, a retired BLM archaeologist who helped stabilize Casamero in the 1970s. Between the pothunting and the lack of a sophisticated excavation, "it's hard to pinpoint what it was used for."
Size-wise, Casamero is unlikely to wow anyone looking for a Chaco Canyon experience, until you factor in this: It's one of more than 100 Chacoan outliers with direct ties to the ancestral action at Chaco Culture National Historical Park, a slow 60 miles north. It's a lot easier to get to Casamero, 97 miles west of Albuquerque on I-40 to the Prewitt exit, then four paved miles on CR 19 to a parking area and a half-mile stroll. "There's an old joke about tourists," Obenauf says. "It's that they always ask, 'Why did they build this site so far from the road?' Well, Casamero they built right by the road."
The stabilized ruins represent 22 ground-floor rooms and likely a handful of second-story dwellings, plus a ceremonial kiva. To the west, Ojo Tecolote Mesa thrusts upward, a massive monolith bearing a set of rock formations that make its sheer face look like a pair of owls' eyes. To their north, a natural amphitheater cuts into the formation. A handful of residences scatter to the east, but as I ponder how the early-morning light burnishes a partial wall, the only sound I hear is a crow's caw.
Throughout the state, the BLM oversees some 13.5 million acres of land (see where at nmmag.us/blm), much of which is leased out to ranchers, miners, oil companies, and loggers. By law, the public can't be blocked from any of them except for safety reasons (think: open mines). "Tent Rocks is one of the most popular sites," spokeswoman Jamie Garcia says of the agency's Kasha-Katuwe Tent Rocks National Monument. Two other obvious picks include the Lake Valley Historic Townsite, an honest-to-goodness ghost town near Hatch, and the Ojito Wilderness Area, near San Ysidro.
You don't need a permit for any of them, although some, like Tent Rocks and Lake Valley, charge admission. And you're asked to behave yourself—don't litter, don't vandalize, and stick to the trails. Especially at Casamero. "I would advise people not to roam beyond the pueblo because of rattlesnakes, says BLM archaeologist Michael Papirtis. "It's a safety risk. Plus, you're trampling on plants, on the natural environment. The cumulative impact is that a new trail forms, and then an arroyo forms. You're affecting the overall environment."
"It's a neat site," Obenauf says, "and it's the BLM's mission to interpret and preserve such sites."
---