Above: Shaandiin Tome shoots film the old-school way on 16-millimeter film. Photograph by Ungelbah Dávila-Shivers.
FROM THE VERY BEGINNING of Shaandiin Tome's short film Mud (Hashtl'ishnii), you notice the graininess. It's shot on 16-millimeter film, a bold aesthetic choice that is not easy to pull off. You're not merely filling a card with digital info. Each shot and performance must be planned to avoid burning through film and your budget. Tome takes capable command of her set, capturing stark imagery and memorable performances. Shot in Gallup and on the Navajo Nation, the film screened at the Sundance Film Festival in 2018 and placed Tome among a growing number of Indigenous moviemakers laying claim to their stories.  
Odd things have happened when they didn't. Non-Indigenous filmmakers have often sprinkled such stories with sentimental flashes of flute music, cliché tropes (stoicism, spirituality, poverty porn), or Native people who were killed or served as helpmates to the Anglo protagonists. Always Tonto, never the Lone Ranger.    
That's changing. The Sundance Institute regularly partners with the Institute of American Indian Arts, in Santa Fe, for programs and events. The Smithsonian National Museum of the American Indian hosts an annual Native Cinema Showcase during Santa Fe's Indian Market (canceled this year). The new Senator John Pinto Native Filmmakers Memorial Fund provides important grant money. And IAIA has an upstart Cinematic Arts program chaired by mover and shaker James Lujan (Taos Pueblo).    
The world is more than ready for an infusion of Indigenous representation and stories. One need only look at Maori filmmaker Taika Waititi's ridiculous recent output, from What We Do in the Shadows to the Oscar-winning Jojo Rabbit to the Hollywood blockbuster Thor movies, and Seminole/Muscogee Sterlin Harjo's latest documentary, Love and Fury, to know that Indigenous cinema is on the verge of something exciting and new.  
Read More: Non-Native photographers have long staged pictures of Native people, but a contemporary Diné-Chicana documentarian explores the power of indigenous expression.
While it's been a long road since 1998's Smoke Signals proved that Indigenous films could captivate a mainstream audience, the recent outbreak of COVID-19 has forced a detour nobody expected.    
In March, I was one of three Native filmmakers asked to speak at Deadline Hot Spots: New Mexico, a conference that spotlights film locations outside of Hollywood. The event gathered industry executives, production coordinators, and film professionals of all sorts. Also on the panel were Jonathan Sims, an Acoma Pueblo filmmaker whose No Reservations production company is based in Albuquerque, and Ramona Emerson, a Navajo documentarian and one of the first graduates of the Media Arts program at the University of New Mexico.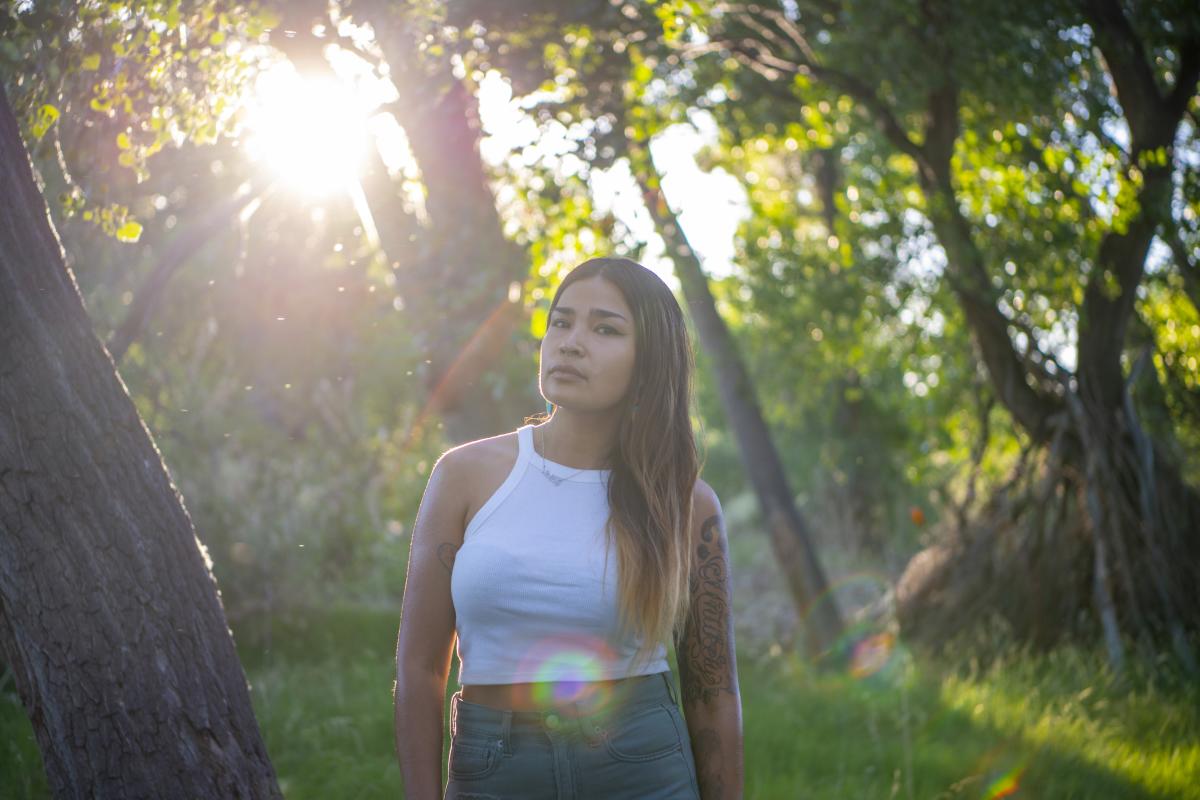 Above: MorningStar Angeline, a Navajo/Chippewa Cree/Blackfoot and Latina actor, writer, director, and rapper. Photograph by Ungelbah Dávila-Shivers.
Sims spoke about one of his projects that trains Pueblo youth to shoot films on iPhones. Emerson emphasized the lack of Indigenous representation in general, and touted the new Pinto fund, which she pioneered with the help of Governor Michelle Lujan Grisham. I underscored the need to continue persevering outside the dominant systems.    
Little did we know how quickly COVID-19 would put a heavy brake on all of our plans. That conference seems like a lifetime ago. While the state of Indigenous film in New Mexico—all film, really—remains unpredictable, Native filmmakers stand ready to build on our pre-pandemic momentum.   
Consider MorningStar Angeline. The Navajo/Chippewa Cree/Blackfoot and Latina actor-writer-director-rapper recently returned to New Mexico from California, where she worked as director's assistant to Zack Snyder (300, Justice League) on the upcoming Netflix film Army of the Dead. 
At the same time, she was up for a role in Martin Scorsese's Killers of the Flower Moon, about the 1920s Osage murders, before production was halted.    
"Right before quarantine," she says, "I was starting to get two auditions a week."  
Angeline's directorial debut, Yá'át'ééh Abiní, a deeply personal, dystopian short created with assistance from the Sundance Institute, was in the middle of a now halted festival run. When it returns, the film will seem even more prescient, telling the story of a Navajo elder's death and his daughter who is left to endure during a pandemic on the Navajo Nation. "I thought it would mirror reality in five years to ten years—not within the year," Angeline says.  
Read More: The Institute of American Indian Arts gave Native poetry a platform—and its next generation is ready to roar.
Angeline was the lead in two feature-length films that screened in 2019 at the Imagine-Native film festival, in Toronto: Blackhorse Lowe's Fukry and Shelley Niro's The Incredible 25th Year of Mitzi Bearclaw. Although the films await streaming platform releases, the two comedies showcase Angeline's range as an actor. 
If Angeline ranks among New Mexico's Indigenous up-and-comers, Emerson might be the grande dame. She has plied her craft since creating a 1999 short, The Backroad, a deceptively humorous suspense tale about two sisters' encounter with skinwalkers. When she's not editing residency graduation videos for IAIA or working on her novel, Emerson is prepping a documentary about the history of Fort Wingate, commissioned by the Bureau of Indian Affairs and the Navajo Nation, and collaborating with her husband, Choctaw filmmaker Kelly Byars, on two other documentaries.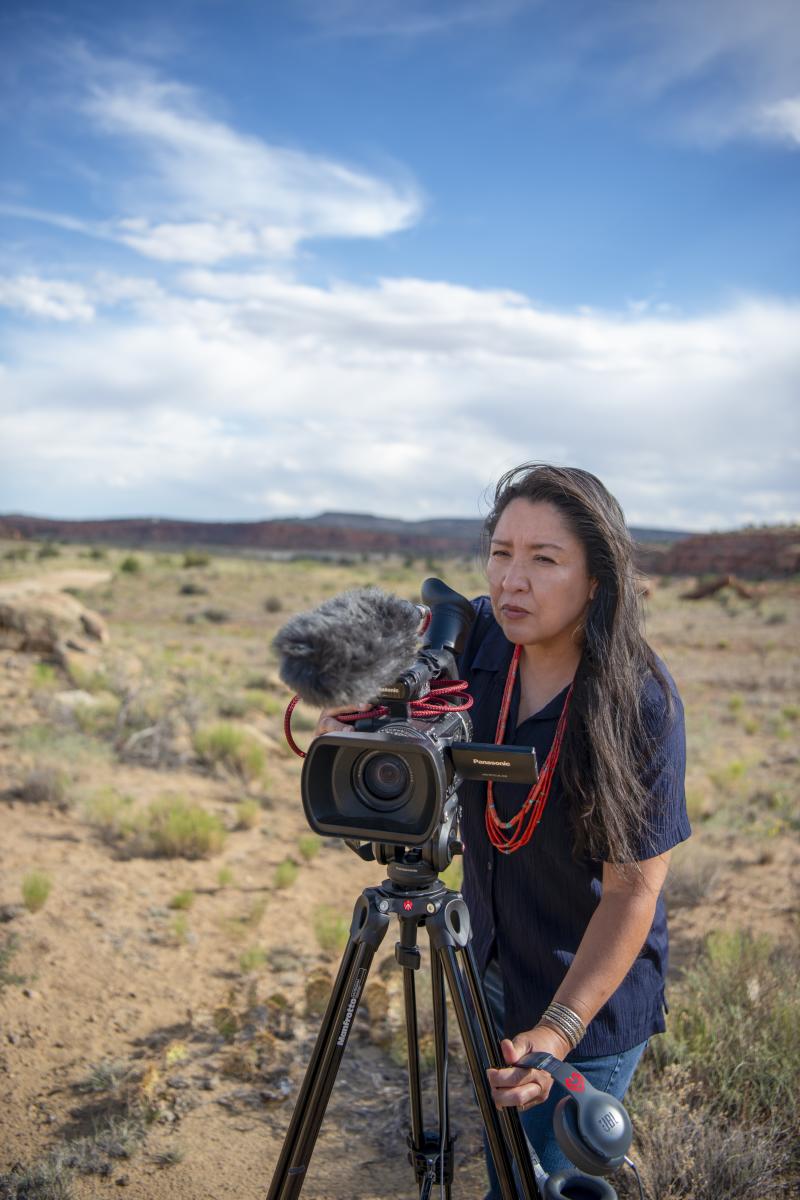 Above: Diné (Navajo) filmmaker Ramona Emerson's documentary Crossing the Line addresses border-town violence. Photograph by Ungelbah Dávila-Shivers.
One of them, Crossing the Line, addresses border-town violence against Indigenous people in the Southwest. While Emerson originally conceived it as a feature documentary, she chose to break it into parts. "I think the story is too big for an hour and a half," she says. "A lot of people were telling me I had too much information in my treatments." 
She now plans to focus on Gallup, Albuquerque, Farmington, Flagstaff, and Winslow. "Each town deserves its own story. Each town has a different kind of violence."  
With its gritty approach and searing look into alcoholism, Tome's Mud won top awards at the 2018 LA Skins Fest and Montana International Film Festival. Last year, the Navajo filmmaker worked on a variety of productions before landing a plum gig directing a short documentary called "Missing" for Vice and Levi's The 2020 Project. The powerful piece follows two female long-distance runners who use their sport to bring awareness to the subject of missing and murdered Indigenous women. "The majority of people consuming media in the United States don't see positive images of young Native women," she says.    
Working on the project (which can be found on the Vice website and on the artist's personal website, shaandiin.com), Tome successfully navigated balancing her artistic integrity with the challenge of working for two large corporations—and managed to come away with a good experience. "They actually cared about what was being said," says Tome. "They let us tell the story that we wanted to tell."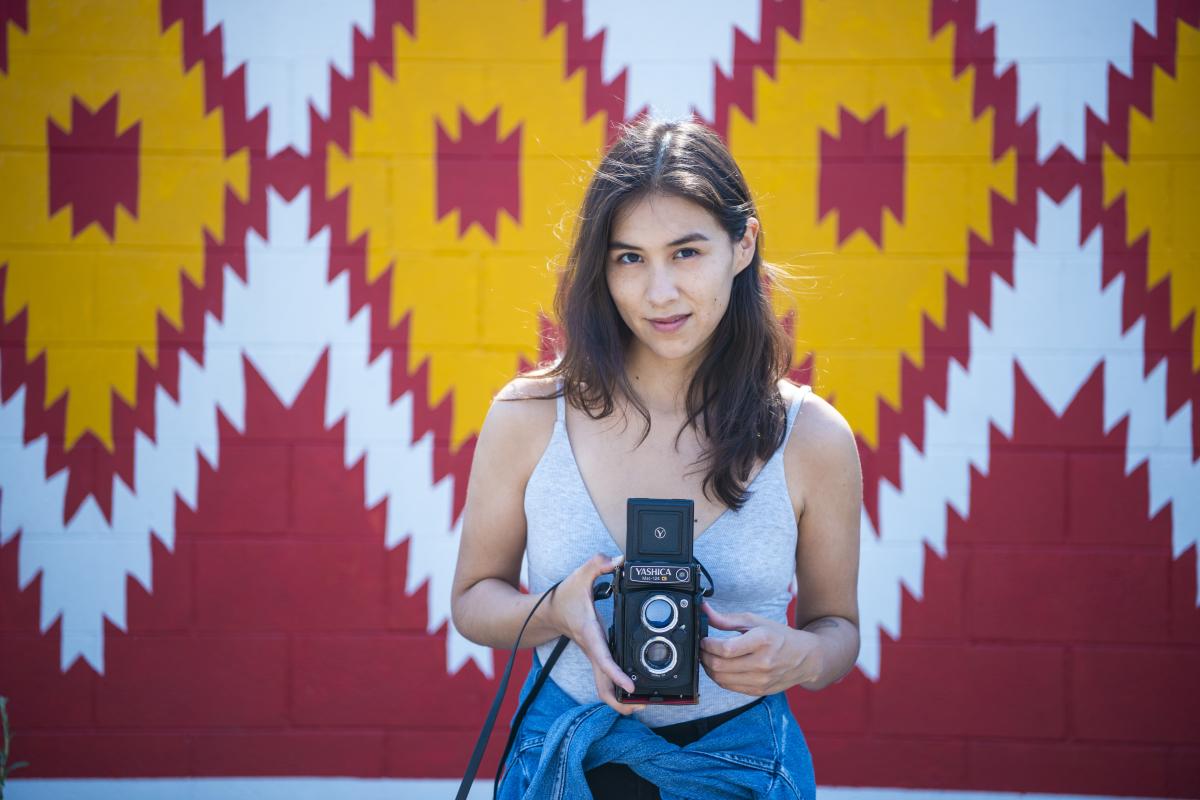 Above: Diné (Navajo) filmmaker Shaandiin Tome's Mud won top awards at the 2018 LA Skins Fest and Montana International Film Festival. Photograph by Ungelbah Dávila-Shivers.
And that's the most important part of this growth curve among Native filmmakers. Mud gives no easy answers to the problems of a Native person who has substance abuse issues. A non-Native filmmaker handling such delicate subject matter could easily go off-course. Tome instead delivers Native female agency. Of all the myriad ways to deconstruct the film, you at least know and trust this: The narrative is Indigenous, it's Navajo, and it's female. 
As Waititi said upon accepting his Academy Award for best adapted screenplay this year, "We are the original storytellers, and we can make it here as well."

AT THE MOVIES
Watch Mud at shaandiin.com and follow filmmaker Shaandiin Tome on Instagram @shaandiin.   
Ramona Emerson's production company with Kelly Byars is Reel Indian Pictures (reelindianpictures.com). Her Vimeo page has samples of her work.
MorningStar Angeline posts information about her productions at morningstarangeline.com. Follow her on Instagram @mrngstranglne.