Above: Artist Geraldine Tso's is titled Blue Day, Visit to the Pueblo. Photograph courtesy of Nativo Lodge.
A NIGHT AT NATIVO LODGE IS AN ART LOVER'S DREAM. For the past seven years, the Albuquerque hotel has invited Native artists to transform its guest rooms into immersive works by adding murals, sculpture, and decor. "Nativo Lodge is all about showcasing and celebrating contemporary Native American artwork," curator Maresa Thompson says. 
The initiative began in 2012 with the Rising Artists Project, a collaboration between Nativo and the Southwestern Association for Indian Arts that provided weeklong residencies for three Indigenous artists to paint in the hotel's meeting rooms. Thompson saw the potential for more, and the art has since expanded to more than 60 guest rooms. When complete, all 145 rooms will be artist creations.
This year, cartoonist Ricardo Caté, painter Haley Greenfeather English, and live-event painter Bunky Echo-Hawk were among the 11 artists who worked on designs. Originally, the rooms were slated for unveiling in June during a reception, but COVID-19 put those plans on hold—at least until early August, when Nativo plans to reopen. (Rates for artist rooms start at $145 per night.) Here's a preview of three new rooms and the artists behind them.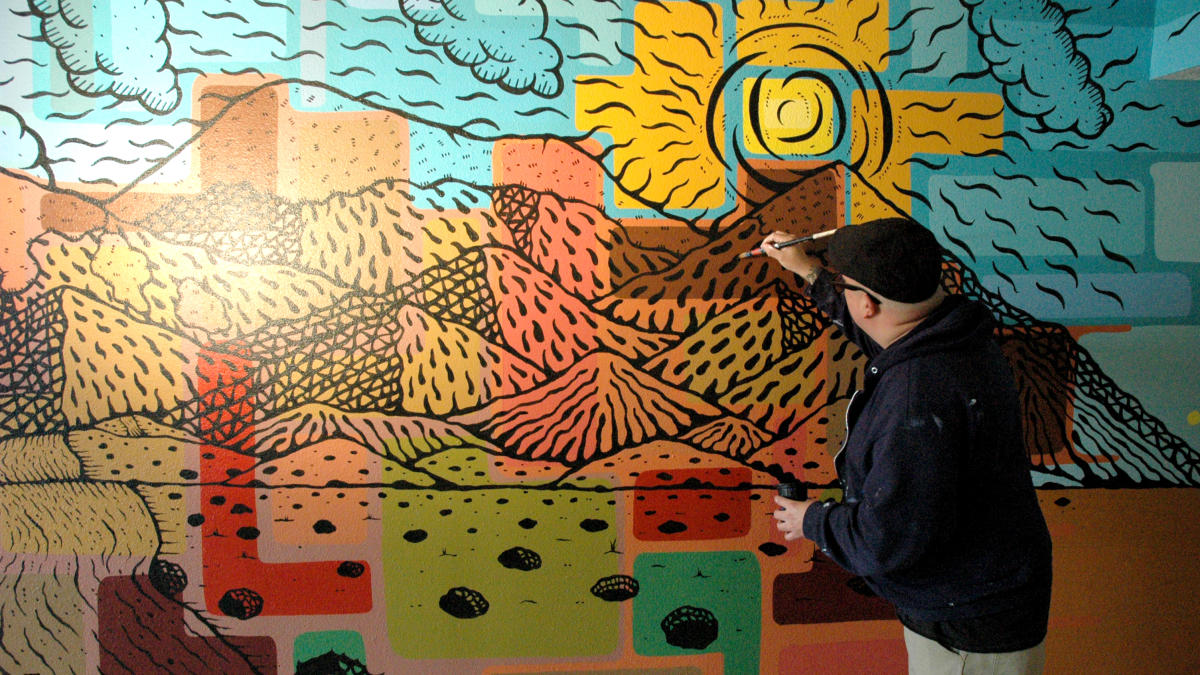 Above: Daniel McCoy Jr. uses bold lines and bright colors in his mural. Photograph by Maresa Thompson/Constellation Creative.
Daniel McCoy Jr. 
Muscogee (Creek)/Citizen Band Potawatomi
A Path to Clarity II 
A Santa Fe–based painter, McCoy mixes bold lines and bright colors to create a woodblock-print-meets-comic-illustrations aesthetic. The 44-year-old Oklahoma native reimagines traditional motifs like chiles while pulling from pop culture, quirky bits of everyday life (Allsup's burritos), and his own experiences to create energetic works layered with meaning. His inspiration: During an October 2018 walk with his son, he was struck anew by the beauty of the expansive landscape near his Pojoaque studio. The walls in his room feature the Sangre de Cristo Mountains and a stylized sun high in the cerulean sky—imagery that honors his high-desert home. He says: "For 20 years I avoided painting landscapes, because I thought they were a waste of paint." After that hike, he changed his mind and has never looked back.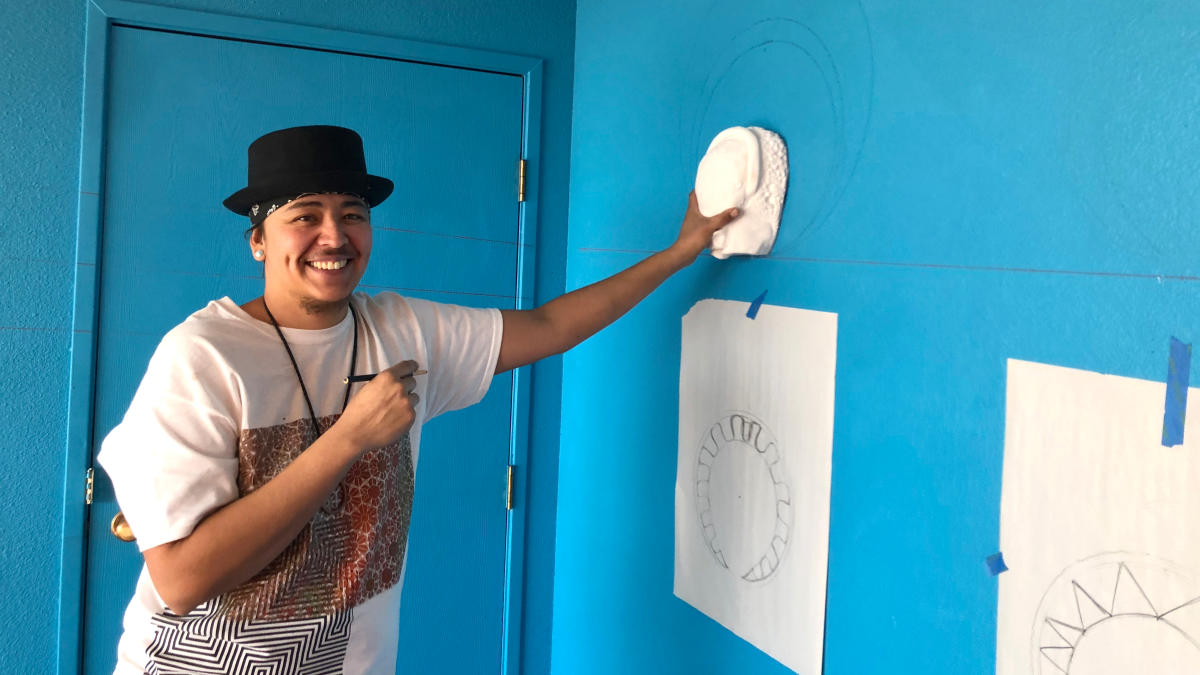 Above: Celestino Crow works with metals, plaster and paints to create interactive components in his works. Photograph by Maresa Thompson/Constellation Creative.
Celestino Crow 
Mescalero Apache/Rarámuri
Release Receive
A University of New Mexico student studying art ecology, Crow, 38, works with metals, plasters, and paints to create works filled with Indigenous iconography. His inspiration: Crow, a male-centered two-spirit, painted the room a deep turquoise as an homage to water and built a metal headboard depicting a topographical map of the Río Grande as it runs through his hometown of Las Cruces. He added interactive components, including wooden altars where guests can leave and receive gifts. "It encourages participants to develop their own ecology with the elements I put into the room." He says: A white plaster-cast buffalo head, an Indigenous icon Crow holds dear, plays prominently on one wall. "It's been a source of healing. In that room it represents this return to innocence. It has no eyes. It's about forgiveness and non-judgment."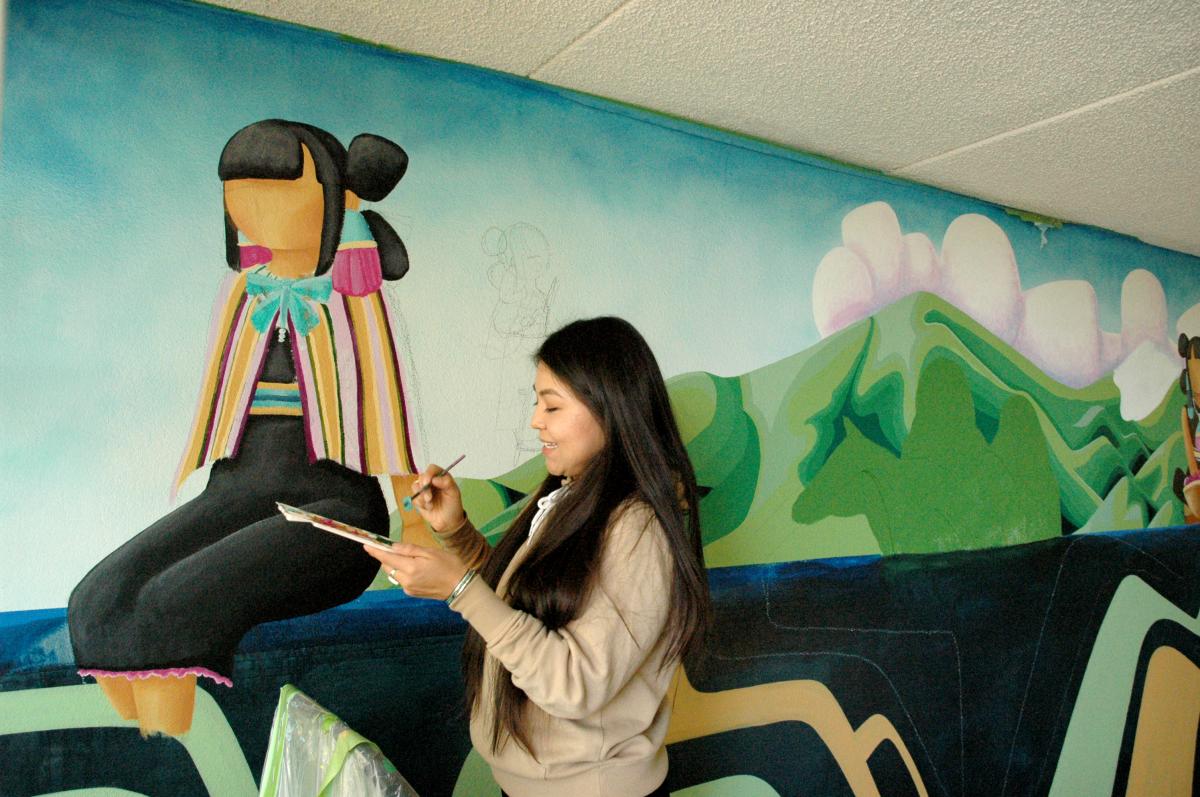 Above: DeAnna Autumn Leaf Suazo uses graffiti and anime-inspired techniques. Photograph by Maresa Thompson/Constellation Creative.
DeAnna Autumn Leaf Suazo 
Taos Pueblo/Diné
Summertime Memories 
A senior at the Institute of American Indian Arts, Suazo comes from a family of artists—her mother and father also have artist rooms at Nativo. The 27-year-old uses graffiti and anime-inspired techniques to reimagine Native pictorial ledger art and illustration as a way to celebrate and represent her culture. Her inspiration: Suazo draws on her home in the mountains of Taos. "I wanted this piece to focus on northern New Mexico," she says. Her joyous Nativo murals whisk you to Taos on a summer day. Green mountains crowned by billowing monsoon thunderheads, blooming florals, and a trio of Pueblo women adorn the walls. She says: "I look at it as a way of celebrating peace and celebrating my heritage. This room encompasses the telling of resistance, resilience, and survival of Pueblo people. Today we stand strong, and Taos Pueblo will always be the home I return to."
Nativo Lodge; 6000 Pan American Freeway NE; 505-798-4300; nativolodge.com