Above: "Twilight at Los Ranchos," by New Mexico artist Margaret Nes, from the 2020 New Mexico Artist Calendar. 
Every year, New Mexico Magazine collaborates with photographers and artists from around the state to create two distinct calendars that represent the best of The Land of Enchantment. We just released the 2020 versions. They're stunning. And they are now for sale. 
Each month of the artist calendar presents a vivid portrayal of New Mexico, from the canvases of four of our favorite local artists: Bonnie Binkert, Margaret Nes, Robb Rael, and Krysteen Waszak depict the seasons and scenery through brilliant brush strokes that perfectly capture the light and life in New Mexico.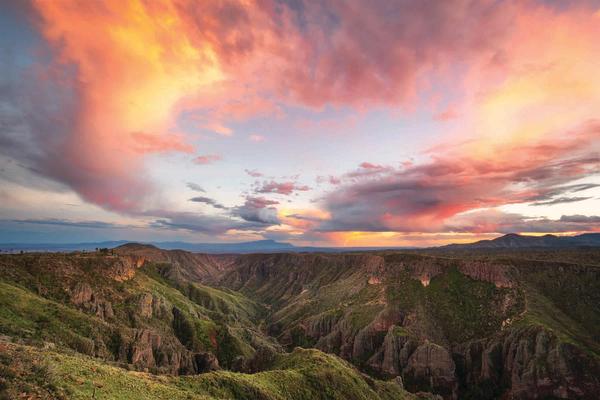 Above: "Drama Over Cochiti Canyon," by Jim Stein, from the 2020 New Mexico Photo Calendar. 
The photography calendar features beautiful images curated from the 18th Annual New Mexico Magazine Photography Contest. The calendar includes gifted amateur, local photographers who share their unique views of our state at its best—from glorious night skies to dramatic views of iconic places.
The calendars make an excellent gift for anyone who can appreciate the inimitable beauty of New Mexico. They will sell out, so order yours while you can.