Above: Horses at the Farm and Ranch Heritage Museum.
THE BUSINESS OF BERRIES
There's a reason hordes of people are willing to pay to play farm laborer for the day: It's pure bliss. Well, maybe not the part where you're stooping over a scratchy bush in the hot sun. But the way I see it, all that work is a totally reasonable price to pay for selecting a perfectly ripe berry and popping it straight into your mouth. Try it. That burst, the essence of summer, brings a joy that just might make you close your eyes. And while they're closed, imagine you're six years old all over again, sneaking a treat for the very first time.
"There's rarely anyone who comes without small children," Heidi Eleftheriou says of her Corrales-based Heidi's Raspberry Farm. Technically, you pay her for each pint of berries that you pick, but she understands there will be a certain amount of loss in the field. Most groups of pickers include at least one child who will likely eat more berries than he or she drops in the bucket. Eleftheriou writes off that slippage for one reason: Today's red-smeared berry suckers are tomorrow's nostalgic parents bringing their own kids to her fields.
Eleftheriou (pronounced "El-ef-thee-roh") has been in the U-pick business since 2005, when she first opened her Corrales berry patch, just a mile from her house. For a few years, she tried to make a go of growing raspberries in Los Lunas, but managing the field from afar didn't work. Last year she transplanted many of those canes to Corrales, expanding the field from three to four and a half acres of certified organic berries.
The bigger field is part of an overall growth pattern in her agribusiness model. Although the farm is quite spare—just a shade structure where you pay and a cooler from which they sell extra berries—she plans to encourage pickers to stay and picnic by expanding the shady areas and inviting food trucks to sell their offerings.
"I'm really aiming for this farm to be an agritourism gem," Eleftheriou says. She's well on her way. Last year, when she opened the field for picking at 9 a.m., 600 people were lined up. She had to close the gate at 10:30 because the canes looked like locusts had ravaged them.
Eleftheriou moved to Albuquerque from Ohio in the mid-1950s when her father, James S. Findley, took a position as chairman of UNM's biology department. He bought a pink Mossman-Gladden house on what was then the edge of town, near San Pedro Drive and Candelaria Road. But he wanted a more remote environment, so the family soon moved across the river, to a secluded three-acre spot that Eleftheriou describes as "the boonies." Her parents (and a few grad students) built a four-room adobe house and put in a vegetable garden. The kids got up at dawn to weed it.
As a young woman, Eleftheriou left New Mexico, traveled the world, and lived in Amsterdam, but she eventually found her way back, and met and married a charming Greek jeweler, Stavros Eleftheriou. They started a business together (Màti by Kabana boutiques in New Mexico and Kabana jewelry, sold in stores across the country), but after the second of their three kids was born, she left the stores to Stavros. "I wanted to stay married," she says with a grin.
She was growing field flowers and selling them at the Corrales Growers' Market when she got stuck on raspberries. "I love raspberries and I always loved raspberry jam, but I never found one that was made the right way," she says. She wanted an organic jam made with real sugar, not high-fructose corn syrup. So she set out to make her own. She started buying berries from a grower in Apache Creek and cooking jam in Jemez Springs High School's community kitchen.
"It was like a quilting bee in a way, a bunch of women working together—it was wonderful," she recalls. "There was always someone in front of you, so to make it go faster, you'd jump in and help them peel their garlic and whatever."
In 2000, she decided to plant raspberries on a few acres of Corrales farmland she had snapped up in the late 1980s. As the business grew, she moved from one community kitchen to the next until 2015, when she bought a commercial building in Albuquerque and, for the first time, invested in her own equipment. She put in a gigantic deep freeze to hold berries straight from the field. She expanded her jam line to include versions blended with ginger, lavender, and red chile, which she sells at farmers' markets in Santa Fe, Albuquerque, and Corrales. During raspberry season, you can find fresh berries at the markets, too.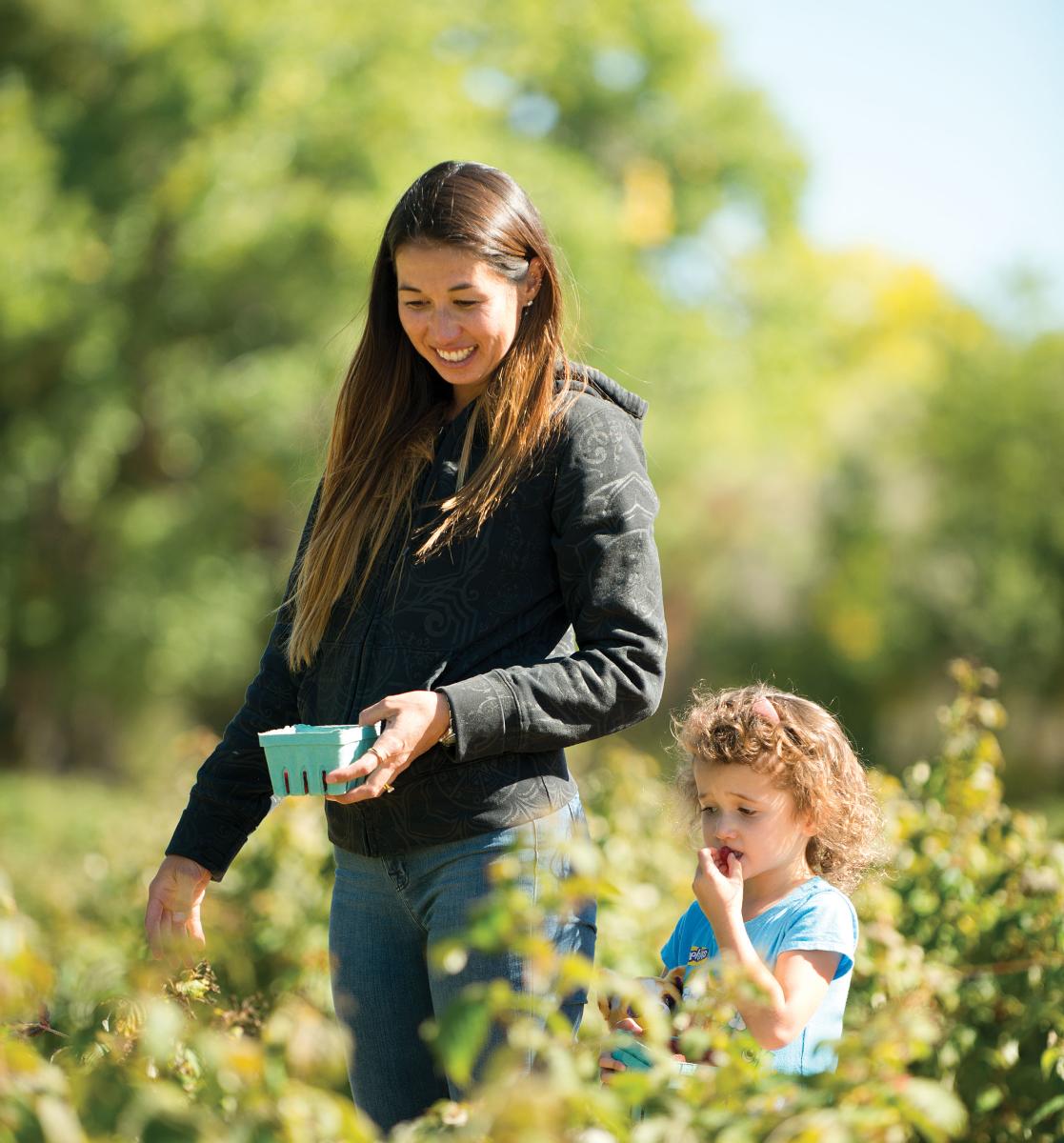 Above: Picking raspberries at Heidi's Raspberry Farm.
t's nice to know you can tide yourself over from one summer to the next with bright, sweet jam, but it's still hard waiting for the field to open. Corrales is no longer "the boonies," with Intel looming on the hill and Rio Rancho spreading beyond it. But the farm still feels far removed, with wild turkeys flapping through the surrounding acres of thick bosque and pasture.
It's impossible to predict exactly when the conditions will be just right for the raspberry field to open; the best plan is to watch Heidi's Raspberry Farm's Facebook page for that treasured announcement. Then hie thee out to Corrales early. Wear a hat, apply plenty of sunblock, and bring water. Prepare for mind-blowing raspberry mouth explosions. And don't be surprised if the littlest members of your party toddle away wearing as many raspberries as they carry.
Heidi's Raspberry Farm
600 Andrews Lane, Corrales; (505) 898-1784; heidisraspberryfarm.com
---
THE MOO-SEUM
Don't expect dusty old dioramas of cows when you visit the New Mexico Farm and Ranch Heritage Museum. In fact, this 20-year-old Las Cruces gem blends a celebration of the state's agricultural history with as much real-life farming and ranching as it can fit. Watch an actual cow being milked. Step into the blacksmith shop and feel the heat as a glowing red horseshoe is hammered into shape. Ask nosy questions of the volunteers quilting, weaving, carding, and spinning wool. Let your kid take a pony ride ($5 on Saturdays).
You can pretend that you're watching the Parade of Breeds for the sake of your kids, but we're pretty sure that you, too, will gawp and coo over the Navajo churro lambs, Angora goats, horses, donkeys, and seven breeds of beef cattle. (Call ahead to check on each day's schedule of events.)
Inside, you can see an example of a cozy Spanish colonial home and explore the workshop of master saddlemaker Slim Green. The Wheels & Gears exhibit has some seriously cool old cars, trucks, wagons, and buggies, while the Antique Equipment Park, outside, shows off a fascinating collection of threshers, cultivators, and other big-boy farm machines.
Before you leave, swing through the greenhouse, where you can buy plants, and stop in the gift shop for a free wine tasting.
New Mexico Farm and Ranch Heritage Museum
4100 Dripping Springs Road, Las Cruces; (575) 522-4100; nmfarmandranchmuseum.org
---
THE RANCH
While toiling up El Camino Real in the really old days, Spanish colonists knew of a welcome paraje, or resting place, just south of Santa Fe. Starting in the 1940s, its core buildings were restored, while other homes, cabins, and workshops were relocated or built to create a physical hub for appreciating the agricultural heritage of northern New Mexico.
Every summer, El Rancho de las Golondrinas ("Ranch of the Swallows") reopens as a gathering place for those who share both a love of and expertise for traditional arts like weaving and colcha embroidery—and who happily share their knowledge with visitors on self-guided tours. On other days, master bakers teach classes on tending bread in an outdoor horno, a domed oven made of adobe bricks.
Poke around the animal pens, wander through the orchard and vineyard, and marvel at the kitchens, with their low adobe fireplaces. The place really comes to life during regular festivals, including the September 16 Renaissance Fair, with its demonstrations of jousting, falconry, sword fighting, magic, and "unicorns." But the highlight of the year is the fall Harvest Festival (September 30–October 1), which takes the historically hard work of pulling in crops and turns it into a party. In between the music, dancing, and living history performances, you can learn how to string chile ristras, make tortillas on a comal, and stomp grapes for wine (sorry, that one's for kids only). Other longtime crowd favorites: demonstrations of hide tanning, blacksmithing, and crushing sorghum canes into sweet syrup—with donkeys turning the rollers.
El Rancho de Las Golondrinas
334 Los Pinos Road, Santa Fe; (505) 471-2261; golondrinas.org
---
THE HACIENDA
Tucked away in Albuquerque's South Valley, the Gutiérrez-Hubbell House feels like a secret garden, where the city fades away and time shifts back a century or two. The Territorial-style hacienda, built along El Camino Real in the 1860s as a private home, also served as a trading post, stagecoach stop, and post office. After the last Hubbell family member died, in 2006, Bernalillo County acquired the property to make it into a museum and cultural center.
The 10 acres surrounding the house are now designated open-space land, with tall cottonwoods bordering alfalfa fields, an heirloom vineyard and orchard, and a demonstration garden kept up by volunteers from the county's Master Gardener program. In a pasture just north of the museum, Dahl sheep, a heritage breed whose DNA may have arrived with Spanish colonists, show off their unique coat (it's "hair," not wool).
In late summer, tangles of sunflowers beam back at the old house, and chickens hunt and peck under the fruit trees. You can wander the beautiful grounds from dawn to dusk every day, even when the museum isn't open, although you may run into a school group on a cool morning or a wedding party in the afternoon.
The museum also offers a series of workshops on how to turn an urban yard into an edible oasis. In September it will host the Rio Grande Agricultural Land Trust's Harvest Dinner. Check the website for other events, workshops, and lectures on topics like the history of sheep in New Mexico, traditional uses of native plants, the geology of the Albuquerque area, and the history of adobe architecture. 
Gutiérrez-Hubbell House
6029 Isleta Blvd. SW, Albuquerque; (505) 244-0507; gutierrezhubbellhouse.org