OVER THE PAST FEW YEARS, a national trend of food halls has breezed into New Mexico, injecting new life into neighborhoods, restoring overlooked architectural gems, and providing fertile ground for entrepreneurs to launch food businesses. They've become some of the hottest not-restaurants in town.  
Maybe you've wandered into one in another state: Usually tucked into some former train station or renovated building with architectural sex appeal, a food hall beckons with a sampling of the city's fare all under one roof. Communal seating means the two—or twelve—of you can arrive at different times, and separate counter service at each eatery allows everyone to nosh exactly what they want and pay their own tab.  
And it's more communal than a traditional restaurant, says Lauren Green, the creative force behind Albuquerque's Sawmill Market, near Old Town. "We wanted people to feel like this is a place you can go every day to grab coffee, have a date night, or celebrate your son's birthday."  
Built in a former lumber warehouse, the 30,000-square-foot Sawmill Market opened in the spring of 2020 as an Instagram-perfect hot spot. The rustic industrial building's front patio faces the swanky Hotel Chaco and draws a stylish crowd of visitors and locals. "It was important to us that it was modern, fresh, and new but still honoring the bones of its sawmill roots," Green says. Inside, the local merchants were chosen to showcase the city's culinary diversity. Yes, you can get a Frito pie (Red & Green), but also Venezuelan food (Cacho's Bistro), barbecue (135° BBQ), and Asian (Naruto Ramen).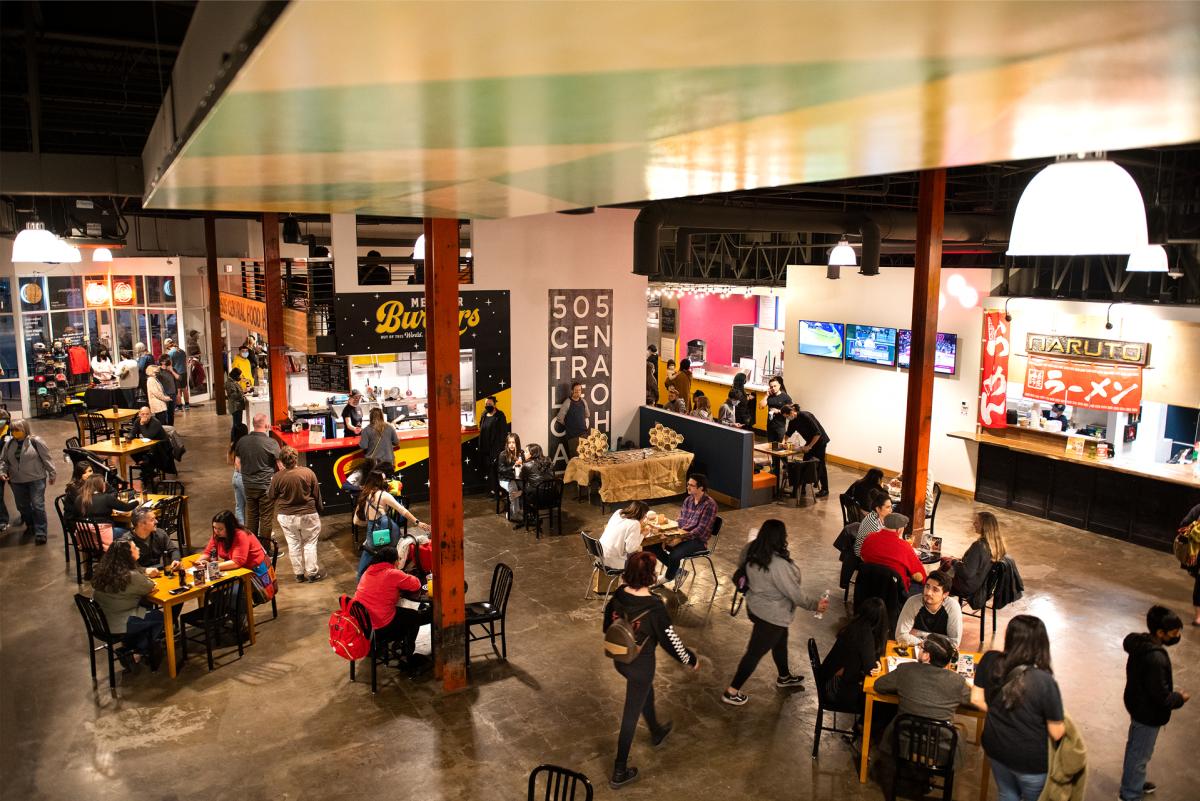 A view of 505 Central's food court.
In November, 505 Central Food Hall followed, breathing new life into a long-overlooked John Gaw Meem–designed Deco Moderne building at Fifth Street and Central Avenue in downtown Albuquerque. "The inspiration for me was to reactivate downtown and make a food hall that is accessible to everyone," says architect-owner Mark Baker. 
The ground floor's high ceiling allows space for loft seating above nine distinct stalls serving burgers, tacos, pizza, and more. "Aesthetically, we wanted each restaurant to have its own identity, rather than be plugged into a module and look like a food court at the mall," he says.  
No one would mistake Albuquerque's original food hall, Green Jeans Farmery, for a food court. (The owners recently changed its name to Green Jeans Food Hall.) This rainbow-colored jumble of shipping containers tapped into several urban design and food movements when it opened in 2016 near Carlisle Boulevard and I-40. The containers house and connect the food stalls, creating pockets of indoor seating around a common patio anchored by a Santa Fe Brewing taproom. The splashy paint and nontraditional architecture make it fun, funky, accessible, and family-friendly.  
Its success inspired Tin Can Alley, built by the same developer on the city's far northeast side. The even more colorful shipping containers are covered with murals inside and out and surround a covered glass-walled dining area with uniquely stunning views of the Sandía Mountains. Both capture Albuquerque's spirit of not playing by the rules.  
Meanwhile, Santa Fe got its first taste of the food hall craze when Chomp opened in late February at Cerrillos Road and Paseo de Peralta. Although the city's dense core has always provided plenty of restaurants and bars near the Plaza, Chomp owner Ken Joseph says he wanted to bring more reasonably priced options to the area. Joseph took an underappreciated Art Deco–style building, originally a DeSoto car dealership, and transformed it into a bright, open space with small vendors.  
Joseph says he modeled Chomp after similar projects he admired, including Oxbow Public Market, in Napa, California, and Reading Terminal Market, in Philadelphia. But the food and atmosphere here reflect Santa Fe's sophisticated and unique character, ranging from Southeast Asian fusion at Nath's Inspired Khmer Cuisine to homemade soup at Yes, Soup for You. Alongside its neighbors Ohori's Coffee, Radish & Rye, and New Mexico Hard Cider Taproom, Chomp adds to the communal feel of the block.  
We may have been a bit late to the party, but our food hall fiesta shows no signs of slowing down.
Grub Hubs
Some essentials on the state's food halls.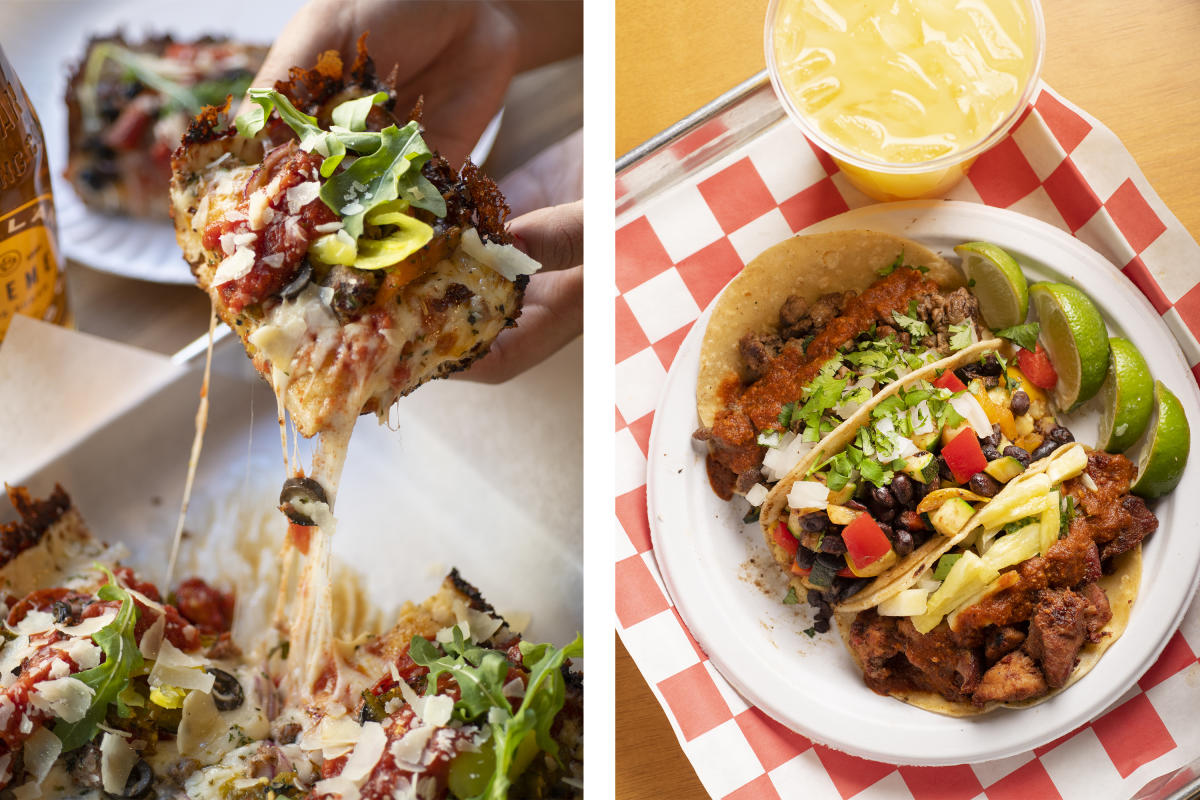 Deep-dish pizza from Thicc Pizza Co. (left) and a selection of tacos from Tino's Tacos (right) are available at 505 Central Food Hall.
505 Central Ave. NW, Albuquerque; 505-503-8777
Food Stalls: 9
Hours: Sunday–Thursday, 11 a.m.–7 p.m.; Friday and Saturday, 11 a.m.–8 p.m.
Try this: Stop in just to pick up a gift or souvenir from Moonwalk, which stocks more locally made beer, wine, and spirits than many liquor stores. 
---
505 Cerrillos Road, B101, Santa Fe; 505-772-0946
Food Stalls: Up to 5 (more coming soon)  
Hours: Sunday–Thursday, 11:30 a.m.–7:30 p.m.; Friday and Saturday, 11:30 a.m.–10 p.m.  
Try this: Keep an eye out for matzo ball soup at Yes, Soup for You. 
---
3600 Cutler Ave. NE, Albuquerque; 505-313-0042
Food Stalls: 9  
Hours: 7:30 a.m.–8 p.m. daily  
Try this: Watch your ice cream come together like magic at Nitro Fog Creamery. 
---
1909 Bellamah Ave. NW, Albuquerque; 505-563-4473
Food Stalls: About 20  
Hours: 8 a.m.–10 p.m. daily
Try this: Neko Neko's Japanese soft-serve in a fish-shaped cake cone and covered in sprinkles.
---
6110 Alameda Blvd. NE, Albuquerque; 505-208-0508
Food Stalls: 9
Hours: 7:30 a.m.–8 p.m. daily
Try this: Take a trip to South America with a plate of arepas, meat-filled corn-cake pockets, from Guava Tree Cafe.