Above: The state champion honey mesquite in Las Cruces. Photographs by Minesh Bacrania.
"ONE OF THE MAGICAL MOMENTS of my childhood was getting glasses and being able to see leaves for the first time," Mary Stuever says.
Born legally blind, she knew what leaves were. She could touch them. But when she got her first glasses, she suddenly "saw" them—and the trees that bore them. That moment of wonder changed her life.
Now the Chama District forester for the State Forestry Division, Stuever sees trees all the time. The wonder still remains, especially when she's asked to measure a potential champion for the state's Big Tree Program. Yes, there's such a thing. Even in New Mexico, where every blade of grass sometimes struggles to grow, trees can achieve award-worthy heights. And girths.
The designation goes back to 1940, when American Forests (then the American Forestry Association) launched a campaign to locate the trees that had weathered droughts, lightning, floods, bugs, and diseases to crest the forest canopy. The National Register of Champion Trees started out as a competition, with the goal of discovering, protecting, and preserving the largest specimen of every American tree species. The trees that people hunted for, or simply happened upon, were scattered through woodlands and meadows, along roadways, and in backyards.
Almost 80 years later, the search for big trees continues, with each state maintaining a register. New Mexico claims a lot of specimens, many of them champions, because of our ecological diversity—mountains, river bottoms, lava fields, and deserts. We're at the junction of several major ecozones and claim six of the world's seven life zones. That means many types of trees take root here and take advantage of the conditions to grow very large. Everyone knows we have impressive cottonwoods and ponderosa pines. But we also have champion elms, apricots, oaks, chestnuts, hackberries, salt cedars (a sometimes reviled invasive plant), even giant sequoias—and that's just the start.
Not long ago, Rich Muth, a docent for the Cumbres & Toltec Scenic Railroad, called Stuever about a Douglas fir he'd seen while walking the tracks in preparation for the train's special wildflower tour each August. The fir seemed really big, he said. Could she measure it? "Walking into the canyon where the tree is located, towering over all the other trees, was like walking into a cathedral," Stuever recalls. "You knew you were in its presence."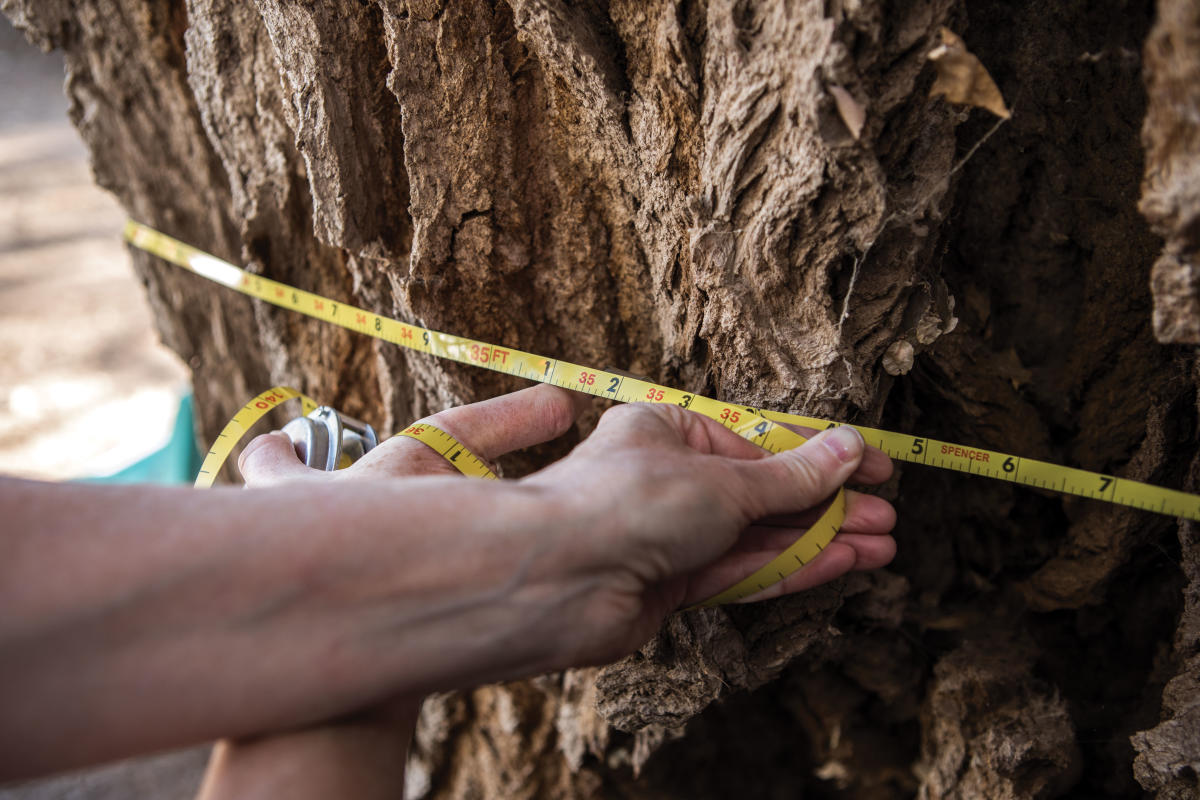 Above: ​Forester Jennifer Dann measures an Albuquerque tree.
To size it, Stuever used a point system: one point for each foot of height; one for each inch of circumference (measured at four and a half feet above ground level); and a quarter point for each foot of average crown spread. The Douglas fir scored at 168 feet high and 182.8 inches around, with a crown spread of 49 feet. Its point total made the tree a new state champ.
Stuever is one of many state and urban foresters in New Mexico whose duties include monitoring the state's big trees and evaluating potential champs. Measuring trees is hardly their main task, but it's one of their favorites. Jennifer Dann, with the State Forestry Division's Albuquerque office, is the state's big tree coordinator. She'd love to spend all of her time looking for big trees but usually responds to discoveries called in by the public. "I have found champions myself," she says, "but I prefer to stay out of it and let other people submit."
Read more: New Mexico is a major-league pecan-producing state. Here's the under-told story—and how best to take advantage of our crunchy harvest.
You can download a list of champion trees from the Forestry Division's website, but you won't find precise coordinates for most of them. Many are on private property, and nearly all of their owners are publicity shy. The reason? Fear of vandals who might damage or even cut down a state champ. Let us all vow to act more honorably toward these deep-rooted creatures.
GROWING UP IN MAINE, Jennifer Dann had a favorite tree: a huge spruce whose down-hanging branches created a sort of tent. "It was a perfect place to hide," she says. Here in New Mexico, she doesn't have a favorite specimen. What she looks for is the right tree in the right spot, with ample water and nutrients. Still, when pressed, she says two specific trees come to mind. The first is an Italian stone pine in Las Cruces. "It's gorgeous," she says.
I soon see what she means as Jimmy Zabriskie, community forester for the City of Las Cruces, drives me around, pointing out versions of this European immigrant. He calls them lollipop trees because, unlike other trees whose branches grow higgledy–piggledy, the branches of the Italian stone pine arch upward into the graceful shape of a lollipop—to him, at least; others compare it to an umbrella. Although they prefer a Mediterranean climate, the pines have learned to thrive in southern New Mexico. They're also the only pine species in New Mexico, except for piñons, that have edible nuts.
The champion Italian stone pine—83 feet tall, 125 inches around, with a crown spread of 161 feet—is not easily spotted, because its location on a road with other big trees obscures it. Next to it is an enormous Montezuma bald cypress—52 feet tall, 96 inches around, with a crown spread of 203 feet—that's also a state champion. Both thrive on private property in a Las Cruces residential neighborhood, thanks to a nearby acequia.
Down the way, on East Las Cruces Avenue in front of the main post office, Zabriskie shows off yet another state champion, a honey mesquite. It looks like an ordinary large tree—43 feet tall, 43 inches around—until you realize that honey mesquites typically grow as large shrubs and rarely achieve more than 30 feet in height.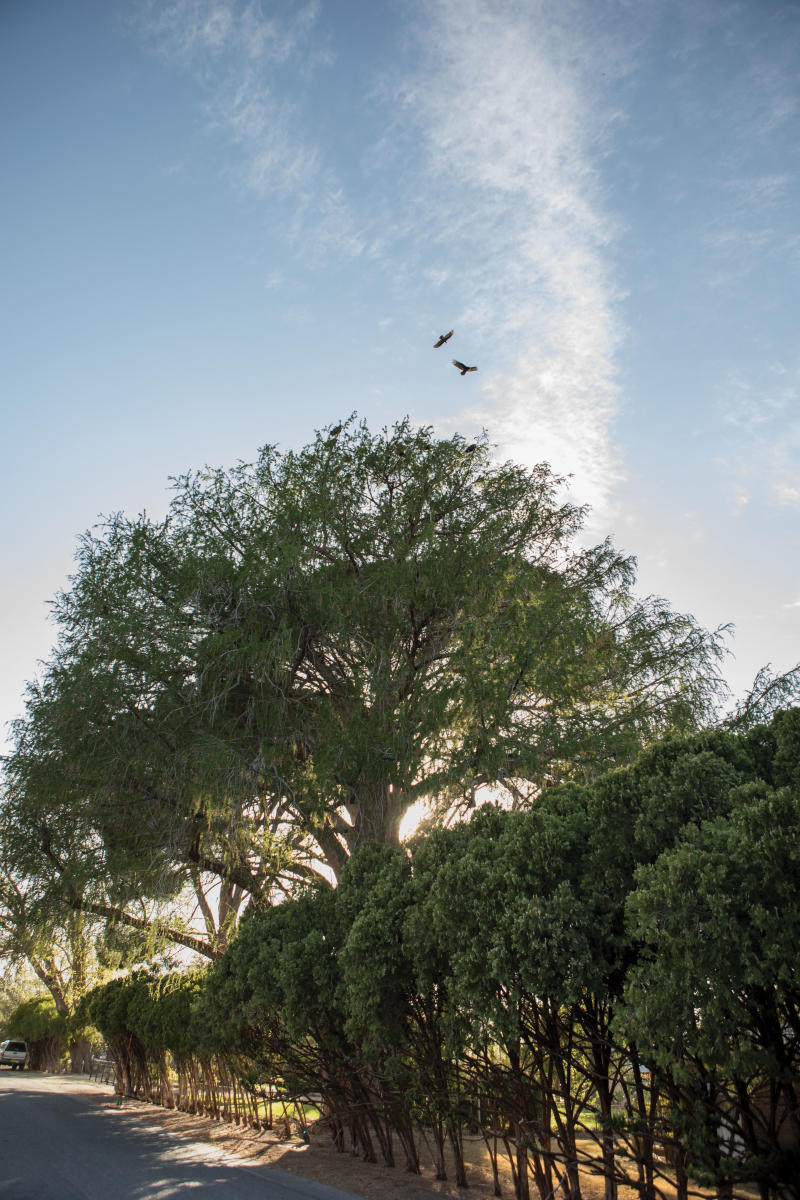 Above: A state champion Montezuma bald cypress in Las Cruces.
Trees apparently grow quite large in Las Cruces. Zabriskie says the city has what would be a state champion and possible national champion Joshua tree,  if the owner applied. He also suspects the city has a champion palm tree, but no one has put theirs forth yet. "I have a special feeling for trees," says Zabriskie, who fell for them via a love of bird-watching. "Without them, the world would be a very harsh place. I can't imagine a world without trees."
Dann's other notable tree is all the way up in Taos. Locals might assume that the town's sovereign tree is the cottonwood on the plaza. It's huge, no doubt, but Paul Bryan Jones, a Taos arborist, says it isn't the state champ and, sadly, it's also ailing. The true titan of Taos, Jones says, is a willow. By peering over a fence onto private property in a residential neighborhood, I see a willow that dwarfs any other willow I've ever seen: 110 feet tall, 351 inches around, with an average crown spread of 95 feet. Jones says botanists are still debating what subspecies it is (Goodding's? Shining?). No matter. It's the largest willow of any kind in the entire nation. (Just across the street: the state champ littleleaf linden.)
The willow is taller but not as thick as the New Mexico champion cottonwood. That one is located on private property in Albuquerque's North Valley. I can see it from a nearby intersection (which I promised not to reveal). It doesn't look that big. Then I spy people standing under it who look like dolls. It's 84 feet tall and 393 inches around, with a crown spread of 83 feet.
Read more: Check out the state's largest alligator juniper awaits hikers near Silver City.
MANY OF THE TREES that New Mexicans suspect of being big tree champions are cottonwoods, because even the also-rans are huge. That's largely thanks to their ability to turn available water into growth spurts that complicate estimating any cottonwood's age, much less the champ's. "We call cottonwoods 'bottle rockets,' because they shoot up fast and then they fizzle," says George Duda, a retired forester. "It's rare to find one 100 years old."
This is not the case for the stubby-seeming bristlecone pines found high in the mountains, which can clock in at several thousand years old—a reminder that old trees aren't necessarily large trees. What they are is tough. Bristlecones and alligator junipers hug the ground in harsh environments and tend to look mostly dead, but both can live for millennia.
Aspens represent a special case. Individual trees in an aspen grove can be 40 to 150 years old, but the underground root network from which they spring can be much, much older, sometimes thousands of years old. Aspens do not reproduce by spreading seeds. A colony of quaking aspens in Utah, nicknamed "Pando" and "the Trembling Giant," has been estimated at 80,000 years old. (Creosote bushes, of which New Mexico has a few, can exceed 10,000 years.)
The three oldest trees in New Mexico are a Douglas fir at El Malpais National Monument that is about 1,275 years old and, on private properties, a limber pine that's about 1,670 years old and a Rocky Mountain juniper at over 1,900 years old. None would make the champion cut for size, though. One famous old tree near Grants, a Doug fir called "Yoda," was known to be more than 650 years old. But it was only seven feet tall. Yoda died in 2014, and the documented cause of death was a combination of higher temperatures and persistent drought. The list of big trees always evolves. Big trees keep getting bigger, but they also die.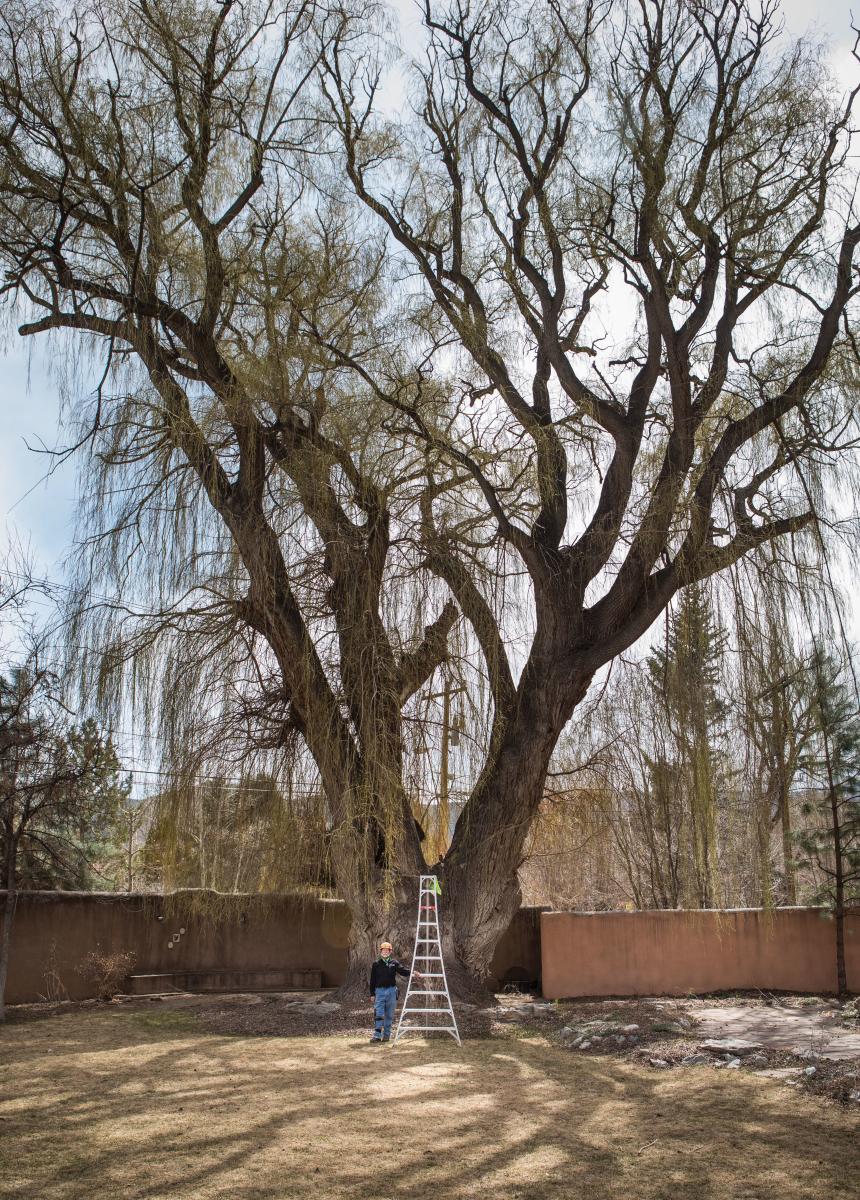 Above: A national champion willow in Taos.
WHAT COULD BE THE MOST significant big tree in New Mexico stands in a forested meadow on a ranch near Cuba. In a state with hundreds of thousands of piñon pines, this one is the largest. Piñons carry enormous economic and cultural importance. Their edible nuts sustained people and animals for thousands of years. Their resin-heavy wood still warms our homes. In 1948, the legislature designated the piñon as the official state tree. To preserve it, conservationists have long warned against logging it for firewood. Every dry year, bark beetles relentlessly attack it, leaving behind hills of carcasses.
The trees grow slowly, a few inches a year, typically topping out at 20 feet but occasionally reaching 35 feet. The Cuba piñon is 51 feet tall, with a circumference of 149 inches and a crown spread of 54 feet. Not only is it the state champion; it's the national champion.
Read more: Need more trees? Check out this one that's in a restaurant.
Marisa Y. Thompson, an extension horticulture specialist at NMSU's Los Lunas–based Agricultural Science Center, likes to put tree sizes into perspective by using what she calls "pizza units." "A medium pizza has a 12-inch diameter," she says. "So a pizza with a 248-inch circumference would be over six and a half feet across. As of right now, the Cuba piñon's trunk-size equivalent in pizza units would be over four feet across and require approximately six pounds of cheese."
I appreciate the whimsical comparison, but what I really want to know is what that piñon tree has seen—what all these champion trees have seen. Native peoples searching the forest for animals. Miners digging in the earth for yellow rocks. Loggers cutting trees down and dragging them from the forest. People building roads, constructing houses, creating towns.
These trees have endured it all. Birds nested in them. Children climbed them. Lovers carved initials in them. People fed upon their nuts and berries. They are among the oldest and largest beings on our planet. Without them, we could not survive. In my book, that makes every single one of them a champion.

THINK BIG
The State Forestry Division oversees the Big Tree Program. Find information at nmmag.us/bigtree. Specific locations are not given for the trees, in order to protect them from vandalism, theft, initial carving, and other mischief. A champion might be found on a residential street, in front of a courthouse, in a city park, or in the wilderness.
New Mexico has several tree species for which no champion has been identified. Palm trees are one. And "we probably have the national champion desert willow," says forester Jimmy Zabriskie, "but a problem identifying it is that the species has multiple trunks, only one of which can be measured."
If you encounter a tree you think might be a champion, contact your local state or urban forester. "It's our passion," forester Mary Stuever says, "to get out and measure a tree with you."
---