Above: Shadow darners can be found near ponds, slow streams, and ditches. Photograph by Kitty Leaken.
ALTHOUGH THE ANNUAL DRAGONFLY FESTIVAL at Bitter Lake National Wildlife Refuge, near Roswell, has been canceled this year, the dragonflies will attend anyway, pandemic notwithstanding. Those of us attracted to the charismatic insects can still walk the trails in search of their dazzling colors, dramatic flights, and mystical powers of transformation.
Among the oldest insects on earth, dragonflies have used 300 million years of evolution to their advantage. Their four wings move independently, allowing them to hover, dive, and fly backwards and upside down at 30 miles per hour. Their bulbous eyes and near 360-degree vision mean they can effortlessly track moving targets, such as mosquitoes, and intercept them for lunch.
Native American cultures honor the dragonfly as a spirit guide that can summon rain to thirsty crops, guard pools of pure water, and bring healing in times of trouble.
Jonathan Batkin, retired director of Santa Fe's Wheelwright Museum of the American Indian, has attempted to document the more than 100 species in New Mexico, including four that he was the first to record in the state. An avid hiker and birder who was infatuated with butterflies growing up, Batkin eventually became captivated by dragonflies and damselflies, work that earned him the unofficial title of Dragonfly Detective of Santa Fe County. "Open your eyes," he recommends. "It's unbelievable what you can see out there if you do."
---
Three to See
Ranging from easy to spot to rarely seen, these dragonflies are buzz-worthy finds.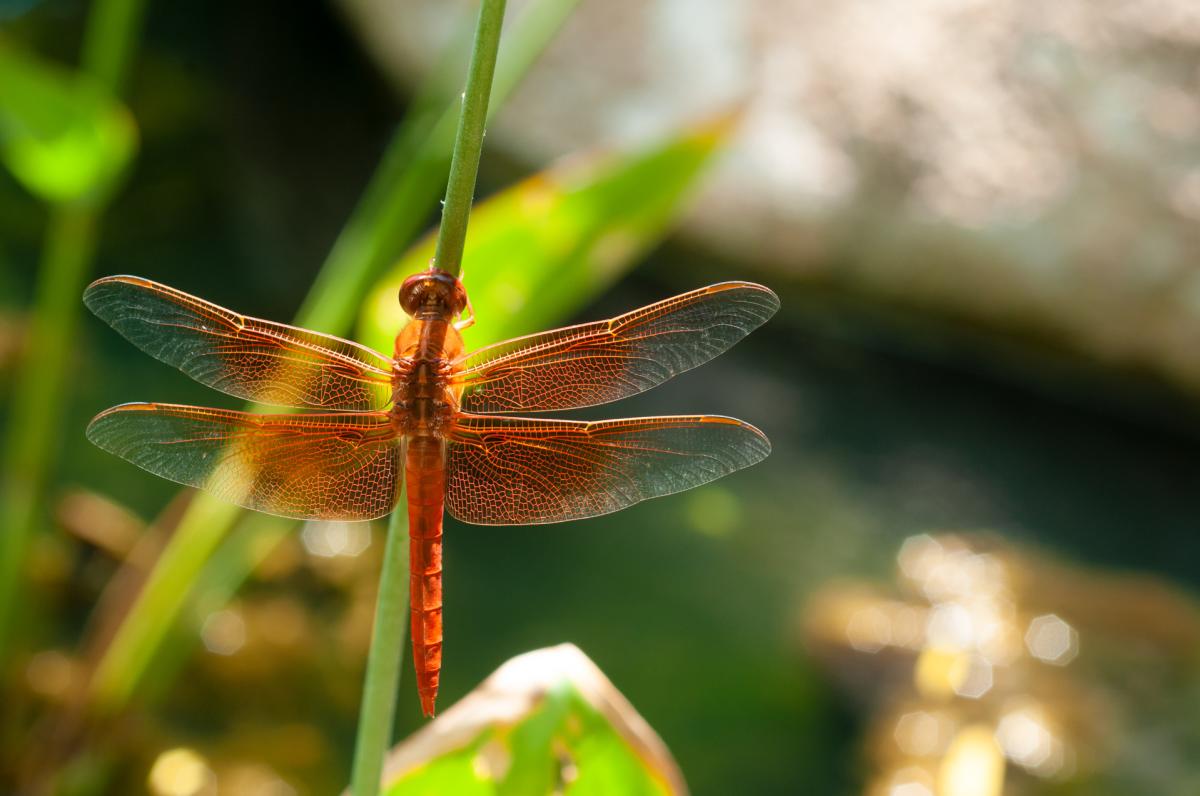 Above: A flame skimmer. Photograph by Kitty Leaken.
Flame skimmer (Libellula saturata)
The blaze-orange males make this the most conspicuous species in the West. "It is fairly common on streams, ponds, even in yards miles from water, hunting at eye level," says Batkin. Once you spot one, take a minute to study what else you see. "You notice that there are other species sharing the space—large, small, red, black, spotted, striped—many behaving completely differently, probing the vegetation, flying high, even catching other dragonflies." The orange tips on the ends of the wings are known as stigmata (technically, pterostigmata), a good way to distinguish species.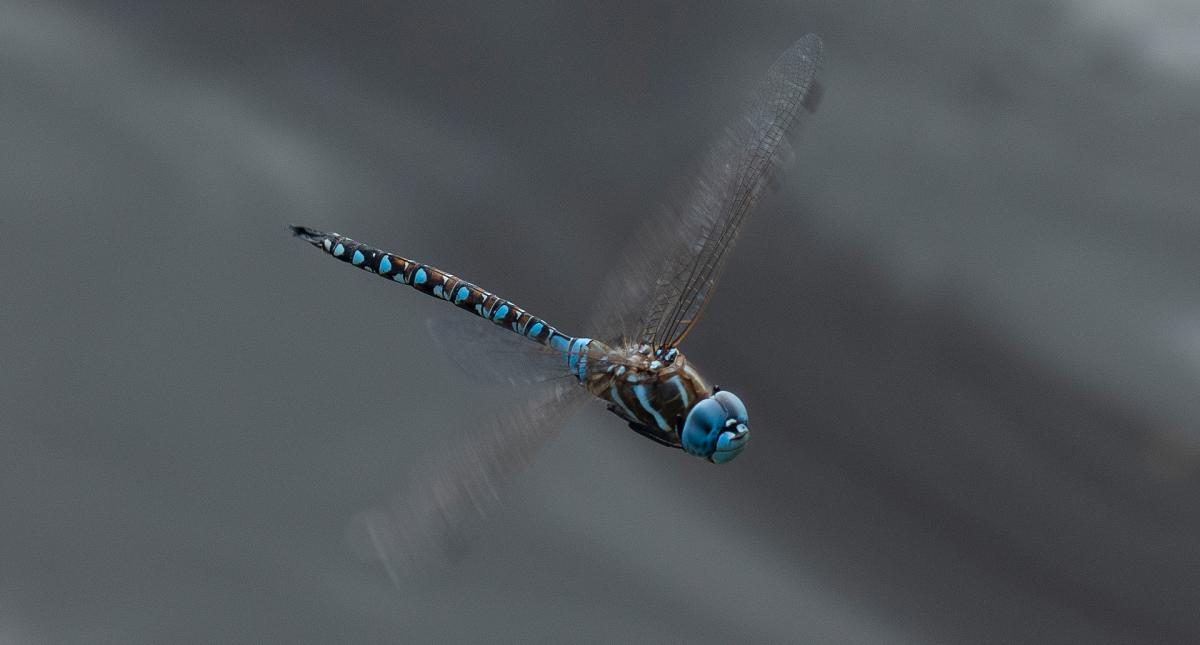 Above: A blue-eyed darner. Photograph by Kitty Leaken.
Blue-eyed darner (Rhionaeschna multicolor) 
Darners, with their blue or green coloration, are among New Mexico's most frequently spotted and also among the fastest. While dragonflies generally prefer hotter environs, darners can be found at astonishingly high altitudes, including at Nambe, Stewart, and Spirit lakes, in the Sangre de Cristo Mountains above Santa Fe. "These are Pleistocene relics that have been here for thousands of years and have adapted to pretty extreme ranges of temperature and altitude," Batkin noted in the journal of the Dragonfly Society of the Americas.
Above: A Pacific spiketail. Photograph by Johnathan Batkin.
Pacific spiketail (Cordulegaster dorsalis) 
One of the largest and most beautiful dragonflies in the West, it is rare even in locations where it is known to occur. Batkin spent years trying to locate it in Santa Fe County, hiking hundreds of miles, falling into a river, and puzzling over its absence. Driving home from what he considered a last-gasp effort, Batkin was approaching the dam below Santa Cruz Lake when one flew right over his truck. He returned the next morning with a friend, walked down the road, and boom! "We flushed it, and then it actually perched right in front of us," he recalls. "That is what is so exciting to me."
---
FLIGHTS OF FANCY
Artists have been drawn to dragonflies' unique look and mystical appeal since ancient times.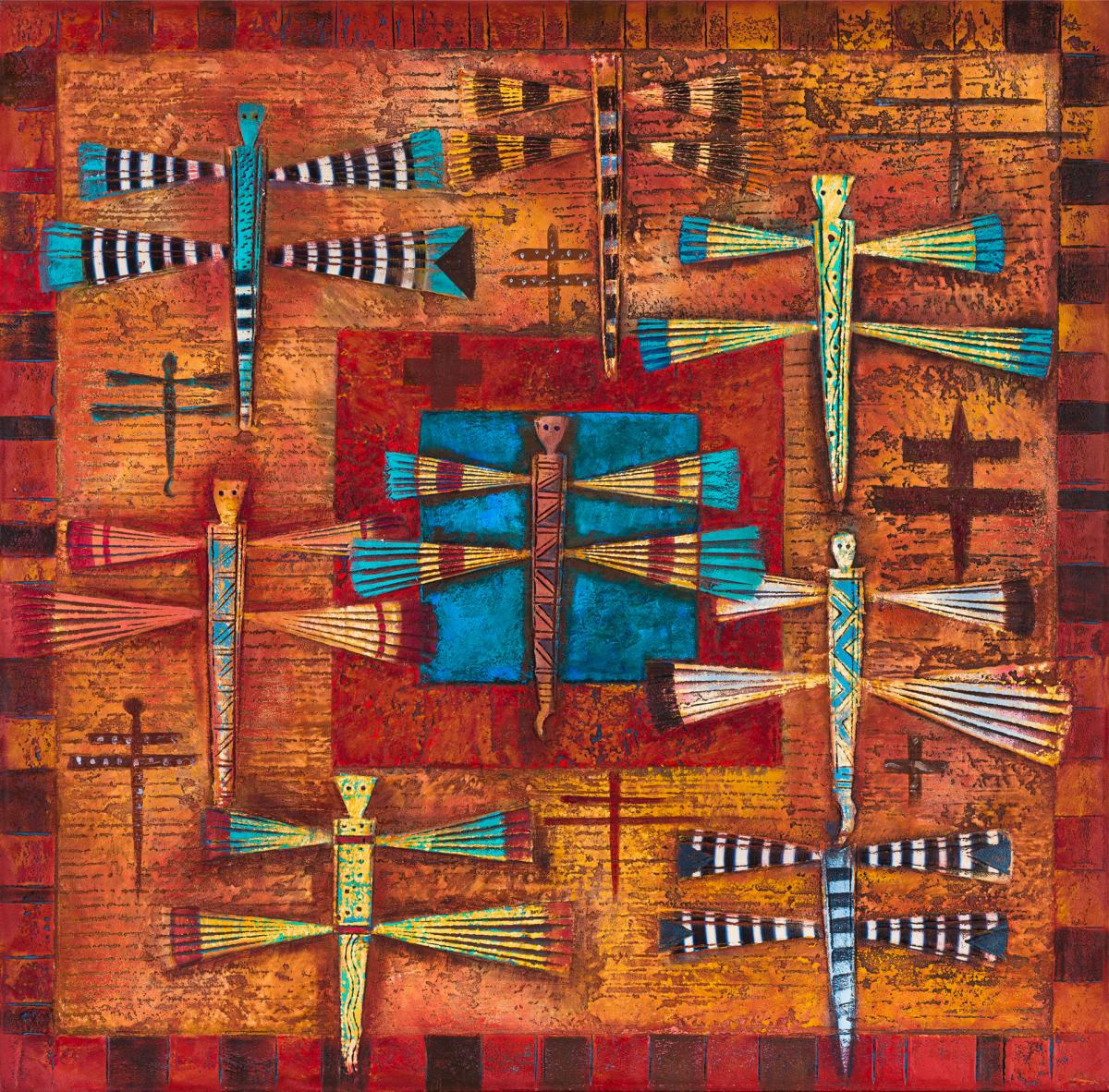 Above: Dragonfly Constellation by Tony Abeyta. Courtesy of La Fonda Collection.
Dragonfly Constellation
Tony Abeyta's (Navajo) oil-and-sand painting of shimmering dragonflies floating skyward can be found in La Fonda on the Plaza's art collection, in Santa Fe. "Dragonflies are a messenger," says Abeyta. "They will take you to the sanctuary of water. I find them so beautiful and tranquil, so fragile and calming. They ease my mind."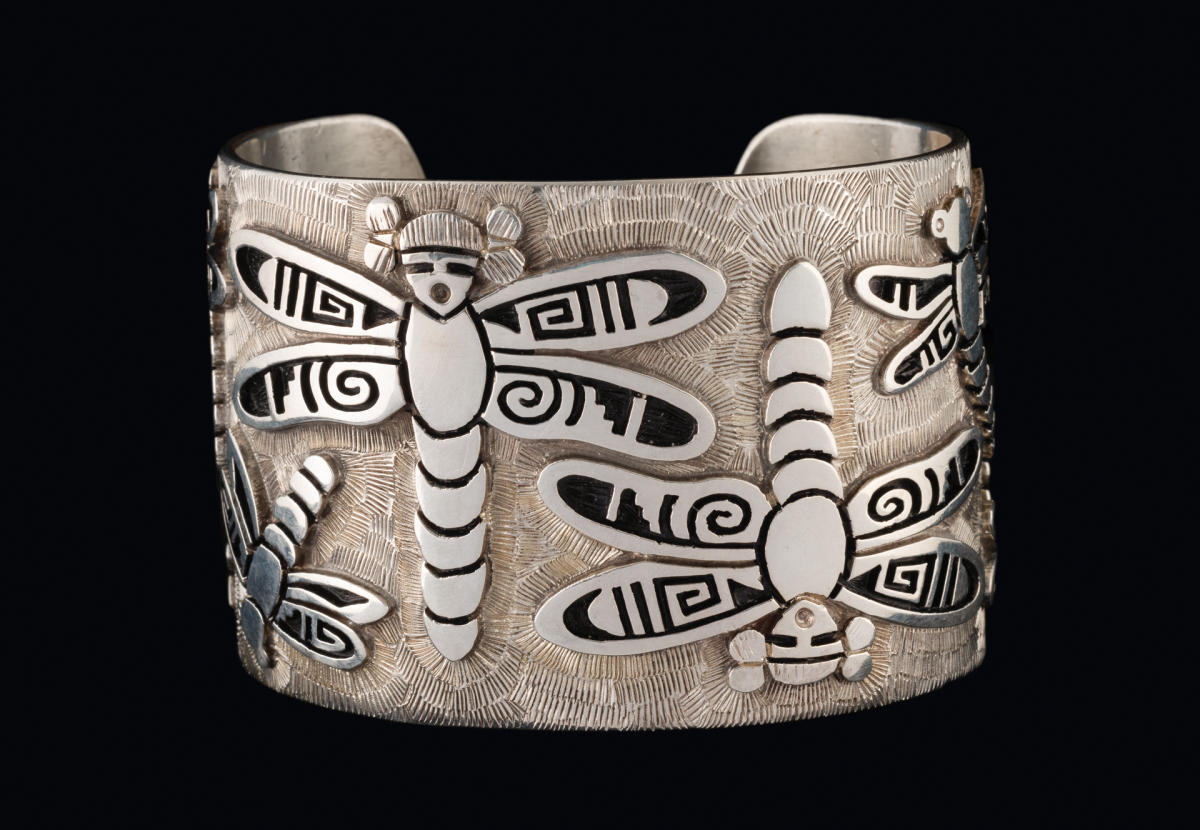 Above: Watson Honani's dragonfly cuff. Hopi cuff courtesy of Museum of Indian Arts and Culture 58646/12.
Dragonfly Cuff 
Watson Honanie's (Hopi) sterling-silver cuff is part of the Museum of Indian Arts and Culture's collection, in Santa Fe. "Dragonflies are an important symbol of renewal, rebirth, and life to the Hopi," says Dan Garland, who represents Honanie at Garland's Indian Jewelry, in Sedona, Arizona. "They come in the spring and bring about rain in the desert where they live. They are always a very positive sign."
---
WHERE TO FIND THEM
Dragonfly Sanctuary Pond
The first of its kind in the country, the Albuquerque BioPark's aquatic habitat features plants for dragonflies to breed and perch on, plus vantage points for humans to watch. 2601 Central Ave. NW.
Bitter Lake National Wildlife Refuge
About 10 miles northeast of Roswell, this is home to more than 90 species of dragonflies and damselflies. Trails are open from one hour before sunrise to one hour after sunset. 4200 E. Pine Lodge Road.
Santa Fe Canyon Preserve
Overseen by the Nature Conservancy, these 575 acres off Upper Canyon Road include a 1.5-mile loop trail that winds through the wildflowers and willows that are home to many dragonfly species.