Lavender essentials from Los Poblanos Historic Inn & Organic Farm. Photograph by Kate Nelson.
"Bring Taos Home" was the only clue on the medium-size box at my post office. One of the occasional perks of a travel-writing job is the arrival of samples—of books, of candy, of … well, I didn't know what this was. I couldn't wait to get home and find out what to my wondering eyes should appear.
The generous folks at Visit Taos New Mexico had packed in some delightful goodies—High Desert Sage tea from tea.o.graphy, Mountain Spring bath salts and Sage-Piñon lotion from Bison Star Naturals, Bergamot & Ginger deodorant and French Peppermint lip balm from Humble, Honeybee balm from Taos Bee, Sage & Blue Corn soap from Middle Aged Spread, and a smudge stick for wafting away all the bad memories of 2020.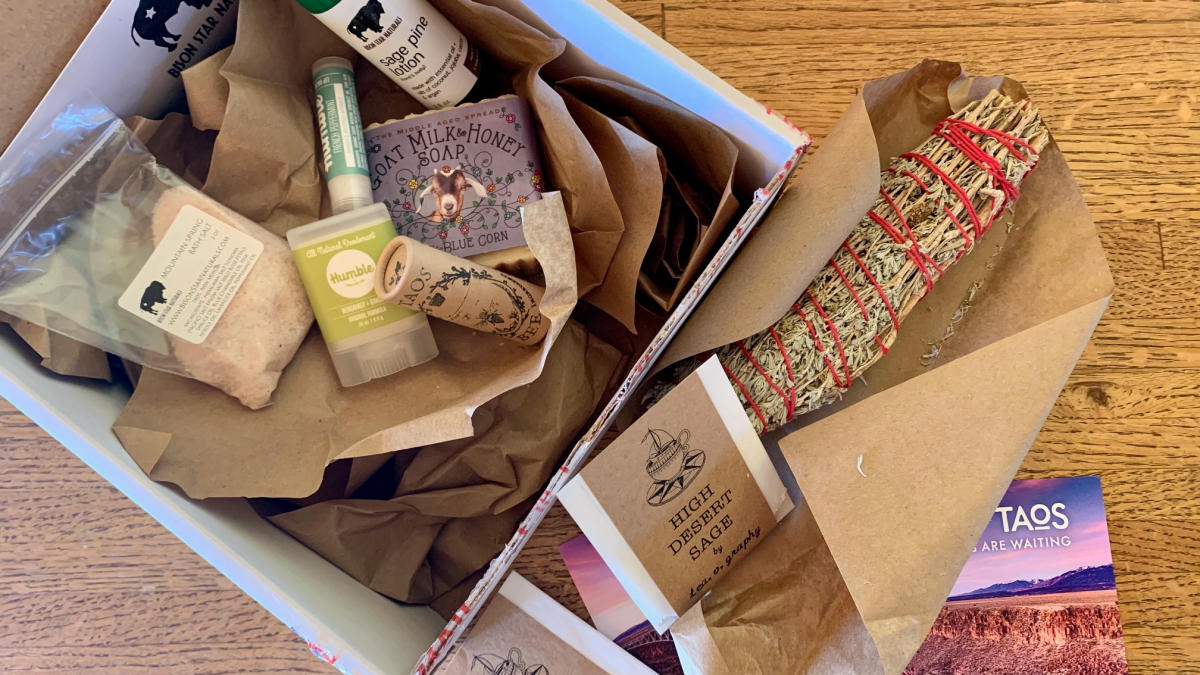 Treat yourself or homesick for New Mexico loved ones to some self-care from Taos. Photograph by Kate Nelson.
This "self-care box" is one of two being promoted for holiday giving (the other, a culinary box, is at least temporarily sold out). For just $50, you can treat yourself or your homesick-for-New Mexico loved ones while supporting small-batch makers of high-quality goods. (You can order directly from the makers, too.)
Imagine my surprise at receiving a second box, this time from Los Poblanos Historic Inn & Organic Farm—a Los Ranchos de Albuquerque place that I fell in love with years before its farmers planted the first lavender field. A quartet of sample-size goodies—lavender lotion, hand sanitizer, air mist, and lip balm—filled my living room with a luscious fragrance, plus happy memories of eating at Campo restaurant and wandering the spacious grounds.
The Los Poblanos Farm Shop can curate a selection of products just for you, including a $75 "Man Kit" for the guy whose beard hasn't seen a barber in month or so.
For those who already possess all that they desire, the inn at Los Poblanos has a new program in which you can buy a night's stay for a healthcare professional, which the inn will match with a second night's stay and grant the buyer 20 percent off at the Farm Shop. Giving our front-line workers a brief respite in a calming and beautiful place? Now that's a happy holiday.