Above: Sam Leone, a student at Eldorado High School, fulfilled his Make-A-Wish by distributing his wish kits to healthcare and other front-line workers on World Wish Day. Photograph courtesy of Make-A-Wish New Mexico.
WITH SO MUCH of our ordinary lives now gone, it's easy to focus on what we've all lost. Stare at the scarcity long enough and it's all you'll see. This week, our heroes have determined to look beyond those shortfalls and instead recognize possibilities for closing gaps and moving forward stronger, together. We'll give them this credit, too: Most of these folks aren't new to the giving business. Many of them have been doing it all along.  
Sam's Wish 
Last year, as Sam Neale, a 17-year-old junior at Albuquerque's Eldorado High School, was being treated for a broken leg, his doctors discovered he had cancer. The difficult diagnosis made him eligible for a wish through the Make-a-Wish Foundation, which offers kids with cancer five forms of fulfillment: I wish to go, be, have, meet, or give.  
"From the beginning, Sam knew that he wanted to give his wish back," says Sara Lister, Make-a-Wish New Mexico president and CEO. They were still discussing specifics when the COVID-19 pandemic began, Lister says, and Sam's wish became clear: "He wanted to be able to support front-line heath care workers who were really battling this virus in New Mexico."  
To be precise, he wanted those who came home from work worried that they might infect their families to be supplied with disinfecting and personal hygiene products, and to make sure they had food to enjoy—something that had boosted his mood during hospital stays. The foundation aimed to assemble 100 kits with gift cards for restaurants and grocery stores, bleach, seat covers, spray bottles, gloves, washable bags, laundry detergent, shoe covers, antibacterial soap, and lotion.  
Donations flooded in as people shared from their personal stashes, stores helped identify where to find items in short supply, even struggling restaurants sent gift certificates, and people in other states ordered supplies online. In total, they received more than $16,000 in gift cards.  
They thought in-demand hand sanitizer was a tall order. But on the first day, Santa Fe Spirits delivered 100 bottles. Desert Valley Brewing and Los Poblanos Historic Inn's organic farm and restaurant followed with donations. 
Supplies stacked up well beyond their goal. Make-a-Wish staff gathered, disinfected, and bundled the makings of more than 220 kits. One hundred and twenty full-size ones will go to Presbyterian and University of New Mexico hospitals, both of which have pediatric oncology wards, and 100 mini kits will go to Lovelace Medical Center. Hospital staff will then distribute them to those at greatest need.  
"I could never have imagined how many people would help out to make this wish possible," says Sam, who is now in remission. He and his family plan to join the caravan Wednesday morning, in recognition of World Wish Day, from the Albuquerque Make-a-Wish office, where kits will be loaded into a large moving van, to wave as kits are delivered.  
"He's a great kid and it has been such an amazing outpouring of support," Lister says.  
Food and Service  
For 12 years, the Bread and Blessings Ministry at Immaculate Conception Church has served Albuquerque's homeless people warm meals on Sundays. But its restaurant-style approach was shut down when restaurants in the state were ordered closed.  
Roberta Montoya, the Bread and Blessings Ministry coordinator, promptly shifted gears to provide those who have come to rely on them with grab-n-go lunches instead. Families from churches throughout Albuquerque prepare sack lunches, and Montoya and her volunteers sometimes load them up with extra sandwiches, another bag of chips, or a fruit cup. Then they hand them out along with bottles of water.  
On Sunday, they were able to distribute almost 200 lunches, she says. One man rolled up asking for eight—he had a van with seven passengers outside, all of them hungry. 
"There are so many, if you watch the news, that are helping every single day in such huge ways. This is a small way of helping, but it's something," Montoya says. "It's reaching out and being of service, even in a small way, to those folks around us who really need us, not only now, but all the time."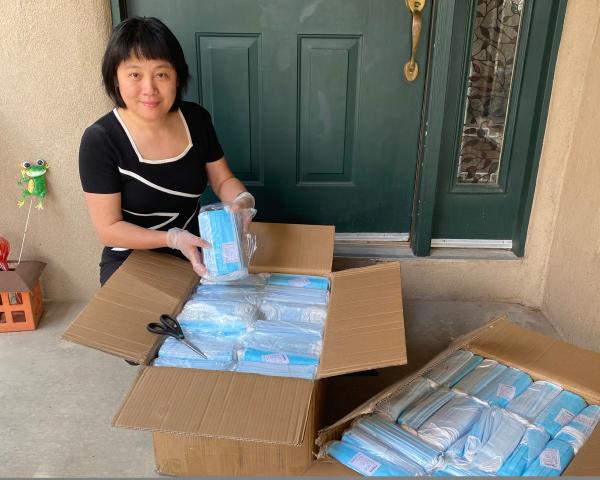 Above: Eva Zhang used her connections to order 14,000 masks from China. Photograph courtesy of Gary Xie.
Mask Gatherings  
As the state received a stay-at-home order, members of the Chinese-American community in Los Alamos realized that the people working to keep the community going were doing so without personal protective equipment. A tightly knit, cozy community of about 100 families came together around the idea of fixing that, says Gary Xie.  
In March, a campaign led by the Los Alamos Chinese Christian Fellowship raised $8,000 to donate to hospitals. Then, hearing about the ongoing short supplies of masks, the community came together again in April to raise $7,000.  
Huan Zhao led the fundraising effort and Eva Zhang used a connection in China to order 14,000 masks. Xie's daughter Grace has helped with deliveries. Masks have gone to the local hospital, senior center, and nursing home.  
With some to spare, they're reaching out to the hospital in Española and calling pueblos to ask if they'll accept donated masks. Senior centers are of special importance for the group, Xie says. "We also want to honor and protect the seniors as we protect our parents," he adds. 
Mask Makers 
As Sherri Perry shut down Super Groomers, her dog grooming clinic in Taos—where she gives any shelter dog a makeover to perk up its chances for adoption—as a nonessential business, she looked at the bandannas she adorns puppies with and the immediate need for face masks and decided to use one to help the other.  
She and Julie Henderson Terrell formed Taos Mountain Magic and recruited 19 sewers around town. They tested patterns for various needs and started producing four types of masks. "We're just a group of people trying to be part of a solution," Perry says.  
When elastic for ear loops was tough to find, they disassembled clothing with elastic bands and tried hair ties. When fabric came up short, they started using high thread-count sheets (they've since connected with Operation Bandana New Mexico in Santa Fe and now have a steady supply of material).  
The volunteer crew has produced thousands of masks. Some of the helpers work late into the night after their jobs. Some retirees sew 50 each day, Perry says. They've donated those masks to hospital staff, EMTs, grocery store workers, elderly community members, and members of Taos Pueblo and the Navajo Nation, and have requests for thousands more.  
"We're as organized as we can be for a group of community-minded mask-making bandits," Perry says. 
True Shout-Outs 
In rural Taos County, the Valle Escondido Homeowners Association gave its supply of N95 wildfire protection masks to Holy Cross Hospital in Taos. … Although Jo Beth Vigil-Price had to temporarily close her Clayton gift shop Design D'Lites, she used her time and artistic talents to make masks for health care workers throughout Union County.