Above: Jonathan Ellsworth finds a pocket of powder at Ski Santa Fe. Photograph by Ryan Heffernan.
A BOLD TRAM FROM THE CITY to a craggy peak, world-class steep skiing, a classic ski town, a nearly 12,000-foot peak that's practically in Mexico, easy entry points for first-timers, great backcountry trails and tree skiing, a riveting tubing hill, night skiing, a deck where the community always shows up. Yup, each of New Mexico's nine ski areas offers something unique.
And while each place has its own vibe and specialty, our ski areas all have something in common. Well, two things. They each offer that cold, dry New Mexico powder, and they all keep it real, resisting the homogenous and pricey resortification that has consumed so many mountains in the West over the past two decades. Here, ski areas have retained a unique identity and local charm. That makes them fantastic community hubs that are great for kids. This state might just be the premier destination in the country for skiing with the family.
WHY SIPAPU IS THE MOST INFLUENTIAL SKI AREA IN THE STATE
It was quiet in the cedar patrol shack at the top of Sipapu Ski Area. Patroller Alex Limkin sat on a fraying couch, petting Julia, a search-and-rescue border collie. Patrol Director Albert Graves looked out the window to the ramp where kids descended from the chairlift. Graves, like so many others in northern New Mexico, grew up skiing here. It was a Wednesday morning in February—the crowd predominantly the 65 kids from Mora's public schools who were doing what Graves had done long ago.
"These kids wouldn't be skiing without that program, and then they grow up to be skiers," he says.
Sipapu is a thumb of a mountain near the High Road to Taos. To the west, along NM 518, sit the bucolic villages of Peñasco and Vadito. To the southeast, the towns that provide most of the ski area's customers: Mora, La Cueva, Las Vegas. The tiny ski area tops out at 9,255 feet and has 200 skiable acres, 1,000 vertical feet of skiing, and about 190 inches of annual snowfall. It's small, but it also has a claim as one of New Mexico's most influential ski areas, due to the number of local children it has introduced to the sport over the years. Those children—a majority of whom are Hispanic, Native, and not necessarily well-to-do—alter the typical profile of skiers.
Read more: Taos Ski Valley, and one skier in particular, go all in.
By not changing much, Sipapu is a bit revolutionary in the ski world. While daily lift ticket prices hit $219 at places like Colorado's Vail, Sipapu has retained its charm and accessibility. Lodging options include tiny riverside cabins in the parking lot, RV hookups, and casitas. Day tickets hover around $45 for adults. And for the past 50 years, Sipapu's School Program has taught thousands of students to ski through affordable packages. During the 2019 season, K–12 kids enrolled in the program through their schools could receive transportation, rentals, a lesson, and a day ticket for $32. (Taos Ski Valley and other state ski areas offer similar programs to local students.)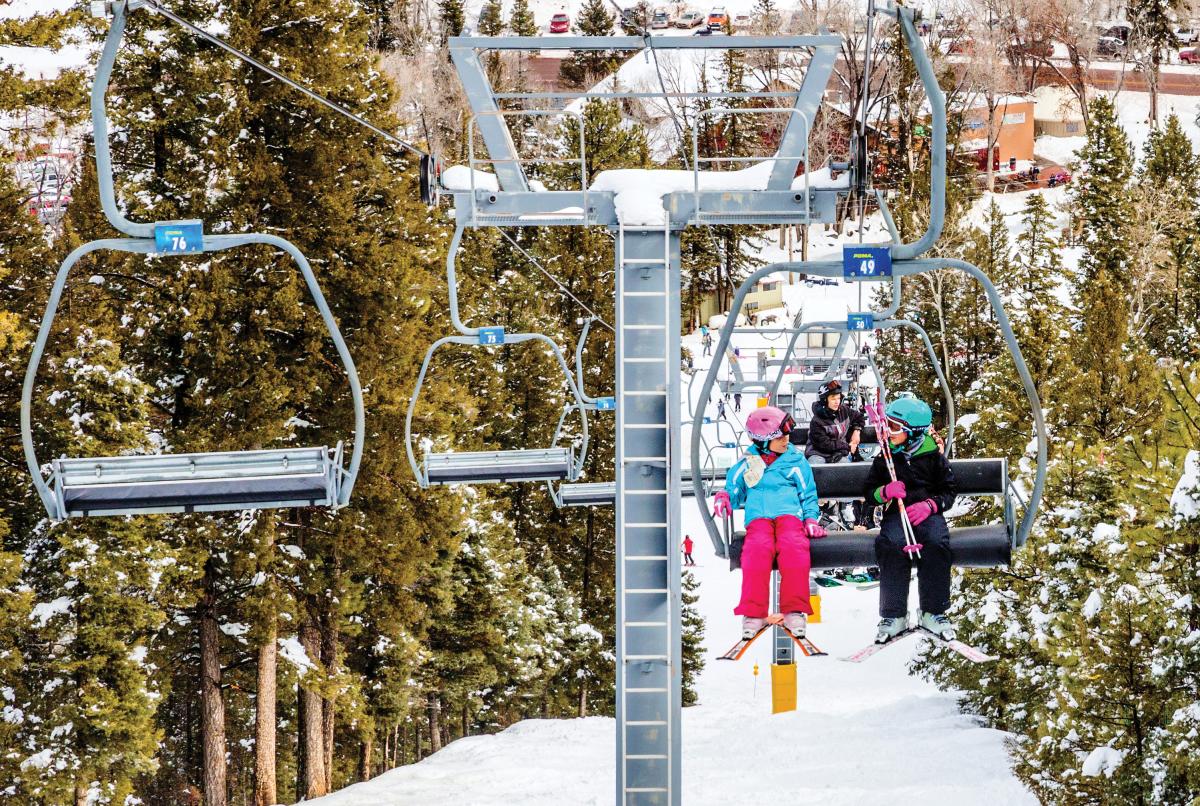 Above: Sipapu Ski and Summer Resort's ski lift. Photograph courtesy of Sipapu Ski and Summer Resort.
"Economically, skiing is not always an opportunity they can afford. The kids really wouldn't have this opportunity without this program," says Tracy Alcon, a first-grade teacher in Mora and director of the program, which enrolled 420 students last season. "It's outside of the school day, but it's definitely an education. They build a sense of community. The older kids coming since kindergarten are now teaching the younger kids."
I got on the lift with a couple of shy students in an advanced class. Their instructor, Steve, introduced himself as the "top dog" ski teacher. He had on two pairs of sunglasses and a backward NYPD hat. Steve grew up at Whiteface, in New York, and after bouncing around the West, he found his verve at Sipapu. "It's the perfect mountain to teach kids," he says, referring to the quiet, mellow slopes that all funnel back to the same place. "I wish I had that when I was a kid."
Graves had recommended the Cat Skinner glades to the right of the chair, so as I got off the lift, I skated into the trees. It was a beautiful, cloudless day, with great coverage and cold powder that allowed my edges to dig into the snow like it was cake. The slope had perfectly spaced trees to turn through, snags to jump off, and a rollaway fall line. The bottom was full of slushy bumps that led me back to the lift. The run brought out the kid in me—I just had to do it again.
RED RIVER HAS SOMETHING FOR EVERYONE
On the final day of the season-long Town Challenge race series at Red River Ski Area, I pulled up to the start shack, pocketed my free beer tickets from the organizer, and pushed hard through the start wand. I tried to find a rhythm on the firm course—left to right, left to right, edge to edge. I crossed the finish line in a lazy-guy tuck, breathing much harder than I should have been.
The Town Challenge brought 50 people out for a few laps on a blustery Thursday in March when they otherwise might have stayed inside. That evening, the motley crew of racers, from fresh-out-of-high-school to Ziggy, the 83-year-old winner of the 65-plus category, gathered at the Lift House bar to cash in their PBR tickets, win some raffle prizes, and gloat over who had the fastest times. They were ski instructors, parking lot attendants, civic leaders, lifties, ski patrollers—the people who make Red River happen. The fastest? That'd be Linton Judycki, the 32-year-old general manager of the ski area, wearing eighties-style Pit Viper sunglasses and drinking a tall can with pride.
Read more: NM ski areas cater to families with special deals, day care, lessons for newbies, and off-the-snow fun.
Red River Ski Area, on the Enchanted Circle, is a couple of mountain peaks (and about an hour's drive) from Taos Ski Valley, in the Sangre de Cristos. It's New Mexico's most classic ski town—with the lifts coming right into the heart of a Main Street lined with wooden saloons and storefronts with names like Bull o' the Woods, Texas Reds, Wild Bills, and Shotgun Willie's, and a Pioneer Emporium with a sign that reads JESUS STUFF - JEWELRY. With shops, snowmobile tours, and cross-country trails, Red River is a ski town that isn't limited to the skiing.
It's also a place where locals are proud of the long-standing community they've created. Red River residents Mark and Stephanie Martinez moved to Park City, Utah, for a couple of years, but they always yearned to be back in Red, where they felt it was easier to raise their two boys. Now they own the Sitzmark Ski Shop, in town, and let the ski area be their babysitter.
"What I love most about Red River is that communal feel that you have. You see the same friends at the post office, the gas station, the grocery store," says Mark Martinez. "It's still mom-and-pop. We don't get that commercial feel. This is one of the small, last frontiers still left."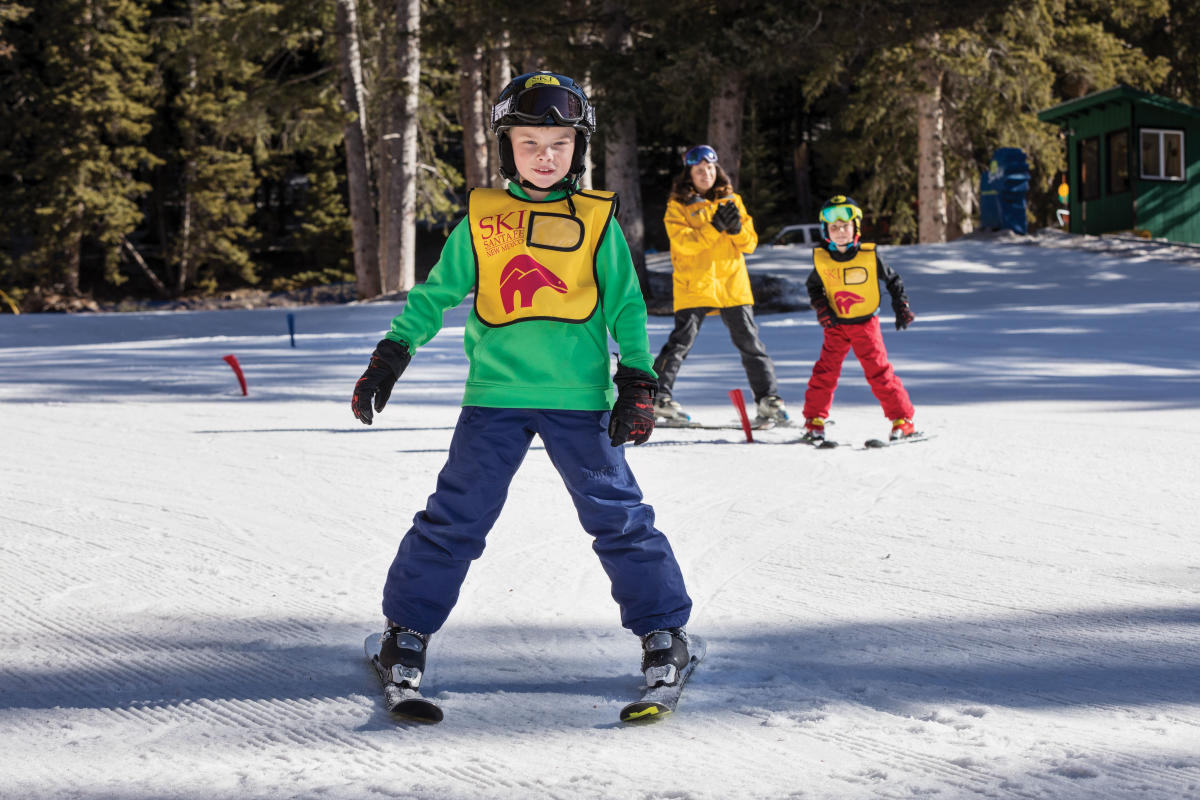 Above: Learning to ski at Ski Santa Fe. Photography courtesy of Ski Santa Fe.
After my Town Challenge run, I took off my skis at the base of the hill and walked to big, beautiful Red River Brewing Co. I ordered a half pint of the IPA and a green chile cheeseburger with fries. Feeling relaxed, I headed back to the Platinum lift. After a few runs on the back side, through an expansive grove of aspens, I ended up at the bottom of the Copper Chair. It did not have a typical chairlift line. A flock of ducks. A herd of deer. The steady rush of the river. Skiers, though? Not really. A couple of young lifties from South America looking bored.
It was nearing 4 p.m.—time for one last lap. On the way up, I realized I was the only one on the chair—186 empty burnt-orange two-seaters slowly ascending a lane through the pines. The lift passed through pockets of warm, low-hanging sunshine as cobalt-gray clouds zipped past. A man with a long beard wearing a faded Carhartt jacket and insulated jeans skied below. It was a pace that's hard to find anymore.
On the way down, the snow was spring soft and the groomers were empty and steep. I went fast. I checked myself, coming to a stop. I looked around for other skiers. Didn't see anyone. Went fast again. I bounced through the slushy bumps to the bottom, then clicked out of my skis and walked a couple of blocks to my Three Bears Lodge cabin, where I made a fire and caught up on email.
The next day I loaded a snowmobile at Mallette Park, on the outskirts of town. I gassed the machine tentatively, trying my best not to roll the 2,000-pound, $16,000 Ski-Doo down the mountain as we climbed switchbacks through the evergreens. Eventually my group topped out at the summit of Greenie Peak, at 11,249 feet. After a few selfies, we descended to a vast meadow where I opened it up and went way faster than I had any business going.
Read more: For legendary climbing guide and Taos Ski Valley ski patroller Dave Hahn, the mountains hold infinite beauty.
Sloan Covington, a bartender, fly-fish-shop guy, and city council member, set high marks on a low-angle slope nearby as I chatted with Luke Mitchell, our guide and the owner of Red River Backcountry Adventures, a laid-back former oil-and-gas guy with hair to his shoulders and a thick Texas accent. He's the type of super-competent, patient guide who can get incompetent, impatient snowmobilers like me to the tops of mountains. For Mitchell, leaning back on his sled, legs kicked up, staring off into the mountains, it was just another day in Red River.
Above: Ski Apache. Photograph courtesy Ski Apache.
PAJARITO IS WHERE COMMUNITY HAPPENS
It was a glorious spring day at Pajarito, the gem of a ski area located seven miles from Los Alamos in the Jemez Mountains. Two guys skied tandem, two others bombed down the 1,440-foot hill in inflatable dinosaur costumes. I saw a Viking, a wizard, a Jedi. It was the 2019 Skiesta—the 72nd annual—and the community was showing up and letting their freak flags fly, at least a little bit. After hunting for pockets of packed powder in the trees off the royal-blue Mother chair, I was drawn to the smell of the grill on the patio. The sunny deck with sprawling views of the Río Grande Valley was standing room only. A band played rock classics. Santa Fe's Tumbleroot Brewery poured beers. Some friends taught their toddlers to ski on the free Magic Carpet. The entertainment kept coming. A big-air competition just up the slope drew kids and adults of varying abilities who sent their bodies off the little kicker. Wipeouts and glory and a pint-size princess who stuck the landing every time. With every jump, the crowd went wild.
HOW TAOS SKI RESORT REIMAGINED SKI SCHOOL
Burt Skall knows how to teach someone to ski. He's been at it for 40 years, and as the director of snowsports at Taos Ski Valley, he oversees some 250 instructors who teach upwards of 25,000 students each winter. Skall came on board in 2015 as Taos was exploring a renaissance of what a ski school could be. The resort remodeled its Rio Hondo Learning Center into an interactive fun zone and recontoured the grade of the slope to allow a more natural progression, using features to help skiers learn control. The result? Learning to ski is way more fun. Here's why, according to Burt.
We move the guests at a rate that's suitable for them. With that regrading, we added terrain features that allow for the idea of "Go" versus the idea of "Stop." We try to infuse the energy and excitement of going, then incorporate turning to control speed from there, and learning to slow down and stop after you get some excitement.
Both on beginner areas and adult learning areas, we have a very flat pipe, shaped like halfpipe, with walls where you can climb up and down and feel the movement of sliding. You don't have to stop, there's no fear, nothing in your way. From there, you ride up a Magic Carpet and run down a slight grade of 3 to 5 percent and up another embankment that takes you up and stops you right there, so you're learning to "go," and learning stance and balance and the feeling of freedom.
From there, we'll take you into banked turns, like coming down the Indy 500, a series of turns. If you let yourself just flow down and around the banked turns, like a beach ball rolling down the hill, you're able to stop, move, and turn. Instructors are trained to use these features in different ways to enhance student comfort level and ability.
The biggest obstacles are the expectations of the first day. All the studies show that skiing really starts to become fun and exciting after that second or third day. There's a lot of learning going on, a lot of discomfort. Skiing and riding both don't become fun until you are no longer a victim of gravity and can go to where you want to go and move where you want to move, and that takes two or three days for kids or adults.
Guests are having a lot more fun. It's a lot safer—they're not worried about being a runaway train anymore, because they have terrain that accelerates their learning and adds to the enjoyment of skiing.
Read more: Season of Dreams: With snow in the forecast and the new lift to Kachina Peak opening in Taos, New Mexico is the hot place to hit the slopes this winter.

HIT THESE SLOPES
Angel Fire Resort // Angelfireresort.com
Why You Should Go: To get away and relax among smooth, low-angle groomers and glades and no lift lines.
Known For: Great family atmosphere.
Where to Eat/Drink: Try Legends Grill, especially if it's Taco Tuesday, or El Jefe for lunch at the resort, or Enchanted Circle Brewing Company, in town.
Vertical Feet: 2,077
Skiable Acres: 560
Average Snowball: 210 inches
Taos Ski Valley // Skitaos.com
Why You Should Go: Nowhere has the skiing and culture that Taos offers. With stunning peaks, great chutes, cold powder, and a lively après, Taos is one of the most complete ski areas in the country.
Known For: Steep skiing, great learning center, the Bavarian, and the Blake Hotel.
Where to Eat/Drink: Tim's Stray Dog for breakfast or lunch and the Bavarian for après. 192 at the Blake, the Blonde Bear Tavern, or the St. Bernard for dinner. Vertical Feet: 3,281
Skiable Acres: 1,249
Average Snowball: 300 inches
Ski Santa Fe // Skisantafe.com
Why You Should Go: Sure, Santa Fe has a world-class art scene, but only 16 miles from the Plaza, Ski Santa Fe offers big tree-skiing runs and regular live music above 10,000 feet.
Known For: Great tree skiing, good family programs, proximity to Santa Fe, and good access to backcountry skiing.
Where to Eat/Drink: Head to Totemoff's, at mid-mountain, grab a picnic table and some chili, and enjoy the live music.
Vertical Feet: 1,725
Skiable Acres: 660
Average Snowball:: 225 inches
Ski Apache // Skiapache.com
Why You Should Go: Beat the southern heat and shred the shoulder of nearly 12,000-foot-tall Sierra Blanca Peak, just 150 miles from El Paso.
Known For: Its gondola, Mescalero Apache ownership, one of the southernmost ski areas in the country.
Where to Eat/Drink: Hit Spirit Bar for après, the Inn of the Mountain Gods Resort & Casino to pull some slots, Wendell's for fine dining and live music. In Ruidoso, Win, Place, or Show has regular live country music, and Noisy Water Winery offers great local reds.
Vertical Feet: 1,900
Skiable Acres: 750
Average Snowball: 180 inches
Ski Sandia Peak // Sandiapeak.com
Why You Should Go: If nothing else, ride the tram for the incredible views of Albuquerque and the Sandía Crest. Take a few relaxed runs down the mellow back side for bonus points.
Known For: Proximity to Albuquerque, the tram from the desert to the craggy Sandía Peak, great slopes for beginners and families.
Where to Eat/Drink: Ten 3, a brand-new stunner of a building on Sandía Crest, serves carb-load lunches and exclusive, high-end dinners. Sandiago's Grill, at the base of the tram, whips up New Mexican classics, along with steaks and fish.
Vertical Feet: 1,700
Skiable Acres: 200
Average Snowball: 100 inches
Sipapu Ski and Summer Resort // Sipapunm.com
Why You Should Go: An old-school mom-and-pop-style ski area that's affordable and perfect for teaching the kids.
Known For: Being very family-friendly.
Where to Eat/Drink: Try Riverside Café, on the second story of the historic lodge.
Vertical Feet: 1,055
Skiable Acres: 200
Average Snowball: 190 inches
Ski Cloudcroft // Skicloudcroft.net
Why You Should Go: You're from Texas, dang it, and you want to learn to ski without all the other nonsense. Start here.
Known For: Ski Cloudcroft is a great ski area for beginners and tubers. It's a good value, too. Full-day junior lift tickets are just $35.
Where to Eat/Drink: In town, check out Cloudcroft Brewing Company or Mad Jack's Mountaintop BBQ.
Vertical Feet: 700
Skiable Acres: 74
Average Snowball: 110 inches
Red River // Redriverskiarea.com
Why You Should Go: Mom wants to snowmobile, Dad wants to shop, and the kids want to lap the long groomers until they drop. Everyone gets what they need.glades.
Known For: A family atmosphere and great ski school. Slopes that come right into a laid-back town with rustic mountain culture.
Where to Eat/Drink: Check out the Red River Brewing Company or head to the Grill, at the ski area base, a popular spot to watch torchlight parades on Saturday nights.
Vertical Feet: 1,600
Skiable Acres: 209
Average Snowball: 214 inches
Pajarito // Pajarito.ski
Why You Should Go: This is a community ski hill at its best, where families picnic on the deck and take runs together through burned glades.
Known For: Great tree skiing, fun family atmosphere, lots of scientists.
Where to Eat/Drink: In Los Alamos, get a beer at Bathtub Row Brewing Co-Op and a burrito at El Rigoberto's.
Vertical Feet: 1,440
Skiable Acres: 750
Average Snowball: 125 inches
---