Los Alamos ice rink was built in 1936. Courtesy of NMTD.
SNOW RENDERS THE FOREST IN STRIKING LIGHT and dark. Blue and lavender shadows stripe the white snow around gray pine trunks. Squirrel and rabbit footprints dimple the fresh powder. People who spend winter days outdoors comment on the quiet as often as the color.  
"You can really hear and see the landscape on its terms," says Todd Walton, executive director of Winter Wildlands Alliance, which advocates for human-powered winter recreation. "The trail is where you make it."  
This summer, the outdoors surged in popularity, providing space to escape and stay active. That interest is expected to endure through the winter.  
Almost any trail hiked in summer can be snowshoed in winter. Snowshoes keep you atop the snow if the trail isn't yet packed and give you better grip on slippery surfaces. Trails that translate readily include the 27-mile Sandia Crest Trails, near Albuquerque. Near Santa Fe, Aspen Vista, with its striking views, is a top pick, along with the Winsor—there are "endless possibilities there," says Jennifer Sublett, volunteer coordinator with the Santa Fe National Forest. From the Cañada Bonita trailhead, near Los Alamos, an out-and-back on Forest Trail 282 tours through a meadow and on to views into the Valles Caldera National Preserve.  
"The lowest barrier to entry, costwise, is snowshoeing," Walton says. "That's a thing the whole family can do."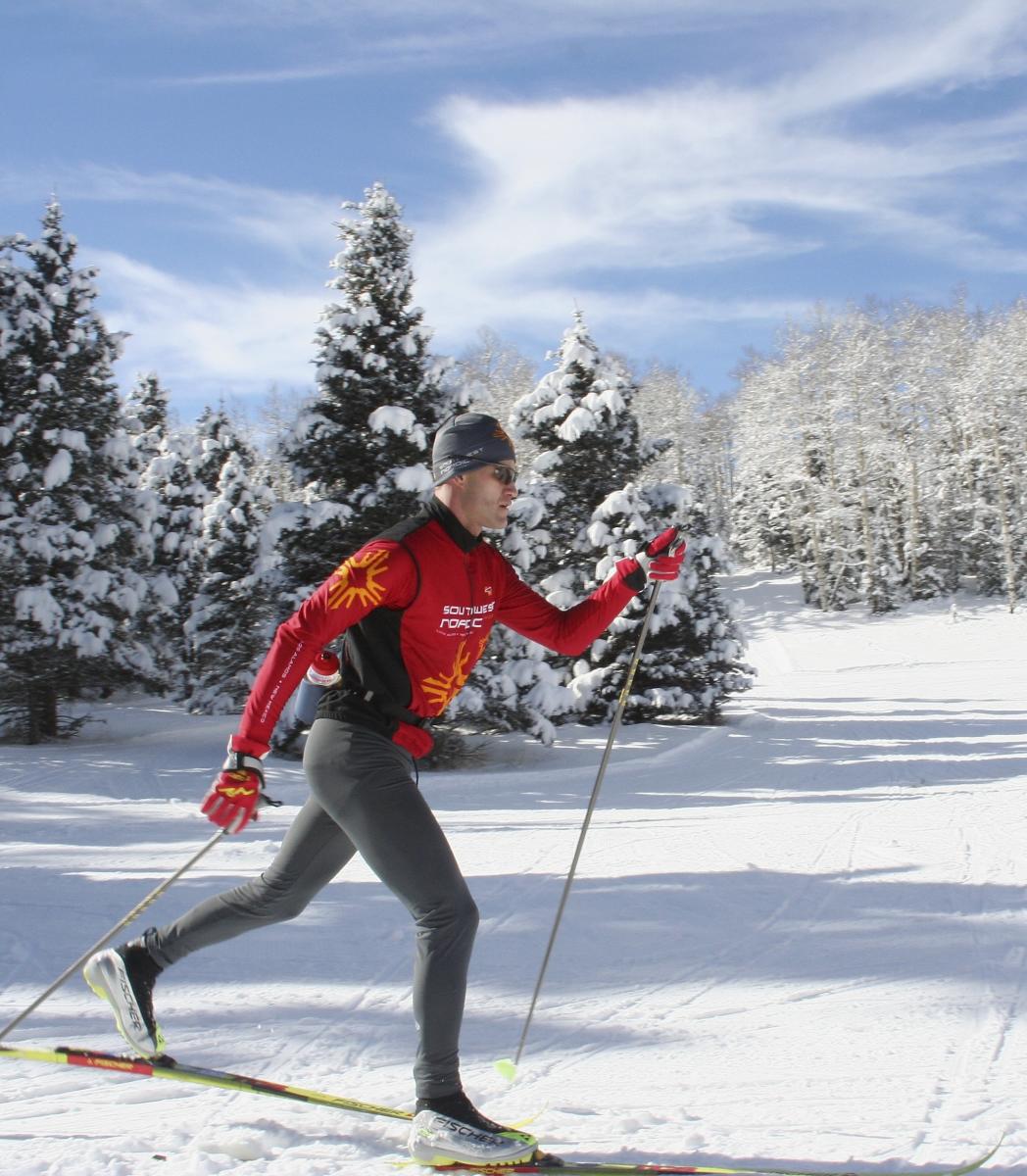 Enchanted Forest has cross-country trails. Courtesy of Enchanted Forest.
Cross-country skiers can build skills at the Norski Trail, a four-kilometer loop near Ski Santa Fe, tackle the 12-kilometer Pajarito Nordic Ski Trail, near Los Alamos, or venture into the Jemez Mountains to trails from Los Griegos Peak Trailhead. Forest roads closed for the winter also make great cross-country skiing terrain, Sublett adds. Call the local ranger station to check conditions. Enchanted Forest Cross Country Ski Area trails tour the woods near Red River; Angel Fire Resort Nordic Center converts a golf course into 12 kilometers of cross-country skiing and snowshoeing terrain; and volunteers in Chama maintain trails in that deeply snowy corner of the state.  
With ski resorts limiting capacity this season, skiers may look to the backcountry for alternatives. Equipment required includes skis with bindings that convert to an uphill mode and skins that, together, allow a skier to hike uphill, plus a beacon, shovel, and probe, as well as knowledge of how to use them.  
"Just remember that there's no ski patrols," says Marc Beverly, a backcountry skiing guide and avalanche course instructor. "It's unmonitored. You're on your own." 
Beverly says his avalanche education courses filled at an unprecedented pace this fall. Yet, given the existing strains on medical personnel and hospitals, it's a good year to curb ambitions and thus avoid needing rescue, he says. But if you go, ski away from crowds. "Try to pick a place that's a little more off the beaten path and enjoy yourself," he says.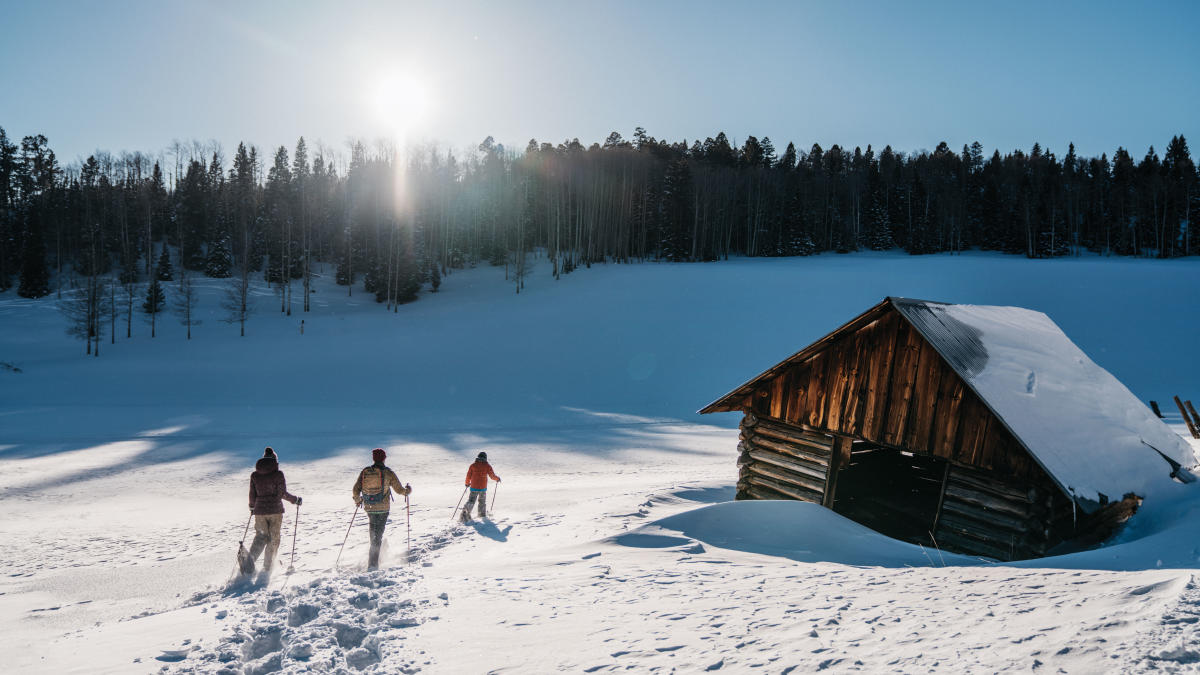 Snowshoeing makes it easy to get outdoors. Courtesy of NMTD.
Angel Fire will run its tubing and sledding hills this season. Sipapu's gift shop sells sleds and saucers and shares directions to hills suited for their use. For winter fun closer to home, check ice-skating rinks in Albuquerque, Los Alamos, and Santa Fe.  
Prepping for a winter backcountry venture includes packing water in ways that ward off freezing, a thermos of hot drinks, and plenty of food; dressing in layers so you can peel some off during high-exertion moments that boost body heat; and not skipping sunscreen and sunglasses or goggles. Waterproof pants and gaiters also make for dry feet and warm legs.  
"It's totally possible to keep getting out in winter," says Katie Oram, a National Outdoor Leadership School instructor. "You just need different tools."
Read More: The Ultimate Guide to Skiing
Read More: Turn your tailgate into a warm and comfy base camp with these expert tips
Read More: Bundle up in style with Blue Feather Naturals' cute-and-cozy winter beanies