Above: Beer flights are popular options when your just can't decide what to drink. Photograph by Tim Bennet.
ONE OF THESE YEARS, New Mexico is going to finally reach its limit of craft breweries. That year wasn't 2018, and it won't be 2019, either. Even so, we have more than seven dozen breweries in operation, ranging from Three Rivers, in Farmington, to Drylands, in Lovington, and from Little Toad Creek, in Silver City, to Colfax Ale Cellar, in Ratón. The middle of the state boasts 40-plus breweries in the Albuquerque–Santa Fe corridor.
Some operate as tiny one-barrel brewhouses, whereas Santa Fe Brewing churns out 30,000 barrels of beer a year. Big or small, rural or urban, craft brewing is a booming business in New Mexico. Here are just a few of the breweries opened in the past year, or opening this year, that cry out for a visit.
Read more: Native New Mexico hops are coming to a brewery near you. 
ICEBOX BREWING, LAS CRUCES
Why you should go: The newest brewery in Las Cruces has only been open since January, but it has already built a strong local fan base. The decor of the remodeled ice plant (hence the name) is top-notch, with local artistic flourishes complementing the industrial chic. Icebox operates as an open brewery, with patrons able to watch the entire process from the spacious seating area. There is a large bar up front, a covered patio outside, and just enough TVs on the walls to keep the sports fans happy without morphing into a full sports bar. All of the beers have clever cold/ice-themed names, with most checking in lower in ABV and IBU than Albuquerque/Santa Fe offerings, because that's what the locals crave. 
Beer to try: Shivering Scotsman is a malty, lightly smoked Scottish ale you can chew on while enjoying the wide-open brewery.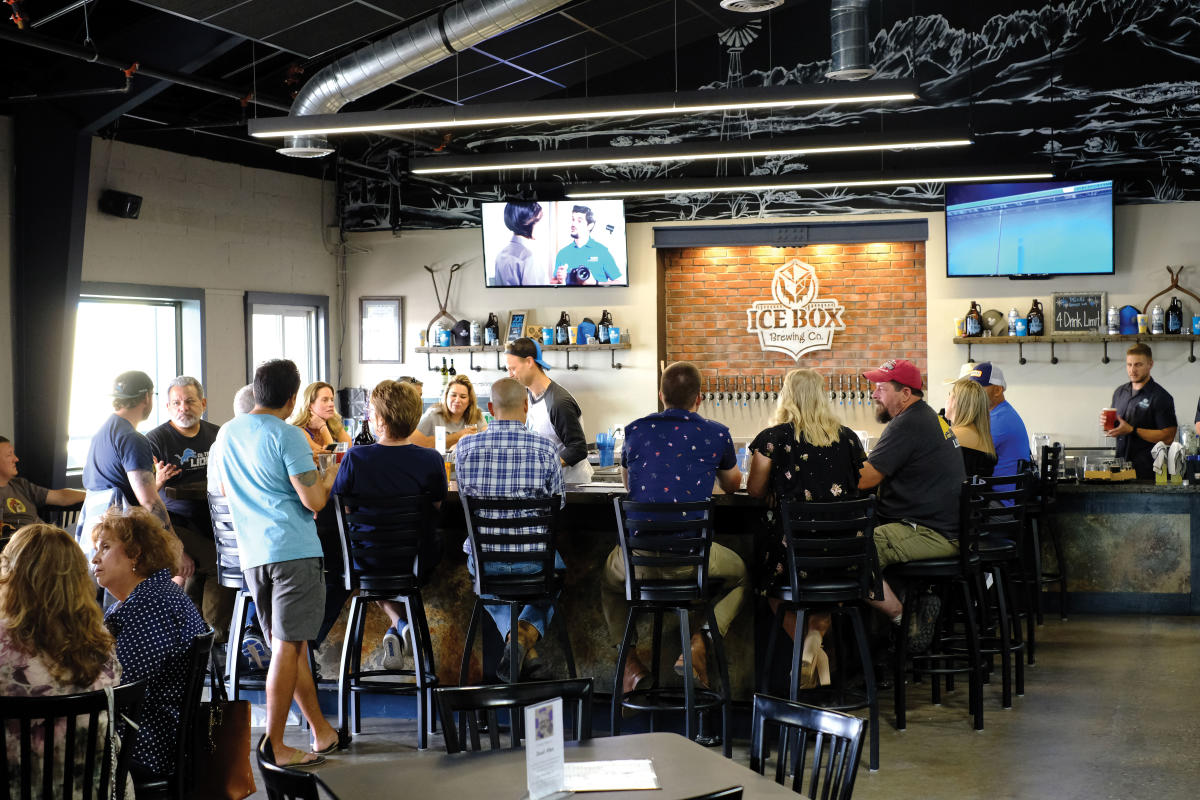 Above: Icebox Brewery in Las Cruces. Photograph by Douglas Merriam.
LOST HIKER BREWING, RUIDOSO DOWNS
Why you should go: Tucked away in a small industrial area right near the horse-racing track, Lost Hiker is quickly making a name for itself despite its small size. It opened last February in a former warehouse that the owners converted into a proper beer-and-music venue. The metallic walls shimmer as a slew of local and traveling musicians set up on the small stage inside. The beers shift with the seasons, but do take note that Lost Hiker topped the field at the New Mexico Brewers Guild's Stout Invitational, in Los Alamos, this year, but whether it's dark or light, malty or hoppy, everything on the menu is worth sampling.
Beer to try: Mosaic SMASH Pale Ale, a single-malt, single-hop ale, takes advantage of its sweet, flowery hop to provide a much more pleasant palate experience than its more aggressively hopped cousins.
CLOUDCROFT BREWING, CLOUDCROFT
Why you should go: Another excellent place to beat the heat, Cloudcroft Brewing has the look and feel of a classic mountain lodge, with a modern beer lineup. Huge logs make up the building's frames and posts, while massive rock walls keep out the summer heat as well as the winter cold. Grab a slice of wood-fired pizza and take a seat at the lengthy bar or at a table near the windows. On pleasant days, bands occupy the sizable covered outdoor stage. Open since June 2018, Cloudcroft Brewing has a beer menu similar to what you would find in Las Cruces; Texas tourists flock here, too. Enjoy a sessionable pint or two while you listen to wind blow through the pine trees outside.
Beer to try: Dark Irish Red, a blood-red malt bomb likely to conjure tales of Vikings vs. Celts from Amon Amarth's legendary album With Oden on Our Side. It's also, um, really tasty.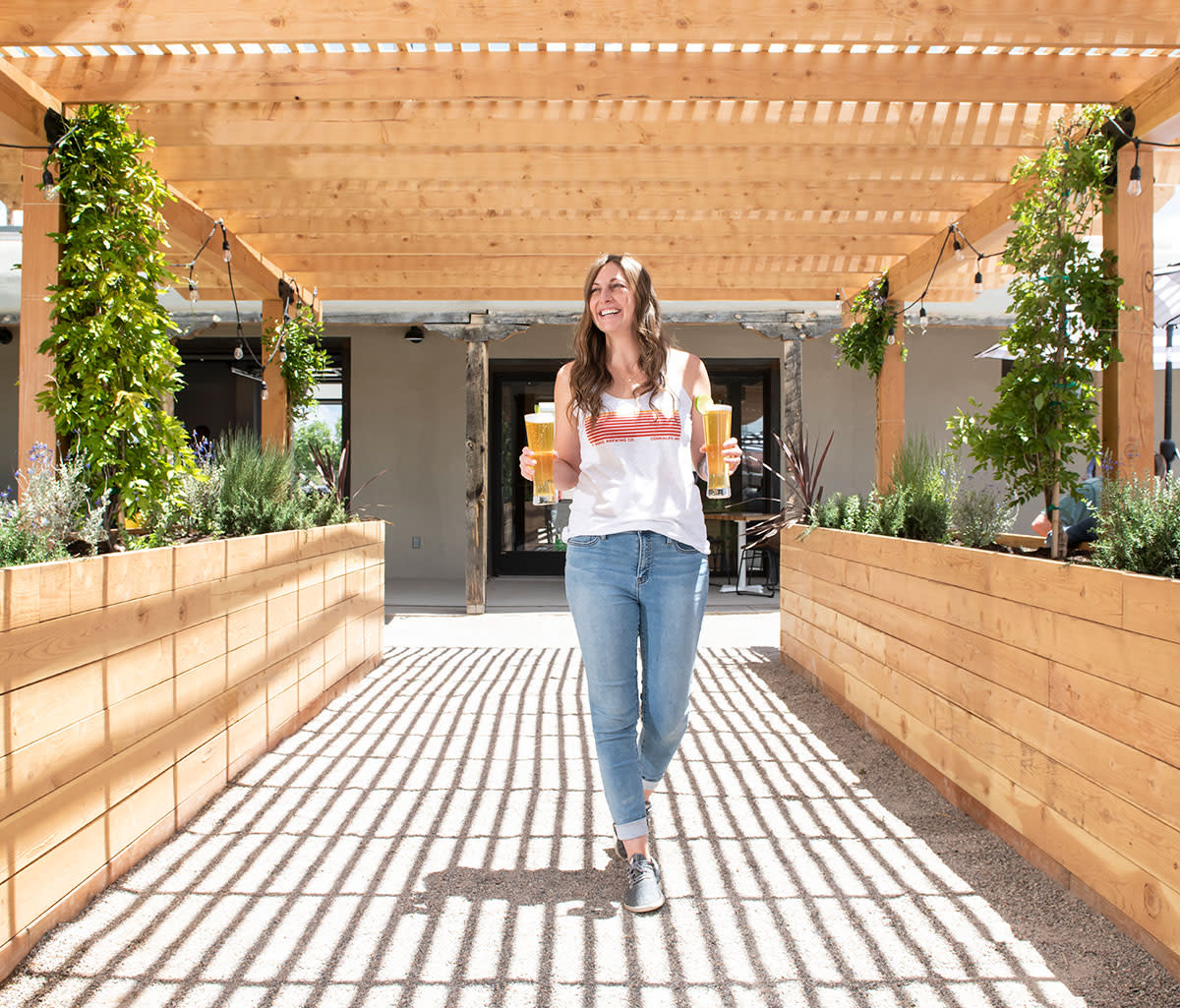 Above: Ex Novo Brewing. Photograph by Douglas Merriam.
BREW LAB 101, RIO RANCHO
Why you should go: By the time you read this, the newest Rio Rancho brewery might be open. There in the former House of Football (just west of Turtle Mountain Brewing), owner/brewer Scott Salvas aims to celebrate the history and science of beer, providing a unique educational setting for patrons. There will be a kids' area for all the families who inhabit the west side, plus a patio out front to watch the sunset reflecting off the Sandías. Befitting any good lab, it will have a few regular beers and ciders on tap, plus a rotating lineup of experimental styles.
Beer to try: Too soon to say.
Read more: The beer can artist challenging the status quo. 
CANTERO BREWING, ALBUQUERQUE (NOW LIZARD TAIL BREWING)
Why you should go: Cantero has found its niche in the downtown brewery district, thanks to its full kitchen and some fun, inventive beers. Operating off a 10-barrel brewhouse for its year-round lineup, as well as a smaller one-barrel system, Cantero can keep the regulars happy while also crafting some truly off-the-wall styles. The bright, spacious interior is a welcome break from the darker industrial vibe in the area. The menu, a mix of American and New Mexican dishes, incorporates some of the beer styles into the recipes. A small stage area hosts mainly acoustic musicians, comedians, and other entertainers on the weekends.
Beer to try: Deaf Dog Brown, a creamy ale with chocolate hints. Also check out whatever is on offer from the rotating beers out of the small experimental-batch brewhouse.
DIFFERENTIAL BREWING, ALBUQUERQUE
Why you should go: A no-frills throwback to the breweries of a decade ago, Differential is the creation of a team of "reformed" punk rockers. A converted auto repair shop has been completely transformed, while retaining some of its throwback decor. There's a free pool table in one corner, and the music is a 1990s–2000s rock/punk/metal/hip-hop mash-up not usually found at breweries. The patio out back is spacious, and there is almost always a food truck parked out there to keep patrons happy. The owners built this space to serve their neighborhood, with UNM just up the road and major sports facilities nearby. Brewer Peter Moore's lineup of lagers and ales all stick to the lower ABV range, so patrons can enjoy more than one pint without worrying about stumbling out the door.
Beer to try: Blue Corn Cream Ale, a light, refreshing summer patio beer made with locally sourced blue corn. There are also occasional red corn and white corn beers.
Read more: The ultimate craft beer guide to New Mexico.
EX NOVO BREWING, CORRALES
Why you should go: Opened in late May, this massive facility is nestled in the heart of the village of Corrales. Owner Joel Gregory grew up nearby, but his travels took him to Portland, Oregon, where he built the first Ex Novo to considerable acclaim—this in a town nicknamed Beervana. Now he has come home and built a production facility to package his beer and sell it in cans and limited-release bottles throughout the region. Stage one of the development features a small, cozy taproom a short walk from the brewery, with a sizable outdoor patio. Future plans include a restaurant and beer garden, but for now you can enjoy this charming space in what's been called the safest town in New Mexico. Head brewer Dave Chichura, formerly of powerhouse craft breweries Oskar Blues and Melvin, will bring beer styles from Portland while also serving up some new genres geared to the New Mexico market.
Beer to try: Mass Ascension IPA was brewed and packaged specifically for this market.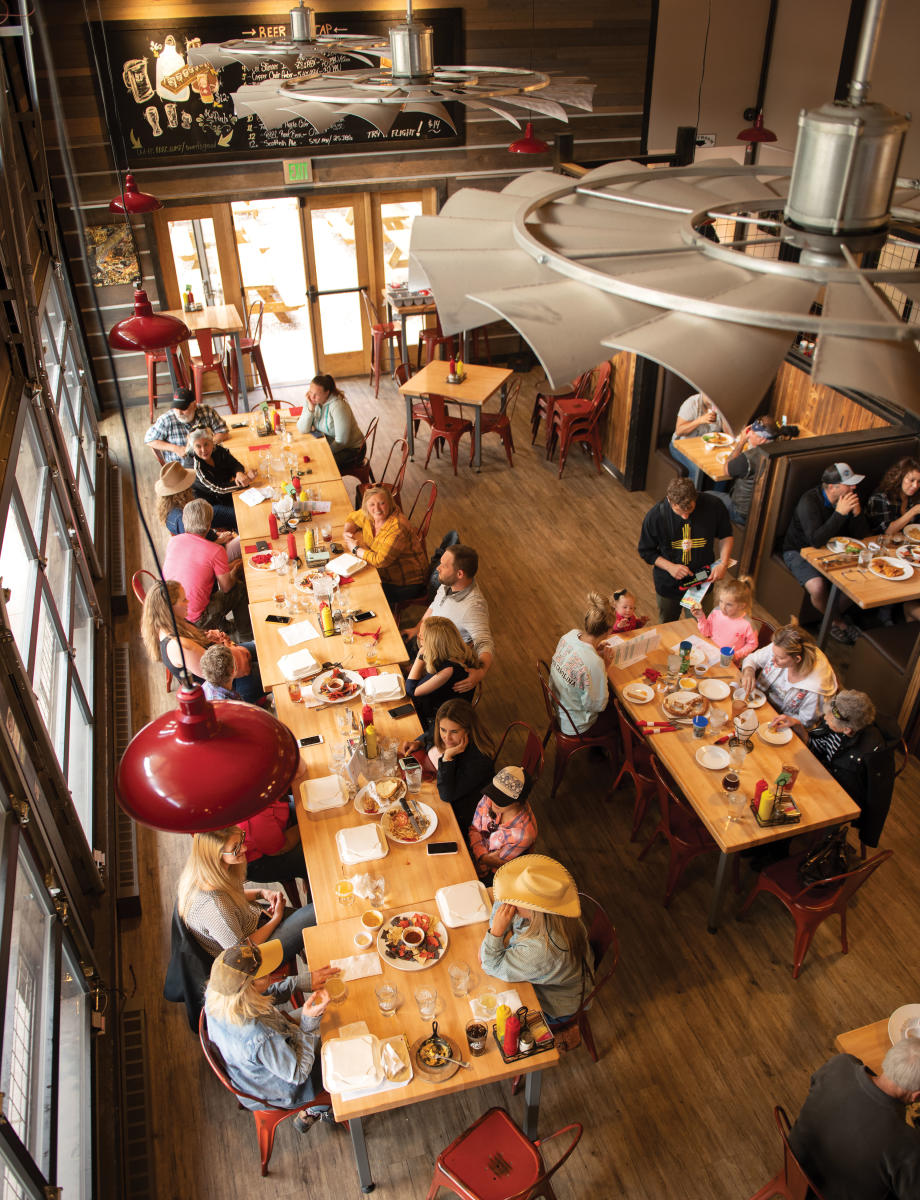 Above: Red River Brewing Taproom in Red River. Photograph by Douglas Merriam.
RED RIVER BREWING COMPANY, RED RIVER
Why you should go: Billed as the highest-altitude brewery in the state, RRB has quickly become a destination brewery for locals and tourists alike. Owned and operated by the Calhoun family, it's a marvel of architecture, melding the theme of a classic ski lodge with a more modern industrial vibe. The food menu is varied and filling, with appetizers to nosh on and big meals to keep you warm inside during the skiing months. Brewer Chris Calhoun offers up a big beer lineup that remains relatively static. The bestsellers are lighter beers preferred by out-of-state tourists, but IPAs and darker beers keep New Mexicans happy, too. Much like Truth or Consequences Brewing, to the south, Red River Brewing proves that craft breweries can be anchor businesses in small towns throughout the state.
Beer to try: Campfire Cream Ale, which for the summer months will be brewed with a different type of fruit in each batch.
Love New Mexico? So do we. Subscribe today for just $3 an issue and we'll deliver our award-winning monthly magazine right to your door.
---