Above: Apple-growing, a long-standing tradition in New Mexico, drives the Hard Cider Industry in the state. Photographs by Sergio Salvador.
AT 7 A.M. ON A SUNNY AUGUST Saturday in Los Ranchos de Albuquerque, Dr. Drew Harrell had finished his overnight shift tending to crises in the emergency room at UNM Hospital. He made a quick stop at his house to change into reinforced tan work pants and a sun-protecting shirt, then rumbled his F-250 up to the orchard he manages in the village, an agricultural enclave carved out of Albuquerque's North Valley. Harrell pulled through an automatic gate, past an old barn and workshop, then parked the pickup in front of about 400 fruit trees rambling in unruly rows over three acres of acequia-irrigated land. It was already getting hot when he hopped out of the truck planning to spend the next six hours with a crew collecting nearly 2,000 pounds of apples. He had hard cider on his mind.
Harrell adjusted the strap on his straw hat and a broad smile bloomed above his salt-and-pepper beard as he greeted members of the picking crew. After a safety briefing, he set them loose on a section of Granny Smith and Imperial Gala trees heavily laden with gorgeous green and golden-blush orbs. They quickly filled several 70-quart plastic tubs.
Victor Versace reached up, snapped an apple from a branch, and dropped it in the picking bag he wore on his chest, then paused to mop the sweat from his neck. Noticing that the only apples left were far above the pickers' heads, Versace climbed into the crook of the 30-foot-tall Granny Smith tree, wedged himself between two sturdy limbs, and yelled, "Look out below!" before shaking the trunk so hard that apples carpet-bombed the grass. He shook until the highest branches were bare, then exhaled a loud "Whoo!" After resting a minute, he bent down to collect the fruit, alongside a handful of guys who, like him, had served in the Army's 1st Armored Division in Iraq. The picking crew came entirely from Versace's Desert Forge Foundation, a nonprofit he founded to help veterans reintegrate, gain new skills, and build fellowship.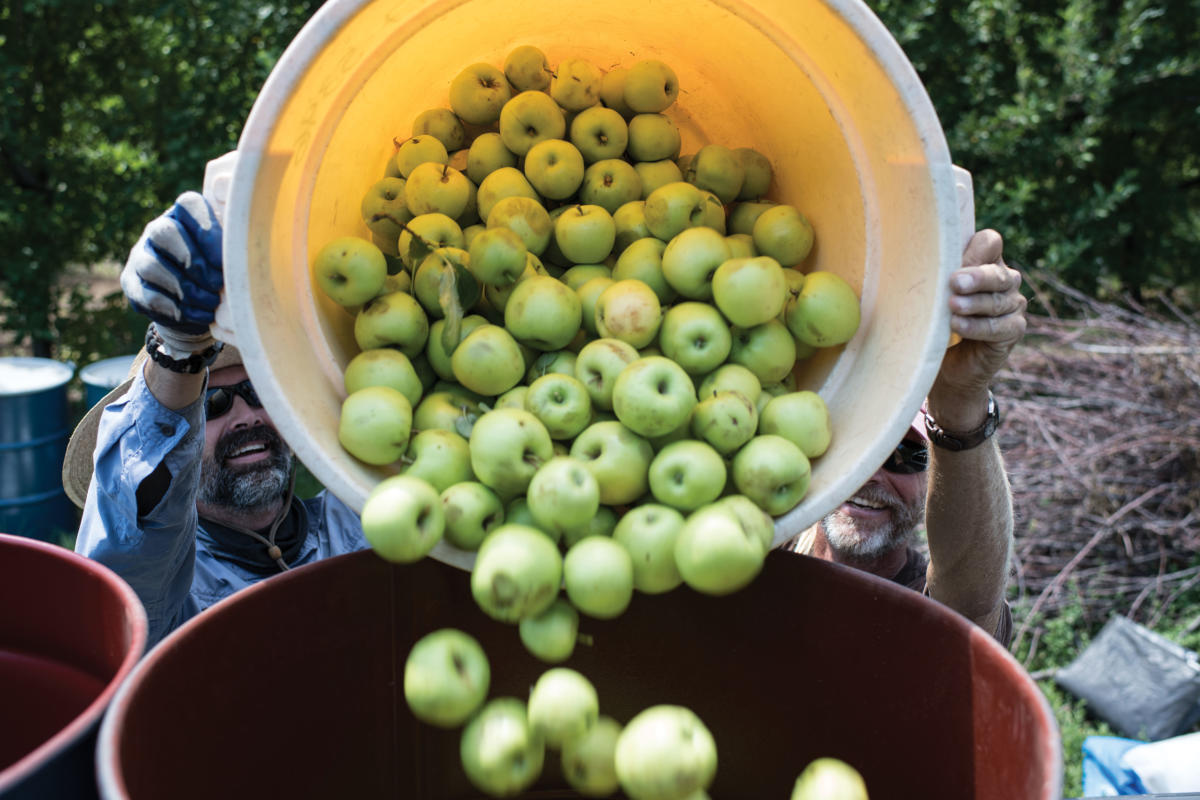 Above: A bucket of apples a day with Harrell and Tom Brewer.
Tom Brewer heaved the last of three plastic tubs onto a garden cart and lugged it to the pickup, where Harrell helped him lift it over their heads and tip its contents into a food-grade 55-gallon drum sitting on a wooden pallet in the truck bed. Brewer is a hops farmer and director of Desert Forge's Warrior Farmer Project, which draws vets from all branches of the military, some still on active duty, some out for decades, to get their hands dirty on a half-dozen partner farms, including Harrell's Burque Bee Farms. The vets spent weeks last fall pruning—chopping the tops off nearly half the trees, which, neglected for a decade, had grown too high to reasonably manage. The harvest began in August and lasted through several weekends of all-hands-on-deck picking.
Read more: Local breweries strut their suds this week at the annual ABQ Beer Week.
When all four drums were full, Harrell slowly drove the mile and a half to Steel Bender, a three-year-old brewery and cidery on Second Street. He dropped the tailgate so an assistant brewer could navigate a forklift over to the pallet and gently nudge it through the clear plastic flaps of an industrial cold-storage building the size of a house. Inside, the pallet joined 21 other drums and eight pallet-size plastic food totes. The total haul for the season, more than 16,000 pounds, would be crushed and fermented into Steel Bender's single-orchard Los Ranchos Cider, a bone-dry brew that I find crisp, refreshingly fizzy, slightly funky, and just a little fruity. It's the kind of thing I would use for a celebratory toast—or to wash down fried chicken.
This special bottling is only one of the several hard ciders Steel Bender makes, and one of dozens produced by a growing number of cider makers throughout the state. But as major national brands capitalize on the popularity explosion of hard cider, what makes this bottling special is its unique tie to one farmer, one orchard, straight down the road from where it's made.
NEW MEXICO IS ONE OF THE OLDEST apple-growing regions in the country, a place where the earliest Spanish colonists planted apples to eat and to press into a quick and easy backyard tipple. After Prohibition knocked alcohol makers to their knees, hard cider never recovered. But the comeback is on. Increasing interest has paralleled the swift success of craft breweries. The ability to sell New Mexico wines has helped the breweries broaden their customer base over the past few years. Now cider is doing the same.
Read more: New Mexico's Asa Stone is one of 100 certified "beer experts" in the world.
"This wasn't something that we were even thinking about doing in the beginning, but we saw that craft cider was growing at a really accelerated pace, so we did some test batches and figured it out," says Bob Haggerty, the head brewer at Steel Bender. Nationally, the cider market has ballooned from $50 million in sales in 2008 to $500 million in 2018. It's growing faster than beer, wine, or booze, driven by a surge of younger, health-conscious drinkers looking for something with character but lower alcohol content than wine and fewer carbs than beer. Plus, it's gluten-free.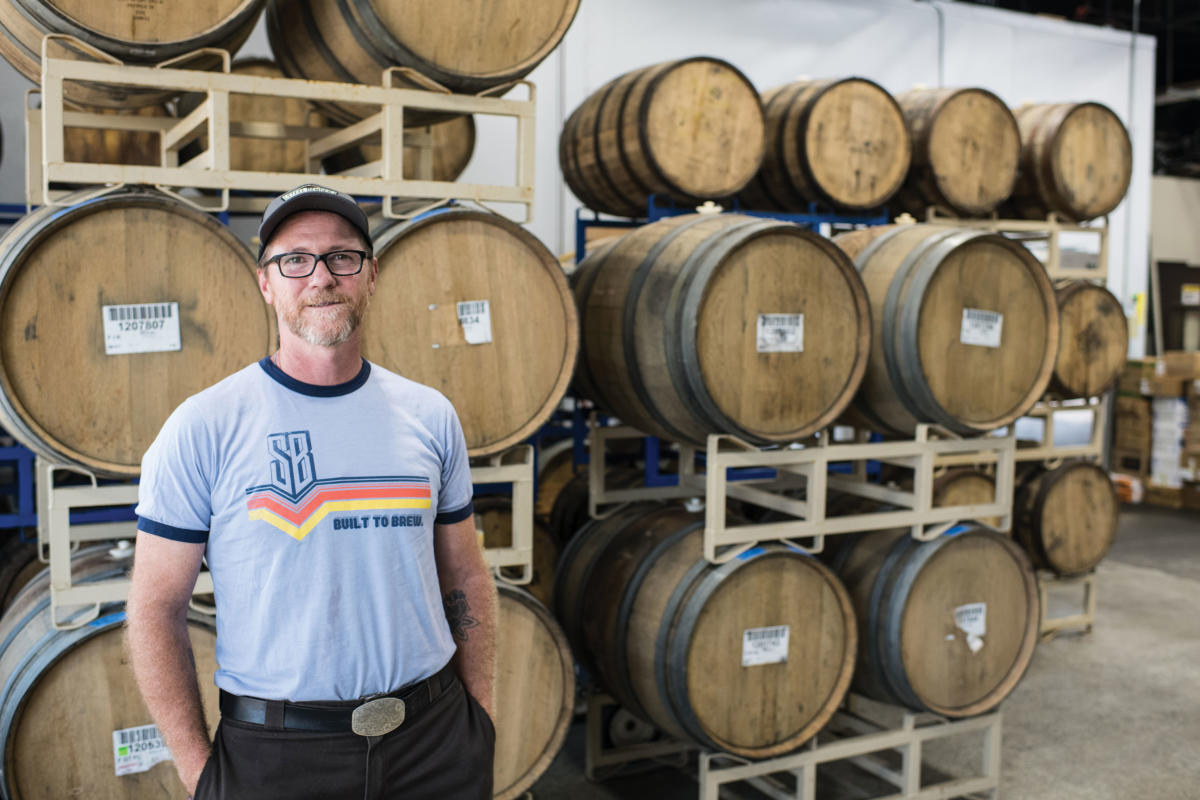 Above: Bob Haggerty at Steel Bender.
"I don't like beer, but I love breweries," says Santa Fean Charlotte Jusinkski. "Drinking cider lets me chill in my favorite kind of atmosphere." Albuquerque resident Antonia Cardella considers it "more refreshing than beer or wine—I like cider on hot days and with light meals." From the beer mecca of Albuquerque to small towns like Silver City, drinkers can find locally made hard ciders that range from small-batch, single-orchard heritage bottles to wildly creative flavors made with apple juice sourced from Colorado or the Pacific Northwest. All have alcohol levels in the same range as beer, but the flavors are limitless.
"We not only make it, we drink it, so for us it's all about figuring out what new, fun, exciting thing we're going to make next," says Skye Devore, the co-owner of Tractor Brewing. With four taprooms in Albuquerque (and one on the way in Los Lunas), Devore has plenty of room to experiment. Tractor usually has three ciders on tap, including its Berry Cider, Delicious Red Apple, and a third rotating flavor. Her team has played with everything from blood orange to prickly pear, pineapple, and a Thai-basil-and-mint flavor. "The problem is every time we make a new one, they say, 'You should have this all the time!'" For Devore, rotating the taps keeps customers coming back to see what's new.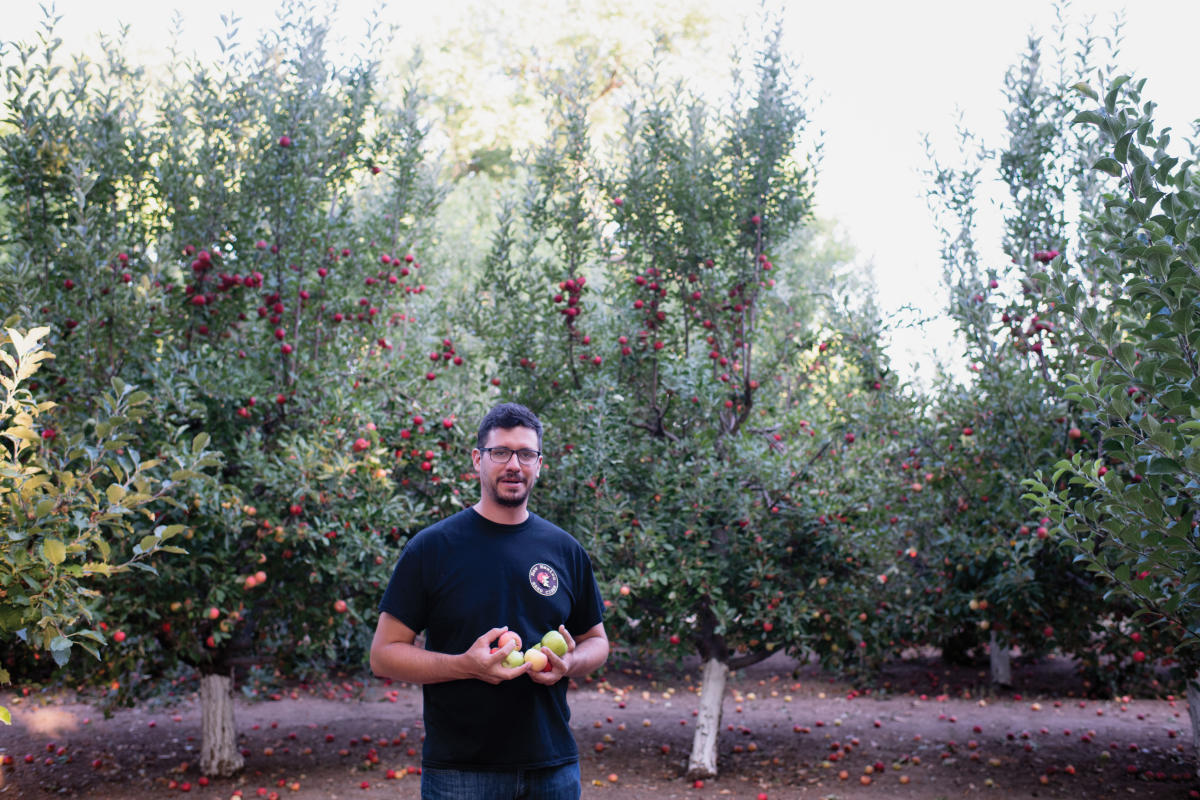 Above: Craig Moya of New Mexico Hard Cider.
The complexity and character of cider made exclusively with local fruit is attractive for makers. Despite their popularity, ciders made with local apples remain a tiny fraction of overall production. Why can't we have all local fruit in our local cider? It's complicated. When one gallon of cider requires up to 20 pounds of fruit, it's not possible to quench New Mexicans' thirst with local apples alone—at least not for now. New Mexico simply doesn't grow enough apples to have the infrastructure or labor force for picking and distributing the fruit. Folks with small orchards can't find people to tend their trees or pick the fruit, and even if they did, it's hard to sell the apples at a profit. At the taprooms, customers don't expect to pay as much for cider as they do for wine, which squeezes the brewers into a tight window. So some existing breweries and wineries have gotten creative with cider as a side hustle. Tractor has partnered with Nichols Ranch and Orchards, in Cloudcroft, on a single-orchard blend, and Black Mesa Winery is taking advantage of the fine apple climate in Velarde to produce a line of ciders made exclusively with northern New Mexico apples.
Read more: (Wine) Taste your way around Taos.
Craig Moya was a Santa Fe County firefighter in 2013 when he went to help a buddy pick all the fruit from his grandmother's tree. "We had so many apples, we had to figure out something to do with them, so we got into hard cider," he says. Three years later, he quit his job and opened the New Mexico Hard Cider taproom, in downtown Santa Fe. Now Moya sources apples from all over the state, including from the heritage farm at El Rancho de las Golondrinas. He cares for the living history museum's trees and, in exchange, collects the fruit for cider. Moya presses up to 15,000 pounds of apples a year from Las Golondrinas, from his own orchard in Villa-nueva, and from small farmers all across the state. But Moya can't rely on fresh fruit to keep his 13 taps flowing. "When I use fresh apples, it ends up costing me quadruple what it would to just buy the juice from Colorado," he says. "It's cool and I like to do it, but we have to keep production high to keep up with demand." His own orchards—and the deal he made with Las Golondrinas—made his local brews possible.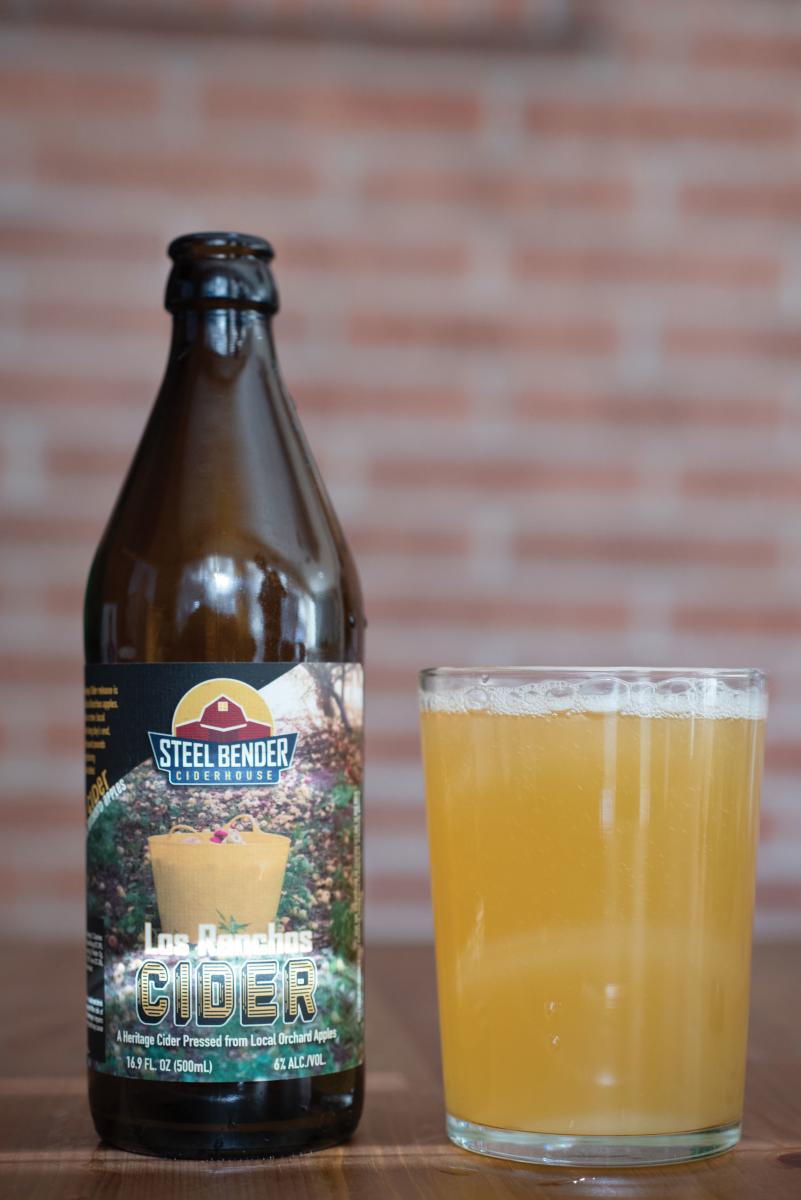 Above: Locally made Los Ranchos Cider from Steel Bender.
STEEL BENDER'S LOS RANCHOS CIDER can be traced back to one man: Fergus Whitney, the agricultural programs manager for the Village of Los Ranchos. Whitney grew up on a farm in Ireland and spent time as the farmer at Los Poblanos Historic Inn and Organic Farm, so he knows how hard it is to make it in small-scale agriculture. But now it's his job to encourage just that.
"Fergus cold-called us three years ago," Harrell remembers. "He said, 'Hey, I hear you're looking for some ground to farm, but would you be interested in an orchard?' And in wild, reckless abandon, we said yes." As part of a program that matches vacant farmland with aspiring farmers, Whitney connected Harrell with the orchard, which had been planted decades earlier but had gone untended as the owners aged and could no longer work it. When it started bearing fruit again, Whitney introduced Harrell to Haggerty, who makes several ciders with juice from Colorado but is committed to expanding the number of ciders he makes with fresh local apples. "I'm a locavore, so it's always been important for me to use ingredients from as close as possible," he says.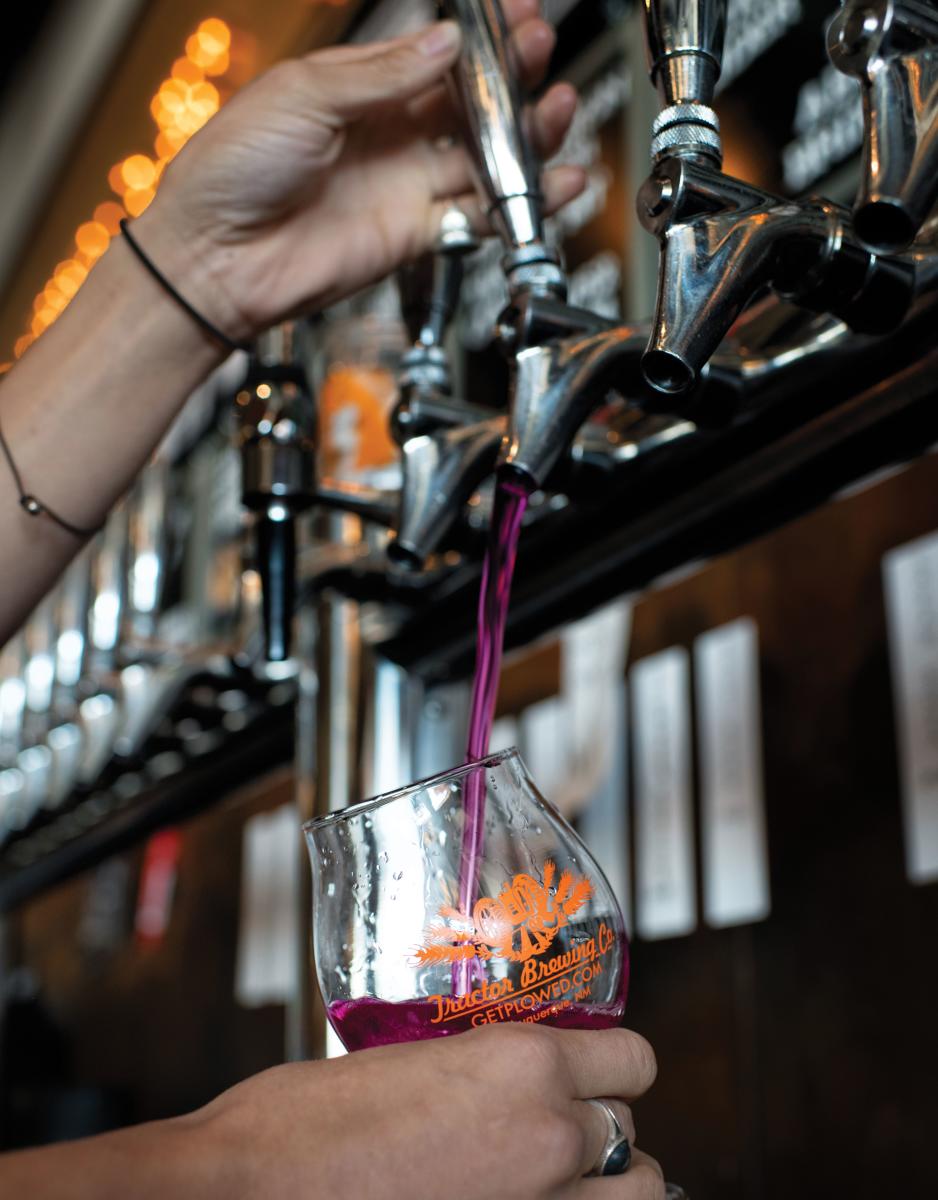 Above: A prickly pear cider at Tractor.
Last year, a crew from Steel Bender helped pick 8,000 pounds of apples from Harrell's orchard. Recently Whitney introduced Harrell to the Warrior Farmer Project, which has a test plot at the Agri-Nature Center, in Los Ranchos. "Steel Bender is setting the bar for breweries supporting local agriculture, in the brewery and in the kitchen," says Brewer, the project head. His volunteers were looking for partner farms and Harrell needed the help. Working as a team, they doubled the orchard's output.
"We heard more brewers saying they would take local apples if they were available," Whitney says. "It's at the early stages, but I think there's a lot of potential." He says he knows of about 20 other small orchards in the village that could potentially feed cideries.
Read more: Want more ideas for apple-centered treats? Check out our recipe for Apple Crisp Pie!
Harrell doesn't expect his Burque Bee operation to ever become profitable. The doctor's not in it for the money. "It's just a labor of love," he says. Last fall, after a long day of pruning, Harrell took the Desert Forge and Warrior Farmer volunteers down to Steel Bender for a pint. "Bob was there, and he went into the back, before it was released, and brought out bottles of the Los Ranchos Cider for everybody to try. It was one of those moments when you've had a hand in something and you're just amazed: Look at what we did!" For him, the orchard is about restorative agriculture. For the vets, the landowner, the brewery—and drinkers like me—cider restores in many different, satisfying ways.

DRINK UP
Follow New Mexico's Cider Social Club (@cidersocialclub) on Facebook and Instagram for information about cider tastings and events across the state.
---