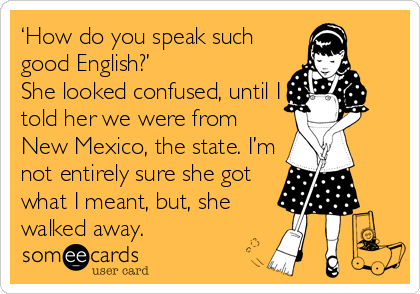 AWOL IN ITALY
Hannah Pollard, a college student, traveled overseas with her class to help teach English to Italian middle schoolers. One of the teaching exercises consisted of each American college student stating his or her state of origin, and the Italian children finding it on a map. When it was Pollard's turn, she said "New Mexico." All of the children promptly pointed at Mexico. The Italian teacher tried to correct them— "Nuovo. Nuovo Mexico"—but the students kept pointing at Mexico. When the teacher finally pulled a huge map to the front of the class and showed them the correct state, the students all started to laugh. The teacher asked what was so funny, and the students told her, in Italian: "But that's Arizona!"
WHY THEY CALL IT "YAHOO"
Engineer Abbas Akhil, a 40-year Albuquerque resident, was browsing Yahoo News when he came across this image in a photo essay about people who have fought oppression. Included was the famous 1968 photo of Olympic medal-winners Tommie Smith (Gold) and John Carlos (Bronze) protesting racism by raising fists and staring downward during the playing of "The Star-Spangled Banner." While the text correctly states that the 1968 Olympic Games were held in Mexico City, Mexico, the headline reads "1968 racism: new mexico olympics."
I LIKE TO BE IN AMERICA
Las Cruces native Diann Bowlin has widely traveled the world for both business and pleasure. Her most memorable airport experience, however, happened in Baltimore. When Bowlin checked in at the counter for her flight to Albuquerque, the clerk asked for her U.S. passport. "I said I wasn't carrying it with me, and I asked why I would need it." The clerk told her that she needed her passport for the trip. "I told her that I was not traveling outside the United States, and she said, 'Yes, you are—New Mexico is a foreign destination.'" Bowlin told her that New Mexico is in the U.S., between Arizona and Texas; that it and Arizona both became states in 1912; that New Mexico is the fifth largest state; and that she did not need a passport to go to New Mexico. She kept her voice down until uttering the last phrase, which she admits to having screamed at the top of her lungs. The clerk looked a little shocked, then embarrassed. She looked back at her computer screen, and finally printed out Bowlin's tickets and told her to have a nice flight. "As I walked away, I could hear some other passengers applauding. It felt so good to be a New Mexican!"
UNDER THE RADAR
Pat Aalseth recently visited the National Weather Service's National Oceanic and Atmospheric Administration Dial-A-Forecast web page (nws.noaa.gov/pa/recordedforecasts.php), to obtain the phone number for a recorded weather forecast for New Mexico. Although the page lists numbers for every other state in the U.S., New Mexico was . . . you guessed it . . . missing.
JERSEY ACCENT
The eighth-grade class of Albuquerque's Montessori Middle School recently enjoyed a class trip to Philadelphia that included a day on a New Jersey beach. Afterward, during dinner at a nearby pizzeria, student Julia King and her friend were approached by a local woman who asked them where they were from. "We told her we were a school group visiting the area from New Mexico. She looked at me with wide eyes and asked, 'How do you speak such good English?' With that, my friends and I started cracking up. She looked confused, until I told her we were from New Mexico, the state. I'm not entirely sure she got what I meant, but, embarrassed, she walked away."
NEW YORK STATE OF MIND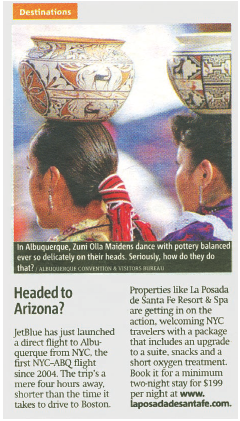 While in New York City, bestselling author James McGrath Morris, of Tesuque, browsed the May 21 edition of Metro, a free daily paper. An article advised Big Apple residents that JetBlue's new flights to Albuquerque would deliver them directly to Arizona. "I think we may need to inform the mayor of Albuquerque that they are now part of Arizona," McGrath quipped.
Send Us Your Story—Please! Dear "50" fans: Help sustain this popular feature by sharing your anecdotes—we know you have some choice ones that you haven't gotten around to sending in. Just dash it off if you like, and we'll take it from there. Submissions will be edited for style and space. Please include your name, hometown, and state. E-mail to fifty@nmmagazine.com, or mail to Fifty, New Mexico Magazine, 495 Old Santa Fe Trail, Santa Fe, NM 87501.