Upward bound at Bandelier. Photograph by Kennan Harvey.
On August 25, 1916, President Woodrow Wilson signed the act creating 
the National Park Service, which celebrates its centennial with free admission August 25–28. Let your next adventure begin! (Note: Agencies other than NPS oversee sites with "national park" in their names; this list is strictly NPS-owned sites.)
Aztec Ruins National Monument // Aztec
This World Heritage site in northwest New Mexico offers an easily accessible way to begin exploring Ancestral Pueblo history. A half-mile trail winds through the reconstructed remnants of a 900-year-old, 450-room pueblo, including a beautifully restored great kiva—the third-largest kiva in North America. For its 12th- and 13th-century residents, Aztec represented a stop on a migration journey that led, eventually, to the pueblos that today line the Río Grande. Displays in the visitor center and a 15-minute film address most of the questions you might have, and helpful rangers lead programs throughout the summer. When you're done, swing over to the San Juan County–run Salmon Ruins Museum in Bloomfield to see more Chacoan-Puebloan ruins.
PREPARE: (505) 334-6174; nps.gov/azru
ENTER: 8 a.m.–6 p.m. daily through Labor Day; then 
8 a.m.–5 p.m. daily through Memorial Day; $5 per adult (good for 7 days), 15 and under free
LINGER: 1–2 hours
SURPRISE: Mexico's Aztec people never settled this far north, but 19th-century archaeologists mistakenly thought they did, hence the name.
Capulin Volcano National Monument // Des Moines
At least 56,000 years have passed since Capulin Volcano erupted, but that's young in volcanology years. The giant anthill-shaped cinder cone that the big burp left behind reveals some of the inner workings of a volcano and gives an eagle's-eye view of other extinct volcanoes in northeastern New Mexico. From the visitor center, you can take a shuttle or drive the two-mile route up, then hike the one-mile rim, which has interpretive signs explaining the site's geology. Rangers offer free talks throughout the summer at 11 a.m. and 1 p.m. Leave time for a picnic and a jaunt on one of the lower-level trails, ranging from the ADA-compliant Nature Trail to the hilly, two-mile Boca Trail.
PREPARE: (575) 278-2201; nps.gov/cavo
ENTER: 8 a.m.–4:30 p.m. daily; $7 per vehicle 
(good for 7 days)
LINGER: 2–4 hours
SURPRISE: On a clear day, the rim-top view (above) stretches to Kansas, Oklahoma, Texas, and Colorado.
Bandelier National Monument // Los Alamos
From 1100 to 1550, Puebloan people carved homes into the soft volcanic rock and built multilevel houses supported by beams thrust into the cliff walls. Archaeologists have found signs that humans were here 11,000 years ago. Most visitors stick close to the Frijoles Canyon action, which includes a historic visitor center and an easy 1.2-mile trail past Big Kiva and Long House, with ladders into caves. (Part of the trail is open to wheelchairs and strollers.) More intrepid visitors embrace the monument's 23,000 acres of wilderness, including 70 miles of trails with petroglyphs, elk, black bears, and bighorn sheep. Strap on a backpack and give it a few days to sink into your soles.
PREPARE: (505) 672-3861; nps.gov/band
ENTER: Dawn to dusk daily; $10 per person (good for 7 days)
LINGER: 1–2 hours for the basics; days, weeks, a lifetime for the rest
SURPRISE: Bandelier charts a vertical mile from its lowest point 
(5,300 feet, along the Río Grande) to the 10,199-foot top of Cerro Grande.
Carlsbad Caverns National Park // Carlsbad
Where an inland sea roiled some 280 million years ago now sprawls an underground maze of tunnels, rooms, and canyons—at least 119 caves, with more likely undiscovered. One of the state's most popular national parks and a World Heritage site, Carlsbad astounds visitors with massive geology. You'll not only see stalactites and stalagmites but also learn which is which, stroll through the Hall of Giants and past Longfellow's Bathtub, and witness hundreds of thousands of bats swarming out each evening in search of food.
Catch a ride on the refurbished elevator or walk the 1.25-mile descent. (Just remember: What goes down must come up.) Once you're at the bottom, the trail through the Big Room is a relatively flat 1.25 miles.
PREPARE: (575) 785-2232; nps.gov/cave
ENTER: 8 a.m.–7 p.m. daily through Labor Day, then 8 a.m.–5 p.m. daily through Memorial Day; $10 
(good for 3 days), 15 and under free, ranger-guided tours extra
LINGER: At least 4 hours; stay for a star party on August 6
SURPRISE: The Mexican free-tailed bats that put on the nightly show are just one of 16 bat species in the park.
Chaco Culture National Historical Park // Nageezi
All those miles of rough dirt road are worth it. Chaco Canyon continues to fascinate—and confound—archaeologists and anthropologists. From 850 to 1150, this World Heritage Site served as the largest and most magnificent hub for trading, ceremonies, and politics among Ancestral Puebloans. Its inhabitants clearly knew a thing or two about astronomy, architecture, landscaping, and engineering, but abandoned the site for reasons still up for debate. You could spend an hour in the visitor center alone, and must visit the 800-room Pueblo Bonito and the massive great house of Chetro Ketl. Guided tours are available, and brochures help those who'd rather wander alone. The five-mile Pueblo Alto Trail was featured in the May issue's "10 Ultimate NM Hikes".
PREPARE: (505) 786-7014; nps.gov/chcu
ENTER: 7 a.m. to sunset daily; $16 per vehicle 
(good for 7 days), camping extra
LINGER: At least 4–6 hours; the night skies are worth sticking around longer
SURPRISE: What did a Chacoan drink? Chocolate, apparently, given the cacao residue found on 
Pueblo Bonito pottery shards.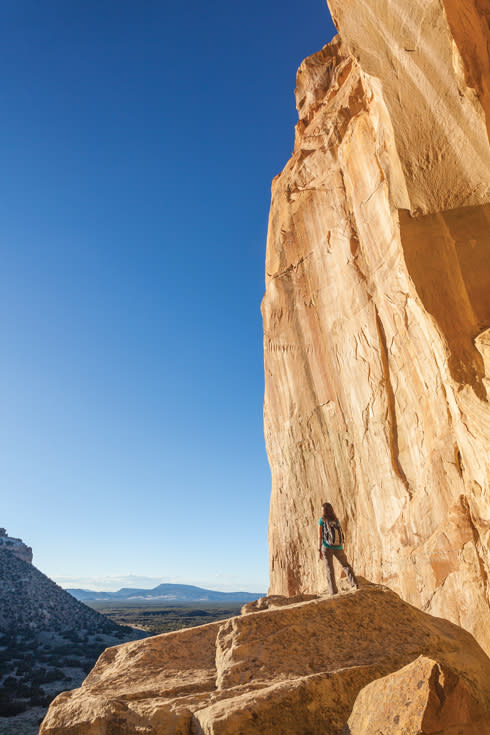 El Malpais National Monument. Photograph by Laurence Parent.
 
El Malpais National Monument // Grants
As recently as 1,500 years ago, volcanic oozing added new layers to this black, bumpy landscape, in the works for some 700,000 years. All that volatility left tunnels, tubes, and caves that people have explored, trekked across, and settled among for thousands of years. You'll find evidence of them in petroglyphs, house ruins, and pottery shards. Trails like the moderate 3.8-mile El Calderon Loop include glimpses of bat caves, a lava sink, and a cinder cone. Other trails can carry you for days, including the rugged Zuni-Acoma Trail, where your only guidepost is the occasional rock cairn. Tack on a trip to El Morro (next), another 14 miles west.
PREPARE: (505) 876-2783; nps.gov/elma
ENTER: 8 a.m.–5 p.m. daily; free
LINGER: At least 2 hours
SURPRISE: Atop this difficult soil, wildflowers bloom— including the purple-blossomed cinder phacelia, found only here and at Arizona's Sunset Crater National Monument.
El Morro National Monument // Ramah
Amid towering sandstone bluffs, a water hole drew travelers for eons. Native peoples, Spanish colonists, and American frontiersmen camped here, and many left their mark with the only kind of graffiti park rangers condone: more than 2,000 petroglyphs, signatures, dates, and messages like PASÓ POR AQUÍ ("He passed here"). Signers include Juan de Oñate, in 1605.
The half-mile Inscription Trail makes for an easy, paved ramble. Put on your hiking boots to climb 250 feet on the Headland Trail. Your rewards at the top are magnificent views and the remnants of Atsinna Pueblo, which speak to the Zuni people's roots. A free campground and picnic area invite longer stays.
PREPARE: (505) 783-4226; nps.gov/elmo
ENTER: Daily, 9 a.m.–5 p.m.; free
LINGER: 1–3 hours
SURPRISE: In 1857, the U.S. Army tested the wisdom of using camels here. It failed, but on Sept. 10 and 11 you can see a free reenactment with real camels.
Fort Union National Monument // Watrous
Author Max Evans calls northeastern New Mexico "the high lonesome," and it's easy to see why. The wind blows across miles of prairie marked by little more than Santa Fe Trail ruts and the remnants of what once was the largest military fort west of the Mississippi. Fort Union bustled from 1851 to 1891, playing a part in opening the West to settlers, facing down Texas Confederates, and continuing the nation's tragic war against Native peoples. Three forts were built; the third, in the Territorial style, is what visitors see today. Or its remnants, anyway. Quickly constructed, the adobe walls of barracks, officers' quarters, blacksmith shops, and more are melting back into the red earth.
You can explore the ruins on your own with a well-written brochure, or take the 1.25-mile walk with a guide at 10 a.m. on weekends. Rangers give 20-minute talks at 2 p.m. on weekends. An August 13 candlelight tour (reservations are recommended) includes historical skits.
PREPARE: (505) 425-8025; nps.gov/foun
ENTER: 8 a.m.–5 p.m. daily through Labor Day; 
then 8 a.m.–4 p.m. daily through Memorial Day; free
LINGER: 1–2 hours
SURPRISE: Despite its remoteness, the fort boasted a library, bowling alley, racetrack, and comedy company.
Gila Cliff Dwellings National Monument // Silver City
In 1280, the MogollÓn people chose to build a 42-room home in natural caves, stacking rocks, ferrying timbers, and carving steps—only to abandon them 30 years later. Why did they leave, and where did they go? It's a mystery still being studied today. Surrounded by the magnificently tough Gila National Forest, the monument has a trailhead museum, interpretive programs, and 11 a.m. guided hikes to see pictographs, pottery, and other remnants of the Mogollón culture. You can also take the main, one-mile trail on your own. Five other day hikes up to 11 miles long leave from the visitor center. Campgrounds near the park are free, but plan to bring your own water.
PREPARE: (575) 536-9461; nps.gov/gicl
ENTER: 8 a.m.–4:30 p.m. daily; $5 per person, $10 per family, 15 and under free
LINGER: 1–2 hours for the cave hike; multiple days for the true Gila experience
SURPRISE: A small number of Mexican gray wolves roam the Gila National Wilderness. Will you hear a lonely howl?
Manhattan Project National Historical Park // Los Alamos
New Mexico's most unusual national park is actually one-third of a park, claims three sites within its NM boundaries, and doesn't allow tours to any of them. (It was just established in November 2015.) Sharing its title with Hanford, Washington, and Oak Ridge, Tennessee, the park aims to tell the story of how the atomic bomb and subsequent nuclear inventions came to be. While details like interpretation and access are being worked out, visitors can take walking tours of the town of Los Alamos, where super-secret scientists like J. Robert Oppenheimer once lived.
PREPARE: (505) 661-6277; nps.gov/mapr
ENTER: Download a walking-tour map; step inside the Bradbury Science Museum at 1350 Central Ave.; free
LINGER: 1–2 hours
SURPRISE: This high-tech town is laced with low-tech hiking trails, and Bandelier is nearby.
Pecos National Historical Park // Pecos
From Ancestral Puebloans to Spanish colonists, the Civil War, Route 66, and Hollywood actress Greer Garson's ranch, Pecos covers 7,000 years of history. Its ruins speak to the confluence of Puebloan and Spanish life, most dramatically in the grand mission church, completed in 1625. Most visitors soak up the visitor center's terrific historical narrative, then walk the 1.25-mile loop through the pueblo and the remnants of its church, once the largest north of Mexico City. You can also drive to the Glorieta Battlefield site, where a 2.25-mile trail wends through a piñon-juniper forest with stops explaining the decisive Civil War battle. Rangers lead walks; guided van tours of the Civil War site and Forked Lightning Ranch House are $2 a person.
PREPARE: (505) 757-7241; nps.gov/peco
ENTER: 8 a.m.–6 p.m. daily through Labor Day; then 8:30 a.m.–4:30 p.m. daily through Memorial Day; $7 per person (good for 7 days), 15 and under free
LINGER: 1–4 hours
SURPRISE: Pecos people lived at the site until 1838. Reduced to a mere 20 people, they chose to join relatives at Jemez Pueblo, where their descendants still live.
Petroglyph National Monument // Albuquerque
New Mexico's most sinuous national park, Petroglyph winds along 17 miles of Albuquerque's West Mesa, taking in five volcanic cinder cones and 24,000 petroglyphs chipped into basalt by Native people and early Spanish settlers. Hikers can drive between the trailheads at Rinconada Canyon, Piedras Marcadas, Boca Negra Canyon, and the Volcanoes Day Use Area. Bring a camera and keep your eyes peeled for images of birds, animals, crosses, and mysterious figures. (Watch out for rattlesnakes, too. The real kind.) Above all, imagine the people who pecked out these images while gazing at the Sandía Mountains. What was each one trying to express?
PREPARE: (505) 899-0205; nps.gov/petr
ENTER: 8 a.m.–5 p.m. daily; free ($1–$2 parking fee at Boca Negra Canyon)
LINGER: 2–4 hours
SURPRISE: Late-summer rains produced a rare bounty of sunflowers last year. 
Hopes are high that they left enough seeds for a repeat performance.
Salinas Pueblo Missions National Monument // Mountainair
In 1581, Spanish explorers found thriving pueblos southeast of today's Albuquerque. Franciscan friars soon built impressive mission churches at Gran Quivira, Abó, and Quarai, but drought and disease had driven everyone out by 1677. Archaeologists have found Native kivas built into some of the Catholic structures, possibly an early attempt at melding two faiths. You can hit all three sites in one day, but would be wiser to pick one or two. Give the rangers a few days' notice and you can enjoy a guided tour, including a visit to off-the-map petroglyphs and pictographs. Leave time to explore the nearby town of Mountainair and its historic Shaffer Hotel.
PREPARE: (505) 847-2585; nps.gov/sapu
ENTER: 9 a.m.–6 p.m. daily through Labor Day; then
9 a.m.–5 p.m. daily through Memorial Day; free
LINGER: At least 1 hour per site
SURPRISE: These pueblos were part of an ancient trade route for salt mined from lakes in the Estancia Valley.
Valles Caldera National Preserve // Jemez Springs
In 2015, the Park Service took over management of these luscious 89,000 acres and began welcoming far more public access than ever before. An enormous crater left behind after one of the world's seven super volcanoes erupted a million years ago, the Valles Caldera offers hiking trails, trout streams, hot springs, mountain biking, horse riding, elk hunting, and, come winter, snowshoeing and cross-country skiing. Explore the area's geology, its recovery from devastating wildfire, ranch history, and abundant wildlife. Rangers lead programs from May to September; guided hikes and van trips are also available.
PREPARE: (575) 829-4100; nps.gov/vall
ENTER: 8 a.m.–8 p.m. daily through Sept. 30; then 9 a.m.–5 p.m. daily through May 14; $10 per person or $20 per vehicle (good for 7 days), 15 and under free
LINGER: At least 2–4 hours
SURPRISE: Movies featuring Gregory Peck, Anjelica Huston, Tommy Lee Jones, Cate Blanchett, Tom Selleck, and Johnny Depp have been shot there.
White Sands National Park // Alamogordo
The world's largest gypsum dune field—275 square miles of ever-changing hills and valleys—glistens under the sun and moon. One of the state's most popular parks, its draws include hiking, sledding down dunes, bicycling, photography, and backcountry camping. It's critical to stay hydrated and watch both the heat and the wind. Another heads-up: Walking in sand is a lot more strenuous than on a typical hiking trail. Pace yourself. For an extra fee, take a ranger-led tour to the usually off-limits Lake Lucero, join full-moon bike rides and hikes, and pick up tips at sunrise photography lessons. In summer, the park is open later, giving you time to enjoy a pack-your-own picnic with a spectacular sunset.
PREPARE: (575) 479-6124; nps.gov/whsa
ENTER: 7 a.m. to dusk daily (closed during military tests); $5 person (good for 7 days), 15 and under free
LINGER: 2–4 hours
SURPRISE: Plants and animals thrive in the seeming desolation, including mice and lizards that have 
evolved to a pale, almost white shade.