Even with increased vaccination numbers, it's not time to put your masks away yet. Photograph by NMTD.
THE NEW MEXICO DEPARTMENT OF HEALTH continues distributing COVID-19 vaccines across the state, with a focus on speed and equity. As vaccine supply from the federal government continues to rise, more New Mexicans are being vaccinated daily against the potentially deadly virus. Even vaccinated, it doesn't mean it's time to put away our facemasks yet. Below, Department of Health spokesman David Morgan answers readers' common questions. 
Why is the county-level color coding system important?
The system measures two key metrics: the per-capita daily number of new COVID-19 cases and average COVID-19 test positivity rates in each county to determine the level of public health risk and requirements for each county. The framework has helped limit large gatherings of people that would otherwise slow the state's gradual progress in controlling COVID-19. 
Why is there now a turquoise code and what does it mean? 
The Turquoise Level means a county has the smallest number of COVID-19 cases, and businesses and services can safely operate with the fewest public health restrictions. A county reaches Turquoise Level when they have both a new COVID-19 case incidence rate of no greater than 8 cases per 100,000 people during the most recent four-week period, and an average percent of positive COVID-19 test results less than or equal to 5 percent over the most recent four-week period. 
As more businesses open up, what's the best way to stay safe but also begin to get back to normal? 
Get your COVID-19 vaccination; it will decrease your chances of serious illness from the virus. But also remember to still wear your facemask when in public, maintain social distance, and wash your hands frequently. 
What measures do you recommend for eating at a restaurant? 
Your local businesses are doing everything they can to protect your health. Before you go, consider checking the restaurant's website and social media to view their COVID-19 safety guidelines. Wear masks at all times, both indoors and outdoors, except when you are actively eating or drinking. Your risk is less eating outdoors and could be greater indoors. Masks always help protect both you and those around you, particularly indoors. 
What does the Johnson & Johnson vaccine mean for the vaccine process? 
It means we have more vaccines and can offer more opportunities for vaccinations across the state as supply starts to catch up with demand. 
Are any of the vaccines more effective than the others? 
All vaccines available in the U.S. are highly effective at preventing COVID-19 hospitalizations and deaths in clinical trials, and they are also highly effective against severe cases. 
What will I need to bring when it's my turn to get the vaccine? 
After you register at vaccineNM.org and have a scheduled appointment, just bring your ID and current insurance cards. Also, be sure you complete the medical questionnaire on the day of your appointment. You will not be able to complete the questionnaire until the day of your appointment, but you will receive reminders of your appointment and event code, and a reminder to fill out the questionnaire by email and/or text message on your mobile phone. 
Will I receive a record of my vaccine and will I be required to show it to others? 
Vaccine providers are expected to give each patient a record of the vaccine they receive, which includes the product name and lot number of the vaccine, the date it was administered, whether it was a first or second dose (if the vaccine requires two doses), and the name of the healthcare professional who administered the vaccine or clinic location where the vaccine was given. 

LEARN MORE at cv.nmhealth.org/covid-vaccine.
For CDC guidance on how long you must be in recovery or isolation after exposure to COVID-19, potential allergic reactions to the vaccine, and when to call a doctor if symptoms persist after vaccination, see cdc.gov/coronavirus/2019-ncov
Step Up To Receive Your Vaccine. Register at vaccinenm.org.
---
How Does The COVID-19 Vaccine Registration Process Work?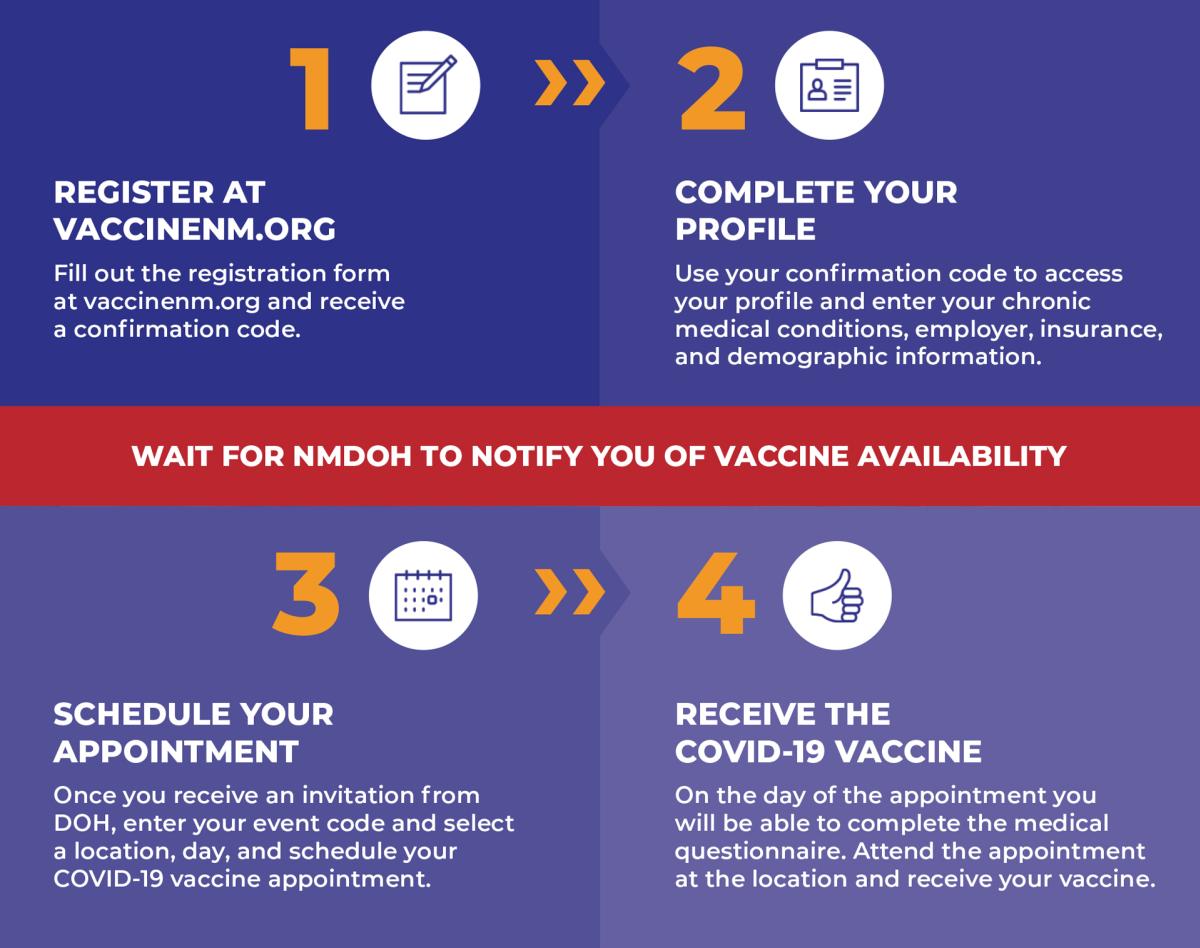 For more information, visit vaccinenm.org or call 1.855.600.3453.